What's the Best Way to Sell a Junk Car for the Most Cash?
Updated on: by Amy Kennedy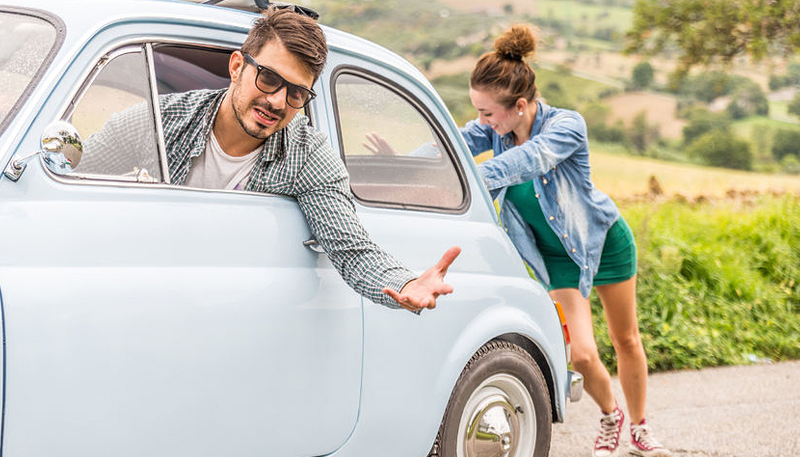 Junk cars don't necessarily have to be junk.
Need Easy Extra $350+/Month For Free?
You can still usually get some money out of a junk car to help you purchase another one or have some money to put toward bills.
If you're trying to decide if you should sell your car for parts or sell it as-is in the newspaper or on Craigslist, this article should help.
We're going to outline some places to scrap a car for cash or sell a junk car so that you can at least get some money back on your investment.
After all, any amount of money is better than no money or having a rusting vehicle sitting in your yard!
How to Get the Most Money for Your Broken Car: 5 Helpful Tips
Before you start looking for places to sell your junk car, you need to be prepared.
Unfortunately, there are people who take advantage of those selling junk cars, thinking that they're desperate and will take any price they offer.
The following tips will help you get the most possible from your junk car, no matter how junky you believe it is.
Know the Lemon Laws
First, it's crucial that you understand the Lemon Laws in your state.
A Lemon Law basically governs the condition your car should be in to be able to sell it so that buyers don't enter into a deal of purchasing a car they think is better than it is.
Each state has its own variations of these laws, so be sure to check with the laws specific to your state.
For example, in Texas, buyers are protected in the case of a purchase of a seriously malfunctioning car that they weren't told about.
If the car has a defect that is a serious safety hazard and you didn't make the buyer aware of that hazard before the purchase, then you can be responsible for its costs and court fines if the buyer decides to take you to court.
It's important to know all the laws in your state so that you can be completely open about your car's condition when you sell it to avoid getting into legal trouble down the road.
Know Your Car's Value
You should also be aware of your car's value.
Even if it's sitting in your driveway not able to move, it still has at least some value.
Need Easy Extra Cash?
Pinecone Research, a leading name in online survey panel honesty, absolutely guarantees $3 cash for every survey you complete!
Take advantage of their time limited New Membership drive and register NOW. Join today: 100% free!


That's where Kelley Blue Book comes in handy.
Kelley Blue Book lets you look up the value of your car for free so that you can determine the best selling price to shoot for.
You can enter your car's condition to get the most accurate value.
This way, you'll know what your car's worth and can avoid getting scammed into accepting a low price for a car that might be worth hundreds of dollars more, even in its current condition.
You can also use the price given on Kelley Blue Book to factor in the cost of any known repairs your vehicle might need so that you can subtract them from the price before you go to sell.
Avoid Scammers
Since you'll know the value of your car after checking with Kelley Blue Book, it'll be easier to avoid scams.
But, they can still happen with any car sale.
Some tell-tale signs of a scam that you should be aware of include:
A buyer wanting to purchase the car without seeing it in person. This often consists of the buyer writing a bad check, leaving you out of cash for the car altogether.
A buyer paying with checks in general. Accept cash if you're selling to someone you don't know to avoid bounced checks.
A buyer offering a payment plan. If it's not someone you know and trust, you could get scammed out of your full payment.
A buyer wanting a test drive. It's okay to allow a test drive if you're comfortable with it, but be sure to make a copy of the buyer's driver's license first.
For your own safety, try to meet buyers when you have another person present, and do it in a public location if possible.
Sign a Contract
You should always have a contract in place when you're selling your car yourself, even if it's to someone you know.
Contracts protect both parties in the event of any issue with the car or sale down the road.
It will come in handy if you ever need proof of the sale price (for tax purposes, for example) or if the buyer tries to say you sold the car in a condition other than what you did.
In the contract, detail the condition of the car as much as possible, all terms of the sale, and any other information you feel will protect you both in the future.
Compare Prices
Of course, no matter what route you take to sell your car, you'll want to get the most out of it that you can.
That's why you should compare selling prices, just as you would if you were purchasing a vehicle.
Below, I'm going to outline some of the best ways to sell your car.
Never settle on the first option that looks good to you, though, because then you won't be sure that you're getting the most out of your car that you can.
How Can I Sell My Car for the Most Cash?
Ready to sell? Here are the best options for selling your junk car for cash.
Sell the Car As-Is
Some people have the most luck selling their junk cars as-is.
This means that you'll be selling it to someone who understands that the car has problems, but wants to buy it anyway.
To sell a car this way, you'll have to be 100% honest about everything you know that's wrong with it.
But, in being so transparent about the known issues of the car, you also can rid yourself of any liability if the car has problems later on.
Basically, you're telling buyers that you're selling it based on its current condition and that they accept full responsibility for its issues when they buy it.
You'll most likely have buyers try to negotiate with you on a price when you sell as-is, which is okay.
Just make sure that you start out a little high with your price so that you can negotiate to a price you're comfortable with.
This is a common way for people to sell their junk cars in the newspaper or on Craigslist.
Take it Apart and Sell the Parts
If you know anything about taking apart your car and how much parts may go for that are still usable, you might consider selling parts off your car instead of the whole thing.
In fact, doing so could yield you a bigger return than selling your car if you have some valuable parts.
This is typically a good method for older vehicles that are no longer produced.
Earn Everything… nearly!
Join Opinion Outpost, one of the few faithful and honest survey panels and earn cash and gift cards for your opinion. Stack your points and redeem them: Simple! No hidden fees and completely free!


Other people with those vehicles on the road still need parts for them, so repair shops may be looking for the parts you have.
This is also a good idea if you've had an accident with the car that makes it no longer usable.
Rather than scrapping the whole car, try to salvage the parts that you can and sell them separately.
You can sell these parts on Craigslist, or check with local repair shops to see if they're in need of any of them.
Read More: 5 Best Places to Recycle Old Car Batteries for Cash
Sell it for Scrap Metal
Another option for people who have a non-working vehicle might be to sell it for scrap metal.
This means that you'll sell the metal of the car and you'll get paid according to the weight you have.
You'll have to find a way to tow your car to the scrapyard for someone there to look at it, which will cost some money if you don't know anyone with a tow truck.
Old cars made from steel can give you more than newer cars, which are typically made from a lighter weight aluminum.
Aluminum can usually sell for up to $0.40 per pound, but you can expect $0.60 or more for a pound of steel.
Sell the Car to the Junkyard
Use a site like Salvage Parts to find a junkyard near you that might take your car and pay you for it.
Junkyards make their money by taking parts off your car, which is one of the ways I mentioned that you can make money from your car too.
But, if you're not into taking cars apart, you can sell your car to the junkyard instead.
Most of the time, junkyards will come pick up your car for you too, which will save you towing costs.
You won't get a lot of money this way, but at least you'll get something out of it.
Ask the Dealer
If you bought your car from a local dealer, you can always see if the dealership will offer you anything for it, even as a trade in.
Of course, your car will most likely have to be running so that you can take it there and have the dealership check it.
Many dealerships won't necessarily want to buy back a junk car that you bought years ago, but it doesn't hurt to ask.
And, at the very least, it's possible that you at least get a small credit toward another car you buy from that dealer.
Use the Power of the Internet
Finally – don't underestimate the power of the internet!
There are a few websites that may pay for your junk car if you've exhausted your other options and aren't having much luck getting cash.
The way these sites work is by generally following the same process:
Enter the make and model of your car, plus some information about its condition.
Get an offer based on the estimated value of your car.
Provide proof that you own that car.
Arrange a time and day for someone to pick up your car.
Get your money in the form of a check during the car pickup!
Here are a few sites that will do this for you:
The Best Places to Sell Your Junk Car
When it's time to part ways with your old, unwanted car, there are several reputable places where you can sell it and potentially make some money. Here are six top options to consider:
CarMax is a well-known nationwide used car retailer that buys cars, regardless of their condition.
They offer a streamlined process and will provide an offer for your junk car based on their evaluation.
You can either visit one of their locations or start the process online.
Junkyards or auto salvage yards specialize in buying old or damaged vehicles for their parts or scrap metal value.
While you may not get top dollar, they are a convenient option for selling your junk car quickly.
Use websites like JunkyardDog.com to find local junkyards near you.
Local auto repair shops may be interested in purchasing your junk car for its parts or to repair and resell it.
Contact shops in your area and inquire if they buy used cars or have any recommendations for selling your vehicle.
Platforms like Craigslist or Facebook Marketplace allow you to list your junk car for sale locally.
Take clear photos, provide an accurate description, and set a competitive price to attract potential buyers.
Cash for cars services specialize in buying used and junk vehicles.
They typically offer free towing and will make you an offer based on your car's condition and market value.
CashforCars.com is a popular option to explore.
If your car is in extremely poor condition and you're unable to sell it, donating it to a charity can be a viable option.
Charities like Kidney Cars accept vehicle donations and provide a tax deduction based on the vehicle's value.
Conclusion: The Best Way to Sell a Junk Car
Don't completely waste your car, even if it's not drivable.
As you can see, there are still a good amount of ways you can make money from your junk vehicle.
Knowing your car's worth and the Lemon Laws in your state are the key to having a successful sale!
Have you sold a junk car?
How have you had success doing so?
We'd love to hear your experiences in a comment!
Related Posts:
Earn Everything… nearly!
Join Ipsos iSay, one of the few Faithful and Honest survey panels and earn prizes, gift cards and donations. Stack your points and redeem them: Simple! No hidden fees and completely free!