How Much Does Copper Sell For? Learn How to Start a Copper Scrapping Business
Updated on: by Samuel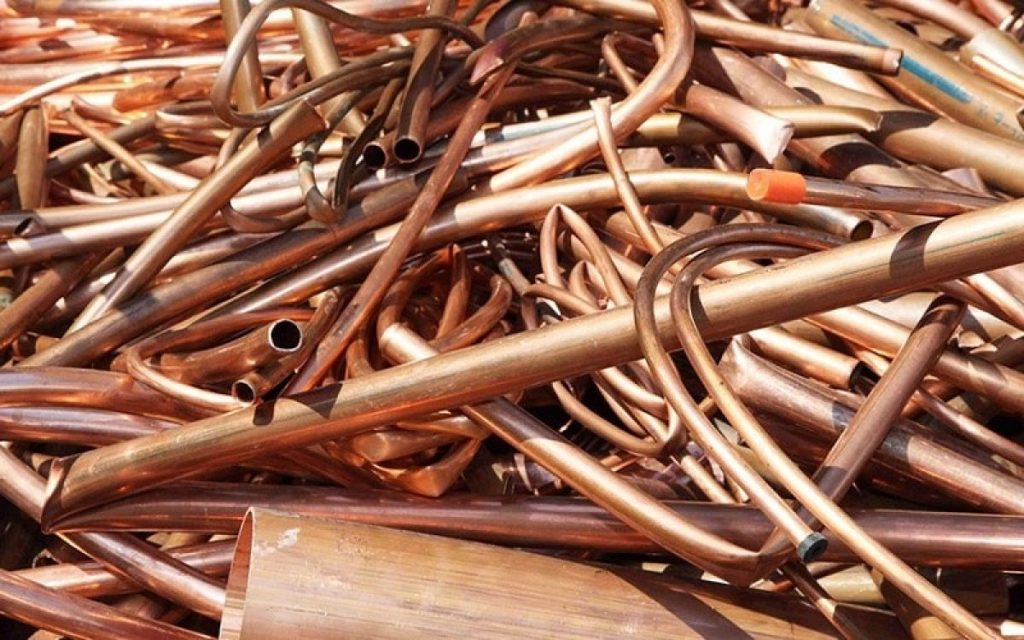 If you've dabbled in selling things to earn extra money, you may have already tried selling the usual stuff.
Need Easy Extra $350+/Month For Free?
Maybe you have some clothes you don't need after going through your closet or extra sports equipment you don't use anymore.
Or, perhaps you had a bunch of outdated electronics, like computers and cell phones, to sell.
But there are several other things you may not have thought to sell before.
We've talked about selling scrap metals and wood pallets for extra cash.
But we haven't yet touched on selling copper.
Copper is another metal that can be really lucrative.
In fact, it's not uncommon for abandoned or vacant houses to have copper stripped out of the home for thieves to turn around and sell.
It's worth money!
But this guide is going to tell you how to get copper and sell it legally, and for a potentially good profit.
It's even possible starting a business recycling scrap copper if you have the motivation to turn it into one.
Start a Business Recycling Copper Pipes for Money
If you're interested in learning how to recycle copper pipes and other pieces of scrap copper for money, then here's where to find that information.
What Kind of Copper Can I Scrap and Sell?
Although you might only be aware of copper piping in your home, copper actually comes in several different types that you can sell or scrap for cash.
In addition to copper piping, there's also copper wiring, copper household items and décor, copper furniture hardware, copper jewelry, and even copper clothing items, like buttons and zippers.
In your home, you can find copper in electronics items, crafts, plumbing, and more.
There's also copper components in cars, light fixtures, small and large appliances, and roofing!
Need Easy Extra Cash?
Pinecone Research, a leading name in online survey panel honesty, absolutely guarantees $3 cash for every survey you complete!
Take advantage of their time limited New Membership drive and register NOW. Join today: 100% free!


And most of the copper that exists is copper that you can sell.
How Much Does Copper Sell For?
Each type of copper holds a different value, so there's no one price for you to expect from selling copper.
Instead, you'll need to learn about the different types of copper listed above and how much they sell for.
There are also copper blends, known as copper alloy, that will have different prices than non-alloy copper.
Copper that's full copper and not blended with any other material tends to sell for the best prices.
There are also several types of copper wires, including non-insulated, insulated, communication wires, and insulated copper cable.
Each of these copper wiring types has different prices as well.
You can get a good idea of current copper scrap prices from Recycle In Me, which offers a current value guide for sheet copper.
However, since this guide is only for sheet copper, the prices may not accurately reflect the value of copper wiring and other copper pieces.
And, because copper values change like the values of other metals, it's important to stay current with prices.
On average, you can expect copper prices to range anywhere from $1.00 to $3.00 per pound, depending on the type and quality you have.
Copper can be pretty heavy, which is why it can be such a good material to make some profit on.
Where to Find Copper
You can find copper in a lot of places, including your own home.
If you're doing any renovations or upgrades, be sure to ask your contractor to hang onto any old copper pieces they might pull out of plumbing, appliances, etc.
You can always use those pieces to sell and get your business started.
You might also as local construction or renovation sites if you can collect old pieces of copper that they take from homes or structures.
Visit antique stores to find copper home décor pieces, pots and pans, and other items made from copper that you can buy cheap and sell for more money.
If you really want to get all the copper you can, consider breaking down old electronics equipment to get copper wiring to sell.
Computers, DVD players, old phones, and other similar electronics usually use copper wiring.
Finally, visit auctions to find copper to sell.
You can find both in-person and online auctions that might have antiques, electronics, décor items, and other stuff made with copper.
Where to Sell Copper
You can usually find scrap yards that will take copper off your hands and pay you for it.
Search the web to search for "scrap yard near me."
You can search the website to find information about the materials the scrap yard accepts and what prices it offers or give them a call.
Check with local recycling centers, too.
You might even be able to find buyers on Facebook or Craigslist; it never hurts to ask.
Pros of the Copper Scrapping Business
High Market Demand
Copper is one of the most valued metals in scrap recycling due to its high demand in various industries, such as electronics, construction, and more.
This demand can drive up prices, potentially leading to significant profit margins if you have access to a steady supply of scrap copper.
Easy to Start
Starting a copper scrapping business doesn't require a significant investment.
Earn Everything… nearly!
Join Opinion Outpost, one of the few faithful and honest survey panels and earn cash and gift cards for your opinion. Stack your points and redeem them: Simple! No hidden fees and completely free!


In fact, with basic knowledge of metal types, a reliable source of scrap copper, and a connection to a scrapyard or metal recycling facility, one can start this business.
Environmental Impact
Scrap metal recycling, including copper, is environmentally friendly.
It reduces the need for mining, saving natural resources, and reducing CO2 emissions.
A business in copper scrapping contributes to these environmental benefits.
Cons of the Copper Scrapping Business
Market Volatility
The price of copper on the global market can be quite volatile, influenced by various factors such as the economic climate, trade policies, and more.
This can impact the profitability of a copper scrapping business, as the income might fluctuate significantly.
Legal Regulations
In many regions, there are stringent regulations concerning metal scrapping to prevent theft and illicit trade.
These laws can complicate the process of running a copper scrapping business.
Businesses must ensure they are fully compliant with all local and national regulations to avoid penalties.
Health and Safety Risks
Handling scrap metal, including copper, can come with a variety of health and safety risks.
Cuts, abrasions, or even more serious injuries can occur without proper safety measures.
Additionally, exposure to certain types of metal dust or fumes can be harmful over time.
Proper safety training and equipment are necessary to mitigate these risks.
Tips and Tricks to Make the Most of Your Copper Scrapping Business
Now that you know the basics of finding and selling copper, let's dig into some expert tips and tricks that can help you maximize your profits:
Consider Getting a Truck
If you really plan to grow your copper selling business, you might want to invest in a truck if you don't already have one.
As you go around collecting copper, you'll need a place to store it all.
With a pickup truck, you can place storage bins in the back, allowing you to easily sort copper as you go.
Have Other People Help You
Your growing business might also do well with the help of extra hands that can gather up copper and help you sort it out.
This will, of course, cost you some extra money, but it might be worth it if it makes your business run more efficiently to keep bringing in money.
Separate Copper into Types
It's best to separate copper into different types before you try to sell it.
In fact, some recycling centers and scrap yards will require you to have it all sorted beforehand.
This makes it easier for you to determine how much of each type you have, get it weighed, and get your money.
Make Sure It's Clean
Clean copper will probably sell better than dirty copper because it has higher value.
Make sure to at least rinse off copper to remove dust and metallic components to help you make the most from every pound you bring in.
Strip Copper Wires
Stripping copper wires means removing the insulation from them if they have it.
Some centers will require you to do this, while others will pay you less for any insulated wires you bring in.
To get the most money for your copper, strip the wires of insulation beforehand.
You'll need to use a knife to remove it.
Compare Copper Prices at Different Recycling Centers
Not all scrap yards and recycling centers will offer you the same price for copper.
If you have a few in your area, be sure to check with each of them to get their current prices and make sure you're getting the best deal.
You can do this every month or so to get updated prices.
Become the Go-To Copper Salvager in Your Area
Let others know that you're the person to go to if they have copper they need to get off their hands.
You can put an ad in the newspaper and tell your family and friends what you're doing so they can spread the word.
The more people who know about your business venture, the easier it will be for you to know about available copper in your area.
Know When Renovations are Happening
Pay attention to renovations in your neighborhood or town.
You might drive around looking for them or contract with construction companies that are willing to let you know when they have a new project happening.
Go to the site to collect your copper when it's ready.
This is a good way to always make sure you have a steady supply of copper on hand.
Turn Copper Into Something New
Instead of selling copper per pound, you might consider turning copper into something new and selling it that way.
Plenty of people do this by using their creativity to turn copper into jewelry, home décor pieces, and more.
You can set up a shop on Etsy and get started for a minimal shop fee.
Scrap Other Metals Too
To expand your business, consider scrapping other metals, too.
The more materials you include in your arsenal, the higher your chances are of making more money and keeping yourself in business.
Turning Copper into Cash
Now that you know a little more about scrapping copper for money and turning it into a business venture, it's time to get started.
You can start small and gradually pick up the pace to turn your side gig into a real business.
If you've sold copper before, we'd love to hear from you!
Leave a comment below and let us know how you started and how it worked for you.
Related Posts:
Earn Everything… nearly!
Join Ipsos iSay, one of the few Faithful and Honest survey panels and earn prizes, gift cards and donations. Stack your points and redeem them: Simple! No hidden fees and completely free!