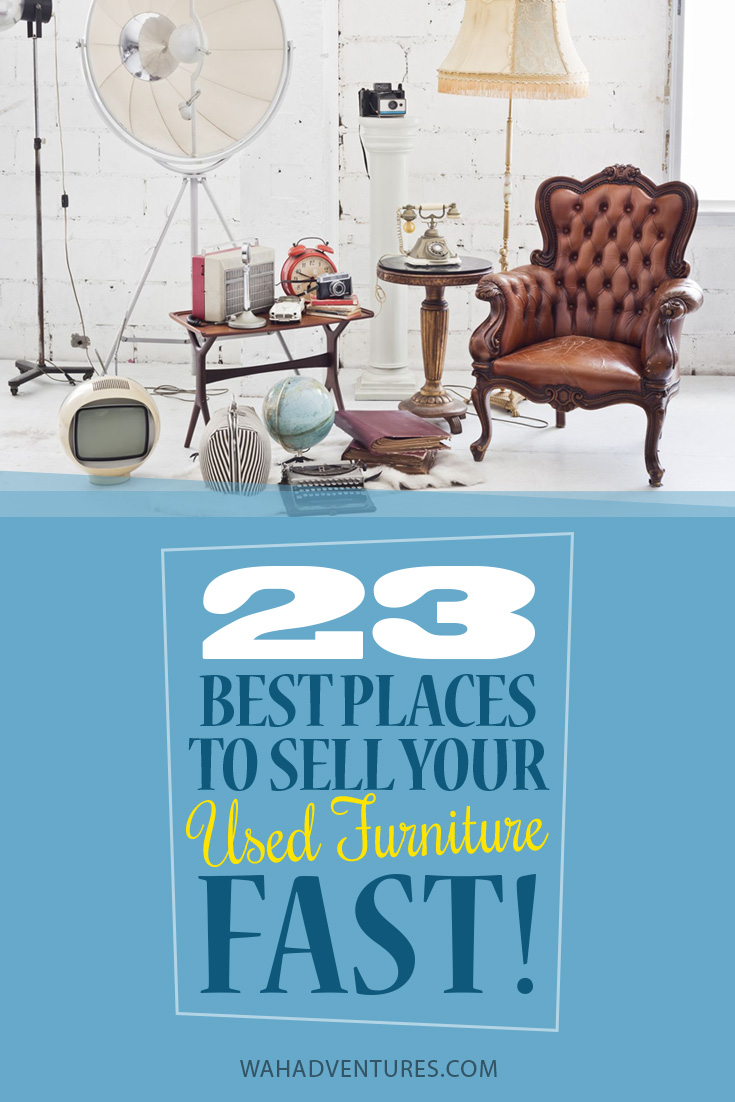 Say good-bye to yard sales!
Need Easy Extra $350+/Month For Free?
The new way to sell your gently used furniture is online through the marketplace, auction, and classifieds websites.
Whether you're getting rid of old furniture to upgrade to new stuff, or you just want to sell second-hand furniture because you're in the process of moving, these websites can help.
Some places that will buy your furniture locally don't pay you anywhere close to what your sofa is worth.
These companies want to make a big profit, and you're left with pennies.
Instead, learn where to sell a couch on your own.
You can use many of these websites to find local buyers, too, and save on hefty shipping costs!
Selling Used Furniture Online
Selling stuff online isn't for everyone, but these websites make the process for locating buyers of used furniture pretty simple.
Selling with Specific Websites
Apartment Therapy
Apartment Therapy was once a classifieds site similar to Craigslist for home goods, but it's now more of a marketplace.
You can list your furniture for local delivery or pickup, or you can choose to allow delivery to buyers all over the world.
Joining and listing is free, but you can purchase optional credits for listing promotions. Apartment Therapy takes a 10% all-inclusive cut from your selling price.
Your funds from sold items can transfer directly into your bank account!
AptDeco
AptDeco claims that most furniture only takes an average of 10 days to sell. The best part is AptDeco's crew takes care of the delivery so you don't have to worry about figuring out how to ship your furniture to the buyer!
It's free to list your items and free for the crew to pick them up. AptDeco does take a 16% cut of the price, but only if it sells.
Once you list an item, a buyer can respond. You have 24 hours to accept the buy request, or your listing will go back to the pool of buyers.
After you confirm the buy request, you can pick your pickup date with what works around your schedule. Your payment gets processed when your furniture gets picked up and usually takes 2 to 5 days to credit to your account.
Need Easy Extra Cash?

Pinecone Research, a leading name in online survey panel honesty, absolutely guarantees $3 cash for every survey you complete!
Take advantage of their time limited New Membership drive and register NOW. Join today: 100% free!


Bonanza
Bonanza has a full Home & Garden section in which you can sell your furniture. There are no listing fees or setup costs involved.
Bonanza is integrated with Google so people looking for products like yours may find your listing through a Google search. That's awesome exposure for your furniture!
It also syncs up with other places you sell, like Ebay, so you can easily keep track of your listings.
Additionally, you can choose to open up a webstore rather than sell on the marketplace.
Chairish
Chairish is one of the most popular websites to sell used furniture.
It's free to list an item, but your items must be of acceptable value by the company. Its website states that most of its accepted items are "unique and vintage".
You'll get up to 80% of the asking price for your item. You can set a reserve to make sure your item doesn't sell for any lower than your minimum price, if you choose.
You can choose to either ship your item or set up a local pickup.
Your items will have a 48-hour return period, and then sales are considered final. Most people receive their funds within 4 to 6 days of delivery or 2 to 3 days of local pickup.
Furnishly
Furnishly is an online marketplace for second-hand furniture.
You can create your own shop and place listings for your furniture. Once the team reviews and approves it, you're ready to sell.
You'll get 90% of your selling price, with the other 10% going to Furnishly.
People can search for items geographically so you may have a good chance of finding a local buyer here.
Lushpad
Lushpad used to be an online marketplace for selling and buying new and used furniture.
It's now, however, turned its focus onto selling its own partners' designer furniture, rather than being a peer-to-peer marketplace.
But, Lushpad did create an awesome Facebook group for its previous sellers and buyers to do what they enjoyed with the website, so you can always sell there.
Route 66 Furniture
Route 66 Furniture is like an online furniture consignment shop you can send your used furniture to.
The company will work with you to arrange an appropriate pickup time and will store the furniture in its warehouse.
You wait for the items to sell, and you'll get 50% of the selling price when they do.
Route 66 Furniture holds items for 60 days, at which point you can choose to extend the holding agreement, have the items donated, or come pick them back up.
Shopify
Shopify is a little different than the other websites in this list.
It's a website that helps you set up your own e-commerce platform.
So, this is more for people who will have ongoing furniture sales.
For example, if you want to start your own online furniture consignment shop, this is perfect for you.
Your account includes financial, transaction, and marketing tracking, and even has built-in templates for you to use.
Alternatively, you can use your own coding to make your brand really stand out.
There are different plans, depending on your selling needs, ranging from $29 to $299 per month.
Trove
Trove is quickly becoming one of the most popular online marketplaces to sell used furniture.
You can sell on the website or use its iOS or Android app.
Earn Everything… nearly!

Join Opinion Outpost, one of the few faithful and honest survey panels and earn cash and gift cards for your opinion. Stack your points and redeem them: Simple! No hidden fees and completely free!


Listing your items is free.
Trove even lets you accept credit cards for purchases, much like Ebay or Etsy.
You'll need to come up with a delivery agreement between you and the buyer, whether you choose to sell locally or non-locally.
The cool thing about Trove is that, once you create a listing, all local buyers are notified of it. Realistically, you could sell your furniture very fast here!
Viyet
Viyet is another online consignment shop perfect for selling your furniture.
This one does take a bigger cut than most – 40% or more of the selling price. But, the team also does a pretty thorough inspection of items before taking them, so it helps cover their costs as well.
Viyet works similarly to Route 66 Furniture. It will pick up your items and hold them in their warehouse until they sell. You don't have to worry about finding the buyers.
If your item sells, you'll receive payment in about 10 to 12 days.
After 6 months of an item not selling, you'll be contacted to see if you want to donate it or come pick it back up.
Using Classifieds Sites to Sell Used Furniture
Online classifieds websites are another option when selling used furniture. They're much like selling in the classifieds section of your local newspaper, with buyers able to search near their location to find a good deal.
10 Day Ads
10 Day Ads has several categories to sell in, including Furniture/Household.
Listings are free and, as the name suggests, will stay on the website for 10 days. Once it's off, you can list it again if you'd like.
Post your listing to your local area or worldwide, but beware that you'll need to figure out shipping costs to non-local buyers.
For even better listings, you may want to consider posting a video of your furniture, which this site lets you do. It's a good option to give buyers a better look at your stuff!
Backpage
Backpage is quickly gaining popularity as a website very similar to Craigslist. It's minimalistic but offers tons of categories, including Furniture.
You can sell to several different countries, including within the United States. However, listing internationally requires a fee. Local listings are free.
Close5
Close5 is an excellent place to sell used furniture locally. However, you can't use the website to sell.
Instead, Close5 is totally focused on its iOS and Android apps so you can post listings on the go! You can, however, browse the listings on the website.
There's a category just for furniture.
Through the app, you can chat with the buyer to give him more details, arrange pickup, etc. It also acts as a record of your conversation with the buyer, just in case he tries to say the item isn't how you described or some other shady business.
Sellers using this app tend to get more traffic if they're near big cities, but you can always try it out in your location.
Craigslist
Craigslist is the mecca of online classifieds websites. It's probably the most well-known, with thousands of new listings up each day all over the United States and worldwide.
There's a specific section for furniture under the 'For Sale' heading.
It's free so sell on Craigslist in most cases. Buyers respond to your listing via a secured e-mail system so they'll never get a hold of your actual e-mail.
You can add images to your listings and boost your listings to the top every once in a while, if you're not getting much activity.
If you're looking for more places like Craigslist to sell on, check out this huge list!
Geebo
Geebo is a very clean and easy to use classifieds website.
Geebo prides itself on keeping a safe community for buyers and sellers, so if you run into any problems, you can always contact support. They seem quick to take care of safety issues.
It's free to list on Geebo.
Kijiji
Kijiji is a classifieds website for Canadians. Interestingly, Ebay owns it!
You can post listings for free. You can also opt to put your furniture up for trade if you're looking to buy something that's similar in value.
There are promoted listings available for an additional fee.
OfferUp
OfferUp is similar to Close5. You can buy and sell used furniture – and tons of other items – on the website or the mobile apps.
This is best for selling locally. Nearby buyers can search their location to find your item for sale and arrange a pickup with you.
You'll benefit from the rating system and user profiles, which lets you learn a little about your buyers.
The OfferUp app is available in Google Play and the App Store.
Oodle
Oodle offers classifieds to the US, UK, Canada, New Zealand, Australia, India, and Ireland.
It's a good place to use if you're really into avoiding spam, since its support team quickly handles these types of issues.
Place furniture listings in the Merchandise section. Listings are free with some additional options to promote.
RecycledFurniture.com
This classifieds website is obviously for furniture only, so you may find some fast buyers here!
RecycledFurniture has categories for types of furniture, like baby furniture, entertainment furniture, and even hotel furniture.
Buyers can even search listings by price if they're looking to stay within a certain budget.
Listings are free and can include several photos.
How to Sell Used Furniture Fast with Auction and Selling Sites
Auction websites can let you sell your furniture for possibly the highest prices if you find the right buyer. And, you can even arrange local pickups to save on shipping costs.
Ebay
Ebay has just about everything you can imagine.
The giant online auction site has grown significantly since it started in 1995.
Ebay is great for narrowing down your furniture into a very specific category, which helps attract the perfect buyer.
Your item will likely get the most viewers on Ebay out of all these websites.
You can choose to ship your furniture or arrange local pickup with a buyer.
Ebay offers several different ways to sell.
Put your furniture up for auction, set a price and have people give their best offers, or set a firm 'Buy It Now' price.
If you don't want to do the work yourself, you can even ship your item to Ebay for its staff to sell for you!
Your fees depend on the final selling price, but are less with higher-value items.
Regardless of how you sell, you'll have listing fees and final selling fees.
They accumulate in your Ebay account and you'll owe them once per month.
However, there are often promotions for zero listing fees, so keep an eye out for those.
Ebay mentions them on its website when they're available.
Etsy
Etsy is a great place to sell crafts, craft supplies, vintage items, and handmade stuff.
It also has a full section dedicated to furniture.
So, you can sell your used furniture here, but there's a catch. It has to be handmade furniture or qualify as "vintage", which usually means about 20 years old or more.
Additionally, you could alter your furniture in some way to make it more "handmade" and crafty!
There's no clear lines when it comes to selling furniture on Etsy, so use your best judgement.
The only downfall is you may not get as much out of your furniture on Etsy as you would on other sites.
It's just not the right market for typical used furniture.
But, if you want to get crafty and do something to make your furniture a little more unique, you may have a shot! It's worth a try.
I suggest checking out the Furniture category first, just to see what people are selling.
Etsy has no monthly fees for its shop owners, and has a low $0.20 listing fee.
When your item sells, you'll have a 3.5% fee of the selling price and 3% + $0.25 fee for payment processing.
Sell.com
Sell.com is like a cross between Ebay and Craigslist. It's set up like a classifieds website, but focuses solely on selling items rather than all the other categories classifieds websites tend to have too.
Each category clearly shows how much it costs to place an ad. For furniture, it's $1.
There are also several add-ons you can purchase, like charms or bold listings to make it stand out more. They're all very affordable.
You can choose to list your item for a specific price or require buyers to make an offer, which is similar to Ebay's structure, minus the auction.
Under Shipping Terms, you can choose whether you'll ship the item or require local pickup only.
Sell.com is extremely easy to use and post a listing, and I like that there are no additional fees once your listing is all set up.
Want Other Ways?
Have you tried Facebook groups?
I'm a member of local buying and selling Facebook groups.
They're incredible places to find local buyers for your stuff!
It almost beats having a yard sale.
Just create a new post in the group with plenty of photos of your item and a good description.
Be available to quickly answer any questions.
Arrange pickup or dropoff details with a private Facebook message.
I suggest meeting the buyer at a public location rather than give your home address if at all possible!
You can find these groups easily on Facebook by searching through Groups using a term like "[your city/county] buy/sell".
I live in a small area and my groups are super active still.
Have you used any of the above websites for selling furniture? Are there any you love that we missed? Let us know in the comments!
Related Posts:
Want more money?

Easy Extra Cash! Join the famed Nielsen Computer and Mobile Panel site, install the app and earn rewards just for using the Internet as you do today! Nielsen gives away $10,000 each month.
Guaranteed 100% free membership.