Top 36+ Ways to Sell Used Furniture Fast Locally and Online
Updated on: by Amy Kennedy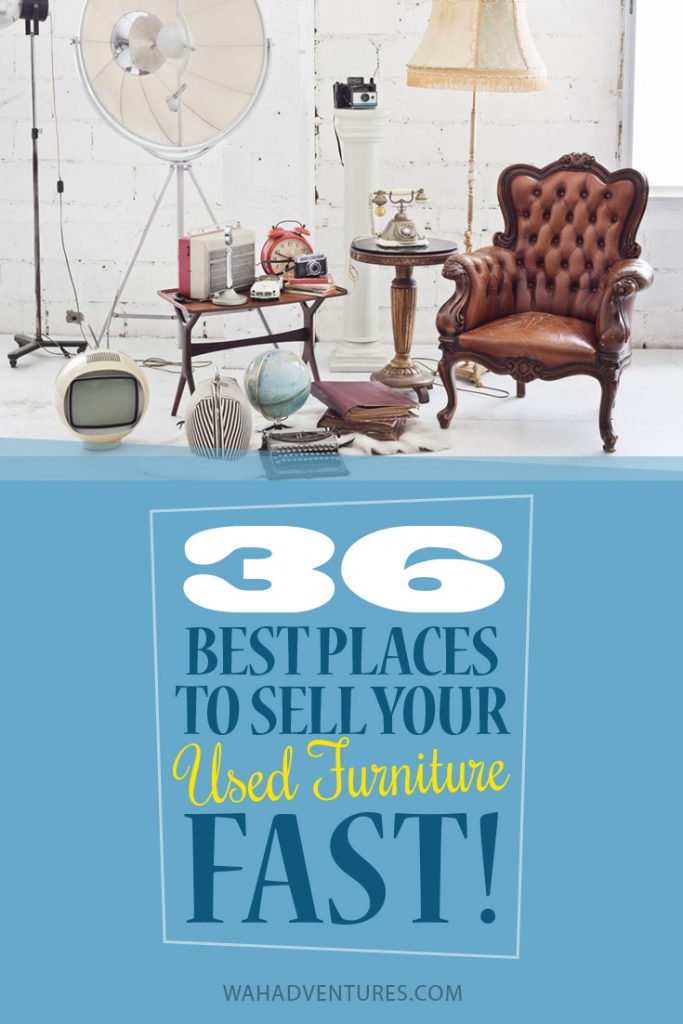 Say good-bye to yard sales!
Need Easy Extra $350+/Month For Free?
The new way to sell your gently used furniture is online through the marketplace, auction, and classifieds websites.
Whether you're getting rid of old furniture to upgrade to new stuff, or you just want to sell second-hand furniture because you're in the process of moving, these websites can help.
Some places that will buy your furniture locally don't pay you anywhere close to what your sofa is worth.
These companies want to make a big profit, and you're left with pennies.
Instead, learn where to sell a couch on your own.
You can use many of these websites to find local buyers, too, and save on hefty shipping costs!
Selling Used Furniture Online
Selling stuff online isn't for everyone, but these websites make the process for locating buyers of used furniture pretty simple.
Selling with Specific Websites
1stdibs
1stdibs is a site that welcomes online sellers to sell their high-end clothing, jewelry, accessories, furniture, and more.
It prides itself on being the "leading online marketplace for the world's most beautiful things."
The screening process for sellers isn't easy, but you can apply via the website if you think you're a good fit.
Apartment Therapy
Apartment Therapy was once a classifieds site similar to Craigslist for home goods, but it's now more of a marketplace.
You can list your furniture for local delivery or pickup, or you can choose to allow delivery to buyers all over the world.
Joining and listing is free, but you can purchase optional credits for listing promotions. Apartment Therapy takes a 10% all-inclusive cut from your selling price.
Your funds from sold items can transfer directly into your bank account!
AptDeco
AptDeco claims that most furniture only takes an average of 10 days to sell. The best part is AptDeco's crew takes care of the delivery so you don't have to worry about figuring out how to ship your furniture to the buyer!
Need Easy Extra Cash?
Pinecone Research, a leading name in online survey panel honesty, absolutely guarantees $3 cash for every survey you complete!
Take advantage of their time limited New Membership drive and register NOW. Join today: 100% free!


It's free to list your items and free for the crew to pick them up. AptDeco does take a 16% cut of the price, but only if it sells.
Once you list an item, a buyer can respond. You have 24 hours to accept the buy request, or your listing will go back to the pool of buyers.
After you confirm the buy request, you can pick your pickup date with what works around your schedule. Your payment gets processed when your furniture gets picked up and usually takes 2 to 5 days to credit to your account.
Bonanza
Bonanza has a full Home & Garden section in which you can sell your furniture. There are no listing fees or setup costs involved.
Bonanza is integrated with Google so people looking for products like yours may find your listing through a Google search. That's awesome exposure for your furniture!
It also syncs up with other places you sell, like Ebay, so you can easily keep track of your listings.
Additionally, you can choose to open up a webstore rather than sell on the marketplace.
Chairish
Chairish is one of the most popular websites to sell used furniture.
It's free to list an item, but your items must be of acceptable value by the company. Its website states that most of its accepted items are "unique and vintage".
You'll get up to 80% of the asking price for your item. You can set a reserve to make sure your item doesn't sell for any lower than your minimum price, if you choose.
You can choose to either ship your item or set up a local pickup.
Your items will have a 48-hour return period, and then sales are considered final. Most people receive their funds within 4 to 6 days of delivery or 2 to 3 days of local pickup.
Furnishly
Updated 6/2023: Furnishly is no longer a working site.
Furnishly is an online marketplace for second-hand furniture.
You can create your own shop and place listings for your furniture. Once the team reviews and approves it, you're ready to sell.
You'll get 90% of your selling price, with the other 10% going to Furnishly.
People can search for items geographically so you may have a good chance of finding a local buyer here.
Lushpad
Lushpad used to be an online marketplace for selling and buying new and used furniture.
It's now, however, turned its focus onto selling its own partners' designer furniture, rather than being a peer-to-peer marketplace.
But, Lushpad did create an awesome Facebook group for its previous sellers and buyers to do what they enjoyed with the website, so you can always sell there.
Route 66 Furniture
Route 66 Furniture is like an online furniture consignment shop you can send your used furniture to.
The company will work with you to arrange an appropriate pickup time and will store the furniture in its warehouse.
You wait for the items to sell, and you'll get 50% of the selling price when they do.
Route 66 Furniture holds items for 60 days, at which point you can choose to extend the holding agreement, have the items donated, or come pick them back up.
Ruby Lane
Ruby Lane is a vintage online dealer that lets you open a shop to start selling your antiques online.
The only catch is that you need to have a minimum of 10 items for sale at one time.
So if you don't have that much furniture to always keep in stock, you might want to gather up some of your antique jewelry, décor, or flea market finds to sell too.
Shopify
Shopify is a little different than the other websites in this list.
It's a website that helps you set up your own e-commerce platform.
Earn Everything… nearly!
Join Opinion Outpost, one of the few faithful and honest survey panels and earn cash and gift cards for your opinion. Stack your points and redeem them: Simple! No hidden fees and completely free!


So, this is more for people who will have ongoing furniture sales.
For example, if you want to start your own online furniture consignment shop, this is perfect for you.
Your account includes financial, transaction, and marketing tracking, and even has built-in templates for you to use.
Alternatively, you can use your own coding to make your brand really stand out.
There are different plans, depending on your selling needs, ranging from $29 to $299 per month.
Trove
Trove is quickly becoming one of the most popular online marketplaces to sell used furniture.
You can sell on the website or use its iOS or Android app.
Listing your items is free.
Trove even lets you accept credit cards for purchases, much like Ebay or Etsy.
You'll need to come up with a delivery agreement between you and the buyer, whether you choose to sell locally or non-locally.
The cool thing about Trove is that, once you create a listing, all local buyers are notified of it. Realistically, you could sell your furniture very fast here!
Viyet
Viyet is another online consignment shop perfect for selling your furniture.
This one does take a bigger cut than most – 40% or more of the selling price. But, the team also does a pretty thorough inspection of items before taking them, so it helps cover their costs as well.
Viyet works similarly to Route 66 Furniture. It will pick up your items and hold them in their warehouse until they sell. You don't have to worry about finding the buyers.
If your item sells, you'll receive payment in about 10 to 12 days.
After 6 months of an item not selling, you'll be contacted to see if you want to donate it or come pick it back up.
Kai Market
Kai Market is an online marketplace where individuals can sell and buy pre-owned furniture.
Sellers can create listings and upload photos of their furniture items, set prices, and provide descriptions. Buyers can browse through the listings and make purchases.
Kai Market facilitates communication and coordination between buyers and sellers, but the transaction and delivery arrangements are handled directly between the parties involved.
Sotheby's Home
Sotheby's Home is an online marketplace specializing in high-quality, pre-owned furniture and home decor.
Sellers can submit their items for consideration, and if accepted, Sotheby's Home handles the entire selling process.
The platform works with sellers to determine the appropriate pricing and listing strategy.
Once a sale is made, Sotheby's Home manages packing, shipping, and delivery to the buyer. Sellers receive payment after the successful completion of the transaction.
Sotheby's Home provides a curated platform for selling furniture to a discerning audience.
Kaiyo
Kaiyo is an online marketplace specifically designed for buying and selling used furniture.
Sellers can list their items for free on Kaiyo's platform.
The company handles the entire process, including pickup, delivery, and even cleaning or refurbishing the furniture if necessary.
Sellers receive a percentage of the selling price, which varies depending on the item and its condition.
Kaiyo aims to make the selling experience hassle-free for sellers by taking care of logistics and ensuring the items find new homes.
OfferUp
OfferUp is a mobile app and online marketplace for buying and selling various items, including furniture.
Users can create listings, upload photos, set prices, and communicate with potential buyers through the app.
OfferUp focuses on local buying and selling, making it convenient for sellers to connect with buyers in their area.
Using Classifieds Sites to Sell Used Furniture
Have you Googled "where to sell used furniture near me"?
If so, you probably came across some of the online classified sites listed below.
Online classifieds websites are another option when selling used furniture that are best for those who want to make a quick sale locally without having to worry about shipping costs, seller fees, etc.
They're much like selling in the classifieds section of your local newspaper, with buyers able to search near their location to find a good deal.
10 Day Ads
10 Day Ads has several categories to sell in, including Furniture/Household.
Listings are free and, as the name suggests, will stay on the website for 10 days. Once it's off, you can list it again if you'd like.
Post your listing to your local area or worldwide, but beware that you'll need to figure out shipping costs to non-local buyers.
For even better listings, you may want to consider posting a video of your furniture, which this site lets you do. It's a good option to give buyers a better look at your stuff!
Backpage
Backpage is quickly gaining popularity as a website very similar to Craigslist. It's minimalistic but offers tons of categories, including Furniture.
You can sell to several different countries, including within the United States. However, listing internationally requires a fee. Local listings are free.
Close5
Close5 is an excellent place to sell used furniture locally. However, you can't use the website to sell.
Instead, Close5 is totally focused on its iOS and Android apps so you can post listings on the go! You can, however, browse the listings on the website.
There's a category just for furniture.
Through the app, you can chat with the buyer to give him more details, arrange pickup, etc. It also acts as a record of your conversation with the buyer, just in case he tries to say the item isn't how you described or some other shady business.
Sellers using this app tend to get more traffic if they're near big cities, but you can always try it out in your location.
Craigslist
Craigslist is the mecca of online classifieds websites. It's probably the most well-known, with thousands of new listings up each day all over the United States and worldwide.
There's a specific section for furniture under the 'For Sale' heading.
It's free so sell on Craigslist in most cases. Buyers respond to your listing via a secured e-mail system so they'll never get a hold of your actual e-mail.
You can add images to your listings and boost your listings to the top every once in a while, if you're not getting much activity.
If you're looking for more places like Craigslist to sell on, check out this huge list!
Geebo
Geebo is a very clean and easy to use classifieds website.
Geebo prides itself on keeping a safe community for buyers and sellers, so if you run into any problems, you can always contact support. They seem quick to take care of safety issues.
It's free to list on Geebo.
Kijiji
Kijiji is a classifieds website for Canadians. Interestingly, Ebay owns it!
You can post listings for free. You can also opt to put your furniture up for trade if you're looking to buy something that's similar in value.
There are promoted listings available for an additional fee.
OfferUp
OfferUp is similar to Close5. You can buy and sell used furniture – and tons of other items – on the website or the mobile apps.
This is best for selling locally. Nearby buyers can search their location to find your item for sale and arrange a pickup with you.
You'll benefit from the rating system and user profiles, which lets you learn a little about your buyers.
The OfferUp app is available in Google Play and the App Store.
Oodle
Oodle offers classifieds to the US, UK, Canada, New Zealand, Australia, India, and Ireland.
It's a good place to use if you're really into avoiding spam, since its support team quickly handles these types of issues.
Place furniture listings in the Merchandise section. Listings are free with some additional options to promote.
RecycledFurniture.com
This classifieds website is obviously for furniture only, so you may find some fast buyers here!
RecycledFurniture has categories for types of furniture, like baby furniture, entertainment furniture, and even hotel furniture.
Buyers can even search listings by price if they're looking to stay within a certain budget.
Listings are free and can include several photos.
How to Sell Used Furniture Fast with Auction and Selling Sites
Auction websites can let you sell your furniture for possibly the highest prices if you find the right buyer. And, you can even arrange local pickups to save on shipping costs.
Ebay
Ebay has just about everything you can imagine.
The giant online auction site has grown significantly since it started in 1995.
Ebay is great for narrowing down your furniture into a very specific category, which helps attract the perfect buyer.
Your item will likely get the most viewers on Ebay out of all these websites.
You can choose to ship your furniture or arrange local pickup with a buyer.
Ebay offers several different ways to sell.
Put your furniture up for auction, set a price and have people give their best offers, or set a firm 'Buy It Now' price.
If you don't want to do the work yourself, you can even ship your item to Ebay for its staff to sell for you!
Your fees depend on the final selling price, but are less with higher-value items.
Regardless of how you sell, you'll have listing fees and final selling fees.
They accumulate in your Ebay account and you'll owe them once per month.
However, there are often promotions for zero listing fees, so keep an eye out for those.
Ebay mentions them on its website when they're available.
Ebid
Ebid is an Ebay alternative that's not quite as busy as the huge auction site, but it's set up similarly, easy to navigate, and might get you on the road toward selling your furniture.
You can purchase a Seller+ lifetime membership for just under $50, which makes it possible to sell without any listing fees or selling fees.
You'll also get 15 free photos with each listing, unlimited listings, and the ability to sync your listings with Ebay.
Etsy
Etsy is a great place to sell crafts, craft supplies, vintage items, and handmade stuff.
It also has a full section dedicated to furniture.
So, you can sell your used furniture here, but there's a catch. It has to be handmade furniture or qualify as "vintage", which usually means about 20 years old or more.
Additionally, you could alter your furniture in some way to make it more "handmade" and crafty!
There's no clear lines when it comes to selling furniture on Etsy, so use your best judgement.
The only downfall is you may not get as much out of your furniture on Etsy as you would on other sites.
It's just not the right market for typical used furniture.
But, if you want to get crafty and do something to make your furniture a little more unique, you may have a shot! It's worth a try.
I suggest checking out the Furniture category first, just to see what people are selling.
Etsy has no monthly fees for its shop owners, and has a low $0.20 listing fee.
When your item sells, you'll have a 3.5% fee of the selling price and 3% + $0.25 fee for payment processing.
Sell.com
Sell.com is like a cross between Ebay and Craigslist. It's set up like a classifieds website, but focuses solely on selling items rather than all the other categories classifieds websites tend to have too.
Each category clearly shows how much it costs to place an ad. For furniture, it's $1.
There are also several add-ons you can purchase, like charms or bold listings to make it stand out more. They're all very affordable.
You can choose to list your item for a specific price or require buyers to make an offer, which is similar to Ebay's structure, minus the auction.
Under Shipping Terms, you can choose whether you'll ship the item or require local pickup only.
Sell.com is extremely easy to use and post a listing, and I like that there are no additional fees once your listing is all set up.
Other Ways to Sell Furniture Locally
Selling furniture online may not always be the best way to go if you have pieces that might cost you more to ship than you can make.
If you want to go for the most straightforward and less pricey way to sell, usually selling local is it.
Yard Sales
Yard sales don't usually give you the best return for your dollar, but they can be a good way to get your stuff gone quickly.
It might be especially helpful to host a yard sale if you have several neighbors planning one too.
People are more likely to go to a large neighborhood yard sale instead of just one single house with a few things to offer.
Yard sales can also be a good option for selling older stuff that you might need to sell cheap to get rid of, like furniture that's not in the best shape.
Consignment Shops
Consignment shops are usually locally-owned stores that sell second hand stuff to your neighborhood.
You'll often find everything from clothing and toys to used tools, furniture, and other household goods.
Use Google to search for something like "2nd hand furniture stores near me" to locate these shops.
Chances are you have at least one or two of them in town or close by.
Consignment shops need to make a profit by re-selling your stuff, so they won't offer you your full asking prices.
Still, it can be a good option for getting rid of bulky furniture quickly.
Pawn Shops
When all else fails, call the pawn shop!
Most pawn shops offer selling in addition to pawning, so yours may offer to purchase your good condition furniture from you.
Again, remember that pawn shops need to make a profit on what they buy, so it's highly unlikely you'll get the exact amount you want from each furniture piece.
Local Furniture Stores
Some furniture stores sell both new and used furniture, although they don't always advertise to the public that they sell used furniture.
Instead, you might just need to call and ask.
They sometimes house some pieces in their storage area for buyers who can't find what they want within their budget, just to give them some additional options.
To keep up their supply of used pieces, they might be interested in buying some of yours.
Antique Stores
Do you have furniture that you just can't find anywhere else?
Maybe stuff that's been in your family for a while or antiques that have been refinished?
If so, you might want to bring it down to an antique shop to see if it'd be interested in buying your piece.
Antique shops are always on the hunt for vintage finds, so that old 70's couch or cedar chest may finally find its perfect home here.
Since antiques tend to go to their perfect buyers who are willing to pay a little extra to get just the right find, they can typically mark items up a lot, so you might even be able to get your asking price.
Flea Markets
Flea markets are like yard sales and antique shops combined.
The good thing about them is that they host several sellers at one time, so anyone visiting the flea market could potentially wind up in your area browsing your furniture.
Unfortunately, most flea markets do charge sellers a fee for setting up a table or area within the flea market for selling.
You might need to pay daily, weekly, or monthly, depending on the flea market's setup.
But, if you have a lot to sell and think it's good enough to practically sell itself, then a flea market could be a good option for you.
Furniture Finders is a great place to look for, and sell, used office furniture, like desks, desk chairs, conference tables, cubicles, and more.
You can use the site to find a partnered Furniture Finders dealer in your state.
Furniture Finders gives you the dealer's contact information so that you can email or call them to find out if they might be interested in buying your office furniture.
Wertz Brothers
Wertz Brothers is a furniture dealer for the greater Los Angeles area, so people who live in that area might be able to strike a deal with the company.
You can submit information and photos of your furniture to the email address listed on the site to obtain a quote.
Want More Ways to Sell?
Here are even more ways to get rid of that used furniture, once and for all!
Facebook Selling Groups
Have you tried Facebook groups?
I'm a member of local buying and selling Facebook groups. They're incredible places to find local buyers for your stuff!
It almost beats having a yard sale.
Just create a new post in the group with plenty of photos of your item and a good description. Be available to quickly answer any questions.
Arrange pickup or dropoff details with a private Facebook message. I suggest meeting the buyer at a public location rather than give your home address if at all possible!
You can find these groups easily on Facebook by searching through Groups using a term like "[your city/county] buy/sell". I live in a small area and my groups are super active still.
Sell from a Website
Having your own website can be the perfect way to sell your furniture on your terms.
You can make it simple and small and share the link to people you know who might be interested in buying, such as your friends on Facebook.
It might help to have some business cards and flyers printed with your website URL on them so that you can hand them out or post flyers when you're out and about.
When you place your stuff for sale on your own website, you have full control over how you sell them and the price for which you sell them.
Sell Using Social Media
You can use most social media networks to sell directly to your followers as long as you abide by their guidelines to do so.
On Facebook, for example, there are special posts you can create that let followers "shop" from the post.
You can link the post to a specific item on a website to let followers go directly there to buy.
You can also use Pinterest to curate boards with photos of the furniture you're selling.
Or, use Instagram to house your furniture photos and place a link to your website in your bio.
Some people even sell directly on Instagram to local buyers by inviting their followers to direct message them when they're interested in purchasing something, so that's another option.
Getting the Most Money Out of Your Used Furniture
How can you ensure that you always get the most money out of your used furniture?
Here are a few simple steps that should help:
Step 1: Clean, Clean, Clean
Nobody – and I repeat nobody – will want to buy your used furniture for top dollar if it looks like a mess.
People will expect nothing but free or close to free if they see stained, pet hair-covered, or damaged furniture in your listings.
It might take some money to clean your furniture properly before selling it, but this necessary step can help you get closer to your asking price.
Be sure to vacuum your furniture to remove any pet hair, lint, dust, etc. before you use any cleaners to thoroughly clean the fabric.
It might be worth it to rent a furniture cleaner from a local hardware store for a couple of hours to deep clean all the upholstered furniture you want to sell.
Make sure you dry it completely, though, before having anyone come look at it because potential buyers will likely not be impressed by a wet couch.
Step 2: Take Insta-Worthy Photos
Once you get everything tidied up, it's time to start taking pictures!
Your photos should:
Not have any pets or people on them
Not have clutter on or around them
Have excellent lighting that shows the true colors of the furniture
Not be blurry or low-quality
The more photos you can add to your listing, the better.
It's also a good idea to have a wide-angle photo that shows the whole piece in a clean room and a close-up to show the details, fabric, colors, etc.
Natural lighting usually works best to ensure that your pictures pick up the natural colors of your furniture.
It's not necessary to go and splurge on a high-tech camera; your smartphone should do just fine, as long as you know how to use its camera function well.
You can always get a free app, like Lightroom, to edit your photos by brightening them, adjusting colors, and sharpening them, if needed.
Step 3: Set Up Your Listing for Success
Next comes the listing itself which is what will eventually sell your furniture.
If you place your furniture on any website where you can write a detailed description of your piece, then take advantage of that section!
Be honest about the condition.
If it looks better in the photos than it does in person, let your potential buyers know by pointing out any flaws, broken parts, scratches, etc.
It's better to weed out those who won't be interested than to spend a lot of wasted time talking to people who discover the flaws later and decide they don't want to purchase after all.
Add several photos to your listings, too.
Most sites will allow for at least three or so; it's good to shoot for about 5 or 6, if possible.
Also, add to your description if and where you're comfortable traveling to meet someone locally, whether the furniture comes from a smoke or pet-free home, and the approximate dimensions of each piece.
Step 4: Set a Price You're Comfortable With
Pricing is another crucial part of the selling process, but it can be tricky to set a price both you and your customers are comfortable with.
First, think of the price you're comfortable with.
Then, add to that price.
This gives you some wiggle room from buyers who will want to talk you down in price.
Remember that some sites won't let you set your prices, depending on the selling models they work with.
In those cases, you'll just have to determine from your quote whether you're comfortable with that quoted price.
But on sites that let you set prices, always make sure you leave room to negotiate.
Try searching for similar furniture pieces to get an idea of what they're selling for to make sure you're not pricing your pieces way too high.
Step 5: Promote Listings
Some sites will give you the option to promote your listings, like eBay, which has some options for sellers to pay more to make their listing stand out.
For low-cost pieces, this probably won't make much sense.
But for large pieces with a big price tag, it might benefit you to get your furniture seen by more people by taking advantage of promotional features.
See what the site offers and how much it costs.
You might want to just experiment with one or two promotional features to see how they work for you before spending a huge budget on the tools.
You can also use your own social media networks to advertise your listings!
A lot of sites integrate with Facebook, Pinterest, and Twitter, for example, so that you can share your listings directly to your followers.
It's free advertising, so you don't want to pass it up!
Reminder: Never Sell without a Quote!
If you're using a site that buys furniture from you directly, be careful never to agree to sell anything until you've received a quote.
Giving a quote is best practice for these types of sites, but it doesn't mean they all do it.
The dealer should never have to take the furniture from you, either, to give you a quote.
Usually, sending pictures is enough to get an accurate quote, start the process, and be on your way toward payment.
Have you used any of the above websites for selling furniture?
Are there any you love that we missed?
Let us know in the comments!
Related Posts:
Earn Everything… nearly!
Join Ipsos iSay, one of the few Faithful and Honest survey panels and earn prizes, gift cards and donations. Stack your points and redeem them: Simple! No hidden fees and completely free!