20+ Places to Sell a Used iPhone for Cash Online and Locally
Updated on: by Amy Kennedy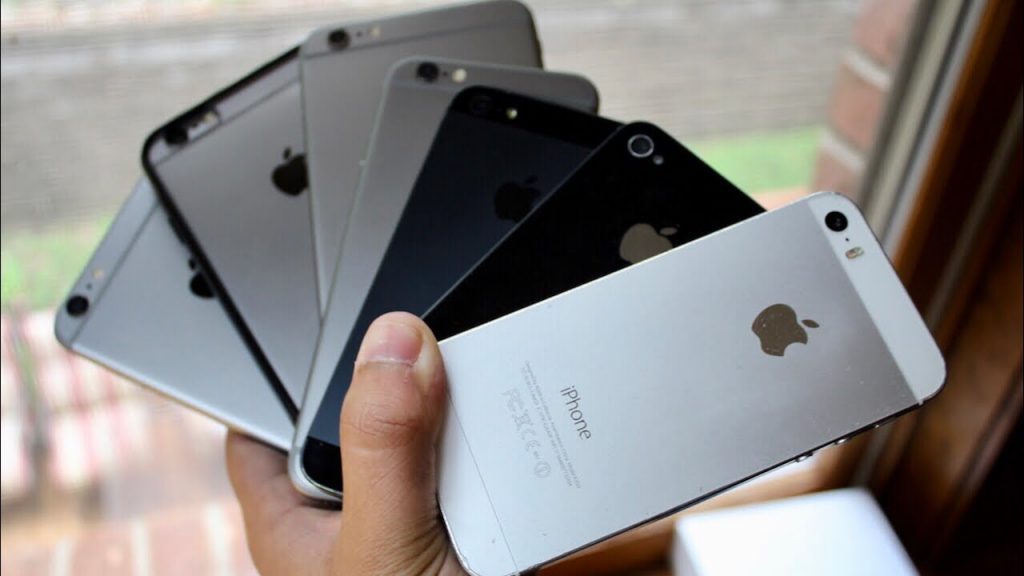 iPhones have been extremely popular for more than a decade now, and they don't show any signs of slowing down any time soon.
Need Easy Extra $350+/Month For Free?
Apple releases new iPhones at least annually, offering new features to build upon all the awesome stuff that's included in previous models.
When you're on the market for a new iPhone, you still have to figure out what to do with your old one.
One of the best ways to save money on your new iPhone is to get money back out of your old one when you sell it.
Lucky for you, there are a lot of places that allow you to sell your iPhone, both in-person and online, to make the process quick and convenient.
Places and Stores That Buy iPhones Locally
"Where can I sell an iPhone near me?"
That's a question we see a lot, which is why we're answering it in this article!
Here are nine places that you might have near you where you can sell your iPhone for cash.
Apple
Apple has a program called Apple Trade In that lets you trade in your Apple devices, like tablets and smartphones, for credit or cash.
Since your iPhone comes from the Apple brand, it's possible that you could get the best offer by selling your phone back to Apple.
If you have an Apple store near you, you could end up selling your device within a few minutes.
Apple pays up to $500 for its newest models and will even give you $30 for your iPhone 6 if it's still in excellent condition.
If you don't have an Apple store in your area, you can still start the process online by getting a quote and learning how to ship it.
Apple will give you Apple credit toward another purchase or an Apple gift card for your trade in.
Walmart
Take your device to your nearby Walmart to participate in its trade-in program.
You can also start the process online to get a free quote, find out all the shipping rules, and get a Walmart gift card sent electronically to your email.
Need Easy Extra Cash?
Pinecone Research, a leading name in online survey panel honesty, absolutely guarantees $3 cash for every survey you complete!
Take advantage of their time limited New Membership drive and register NOW. Join today: 100% free!


Best Buy
The Best Buy Trade In Program lets you trade in several different devices to get a Best Buy gift card that you can use toward another purchase – or even your new iPhone.
You'll need to bring your device to the store for an employee to look over, though, so that they can figure out the condition of your device and give you a fair value.
Target
Target is another retailer that accepts electronics like your iPhone in exchange for a gift card to the store.
Target also offers PayPal cash if you'd rather have that!
You can only take advantage of this deal at participating Target stores, so call your local store first before heading over to see if it's a service it offers.
EcoATM
Use EcoATM to both recycle your device properly to help the environment and to get some money out of it at the same time.
EcoATM kiosks are in several different stores throughout the United States.
Head to the site to learn more about preparing your device before sending it in and to find a location.
You can also get a price estimate on the website.
Once you get there, you'll follow the prompts on the screen that walk you through getting a quote and recycling your phone.
With a newer iPhone, you could get around $300!
Staples
Use the Staples Tech Trade-In service to trade your iPhone in at the store or online.
Staples looks for gently used devices still in good condition.
Whichever way you choose to trade in, you'll get a Staples eCash Card for your phone's value.
Your Cell Phone Service Provider
Many cell phone service providers have buyback programs for phones you purchased for your phone plan.
If you have a nearby store for your provider, call to check if there's one available. Or, visit the website to learn about trade-ins.
Verizon, for example, gives appraisals for your old devices when you bring them into a Verizon store and will give you a gift card if you accept the offer.
T-Mobile also has a similar service, letting you trade in your phone on the website or in person at a T-Mobile store.
Local Electronics Stores
If you have any electronics stores nearby – big-name chains or smaller, locally-owned businesses – check with them.
There's a good chance they offer some sort of trade-in or buy-back program for old cell phones.
Pawn Shops
As a last resort, you might try to sell your phone at a pawn shop.
At the very least, it's a good idea to get a quote from a pawn shop if you have one in the area.
Some may try to sell you short, but others might be willing to pay more for your iPhone than you could get elsewhere.
Read More: 14 Places That Buy Cell Phones for a Good Price Near Me and Online!
Where Can I Get the Most Money for My iPhone 6 or Another Phone Online?
Selling a phone online is a convenient option if you can't or don't want to visit a store or just like the convenience of doing everything from home.
Here are some excellent online options:
Flipsy buys several types of iPhones, from brand new models to older releases.
Use the site to get a trade-in value based on your type of phone and its estimated condition.
The site even compares its offer to other popular trade-in programs.
Earn Everything… nearly!
Join Opinion Outpost, one of the few faithful and honest survey panels and earn cash and gift cards for your opinion. Stack your points and redeem them: Simple! No hidden fees and completely free!


You'll get free shipping when you send in your device, and you should expect to receive payments within just a few days after Flipsy receives your phone.
Take a quick quiz on the Glyde site to determine your cell phone's worth.
If you agree to the offer, you can send your phone in for free, wait for Glyde to verify its condition, and get paid for your phone.
Glyde gives cash via PayPal or a gift card to Glyde to purchase another device.
Even if your iPhone is broken or not working correctly, you may be able to sell it to BuyBackBoss.
This site gives you an instant quote based on the model you have and its condition.
Ship your device for free, let the company look over it, and wait for your payment to come.
You can choose between a mailed check or faster PayPal payments.
SellCell is a service that browses through quotes from more than 35 other buyback programs to make sure you're getting the best price for your phone.
It accepts several types of cell phones for buy-backs, but iPhones are among the most popular to get quotes for here.
You can head to the website to view current iPhone prices for models.
When you find your model, click on it, and SellCell will pull up a list of companies that are willing to buy it back along with their current prices.
Choose your device, get a quote online, ship the phone for free, and get paid with PayPal once GadgetGone receives and inspects it.
GadgetGone usually takes only about two business days after receiving your iPhone to evaluate it and get your payment sent to you.
Get an instant price from Decluttr when you enter your phone's details on the website.
Decluttr gives you free insured shipping to send your phone in.
It also has a guarantee that makes sure you get the first offer it gave for your device, or you can have your device returned to you for free.
Turn in your iPhone to Amazon to sell as a used device on the platform and get an Amazon gift card that matches the value.
Some devices even qualify for an instant gift card, but make sure you're marking the correct condition or you may owe some money back.
eBay differs from other places on this list because you are in charge of how much you sell anything for on the site.
You can add your iPhone to a listing with photos and a description and decide whether you want to see it through an auction or fixed price listing.
Either way, you could end up with more cash for your phone than you would if you sold it to a place that gives you their price offer.
Just be sure to be honest about the condition of your phone on eBay to avoid disappointed customers leaving you a bad review.
Swappa is currently one of the more popular sites for various device trade-ins and sales.
The site accepts iPhones with some of the best prices in the business, including as much as $594 for an iPhone XS Max.
Swappa is more like eBay in that you can sell directly to customers rather than selling to Swappa for the company to sell to customers.
Because you're cutting out the middleman, you could end up with more cash in your pocket for your iPhone.
Get an instant offer from Gazelle by filling out some information about your iPhone online.
If you like the offer, send in your phone for free and get paid with a check, PayPal, or an Amazon gift card.
Find your iPhone serial number to look up its value and receive an instant quote from BuyBackWorld.
You can get paid in cash for your phone within two business days after the company receives it.
Bonus Options!
Recommerce Websites
Recommerce websites specialize in buying used electronics, including smartphones. These platforms offer a convenient way to sell your iPhone or another phone and get a competitive price for it.
Some popular recommerce websites include:
ecoATM: ecoATM has kiosks located in various places where you can sell your phone instantly. Simply find a kiosk near you, follow the instructions to assess your device's condition, and receive an offer on the spot.
ItsWorthMore: ItsWorthMore allows you to sell your phone online by providing details about your device's condition. Once you submit the information, you'll receive a quote, and if you accept it, you can ship your phone for free and get paid.
BuyBackBoss: BuyBackBoss is an online platform that offers competitive prices for used phones. You can get an instant quote by providing information about your device, ship it for free, and receive payment once the company receives and inspects it.
Social Media Platforms and Groups
Social media platforms like Facebook Marketplace and Reddit have dedicated groups and marketplaces where you can sell your used items, including phones.
These platforms often have local communities where you can connect with potential buyers and negotiate the price directly.
Some popular options include:
Facebook Marketplace: Facebook Marketplace allows you to list your phone for sale within your local area. Simply create a listing with details and photos of your device, set a price, and communicate with potential buyers through Facebook Messenger.
Reddit's r/phoneswap: Reddit's r/phoneswap subreddit is a dedicated community where users can buy, sell, and trade phones. You can create a listing following the subreddit's guidelines, specify your phone's details, and interact with potential buyers or sellers within the community.
Local Classifieds and Online Marketplaces
Utilizing local classifieds and online marketplaces can help you reach a wider audience of potential buyers.
These platforms often have sections dedicated to electronics and mobile devices.
Some popular options include:
Craigslist: Craigslist allows you to post free classified ads in your local area. Create a detailed listing for your phone, including photos and a description, and connect with interested buyers in your community.
Letgo: Letgo is an app and online marketplace where you can sell used items locally. List your phone with a description and photos, and interested buyers can contact you through the app to negotiate and finalize the sale.
OfferUp: OfferUp is another popular app and online marketplace for buying and selling locally. List your phone for sale with photos, provide a description, and communicate with potential buyers within the app to arrange the transaction.
Selling Your Phone for the Best Price
Not sure how to sell your phone for the best price?
These tips can help!
Be Honest About Its Condition
Any place you sell your phone to will want to know about its condition.
Some of the points they'll look for include cracked or scratched screens, working features, chargeability, and the overall condition of the device.
If you're selling online, you'll be asked to indicate the condition of your phone.
The company will base the offer it gives you on the condition you select.
If you send in the phone and the company determines it's not in as good of a condition as you stated, you won't be eligible for the full offer you were originally quoted.
Do a full inspection of your device before sending it off to make sure you get the cash you expect at the end of the deal.
Compare Offers
Every company will quote you a bit differently for your device.
Some companies could have significant disparities in how much they're willing to pay you for your iPhone.
That's why it's always best to compare the quotes you get from at least a few different places before you decide which one to sell to.
Keep the Original Packaging and Accessories
Not all places will require the original packaging and accessories along with your phone (in fact, many online places don't).
Still, it's a good idea, especially if you're selling the phone to someone locally or on eBay, to include all the original accessories and packaging that came with your phone.
Try to hang on to this stuff when you get a new phone to boost its value when you're ready to sell it.
Sell Quickly
Phones don't retain their value well after a year or so because there are usually new models released each year.
You may not be the type to buy a new cell phone each year, and that's okay.
But make sure you sell your phone as quickly as possible when you get a new one so it won't keep depreciating in value as it sits and waits for a sale.
Generally, phones within their first year of release will net you the most money back when you sell, but you may still be able to get a great deal on a two or three-year-old phone if you don't wait too long to sell it.
The Best Places to Sell a Used iPhone for Cash
Stop leaving your old phones in a drawer collecting dust and start making money for them!
Remember: What you make from an old iPhone could help you afford a new one.
Whether you want to sell locally or online, one of the places above should be able to help get you some money for your phone.
If you know of other online or local stores that accept iPhone trade-ins or buy-backs, let us know in the comments below.
Related Posts:
Earn Everything… nearly!
Join Ipsos iSay, one of the few Faithful and Honest survey panels and earn prizes, gift cards and donations. Stack your points and redeem them: Simple! No hidden fees and completely free!