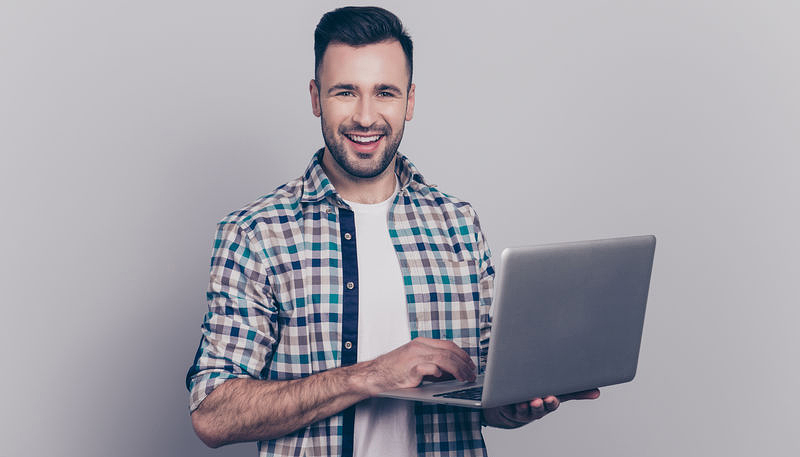 Why keep your old laptop laying around when you can make money off it?
Need Easy Extra $350+/Month For Free?
InboxDollars: Has so far paid its members over $40 Million. Watch videos, take surveys, shop and more. Join InboxDollars Now and Get Free $5
SwagBucks: Watch videos, take surveys, shop and more to earn real money. Earn up to $35 per survey! No hidden fees and completely free. Join Swagbucks Now to Get $5 Free
Toluna Opinions: Earn $1-$5 each time you qualify and take surveys. Test products for free and share your opinions! Join Toluna Opinions Now
Lifepoints: Famed MySurvey just rebranded to LifePoints. Take paid surveys anytime and anywhere via PC or Mobile App. Paid its members over $32 Million so far! Join LifePoints Now
YouGov: A leading name in online panels: Join now and earn $50 cash or vouchers for completing surveys! No hidden fees and completely free! Join YouGov Now
SurveyJunkie: Make $5-$25 in your spare time from home to take online surveys, participating in a Focus Groups and trying new products. Join SurveyJunkie Now
Trade in old computers for cash instead.
You'll be surprised by how easy it is.
I've done it myself with every laptop I've owned when I get an upgrade.
In fact, I use the cash I get back from my old laptop to help me pay for my new one!
I can usually get at least half of what I paid for it back, making it an opportunity I can't afford to pass up.
The great thing about laptops is that even old ones can still benefit others.
Once it becomes a little too sluggish for you, you can still find someone who it will work well for, like a high school student who just needs one for simple word processing or research.
And, some people even buy old laptops to upgrade and resell for even more money.
Either way, there are buyers out there for just about any kind of computer – even your old laptop!
Before You Sell: Find Out What Your Laptop is Worth
Laptops can decrease in value rather quickly as new models get release all the time.
Electronics are one of those things that depreciate fast, so you'll want to check your laptop's value before you go to sell it.
That way, you'll know if the offer you're getting is worth your time, or what you should price your laptop at if you choose to sell it yourself.
GadgetValue is a site you can use to check the value of your computer.
Visit the site, plug in the information for your computer, and get its approximate value.
Unfortunately, the site only values laptops that are from 2014 and older, so you'll have to go a different route for newer computers.
Need Easy Extra Cash?

Pinecone Research, a leading name in online survey panel honesty, absolutely guarantees $3 cash for every survey you complete!
Take advantage of their time limited New Membership drive and register NOW. Join today: 100% free!


Another good option is to search eBay.
Type the name of your laptop, including its model number, into the search bar.
You'll get an idea of what other similar laptops are selling for and how much they've recently sold for so that you'll know a fair price for yours.
What's the Top Way to Sell Your Used Laptop for the Most Money?
So, what's the best site for selling your used laptop?
My personal preference is eBay.
Not only have I personally had a lot of positive experience selling my laptops here, but I've heard from others that they've gotten the highest amount back for laptops on eBay.
On eBay, you can either sell your computer in an auction or create a fixed buy-it-now price you feel is fair.
You can even open up your listing to allow others to offer their best prices for it.
You have the right to deny or accept any offer you choose.
If you decide to have an auction, you can set a reserve price, which ensures that your computer doesn't sell for anything lower than a price you determine.
Basically, you're in charge over how much your laptop sells for on eBay, which can give you the most cash back for your used computer.
And, people flock to eBay for used laptops to upgrade, refurbish, and resell.
You can even sell broken ones there (trust me, I sold one once for $50).
Some of the other options on this list only allow laptops in great condition.
Some also will give you an amount lower than your laptop might be worth so that the company can make a profit reselling it.
eBay doesn't do either of those things, which is why I consider it the best option for you.
Not quite sure how to use eBay?
This ultimate eBay guide will teach you everything you need to know!
Other Options for Selling Your Used Laptop
Amazon comes in a close second behind eBay.
The only downfall of selling on Amazon is that, if you have a laptop you upgraded or modified in any way, you probably won't be able to sell it here.
Amazon requires that what you sell be an exact match to the already-there listing for that item.
Amazon's trade-in program is super easy to use, although you'll likely get much less than your computer's worth.
Still, it kind of makes up for it with how easy it is.
Search for your laptop model and click the 'Trade' button.
Let Amazon know the laptop's condition, and you'll get an instant offer.
You can get that money sent instantly as an Amazon gift code.
If you choose this option, you risk having to give that money back if Amazon determines that your laptop isn't in the condition you stated when you send it in.
If the condition you chose is correct, though, you keep that money.
Alternatively, you can choose not to get paid until Amazon double checks everything.
Earn Everything… nearly!

Join Opinion Outpost, one of the few faithful and honest survey panels and earn cash and gift cards for your opinion. Stack your points and redeem them: Simple! No hidden fees and completely free!


The good news is that you send in your computer free of charge on Amazon's dime with a prepaid shipping label!
That means more money in your pocket (even eBay doesn't offer this!).
Apple's Trade-In program is the perfect service to use when you want a new Apple device and don't want to pay full price for it.
You can, instead, trade in your previous Apple laptop and get a credit toward your new purchase.
A MacBook Air, for example, can give you up to $690 toward the purchase of a new Apple laptop or other device.
You'll just need to use the website to answer some questions about your device and its condition.
Then, you'll receive an online quote and can choose whether to act on it.
Apple also walks you through the steps of safely erasing all the data on your laptop before you send it in.
Best Buy Trade-In focuses solely on electronics, just like the company.
So, you can sell several used electronics here, but laptops tend to give the most return.
You can choose to either visit your local store for a trade-in or ship the item to a warehouse for free for further processing.
You can even estimate how much you might receive for your trade-in before you go through with it.
Best Buy also offers helpful guides that teach you how to erase your important data before sending it off.
Craigslist is an online classifieds website.
Much like you would your local newspaper, you can create listings to sell your stuff on Craigslist.
With this site, you won't be selling online.
Instead, you'll use the website to find local buyers interested in your computer.
You can use the platform to communicate securely with interested buyers.
Then, set up a safe meeting place and time – in a public location only! – and sell your laptop!
You're in full control over how much you accept for your used electronics when you use Craigslist.
Read More: 24 Websites Like Craigslist: (Most Let You Sell for Free!)
Decluttr lets you send in and sell your used technology online, like phones, tablets, and laptops.
You can either search by name for your laptop or type in the barcode to get an online quote to see how much your device would be worth on the site.
Decluttr sends you a free shipping label to ship your laptop with UPS.
In most cases, the site will also get your payment paid the next business day after receiving your computer!
Device Pitstop is a chain of stores that accepts used electronics, including laptops, for cash or trade-in.
You can use the website to find a location near you. The stores are located in several U.S. states.
And, if you're really ambitious, you can even open your own Device Pitstop store!
Facebook Groups or Marketplace
The Facebook Marketplace is a newer feature that Facebook rolled out to use to sell items, from old to new.
You can list your laptop for free and local people interested in it can contact you to set up a sale.
Facebook groups can work much in the same way, and you can even use Marketplace features within groups.
Search for local buying and selling groups on Facebook and you can probably get your laptop sold quickly.
Flipsy claims that its offers usually are about 30% more than those you'd get if you were to use a trade-in program.
Shipping is free when you do decide to send in your device and you can usually get paid in about two days from the time Flipsy receives your laptop.
You'll get paid by PayPal or check.
There are only a few laptops that Flipsy will accept, however, like Macs and the Microsoft Surface.
Gadget Salvation may not be one of the most well-known sites for selling electronics, but it's quickly becoming one of the most popular.
In fact, a lot of users say that Gadget Salvation gives them the best offers for used electronics compared to similar sites.
It's worth a try!
Here, you can trade in your laptop for cash.
Plug in its make, model, and other details, and you'll receive an offer.
The company even has a number you can text to sell items!
Send photos and a description to the number, and you'll receive an offer from a Gadget Salvation agent after he or she checks it out.
Gadget Salvation gives you a prepaid shipping label to ship your item there, so you don't even have to worry about an extra cost.
Gazelle is one of the pioneers in this industry,
This site is best for selling smartphones, but it also accepts other devices, including tablets and laptop computers.
Any item worth more than $1 (which your laptop likely will be!) can ship for free.
You choose to get your cash via Amazon gift code, PayPal, or a check.
You can get paid with PayPal or a check in about a week when you send in your laptop to Get Cash For Laptop.
Your laptop will ship with FedEx for free with one of the company's prepaid shipping labels.
LaptopNuts is a Chicago PC company that has expanded its laptop buyback program to the online world so that anyone from anywhere in the country can potentially sell their used laptops to them.
You can use the website to find your exact model, answer questions about its condition, and get a quote back within a few seconds.
The company pays for the shipping label so you won't have to spend anything to send in your laptop.
Once LaptopNuts receives your laptop and inspects it, you should receive your PayPal payment soon.
Letgo is a mobile app that lets you sell stuff to local buyers.
You can sell just about anything through the app, as it has a variety of categories, from baby gear to cars and other vehicles!
Electronics is a popular category, so if a lot of people in your area use the app, you'll likely find a buyer quickly.
Letgo works a lot like Craigslist in that you can talk with interested buyers securely through the app and come up with a meeting place, date, and time.
You can even list your laptop within seconds using the app.
Add a photo and quick description, set your price, and you're ready to roll.
Got a Mac to sell?
Mac Me an Offer is the place for you to find a buyer!
This site works much like the other trade-in sites, except that it's strictly for Apple devices and computers.
After you accept an offer for your device, you'll get a prepaid shipping label.
Just find a box and send your laptop in!
You can get paid by check or PayPal within three business days after Mac Me an Offer receives and approves your device.
Nextworth is a simple site to use if you're ready to sell your used computer.
The site accepts various types of devices, but it rotates its accepted trades based on its current need.
For example, right now the only types of laptops you can sell are from the Apple brand.
You can bookmark it, though, and wait for your make and model to open up for trades.
Like other sites, you can ship it for free and receive PayPal cash or a check for your item.
OfferUp is another app for both Android and iOS devices that helps you sell locally.
Like Letgo, there are a lot of categories available, but electronics tend to sell well.
List your laptop with the app by adding a description and photo.
Then, wait for interested people to contact you to potentially buy it!
SellBroke is a place where you can sell laptops and other devices.
When you send your laptop in, SellBroke will do all the erasing of your data so that your information stays secure.
And, that's one less step you have to take (although you can if it makes you feel better!).
You'll receive an online quote when you enter important information about your device.
You can also ship your item for free!
SellLaptopBack is a sister site of SellBroke that focuses mostly on laptops, but also accepts some other popular devices.
You can receive your cash as soon as the company processes a quote.
Then, ship your laptop for free. If there's any discrepancy with the condition you described, the company will let you know.
Swappa is an alternative way to 'sell' your laptop online.
You won't really be selling it here, though.
Instead, you'll be swapping it for something else you'd rather have.
If you have your eye on a newer laptop or a different device, you can trade yours in and put its value toward something else, or simply trade with someone else for another device.
It's still a good way to get something out of your old computer that you no longer use!
VarageSale is another handy app you can use to sell a computer.
It currently operates in all 50 U.S. states and some parts of Canada.
You have control over your pricing and can communicate with buyers securely through the app.
VarageSale helps you find local buyers, so you don't have to worry about shipping or not getting your money online.
Another Option: Check with Local Computer Stores
If you aren't getting the price you want with the places listed above, then there's always another option: selling locally.
Many local computer stores will probably be open to buying your used laptop if it's in good condition.
If it works and there aren't any notable damages to it, then you can probably find a home.
And you might even make a little more money than you would using a buyback site, especially because you won't need to purchase any packaging materials using this method.
Call around to computer repair or sales shops in your area to see if they can offer you a quick quote online.
Then, bring it in, have them check it over, and you should be able to get paid on the spot.
Some may offer you a store credit rather than cash, so be sure to ask about the form of payment on the phone.
Tips to Sell Old Laptop Online for the Best Price
How can you sell your old laptop online and get the most money out of your sale?
These tips should help!
Wipe It
The most important thing you need to remember before selling any tech device is to wipe your information from it before sending it in.
Some places say they'll do this for you, but it's always in your best interest to do it yourself, just for that extra layer of safety.
The tricky part is that there are many ways to do it depending on your laptop and operating system, so you'll need to look up information specifically for your system to figure it out.
Some computers have built-in wipes that erase all your data to ensure that nothing is stored on your hard drives.
The last thing you want is to have someone else get a hold of sensitive information that was stored on your laptop.
So do yourself a favor and take some time to read through how to wipe your hard drive before you sell your computer.
Give It a Fresh Install
After wiping your laptop, you'll want to give it a fresh installation of its operating system.
Again, this is something you'll want to look up how to do before doing it to make sure you follow the proper steps to do it correctly.
Most operating systems are digital now instead of loaded onto a disc, so you may need to contact your laptop's manufacturer to get the information for your digital version to reinstall it.
You'll need a serial number, for example, that proves you own the operating system for that computer.
Most places will want only laptops that are all set up and ready to go, so ensuring that your operating system is in place will give you a better chance of getting a fair amount for your laptop.
Repair Anything That's Not Working Properly
This isn't always a plausible option, but you might want to consider repairing stuff that isn't working on your laptop.
For example, if keys are missing or sticking, it's not too difficult to get some replacements or do a full cleaning of your keyboard to get it all functional again.
However, if the screen on your laptop is cracked, it's likely that you'll spend more repairing it than you'd get from selling your laptop.
For anything that seems like a small fix, though, you can always bring your device into a local repair shop to get a quote for repairs.
Then, weigh whether you think that cost is worth it based on how much you could get from your laptop with and without the repairs getting done.
Remember to research some potential values using eBay or online laptop valuation tools so you can get an idea of how much it's worth in different conditions.
Conclusion: Best Place to Sell a Laptop Online
Now you have a whole list of places to sell that used laptop that's sitting on your desk collecting dust.
No more excuses – make some money from it!
Have you used any of these places to sell laptops?
What one's your favorite?
Let us know in a comment below!
Related Posts:
Earn Everything… nearly!

Join Ipsos iSay, one of the few Faithful and Honest survey panels and earn prizes, gift cards and donations. Stack your points and redeem them: Simple! No hidden fees and completely free!