10 Best Places to Sell Your Wedding Dress Online to Get More Cash
Updated on: by Amy Kennedy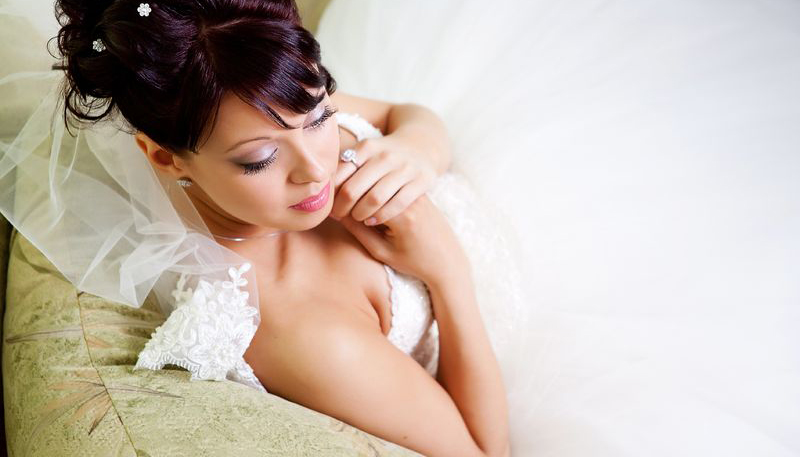 Let's talk about the skeleton in your closet: your old wedding dress.
Need Easy Extra $350+/Month For Free?
It's sitting in the back of the closet right now, collecting dust, isn't it?
You probably spent a decent chunk of change on that dress…
Now it just sits in a garment bag, silently mocking you every time you dig out your rain jacket.
I have good news: you are not alone.
I, too, have been mocked by my old wedding dress.
But no more, because I found out that I can resell my wedding dress online and make some money.
Let's get real, the only reason to hold onto a wedding dress is because it was worn by your grandmother.
Otherwise you're just living in the past!
You know what feels better than looking at an old dress and reminiscing?
Cash in your wallet!
If that's not enough to convince you, what about this: according to The Knot, the average bride spent a whopping $1564 on their wedding dress in 2016.
There are brides out there right now, looking for their dream dress and hoping that they can afford it.
You can literally make their dress dreams come true.
How awesome is that?
This list will help you find those brides and sell your dress; you get cash, they save money.
Need Easy Extra Cash?
Pinecone Research, a leading name in online survey panel honesty, absolutely guarantees $3 cash for every survey you complete!
Take advantage of their time limited New Membership drive and register NOW. Join today: 100% free!


Life is great.
Rather than websites where you hope for a buyer like Craiglist or Ebay, used wedding dresses sell much faster on sites that are designed for brides ready to purchase.
This list is chock-full of those websites for you to start selling on.
But first, let's start with the basics.
How to Sell Your Wedding Dress
Before you're ready to sell, it is important to know and do a few things.
If your dress was bought within the past few years, it will be a good idea to know the designer and style number of your dress.
Many of the websites on this list include a dress calculator that requires this information.
Be sure to know the correct sizes and measurements of the dress to make your listings as accurate as possible.
Additionally, it's good to be aware of the condition of your dress.
In all likelihood, you wore it once and it has minimal visible wear.
However, it is smart to review a website's condition guidelines before you describe your only-worn-once dress as new.
Generally, there are several condition options: new with tags, new without tags, pristine, very good, good, fair, poor, and so on.
Be sure to use the correct terms when describing your dress.
Finally, you'll need to be sure that your dress is properly cleaned so that you can take quality photographs to post on your listing.
Find a space where you can hang your dress in some natural light and take photos of the front, the back, and any special details like beading or lace.
If you don't have a nice camera, even cell phones these days can take amazing photos.
Once you complete these steps, you're ready to visit the following websites.
Where to Resell Your Wedding Dress Online
Tradesy is a high-end website for buying pre-owned, discount designer clothing.
They have a section devoted to weddings.
They offer two options to list your dress: copying an existing listing with a similar dress, or creating a listing from scratch.
You can list for free, and Tradesy makes a 14.9% commission on all of your sales, which is much lower than many other sites.
Nearly Newlywed is where brides go for high-end dresses The great thing about Nearly Newlywed is that they handle all of your customer service, promotion, insurance, and shipping for you!
Unfortunately, they have a $25 listing fee and you'll only receive 65% of the listing price.
With over 5.5 million visitors in the past month, and over $14 million worth of dresses sold, Still White is my pick for the best place to sell your wedding dress online.
They have a $20 standard listing fee and a $30 premium listing fee, but absolutely zero commissions.
Thanks to that incredible policy, you will receive 100% of the sale!
With a one-time listing fee and zero commission, you'll get more for your money with PreOwned Wedding Dresses. Most listings sell within 70 days!
The site also has a great dress calculator to let you know how much you can expect to make, before you even start a listing!
Wedding Bee is a popular wedding website for brides.
Earn Everything… nearly!
Join Opinion Outpost, one of the few faithful and honest survey panels and earn cash and gift cards for your opinion. Stack your points and redeem them: Simple! No hidden fees and completely free!


They have a great classifieds section where brides can sell everything from décor to, you guessed it, used wedding dresses.
Because they use a classifieds-style message board for these sales, you can often find want ads for dresses before you even have to post a sales advertisement.
While they do ban vendors (a total plus), the marketplace style of the classifieds means that buyers and sellers are responsible for negotiating and arranging payment, shipping, and potential returns.
Bridal Garage Sales is a website dedicated to making re-selling your wedding items as easy as possible.
They have categories for nearly bridal need, which is great for you! If you are a newer bride, you will be able to sell all of your items in one place.
The only fees are optional; of you choose to have your listing published as a featured ad.
Once Wed is another immensely popular wedding site, known for their lavish photos and DIY instructions.
Their used wedding dresses section is full of gorgeous designer gowns at a discount.
Though they have a $19.95 listing fee per item, they have no commission charges and they will post your item for up to a year.
Thanks to their status as a major resource for brides for over 10 years, they have top rankings in Google.
This makes your listing more visible and likely to sell for the price you want.
Bravo Bride has been around since 2008 and offers no listing fees, no commissions, and the listings will remain active until sold.
A quick browse of the website will show you that they offer standard listings as well as premium listings that are featured on the front page.
Smart Bride Boutique is a sort of two-in-one option for brides.
You sell online, or you can connect with local brides to sell offline.
While there are no listing or commission fees, they do offer the premium listing option for $4.95 per month.
This option provides featured item listings and statistics on how many times your listing has been viewed or favorited.
Sell My Wedding Dress is exactly what it sounds like: an online marketplace that exists solely for the sale and purchase of used wedding dresses.
While straightforward, the listing prices are a bit high in my opinion.
You can get a standard listing for $19.99, which includes 5 active ads and a pricing scale based on the type of dress you are selling.
A premium listing goes for $29.99, with the difference being that you can have 10 active ads and a feature listing.
Nearly Newlywed is a platform where brides can resell high-end wedding dresses.
The unique aspect of Nearly Newlywed is that they handle customer service, promotion, insurance, and shipping for you, making the selling process hassle-free.
However, they do charge a $25 listing fee, and you'll receive 65% of the listing price.
PreOwned Wedding Dresses offers a one-time listing fee and zero commission, which means you get to keep all the proceeds from your dress sale.
The website also provides a dress calculator to help you estimate your potential earnings before creating a listing.
With a strong track record of selling dresses within 70 days, PreOwned Wedding Dresses is a popular choice for sellers.
Wedding Bee is a well-known wedding website that includes a classifieds section where brides can sell various wedding-related items, including used wedding dresses.
The platform operates as a classifieds-style message board, allowing buyers and sellers to negotiate, arrange payment, shipping, and potential returns.
It's worth noting that Wedding Bee bans vendors, ensuring a more authentic peer-to-peer selling experience.
With over 5.5 million monthly visitors and a total value of over $14 million worth of dresses sold, Stillwhite is a highly recommended platform for selling your wedding dress online.
They offer both standard and premium listing options with a $20 or $30 fee, respectively.
The standout feature of Stillwhite is their zero commission policy, meaning you'll receive 100% of the sale price.
How to Choose the Best Place to Sell Your Wedding Dress
Now that you've seen that awesome list, you're probably wondering how to choose which one to sell on.
Here are a few tips to help you make the decision.
First, consider the age and quality of your dress.
If your dress has been sitting around for a while, you should choose
If your dress is newer and a bit higher-end, you'll have better luck selling
Another factor is how quickly you need to sell.
Dresses will sit a bit longer on larger websites, where smaller websites or classifieds may sell faster but for a potentially lower price.
Shipping is something else to consider, as price vary based on the weight of your dress, where you are shipping from or to, and whether you choose to apply insurance.
Some websites require that the buyers pay all shipping related charges, while others might include the cost as a part of your asking price.
If you're not sure you want to sell online, you could always sell on an app!
There are tons of apps devoted to selling locally, but we've highlighted a few that we think will work best for selling wedding dresses.
Clothing Resale Apps
Poshmark
Poshmark is an app that is specifically for selling high-end, quality used clothing from major labels.
They have several amazing perks, like a pre-paid and pre-addressed shipping label that you can slap on your package.
Though they take a 20% commission, I think it's worth it due to the number of people using the app and the great perks.
Let Go and Offer Up
These two apps are simply different versions of each other: they are like Craigslist in that you can see what items are available around you.
This is useful to you, because it allows you to sell your dress quickly and locally, so no shipping fees.
You can also time your sale for wedding season in your area, to be certain that there are people already looking.
Just Start Selling!
There are enough great options on this list that you are sure to sell your wedding dress online in no time.
I recommend putting up listings on several of the fee-free sites before moving to the fee-based sites.
You can do this while also simultaneously posting on an app so that you have better odds of finding a buyer right away.
Brides, let us know: did you buy or sell your dress online? What did you think? Please drop us a comment below and let us know your tips!
Related Posts:
Earn Everything… nearly!
Join Ipsos iSay, one of the few Faithful and Honest survey panels and earn prizes, gift cards and donations. Stack your points and redeem them: Simple! No hidden fees and completely free!