When Serendipity Redirects Your Work-at-Home Plans
Updated on: by Leisa Good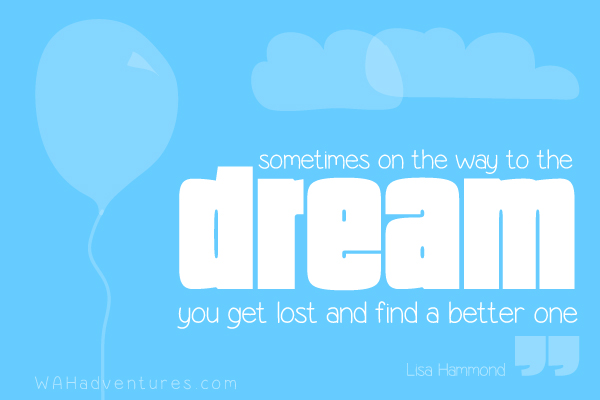 Need Easy Extra $350+/Month For Free?
Have you ever started on one path only to find yourself on another?
Have you ever accidentally stumbled upon an idea that was even better than your original idea?
Have you become more fulfilled with another business or job than the one you thought that you wanted?
Then you, my friend, have experienced serendipity. Hopefully, it has brought you great peace, and you are experiencing the perfect work-at-home (WAH) job or business.
What Exactly is Serendipity?
Webster's Dictionary defines serendipity as a seemingly gift for finding something good by good fortune or accidentally. In other words, you started looking for one thing and found something better. Think of it as being able to "dip" into life with "serenity". In other words, working with passion and purpose.
What Does Serendipity Have to Do With Working at Home?
First of all, let me say that over the years, I have seen many people begin businesses both traditional brick and mortar as well as home businesses. I would say that slightly less than half of those people, are doing the same business that they started out doing.
I have seen many aspiring copywriters with lucrative businesses, later decide that they would rather be coaching. So they switch to becoming a Certified Life Coach. I have seen medical transcriptionists decide that they have always "secretly" been interested in learning graphic and logo design–and change paths altogether. I have also seen those working for a few WAH call centers decide that they have had enough and go on to learn to blog and become very passionate about it. They probably would never have even discovered this if it had not been for sitting in front of a computer all day and posting comments to blogs between calls.
In business, serendipitous things happen when you begin marketing and end up discovering a better way to market. Or you want publicity for one known skill and end up getting recognized for another known skill.
Then there are those chance meetings where you meet someone who literally changes your life and leads you in a different direction than planned. You may find yourself zigzagging around for a few months or years then viola! You discover your purpose, your destiny or what you were born to do for the rest of your life. Be open to your "gut feeling" or what work, businesses, clients, WAH companies give you peace and fulfillment.
While you cannot base your entire life on feelings, you probably know when something is agitating you or making your uncomfortable or sick on a consistent basis. This happens a lot in WAH jobs when someone is not good or comfortable with sales or phone work.
Is Serendipity Just Good Luck?
While many good things in life get labeled or mislabeled "good luck", serendipity is also more of an honest evaluation of one's skills, talents, creativity, and "gifting". Remember when growing up the question, "What do you want to be when you grow up?"
According to Barbara Sher, the author of Wishcraft and I Could Do Anything If I Only Knew What It Was, try doing a litmus test on how certain business options or choices make you feel. For example, if I were to ask you to go skiing with me, how would you react? Would you be terrified? Would you be okay with it, but not enthusiastic? Or would you be ready in 5 minutes?
Need Easy Extra Cash?
Pinecone Research, a leading name in online survey panel honesty, absolutely guarantees $3 cash for every survey you complete!
Take advantage of their time limited New Membership drive and register NOW. Join today: 100% free!


What Are Examples in Real Life of Serendipity?
The Post-It Notes(R) story is a perfect example of serendipity. Dr. Spencer Silver developed a unique but not too attachable adhesive, but he didn't know what to do with it. Six years later, Art Fry, had been daydreaming about a bookmark that would stay put in his church hymnal. The two men met and collaborated. Serendipity and history in action.
How Can I Use Serendipity in My WAH Life and Personal Life?
After using Barbara Sher's litmus test, you can always ask questions about what types of jobs did you fantasize about as a child? What types of jobs did you fantasize about as a young adult? What do people tell you that you are a "natural" in? Has anyone ever told you that you are a natural when it comes be being a salesperson or an interior decorator?
How Do I Open My Mind to Serendipity?
One way to open your mind to serendipity is to appreciate the personality, creative talents, skills, life experiences, and everything else that you have that makes you uniquely you. Oscar Wilde once said, "Be yourself; everyone else is already taken."
Do Serendipity and Creativity Go Together?
While creative people are many times more sensitive to move with their feelings or natural instincts, serendipity can be used by anyone on a personal mission to find their life's purpose and life's work.
Personally, I had not thought much about serendipity until I read Barbara Brabec's book, Handmade for Profit. Barbara Brabec is a bestselling author in the arts and craft industry, where serendipity has lead to many original craft ideas and products.
How Can I Be Sure I am Making the Right Decision When Using Serendipity?
Again, listen to your "gut" and do your litmus test as described above by Barbara Sher. Also, bring in other like-minded individuals or friends who you would feel comfortable discussing the direction of your business or a work-at-home decision.
How Do I Explain These New Found Changes to Family, Friends, and Clients?
Unless they really "get" what you do or want to start doing, I wouldn't go into too much detail. After all, didn't they think you were nuts anyway to start working from home or become a full-time blogger? I would simply say that it was time to do something different, and this seems to be working out very well.
In Conclusion
Be open to serendipity in your work-at-home life as well as personal life. Allow your greatness to shine through. Chances are if you are struggling too hard or too much with something, maybe it is time to allow something better take its allotted space.
Related Posts:
Earn Everything… nearly!
Join Ipsos iSay, one of the few Faithful and Honest survey panels and earn prizes, gift cards and donations. Stack your points and redeem them: Simple! No hidden fees and completely free!