Slice The Pie Changes
Updated on: by Miranda Grimm

We have talked about Slice The Pie a lot on the Facebook Fan Page, it is a fun way to make some good side cash.
Need Easy Extra $350+/Month For Free?
Slice The Pie is helping the music industry by allowing artists to post their music, then scouters can rate and give feedback on the music. The scouter is paid for each review. In the past scouts were given a star ranking based on a formula involving many factors. The higher your ranking, the more you were paid. You can read more about it on my old post on Slice the Pie here.
However, things have recently changed and their system is a lot different. Many of us were not sure if we would like or dislike the new system. Let's first talk about the changes that were made and then lets all share what we feel about the changes.
The original setup at Slice The Pie was a bit confusing. From what I can tell so far, the new set up is even MORE confusing!
The heart of it all remains the same: listen to a track, rate it and give a written review.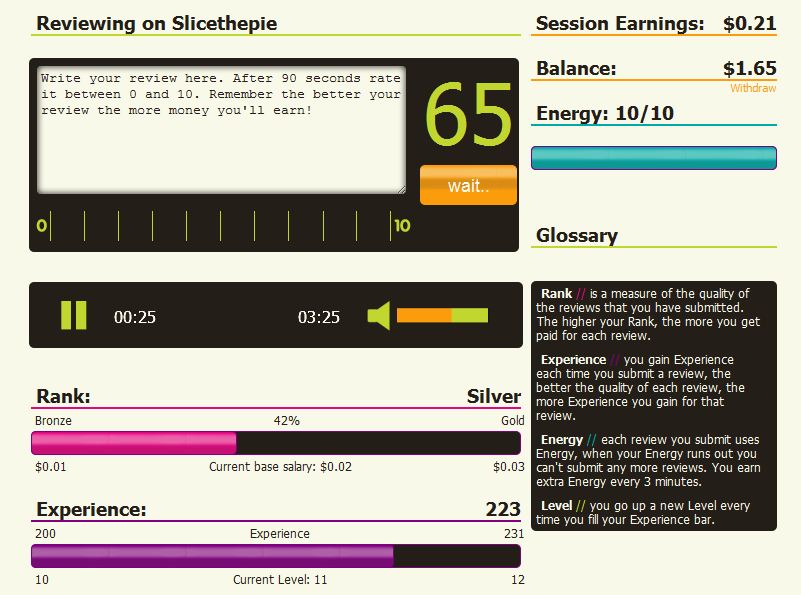 However, in the past we only had to listen to 60 seconds of the track. Now we are required to hear at least 90 seconds of each song.
Thankfully, we can begin writing in the review box as soon as the song plays. So instead of listening for 60 seconds before we can begin our review, we can now being writing as soon as we are ready, we just cannot submit until at least 90 seconds have been heard.
It seems this could increase your speed while also allowing the artists to have a more thorough look at their songs.
In the past we were give an accuracy percentage. It was confusing at first, how can you be judged by your accuracy if you are giving your opinion? Well, the point of Slice The Pie is not to be giving your opinion, you may hate the song but have to give it a good rating because your personal style should not determine the potential a song has to make it big.
Imagine yourself looking for talent as a music producer, if you find the right song/artist you could make millions! It is not about whether you like the song, but will the world like the song? Will it make it big? THAT is how you need to think when rating at Slice The Pie.
Anyway, Slice The Pie has done away with accuracy percentages as well as the star rankings that once corresponded with your rate of pay (up to 2o cents per song).
Now you receive a base pay between 1 and 3 cents, based on your ranking. This significantly low rate is supposed to be helped with a bonus that is determined on how well of a review you write. This leaves a lot in the air for how much you will receive per song. Your review will be judged on its length, grammar and spelling and how helpful it genuinely is. If your review is not helpful, short or filled with spelling errors, you probably will not receive a bonus and only get the base of 1-3 cents per song!!
I am not sure what determines your rank (base pay), it is probably related to how alike with everyone else you rate the song on a scale of 1-10.
Then you have things like Experience, Levels and Energy to think about!
Need Easy Extra Cash?
Pinecone Research, a leading name in online survey panel honesty, absolutely guarantees $3 cash for every survey you complete!
Take advantage of their time limited New Membership drive and register NOW. Join today: 100% free!


Experience is pretty simple, the more you work, the more experience you gain.
The more Experience you gain the higher level you go. I have yet to figure out if or how your Experience or Level affects anything. Slice the Pie or someone, tell us why should we care what level we are?
Then there is your Energy Bar. You gain more energy every 3 minutes of scouting. When you submit a rating, you lose energy. If you run out of energy, you have to wait for more. This is apparently Slice The Pie's way to slow some people down and give more accurate reviews. So, go too fast, you will be stuck waiting for more energy!
So what do we think of the new system?
I worked a little to see how I would be paid. First, I can tell you Slice The Pie requires you to write more. If you write a few sentences, it won't let you submit. I had to write at least 5 sentences before it would let me move on, which pretty much filled the text box without causing it to scroll down.
I earned a variety of pay, generally between 5 and 10 cents.
I probably spent more time on each song, trying to fill space with words and felt as though I was repeating myself just to fill space. In the past I would run out of ways to word things and now I think I would run out even faster!
From my experience with the system so far, I am not liking it as much. Even when I tried the hardest, I was not able to make over 10 cents. In the past, I could get my rating up to the 15 cents mark and stay there most of the time. I don't see myself being able to earn 15 cents a song anymore! I also imagine it taking me longer per rating than it did before- lessening my per minute value!
So please tell me what do you think! Any tips you have learned that you can share with me? Visit SlicethePie.com
Related Posts:
Earn Everything… nearly!
Join Ipsos iSay, one of the few Faithful and Honest survey panels and earn prizes, gift cards and donations. Stack your points and redeem them: Simple! No hidden fees and completely free!