SpeakWrite Review 2023: Work from Home as a Transcriptionist!
Updated on: by Amy Kennedy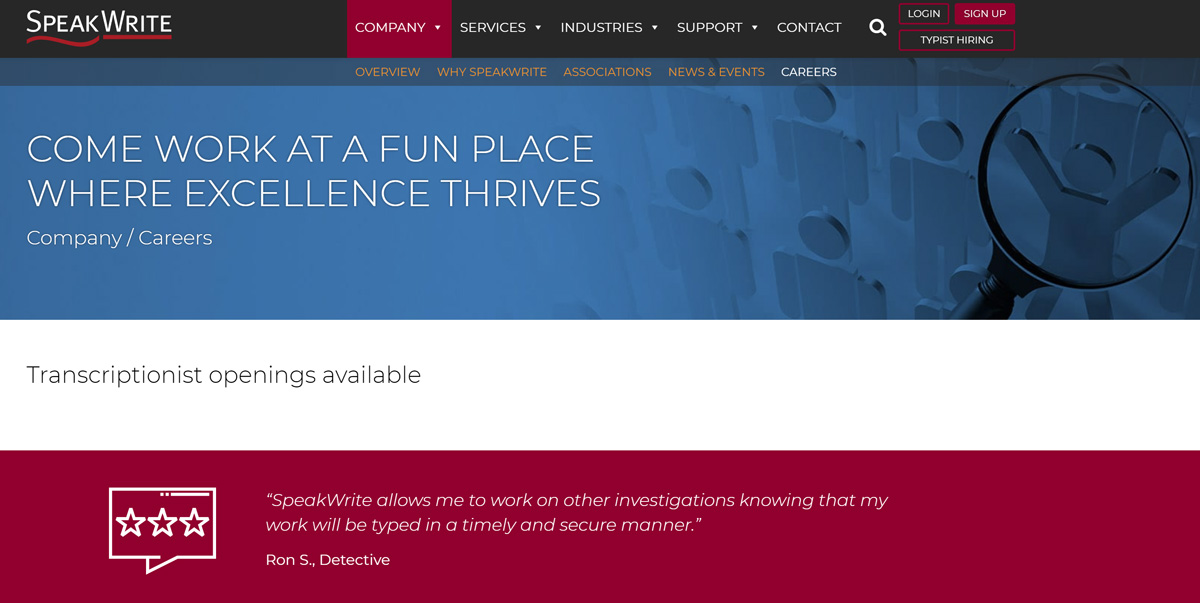 Working from home for the transcription company, SpeakWrite, is a very rewarding opportunity to those who are experienced typists in either General or Legal Transcription.
This is a company with a long history, dating back to 1997.
SpeakWrite has proven itself to be reliable.
Headquartered in Austin Texas, this American company has served more than 60,000 clients ranging from law firms, insurance companies, and government agencies.
If you are looking to begin or expand your work at home career in transcription then SpeakWrite is certainly a company to consider.
The company was founded in 1997, meaning that it's been around almost as long as you've used the internet, so it has some good history there (always a good starting point!).
If you're curious about what this company offers and how it works for transcribers, then continue to read our review below.
What Kind of Transcription Does SpeakWrite Do?
SpeakWrite mostly caters to the legal and government sectors with its transcription work.
Legal transcription is a very technical type of transcription that can be more challenging than general transcription work, so it's important that interested candidates have experience and skills in this area.
SpeakWrite works with government agencies, police agencies, attorneys, courthouses, and other similar clients, so you could have a pretty interesting list of projects to work on.
Although the company focuses mostly on these government and legal areas, there is still some general transcription work available.
What Qualifies You to Transcribe for SpeakWrite?
SpeakWrite only hires applicants living in the US or Canada.
SpeakWrite hires both general and legal transcriptionists and requires that you have at least 1 year of experience within the prior five years of applying.
It is important that your knowledge of proper formatting of reports and other documents pertaining to your field is well known.
A typing speed of at least 60 WPM is required and shouldn't be an issue if you have a year or two of experience with transcription already under your belt.
As with any good-standing company, SpeakWrite will expect you to have the basic skills required to be successful Transcriptionist.
They include being an excellent listener, being able to work independently, being resourceful, and having a strong grasp of the English language.
For general transcription work, you must have at least one year of relevant experience with transcription, and also a year of experience in an office environment (typing, multi-tasking, etc.).
Legal applicants should have at least one year of professional experience in a law firm and good working knowledge of legal documents, pleadings, agreements, and more.
The company also looks specifically for English-Spanish bilingual applicants.
To apply for these roles, you must be fluent in both languages with reading, writing, and translating.
All roles also require Microsoft Word experience.
Because most of the work deals with legal matters, it's vital that any candidate has not been involved in legal trouble themselves.
Therefore, SpeakWrite requires all candidates to clear local, state, and federal background checks before they're allowed to start working.
Working Status of Transcribers
SpeakWrite hires on a contract basis.
Unlike companies with employer/employee relationships, working as a contractor means you work for yourself and contract your services.
You can, therefore, work with other transcription companies so long as you can continue to fulfill your commitments to SpeakWrite.
This is good news if you want to make transcription your full-time job because it allows you to fill in the gaps in income with other companies.
Working as an Independent Contractor also requires that you pay self-employment taxes on your annual earnings, but that is often counterbalanced with write-offs that are available to you.
Additionally, however, you pay more in payroll taxes when working under a contractor status.
It's always a good idea to check with an accountant to see what expenses you might be able to write off for self-employment, like your home office, any equipment you must buy, and any software you use specifically for the job.
There are plenty of pros and cons to being an Independent Contractor.
It is important work at home job seekers research and understand what it means to be an Independent Contractor and whether it's the right type of employment for you.
Read More: 38 Best General Transcription Jobs from Home, No Experience Required
Pay Information for SpeakWrite
Transcription companies general pay in formats outside of the traditional hourly wage.
SpeakWrite pays per word while some other transcription companies pay per audio hour.
These payment methods allow you to have more control over your earnings.
As your speed and skills improve, your average pay per hour of work will increase.
SpeakWrite pays at a rate of 1/2 a cent per word.
According to SpeakWrite – this averages to around $12-15 an hour for most contractors who are familiar with the system.
Those with longer experience and exceptional skills are earning an average of more than $15 an hour.
There is also a 10% bonus bump in pay for some special shifts that are covered, although the site doesn't specify what shifts they are.
However, it's likely that transcriptionists who can pick up urgent work with a quick turnaround or those who can complete some assignments on evenings or weekends might end up with the bonus.
Payments are made twice a month.
US residents have the option of either check by mail or direct deposit.
Unfortunately, no PayPal payments are made at this time.
Canadians are only sent paper checks in the mail due to something about banking regulations.
SpeakWrite assignments can range in word count by a lot, but the minimum is usually around 100 words, which would equal $0.50.
However, others can be very lengthy.
Still, it's a relatively small amount per word.
It seems, from my research, that SpeakWrite hasn't updated its payment in several years, which is definitely a downside to the gig.
Also, payment by word isn't a great model for transcription work because it doesn't necessarily pay you for the length of time you spend transcribing.
Most companies are paying per audio minute, which is the actual time of the video you've transcribed.
This method tends to be more accurate and fair than a per-word rate.
What Equipment is Needed?
Working as a professional transcriptionist for SpeakWrite will require you to have some specialized equipment.
SpeakWrite provides the necessary software that you will need for the job.
You'll also need a PC (not a MAC), earphones, printer, high-speed internet, and a foot pedal.
The equipment requirements are nothing out of the ordinary and your experience will likely mean you either already have what is necessary or are familiar with how to use it.
Exact PC requirements are listed on the SpeakWrite website.
Erica Martin has made some recommendations of both foot pedals and headsets based on her experience as a Transcriber.
Scheduling System at SpeakWrite
Those who are looking for work as a transcriptionist from home are often allured by the flexibility.
SpeakWrite offers just that- the work schedule is completely flexible and you get to choose your hours.
SpeakWrite operates every day of the year, so there could be a steady influx of work no matter what day it is.
However, you can choose your own shift, up to 12 hours per day and at a minimum of 15 hours per month, so it's extremely flexible.
The SpeakWrite schedule is released for up to two weeks at a time and you can then schedule yourself per hour.
There are two statuses you can commit yourself to: primary or standby.
My guess is that if you are working standby- you get any overflow work coming through.
Initially, you may have limited availability to the schedule.
But, this is good if you're just using SpeakWrite mainly as a fill-in gig for your transcription work instead of your primary one.
Primary transcribers is where most of the work will go, as they're the ones in the front line who are able to take on the most work.
SpeakWrite says after 3-4 months of quality work with positive feedback- you will have more access to the schedule and may be able to work as much as 40 hours per week.
Remember this job pays for completed work and not by the hour. So, although you schedule yourself on an hourly basis, don't expect the pay to match.
Usually, this type of scheduling system can involve days when you are committed to working but there simply isn't work available or at least not enough to go around to the scheduled contractors.
Then, other times it can pour in.
Being able to accept the ups and downs with this scheduling is par for the course when flexibility is important.
Keep your ear to the ground for what has been referred to as "idle pay". It has been reported online that SpeakWrite may pay for your time if you are stuck waiting with no work for a prolonged period of time.
Again, this isn't confirmed- just rumored.
It may take a month or two for you to really get the hang of the system and figure out what scheduling works for you.
I recommend starting with a light load – may be about 10 hours for the week – until you get used to the work and its requirements.
Then, gradually bump up your load as you get more familiar with everything until you can hit a stride that works for you with your hours and income.
Application and Hiring Process
Becoming a typist for SpeakWrite involves completing a basic information form, passing a typing speed test, entering your work history, and completing 10 sample transcription files.
The typing test should prove that you can type at least 60 WPM with at least 90% accuracy.
Before beginning the assessment, you can always use a free typing test online that will give you the same scores so you can see how you do.
Next, you'll need to complete more information about your work history.
This is going to be similar to a resume, only you'll be answering specific questions about your relevant experience so recruiters at SpeakWrite can see if you're right for the job.
Then, it's onto the sample files.
It's normal for companies to want to see a few sample transcriptions from candidates before they accept them, just to be sure you can do the type of work they provide.
The sample files will not just allow SpeakWrite to assess your skills but will also give you the opportunity to see if the work is something you feel comfortable doing.
I won't lie; 10 is a lot to do without even getting paid.
Most only ask for 2 or 3, which should be plenty to prove that you know what you're doing.
Before completing the samples, SpeakWrite will give you its online manual that explains its formatting, file types, and other key information.
Make sure you read it thoroughly to understand the process and ensure that you're transcribing everything to the company's standards.
The background check is paid for by SpeakWrite and are not completed until you have been accepted and hired as a contractor for SpeakWrite.
The background check must be more of a criminal check as it does not check your credit or driving records.
After the background check comes through successfully you will go through unpaid training.
The training period reportedly lasts about 1 week and is very thorough.
What is it Like to Work From Home For SpeakWrite?
Feedback from experienced SpeakWrite applicants and contractors varies.
Even though SpeakWrite is considered an elite work at home company to work for, it is good to be aware of what others have to say about them.
Here are some real SpeakWrite reviews from around the web:
[UPDATED 2023: It seems that a lot of SpeakWrite's kinks have been worked out. More recent research shows a lot of happy transcriptionists for SpeakWrite, based on their reviews below. However, there are still some negatives associated with the job, according to independent contractors.]
"The typist supervisors are friendly and supportive. Help is available almost 24/7. The pay is not great, but the benefits of working from home pretty much helps." 4/6/2019 [src]

"I've been with SpeakWrite since May 2018. I love the flexibility it provides me while helping my husband with our overseas mission. Management has been great, always responsive and helpful with questions." 1/30/2019 [src]

"Some cons I can think of are the very extensive rules/formatting involved. You may spend a lot of time researching, and that is unpaid. However, I assume after typing a lot it becomes second nature." 11/12/18 [src]

"I type 70 wpm and would schedule myself for 12 hours/day, 7 days/wk. My average biweekly check was around $1000. That averages out to around $5.95/hour." 8/7/2018 [src]

"I am an awesome typist, but [SpeakWrite's] rules were ridiculous. If you failed one part of one test, you had to take them all again, so of course, you would miss that one space or margin. " 06/07/2011[src]

"I can only do this [work for SpeakWrite] part-time because I have two young children, and I work during naps and after they go to bed. If you are able to commit to full-time hours, I am sure you could make that amount  of money [$400/week] as long as the work is available." 09/12/2008 [src]

"I work for Speakwrite on a full-time basis (35 hours) …has good and bad things about it but I generally like it." 09/13/2008 [src]

" I have a hard time working a schedule so this job was perfect for me because if I wanted to work from 8 a.m. to 9 a.m. and then again at noon to 1, I could!! Also, they pay you a minimum of 100 words per document even if it has 15 words in it. So there are sometimes where you are getting paid for not even doing the work." 10/24/2012 [src]

"I personally found I was spending more time reading rules and waiting for work than I was earning any kind of decent income." [src]

"It's slow going at first but after you get comfortable with the different dictations and the SW policies/formats it picks up. Definitely worth a shot." 04/12/2007 [src]
Where to Go to Begin Application Process
To begin the steps to apply as a work from home transcriptionist for SpeakWrite you may want to see what openings are currently available.
The company has several types of transcription jobs available at any given time, so you should take some time to browse the openings to see what might fit your interests best.
When you're ready, you can click the Join the Team button and get started on your application.
You should expect to wait at least a week or so to hear back from a recruiter for SpeakWrite if they're interested in your application.
If you don't hear back within that time, it's safe to assume that you didn't meet the minimum requirements or that the company isn't in need of more transcribers at this time.
Does SpeakWrite sound like a good job for you?
Have you worked with SpeakWrite before?
We'd love to hear your thoughts down in the comments below.
Related Posts: