The Best Way to Start a Fashion Blog on Instagram and Get Paid
Updated on: by Amy Kennedy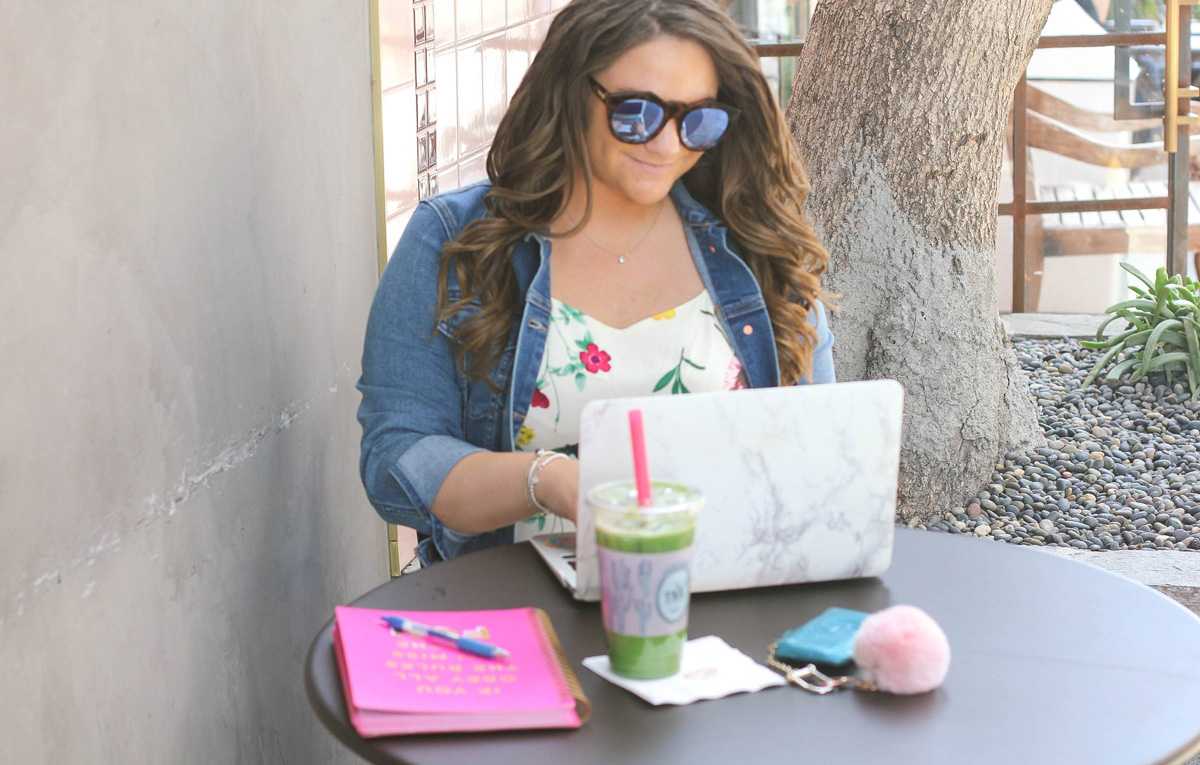 I used to read some of the best stylist blogs and follow top fashion blogger Instagram channels wondering how in the world these people get so many followers and get paid.
Need Easy Extra $350+/Month For Free?
Actually, figuring out the millions of followers was easy once I learned more about how Instagram worked.
Fashion is HUGE on Instagram since the platform is all about gorgeous, eye-catching, stylized photos.
People love all things beauty, fashion, color, and girly on Instagram.
If you have a channel with photos that mesh well together, you can absolutely grow your Instagram to get thousands, or even millions, of followers.
But I was still confused about the monetization part because Instagram isn't like a typical blog, although you can create stories through your photos.
It's not like a website, though, where you can use advertisements, and your captions won't allow you to create links to any affiliate products.
So, a couple of years ago as I was building one of my own Instagram channels, I began to dig into this subject more.
I wasn't sure if I necessarily wanted to tackle monetizing Instagram with a fashion-focused account, but if nothing else, it might come in handy one day!
And, I get to share all the information I've found with YOU after a solid couple of years learning all about how Instagram works for people who want to turn it into an income stream.
How Much Do Fashion Bloggers Make?
As with any business, the sky's the limit with how much you can make using Instagram.
It depends on how much work you put into it, how engaged your audience is, and what sponsorships you have in the works (and, of course, how much they pay).
It's not uncommon for some of the top Instagrammers to get $10,000 or more just from one sponsored Instagram post.
Stories can go even higher since they incorporate several photos into one post.
Let's look at a few of the top fashion bloggers on Instagram right now to find out how much they make, so you can get a better idea of where your channel might stand in the future.
Chiara Ferragni of The Blonde Salad
You won't likely read about top Instagram influencers without hearing about Chiara, who became famous for her fashion and beauty blog.
Need Easy Extra Cash?
Pinecone Research, a leading name in online survey panel honesty, absolutely guarantees $3 cash for every survey you complete!
Take advantage of their time limited New Membership drive and register NOW. Join today: 100% free!


Since she built up a blog with an engaged audience, her Instagram account quickly became as popular (if not more so).
The Italian beauty racks up a reported average of $12,000 per Instagram post!
Bryan Grey Yambao of Bryanboy
Although it seems like Instagram is filled with women fashion bloggers and influencers, men can be just as successful in the business.
Just ask Bryan from Bryanboy, a fashion blogger who started in the early 2000s.
He's now reportedly earning more than $1 million a year, thanks to some extra gigs, like judging America's Next Top Model for a couple of cycles.
Danielle Bernstein of We Wore What
Danielle started her online fashion journey in 2010 and has since started two fashion brands of her own.
Not only has she made it on Forbes' 2017 list of 30 Under 30 for the Art & Style List, but she reportedly makes around $15k per Instagram post.
How Do Fashion Bloggers Make Money?
It might seem like fashion influencers are gathering up all their money just from their Instagram accounts, but that's usually far from the truth.
Many of these people have other social media accounts with lots of followers too.
They usually also have blogs that act as their audience hub where fans can learn about all their ongoing projects.
Don't get bummed wondering why your Instagram page is picking up followers and engagements but still not bringing in any money.
Here are some of the ways that top Instagram influencers get cash:
They're Super Engaged (and Popular!)
The very first thing I suggest you do to understand how some accounts get so popular is to take a look at some of the top influencers' accounts.
After spending just a few minutes seeing what they have in common, you'll notice things like:
They have gorgeous photos
Their photo and feeds tend to have a theme (color, style, etc.)
Their posts get a lot of likes and comments
The influencers are engaged with their audience (liking and commenting on their replies)
They may post sponsored photos, but they tie them in with their personal brand
Influencers know how to grow an audience, which is key to having a popular channel that fashion brands want to work with.
In most cases, people don't just get paid to model their favorite clothes.
Instead, they model clothes of brands they're sponsored by or get paid to mention a specific brand in their posts.
For people to want to work with them, they want to see that the Instagrammer has a lot of fans who are ready to like and comment on their posts for more exposure in the Instagram world.
They Get Sponsorships
With that being said, top influencers obviously get sponsorships for their fashion posts!
Top bloggers work with some of the most popular brands under the sun, like Dolce & Gabanna, to model their clothing and create beautiful campaigns on Instagram.
This is probably the # 1-way fashion bloggers make bank.
Think about some of your favorite celebrities that create sponsored posts on their Instagram channels.
I can think of several who currently work with Fab Fit Fun to create unboxing videos for their followers.
Fashion bloggers do the same, but since they constantly have eye-catching photos of beautiful outfits in their feeds, it might not be as obvious when they have a sponsored post unless you read their captions with the tagged brand.
Some Even Work with Agents
As fashion bloggers get more popular, some may start working with agents, just like models do in the "real world."
An agent can help them grow their business even more by getting their name out there to the masses and landing them some amazing sponsorships with fashion brands all over the world.
The agent can also help them land huge events, or maybe even get them a stint in a runway show or editorial advertisement.
They Monetize Their Feeds
This is something that you might have seen creep up more recently: shoppable "looks" on Instagram.
This is a newer feature on Instagram that lets users link to products they feature in their posts.
Earn Everything… nearly!
Join Opinion Outpost, one of the few faithful and honest survey panels and earn cash and gift cards for your opinion. Stack your points and redeem them: Simple! No hidden fees and completely free!


It's especially helpful for fashion, beauty, and home décor influencers, but even other niches can use it.
You might see some of your favorite fashion Instagrammers writing in their captions that you can click on the pieces you love to be taken to the online store where you can buy them.
Most of the time, the Instagrammers use affiliate links that give them a commission when you purchase something they linked to.
It's a simple way for them to make passive income just by showing off the pieces in a stylized outfit on Instagram.
They Have Other Income Streams
You know what they say: Don't put all your eggs in one basket!
Most fashion Instagrammers don't solely rely on Instagram to make all their money for them.
Like top bloggers, fashion Instagrammers typically have other income streams that help them make their big salaries.
As I mentioned, most of them do have active blogs that can help them make money through advertising, affiliate links, sponsorships, and more.
Others launch their own businesses, like fashion brands, for extra income.
Some even become legit models landing other gigs for their favorite fashion brands.
Although top fashion influencers can make thousands just with one Instagram post, it's not uncommon for them to branch out into other methods of making money to ensure their longevity in their business.
How YOU Can Make Money with Your Instagram Account
Want to make it big with your fashion-focused Instagram account? Here's how you can make it work for you:
Find Your Niche
First things first: even fashion influencers find a niche within the niche of fashion.
If you're going to build a brand around your style, you'll want to find a unique twist that makes you stand out to others.
Some influencers focus on global style, whereas others focus on formal fashion or very casual style.
Before you start growing your audience, you should get your niche in place so that you can decide on your brand's colors, fonts, and overall design that meshes well with that theme.
Your niche can also influence how your Instagram feed looks.
I've seen some influencers who wear outfits mostly in white and neutral colors, and you'll see this theme reflected on their feed with the filters they use.
Others stand out with bright, bold patterns and colors, making for a colorful feed. They're branding tends to match that theme.
It's important to have your feed and blog relate to one another to create a unified brand that people will cling to.
Get a Blog and Social Media Accounts
Next stop: Create a blog and social media accounts for your brand.
Yes, as an influencer, you're technically your own brand too.
When people search for your name, they should be able to find a central website for more information, plus social media channels (besides Instagram) where they can follow you.
Fashion bloggers tend to also grow their Facebook and Pinterest accounts, which also rely on beautiful photos for engagement.
Twitter can also be great for quick updates and to link your blog, Instagram and Facebook posts to for more exposure.
Grow Your Audience
You have all the tools in place now to grow an audience, so start doing it!
The more avenues you take to grow your audience, like through your blog and social media channels, the more hits you can get to your Instagram page.
It's a good idea to link to your Instagram from every other spot people can find you.
Twitter has a place in your bio for a caption and link. So does Pinterest.
You can use your Instagram link as your website URL on Facebook or just link to your account in each Facebook post.
On your website, put a link to your Instagram account in your top menu or your sidebar.
There are even some excellent plugins, like Instagram Feed, that let you display some of your most recent Instagram photos on your blog.
Join Facebook groups for Instagram influencers, too, which can help you grow your followers and increase engagement until your awesome feed starts doing it for you!
Sign Up for Influencer Programs
A great way to get started making some money with your Instagram photos is through Influencer networks.
They help match you with brands that you can get paid to work with.
When you have a good following but maybe not enough to have brands come flocking to you, this can be a great way to still get paid and grow your audience at the same time.
There are tons of influencer networks that focus on Instagram as one of the ways you can make money, but here are a few to get you started:
Sign Up for Affiliate Networks
Affiliate networking is also another way you can make money through Instagram (and your other social media channels and blog!).
When someone clicks on your links, you'll get a commission.
So you can use your affiliate links to send people to the clothing you wear in your posts, upping the chances that your audience might purchase some of the pieces and give you a commission.
Here are some of the best affiliate networks:
Consider Hiring Others to Grow
If you have some money in savings, you can outsource some of the tough stuff to experts.
If not, you'll need to wait until you start getting some money rolling in first before you take this big step.
However, starting with a few VIPs on your team from the get-go can help your brand grow as fast as possible and may get you a quick return on your investment.
I would, at the least, consider hiring a photographer and a virtual assistant when your business is in its baby stages.
The photographer can capture stunning photos for Instagram (they know exactly how to make you look your best!).
And a virtual assistant can help with everything from writing blog posts to styling your Instagram feed to posting to social media for you and growing your engagement and audience.
As you grow, you can consider other help, like an agent and a public relations rep.
The PR rep can get your name out there in the fashion world by getting you some guest blog post spots, inclusion in other style blogs, and even interviews with popular online or print magazines.
Sell Your Instagram Photos
Did you know that you can even sell your Instagram photos?
Some people set up online shops and sell their photos as artwork, printed t-shirts, and more.
Shopify offers a simplified process for setting up an online shop and connecting it with a printing company that does all the printing and shipping for you.
Or, sell your photos with Instaprints, a company that can take your Instagram photos and turn them into all kinds of products, like totes and mugs, and send you the profits.
Conclusion: How to Start a Fashion Blog on Instagram and Get Paid
It doesn't look like the fashion trend on Instagram is going to die down anytime soon.
In fact, it seems more popular than ever, which makes it an awesome time to swoop in there and claim your spot as a top influencer.
Check out your favorite fashion bloggers to see what they're doing well on their blogs and social media channels.
Mimic (don't copy!) what they do, and you might find yourself paving your own way as a leader in Instagram style.
What are your favorite kinds of accounts to follow on Instagram?
Who are your favorite fashion bloggers?
Leave us a comment with your fashion inspirations!
Related Posts:
Earn Everything… nearly!
Join Ipsos iSay, one of the few Faithful and Honest survey panels and earn prizes, gift cards and donations. Stack your points and redeem them: Simple! No hidden fees and completely free!