114 Best Summer Jobs for Teens to Make Some Money on Their Downtime
Updated on: by Amy Kennedy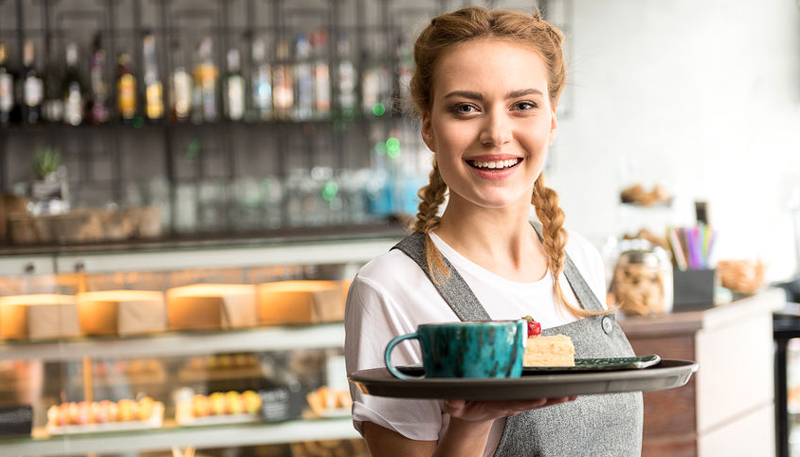 Are you a teen who's ready to get your feet on the ground and start making money of your own?
Need Easy Extra $350+/Month For Free?
There are plenty of offline and online jobs for high school students that will give you some cash in your pocket to save for college or use as spending money (no more asking Mom and Dad every day!).
You shouldn't expect thousands of dollars over the summer, especially if you're working in fast food or retail, but you can at least make enough to start being responsible for yourself and the things you want.
Many of these jobs are ones that you do on your own – meaning that there is no boss to oversee you.
In a way, it's like having your own business!
The big advantage of that is that you'll also be in control of your schedule and how much money you make so that you can really maximize your earnings.
Let's get onto the jobs!
High Paying Jobs for Teenagers
Cleaning
Cleaning doesn't sound like a lot of fun, but it certainly can bring in the bacon over the summer.
Get creative and make it fun!
Get your friends to join you and split the costs.
These services are super marketable around your neighborhood, so you shouldn't have trouble finding people that you can help.
Car Washer
Ask your friends, family, and neighbors if they'd like you to clean their car once a week.
You can even try selling your services to local car repair shops or car washes to let you give them a helping hand.
Dishwasher
Check with local child care centers, daycares, nursing homes, and any other place you think might need a dishwasher on board.
Hotel Housekeeper
Some hotels allow teenage housekeepers to work, depending on your local age requirements.
It doesn't hurt to ask, anyway.
Need Easy Extra Cash?
Pinecone Research, a leading name in online survey panel honesty, absolutely guarantees $3 cash for every survey you complete!
Take advantage of their time limited New Membership drive and register NOW. Join today: 100% free!


It's not the most glamorous job, but you can usually earn $10 or more per hour doing it.
House Cleaner
When I was younger, my mom used to clean houses, and I'd help her.
She only worked a part-time schedule but made a full-time income because she set her own rates and people happily paid her to do the dirty work – literally.
You may be lucky enough to find some local people who will gladly let you clean their home.
Read More: 5 Steps to Make Money Cleaning Houses ($1000 per Month or Even More)
Janitor
Ask your local YMCA, businesses, and other places if they need a summer janitor.
Sometimes, people will need someone to at least clean up for a few hours on weekends.
Pool Cleaner
If your family has a pool and you have a lot of experience cleaning them, then this can be a great way to cash in on your knowledge.
Family Jobs
What better way to make some money than by helping your family?
Do Extra Chores for Allowance
Ask your parents if there are any extra chores you can do around the home, like gardening, washing windows, or cleaning the cars, to earn some more money.
Go Grocery Shopping/Deliver Groceries
Offer to do the grocery shopping for your family members. It's likely that at least one or two people in your family would be thrilled to pay you to go grocery shopping and deliver the groceries back to their homes.
Head to Work
See if you can join your parents at their jobs for a couple days a week (some employers may be surprisingly okay with this).
Help with administration tasks or cleaning and get paid for your help.
Jump in the Family Business
If your family owns a business, you might want to take the summer to jump in and help.
Since you'll be working in whatever way your family needs you to, you should get paid for your time.
And, you'll also have a job to add to your future resume and college applications.
Internet Jobs
The internet is just waiting for you to make money from it.
Many adults are switching from traditional jobs to internet jobs, so why can't you?
Try some of these on for size:
Create Websites
If you built your own website, then you already have an awesome piece for your portfolio if you want to start charging others to do the same for them.
Design Website Themes
Or, you can just design website themes for others to download and install.
You can either sell themes on your own website or use a marketplace like Etsy for people to buy and download them.
You can even charge more money for custom designs.
Develop Apps
If you have programming chops, don't put them to waste.
A lot of companies need awesome programmers to develop their mobile apps!
If you're 18m, you can use Upwork to find these gigs.
Play Games
I bet you didn't know that you could get paid to play games online!
From paid game sites to becoming a gaming YouTuber, there are all kinds of ways for gaming to work for you.
Take Surveys
Surveys can be a good way to make some extra money while you're looking for work.
Earn Everything… nearly!
Join Opinion Outpost, one of the few faithful and honest survey panels and earn cash and gift cards for your opinion. Stack your points and redeem them: Simple! No hidden fees and completely free!


You won't make a lot, but an extra $50 or $100 a month can go a long way.
Here are a bunch of sites that pay teens to take surveys.
Use Apps
This list of Android and iPhone apps that pay may be all you need to earn some money over the summer!
Watch Videos
In true internet money-making fashion, you can even get paid to watch videos online.
Again, this isn't something you should count on in place of a job, but it can give you some extra spending money.
Website Testing
Places like UserFeel and UserTesting pay you to test websites and give your opinions on your experience.
You'll help website owners improve the user experience, and you can get paid between $10 and $20 per hour.
Making Things
If you have some creative chops, then making things using your talents can be the best way for you to earn some cash this summer.
For crafts in general, Etsy is a great marketplace for sellers. You can sell just about any handmade item here, and it's inexpensive to open up a shop.
Book Illustrator
Start illustrating books for authors if you have artistic talent.
You can do this on a freelance basis.
You might want to post in relevant Facebook groups showcasing your work to people who might be interested.
Comic Artist
Along the same lines, a comic book artist could be your thing!
You can check with the local newspaper or online comic websites to see if anyone's interested in taking you under their wing.
Doll Designer
Customized dolls are super popular.
Take a look on Etsy to see what I mean!
You can usually buy dolls at the dollar store. Repaint their faces, create glasses for them, or perhaps even create custom doll clothes.
The sky's the limit here.
Photographer
Whether you have a DSLR camera or love snapping photos with your smartphone, you can sell your pictures for money.
Or, you can even offer photo sessions and packages to families and friends who want a cheaper option than a boutique studio!
Read More: 
21 Best Sites That Let You Make Money Online with Your Photography
Top 10 Ways to Make Money from Your Beautiful Instagram Photos
Seamstress
Make custom clothing for your friends or tailor their clothing to fit them better.
This is one talent that is becoming less common, so it's a good idea to use it to your advantage.
T-Shirt Designer
Designing and selling t-shirts has become huge in the last few years!
That's because it's so easy to do.
You create a design, upload it, and let the marketplace take care of printing and selling it.
Then, you make the money!
Here are several t-shirt designing companies to check out.
Wood Worker
If you like working with your hands, you can make furniture and décor pieces from wood to sell.
Custom wood furniture is still super popular, so it'll be an easy skill for you to market.
Outdoor Jobs
The summer should be all about soaking in the great outdoors.
So, here are several jobs that you can do outside!
Agriculture
The type of work you'll do here will depend mostly on what grows in your area and when.
Once you find that out, you can check with local farms to see if they need a helping hand harvesting summer crops or planting new ones.
Amusement Park Worker
Becoming an amusement or water park worker can be a fun way to spend your summer.
Who knows – you might even get to join in on the fun on your break and at discounted (or free!) prices throughout the summer!
Apple Picker
If you have orchards nearby, you can ask if they need any help with apple picking, making apple pies, or serving cider.
Camp Counselor
I know a lot of teens who have become camp counselors over the summer for younger age groups and absolutely rave about their experiences every year.
This can be a fun way to get out of the house for a few weeks and earn some cash helping younger kids.
Construction
Do you have family with a construction business?
This may be the only way you can tackle this job because of issues with liability and teens (unless you're 18).
But, if you do, see if you can grab a spot in the family business over the summer to learn the trade.
Corn Detasseler
Corn detasselers are the people who pull corn off stalks in the summer.
It's tiring work, but some farmers may appreciate the extra help, even if you only do it for a few hours a week.
Fair Worker
See if your local summer fair is going to have any openings for ride workers, shop tenders, food chefs, etc.
Landscaping
Trim hedges, plant trees and flowers, lay fencing, and anything else that can make your neighborhood more beautiful.
Lawn Maintenance
Take care of your neighbors' lawns by watering them, planting flowers, spreading seeds, and pulling weeds.
This, combined with landscaping, can make the perfect business opportunity for young entrepreneurs.
Lifeguard
Most pools and beaches will hire teens that undergo the certification process for becoming a lifeguard.
CPR training is also a requirement.
National Park Helper
National Parks sometimes hire teens over the summer to be tour guides, reservation agents, etc.
Newspaper Delivery
Start a newspaper route!
What better way to earn some money over the summer than walking or riding your bike delivering papers.
It's easy, and you don't have to worry about annoying co-workers.
Sign Spinner
You've probably seen the people outside restaurants and stores that spin signs around.
Well, guess what? You can do that too.
And yes, they get paid for it.
Sports Referee
Check with your community sports leagues to see if there's a need for more referees for summer games.
You'll likely need to prove that you have adequate experience with the sport, so this may be a good opportunity for people who have grown up playing in the league they want to referee.
Tour Guide
Do you know your town inside and out?
Check with your tourism board to see if you might be able to offer some tours to people visiting the area over the summer.
WWOOFer
WWOOF is an organization that connects farmers around the world with people who support the organic movement.
You won't get paid, technically, for this opportunity, but you will receive free accommodations in exchange for agriculture work.
And, you'll get to see other parts of the world!
You have to be at least 18 to become a WWOOFer.
Zoo Assistant
The zoos near me have mostly teenagers working them through the summer.
They even get to talk to kids about the animals, host tours, and participate in shows.
I wish I had that job as a teen!
Performing
Do you love being in front of the camera and other people?
Then these performance-related jobs are right up your alley.
Actor
Some local theaters may have paid performances available for kids your age.
It's worth a shot to ask!
Also, keep your eyes and ears peeled for roles for extras, especially if you live in a big city.
Band Member
Start your own band with your friends and have paid performances in your backyard or check with local hot spots to see if there are any teen-friendly nights at which you can play.
Church Choir Director
You might be able to grab a spot as your church's youth choir director if you have directing ability and singing chops.
Church Organist
Your local churches may be in need of a skilled organist.
Call around to see if there are any openings.
Some only use volunteers, but you might find a paid position.
Dancer
Similar to acting gigs, check your local performance theater to see if any dancers are needed for upcoming performances.
Event Pianist
If you have piano skills, then try your hand at playing at local events, like weddings or graduation ceremonies.
Magician
Magic lovers can host their own performances in their homes or even travel to kids' birthday parties to snatch up some paid gigs.
Mascot
Summer is the best time for sports.
Check with local sporting leagues to see if there's a need for a mascot for any of the teams.
Party Character
Those people who dress up like different characters for themed birthday parties?
They get paid, and you can too.
The best way to start this is by asking your friends and family if anyone would like your help.
If not, you can always post an ad in the paper or on Craigslist.
Pit Orchestra Performer
Your local theater may have openings for pit orchestra performers.
Sometimes, these are volunteer positions, but sometimes they pay.
Podcaster
I know a lot of people making money off their podcasts with little to no effort.
This guide is a helpful one that teaches what you need to do to monetize your podcast.
Twitch
Twitch is a live streaming service that a lot of people are raking in serious dough from.
So, if video gaming is your thing, hop over to Twitch and see if you have the chops to make some money.
YouTuber
You had to have heard of little Ryan from Ryan's ToysReview, right?
He and his family get paid millions to review awesome toys and do silly things together.
If you think you have an awesome idea that could rake in the views, then don't hesitate to try it.
Retail Jobs
Retail jobs are the kind you probably think of when you think of working over the summer.
They may not be the most fun jobs in the world, but they certainly can help you make some cash on your summer break.
You will typically earn minimum wage at these jobs, but they're usually abundant over the summer, so it shouldn't take you long to jump in there and find one.
Search your newspaper or keep your eyes peeled for signs at places you visit.
Administrative Duties
Local offices sometimes need extra help for administrative duties, like sorting mail, keeping track of receipts or documents, and filing papers.
All kinds of businesses use administrative assistants, so check with law offices, pet supply stores, and anything else you can think of that might fit your interests.
Food Service
Ah, the dreaded food service job.
It's not always so bad, though.
I used to work for one and got promoted to a manager within a month, with a much better paycheck, because of my work ethic.
I know some people who absolutely love their waiting jobs, too, because they get to meet so many interesting people every day.
Gas Station Attendant
You might be able to work at a convenience store attached to a gas station.
These jobs typically need extra people over the summer when other workers go on vacation to handle an influx of travelers to the area.
Movie Theater Worker
Working in a movie theater could be pretty fun!
Make popcorn, rip off movie stubs, and get a sneak peek at all the new movies coming out.
Receptionist
Ask local doctor's offices or law offices if they need a receptionist.
This is actually how a lot of people get their feet in the door of the industries they want to eventually work in, so this type of job can also help on your future resume!
Retail Shops
Do you have some shops around town that you frequent?
Many of them may stock up on employees over the summer, so get your sights on them before school ends to see if they need extra help.
Sell Stuff
You might be able to get some money out of things you already own.
Once you start building a profit, you could even switch to a reselling business, which means that you buy items at low prices to sell for a profit at higher prices.
Here are some ideas to get you started:
Books
College textbooks tend to sell the best, but you can still sell your other books you've read already at some places.
I suggest using Amazon to sell your books.
There's even an option to sell directly to Amazon for a credit or cash.
Read More: 28 Best Places to Sell College Textbooks for the Most Cash
Clothing
Use places like Swap or ThredUp to sell your old clothing!
Depending on the brand and your clothing conditions, you can make a decent amount back from your clothes.
Read More: 10 of the Best Places to Sell Clothes Online and Get Cash Quickly!
Electronics
There are so many websites that allow you to sell your electronics.
Gather up old cell phones, watches, computers, and smart devices and turn them in for a profit!
Flea Market Seller
Open up a booth at a flea market and sell your old toys, clothing, electronics, and anything else you don't need.
Booths can usually be rented out per week or month, so you can just pay for a couple of weeks to start.
Gift Cards
Sell Amazon gift cards or other unwanted gift cards online!
Some sites will buy back your gift cards or allow you to exchange them with other members for cards you want more – or even for some cash.
Toys
Some old toys are worth hundreds to thousands on eBay.
Go through your old collections and get rid of what you are okay parting with, especially if it's a desired collectible.
Yard Sale Seller
If you know of other people in the neighborhood who are having yard sales, you might want to offer your help.
Man the tables and use your sales skills to sell some items, negotiate with buyers, organize items, and more.
Sitting
These are some of the most classic jobs for teens out there, but they're still around today because they work!
The best way to find these jobs is to market yourself to your family, friends, and neighbors.
Either you, or someone you know, will know someone who needs one of these services, which can be an excellent way to earn some money over the summer.
Babysitter or Nanny
Babysitting is one of the go-to jobs for teens.
You can earn an hourly rate per child.
If you know any families who you're very close with, a nanny role may even be an option, allowing you more hours and better pay over the summer.
Dog Walker
Love dogs?
Why not walk them around the neighborhood!
You can likely earn between $10 and $20 per hour by walking your neighbors' dogs for 30 minutes or so each.
House Sitter
Ask your neighbors if they plan to go on vacation and, if so, need someone to stop by the house once in a while for pet checks, watering plants, etc.
Mother's Helper
A Mother's Helper is like a babysitter, only a parent stays involved.
This is a good job for young teens to get involved with and can eventually lead to a regular babysitting role.
Pet Sitter
Some people do have a need for pet sitting, especially if they'll be gone for a couple of days on a business trip or vacation.
Pet sitters can provide more one-on-one care than a kennel and can be exceptionally cheaper. Cash in on that!
Plant Sitter
Believe it or not, plant sitting is a thing.
See if anyone you know needs you to take care of their inside or outside plants if they plan to be gone for a few days.
Teaching and Tutoring
You can probably find at least one thing you're really good at.
If so, use your knowledge and expertise to cash in.
You'll probably find that people will happily pay you to teach them what you know!
Art Teacher
Set up an art class at the library or a local museum (with permission, of course).
Painting parties are becoming widely popular, and what could be more fun than teaching people your art?
Dance Teacher
If you're already in dance class, you can always see if your studio will turn the tables to let you teach a class or two over the summer.
Not only can you get some extra cash, but you'll also have fun doing it and gain some valuable experience.
English Tutor
Tutor English language learners in English.
All you have to do, essentially, is talk to them!
Having conversations with learners can help them expand their vocabularies and learn proper grammar.
Read More: 
VipKid Review: Is Teaching English Online Right for You?
Idapted – Teach ESL (English as Second Language)
Fitness Instructor
Do you love exercising? If so, check with your local gyms or YMCA to see if you might be able to start a new class geared toward younger kids.
You might even want to make it a parent-and-me class.
Music Teacher
Tutor others in piano, guitar, drums, or whatever instrument you have expertise in.
You can start teaching younger children with the very basics and help older children learn to fine-tune their skills.
Reading Instructor
See if you can have a few hours per week at your local library to tutor young children with their reading skills.
You might want to consider charging a flat fee for a four-week tutoring session per child to make it affordable for parents.
Riding Instructor
If you own horses, ask your parents if they'd mind you giving riding lessons to young kids with your horses.
You can charge a flat fee for a few weeks or charge for a weekly class.
SAT Tutor
Help others get through their SAT, ACT, or other standardized tests (presuming you've already gotten through yours, of course!).
Swimming Instructor
My local pool has teenage swimming instructors who've been certified to provide training to young swimmers. Check your pool or YMCA to see if something similar is available.
Tutor
Become a tutor for your favorite subject!
Put an ad in the newspaper or in a Facebook group to see if any parents would like help for their own kids in that subject while school's out of session.
Read More: 27 of the Best Online Tutoring Jobs to Make Money from Home
Writing
Got an A in English class?
Put your awesome writing skills to good use by writing over the summer.
It may not sound like fun, but writing is becoming a highly sought-after skill as websites increase their needs for content and authors outsource some writing to others.
You can find various writing jobs both online and offline.
Article Writer
A lot of websites that write articles also accept article submissions, from researched articles to personal essays.
Check out your favorite newsy websites and see if they have a link for "guest posts" or "submissions."
If so, read the guidelines and fire away!
Read More: 8 Ways to Get Started as a Freelance Write
Author
You can, of course, become an author.
It's not easy, but the internet has made it easier, thanks to various self-publishing companies that make the publishing process a breeze.
Blogger
Create your own blog or blog for someone else.
Many people are making a living by becoming professional bloggers.
Creating blog content is one of the best ways for businesses to grow, so they're often on the lookout for someone to give this work to.
Contact your favorite blogs and see if they're open to submissions!
Read More: 16 Best Paid Blogger Opportunities to Make Money Online!
Content Writer
Content writing is a little different than blog writing.
It's still writing for the web, but in a more market-y sense.
You'll write things like product descriptions, "About Me" pages, email newsletters, etc.
You can find content writing jobs on Twitter and short task websites.
Fanfic Writer
Write Fanfic for Kindle Worlds!
You do have to be 18, but you'll get paid to write about your favorite shows and characters.
News Reporter
Check with your local news station or newspaper to see if there's a need for a teen reporter.
Sometimes, the interesting perspective of a teen is all that's needed to sell them on the idea of having a young writer on the team.
Proofreader
Proofread and edit essays, resumes, and other written material for people you know.
You can also hop on your local Facebook groups and offer the service.
Transcriptionist
Transcription work isn't easy, but for teens with great listening and typing skills, it could be right for you.
Check out this article for general transcription jobs with no experience required: Read it!
Start Your Own Business!
This is my favorite section on the list because I think it's awesome when I see young minds have an entrepreneurial mindset.
If you can't find anything interesting in the job world, then why not start a business for yourself?
If it goes well, you might even be able to keep pursuing it through college to pay for tuition and keep your student loan debt as low as possible.
Here are some of the best options for teens who want to start their own business:
Call Center Worker
Call center work is one of the biggest industries for people who work from home.
You can start a call center business right out of your home answering questions for customers of your clients.
You can either go the customer service route or the tech support route.
This huge list of call center jobs will help you find the right company that can match you with clients.
Computer Repair
Are you savvy with computers?
Do you repair and maintain your own?
You might have a winning business idea then!
See if anyone you know needs computer repair services.
You can charge per hour or project, whatever feels right for you.
Ghostwriter
Ghostwriting is a form of writing where you write content, like blogs and articles, for another person and don't receive the credit.
Basically, you'll write under someone else's name.
But, these jobs can command higher rates than those that do include your name, since you'll give away all rights to the work.
You can contact some of your favorite blogs to see if any of them are interested in your writing.
Inventor
Do you have an idea for a product or service, but no money to create it?
That's what Kickstarter is for.
Set up a Kickstarter program with your parent's help and get the ball rolling.
Your idea could be the next big thing!
Microtasking
Microtasking at sites like Amazon Mechanical Turk and other short task sites gives you a chance to pick whatever tasks you want and do them on your own schedule.
You can do things like write articles, categorize photos, transcribe pieces of audio, and more.
Mystery Shopper
Check out this list of remote mystery shopping opportunities!
Mystery shopping is a fun way to visit stores and give your feedback for some extra cash.
Some people are able to make a full-time income on mystery shopping alone.
Personal Assistant
Do you know a business owner whose life might be made easier with a personal assistant who can set appointments, make phone calls, deliver things, and more?
You could be that person.
Leverage who you know to try to find these opportunities.
Personal Organizer
Some people would love having a personal organizer to organize their office or homes.
If you organize things in your home, you may be the perfect person for this kind of work.
Startup Founder
Becoming the founder of your own startup as a teenager would be a really awesome thing for you to put on your college applications and future resumes.
And, it's not out of reach at all.
Check out this story of Javier Aguera, who was only 16 when he founded a startup.
Uber Driver
If you're 18, you can become an Uber driver and transport others to their destinations.
You work when you want, so there's no schedule to stick to.
If you don't want random people in your car, that's okay.
Uber allows you to just do delivery service instead.
Virtual Assistant
A virtual assistant is just like a personal assistant, only they do everything online instead of in person.
You can make phone calls, complete data entry tasks, send and reply to emails, and anything else your clients need from you.
Here are 38 virtual assistant companies that can help you find work.
Web Designer
Sign up for sites like Fiverr or Upwork to find clients you can create web graphics and themes for!
Or, you can always create your own site and market your services there for potential clients to find you.
Read More: 11 Contest Sites for Designers
Bonus: Volunteer!
Not all summer jobs are paid jobs. Some are volunteer work, and that's okay.
Why?
Because you'll gain some incredible experience that looks wonderful on a college application.
If you have some spare time after your regular job, you might want to consider picking up some volunteer work on the side:
Animal Shelter
Animal shelters are perfect for animal lovers.
Clean up and play with dogs and cats throughout the day and earn some invaluable experience in caring for them.
Community Service
Your community might be in need of volunteers for soup kitchens, highway cleanup, and more.
You can usually find these opportunities in the newspaper or contact local charities yourself.
Intern
Intern at your local newspaper or another business that is relevant to the industry you're interested in.
Kids Sports
Volunteer as a coach or referee for community sports.
It's a fun way to stay active, meet new people, and become even better at your favorite sports.
Library Volunteer
Volunteer at the library to read to children, put books away, help with programs, and more.
My local library has several teen volunteers over the summer who help out with all the children's summer reading programs.
Museum Guide
Does your town have some museums devoted to its history?
I know mine does and teens volunteer over the summer asking as guides, or docents.
It looks like it can be fun if you're really into history, because I've seen some docents participating in themed tours dressed as historical figures.
Nursing Home Reader
Visit nursing homes and read to the elderly or do crafts with them.
They'll love having new visitors, and you'll love spending time with them.
Political Campaigning
If you're thinking of a career in politics, then political campaigning can be the right job for you.
Support your local candidates and get out there to help them win by handing out flyers, buttons, and more.
Garden Center Assistant
Garden centers often hire assistants during the summer season. 
They help with various tasks such as plant care, customer service, stocking shelves, and maintaining the overall appearance of the center. 
You can find garden center assistant positions at local nurseries, home improvement stores with garden sections, or dedicated garden centers in your area.
Golf Course Caddy
Golf courses often hire caddies to assist golfers during their rounds. 
Caddies carry golf bags, provide advice on course strategy, and offer support throughout the game. 
If you enjoy golf and have a good understanding of the sport, you may find caddy positions at local golf courses, country clubs, or resorts that offer golfing facilities.
Event or Party Assistant
Event or party assistants help with various tasks related to organizing and executing events or parties. 
Responsibilities may include setting up decorations, assisting with food and beverage service, managing guest registrations, and ensuring the smooth flow of the event. 
You can find event or party assistant positions through event planning companies, catering services, or by reaching out to venues that host events in your area.
Ice Cream Parlor Attendant
Ice cream parlors often hire attendants to serve customers, scoop ice cream, take orders, handle cash transactions, and maintain cleanliness in the store. 
If you have good customer service skills and enjoy working in a fun and lively environment, you can find ice cream parlor attendant positions at local ice cream shops or dessert cafes.
Conclusion: Best Summer Jobs for Teens
There you have it: 110 jobs that you can do on your summer break.
There are plenty of option to choose from, so you shouldn't find it difficult to find one that you're interested in!
What jobs on the list look the most interesting to you?
Are there other jobs you've had over the summer that we didn't include?
Let us know in the comments!
Related Posts:
Earn Everything… nearly!
Join Ipsos iSay, one of the few Faithful and Honest survey panels and earn prizes, gift cards and donations. Stack your points and redeem them: Simple! No hidden fees and completely free!