Surviving the Famine: Freelance Budgeting at Its Finest
Updated on: by FStewart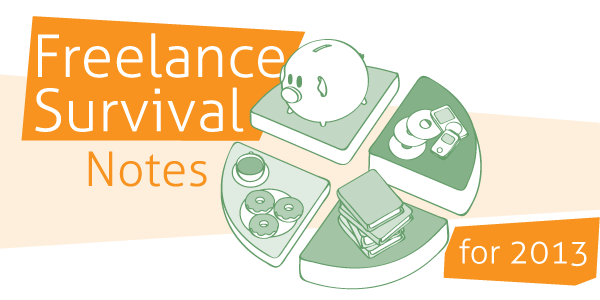 Need Easy Extra $350+/Month For Free?
It is a new year and that means everyone is looking to make changes. Though there are many resolutions made, the vast majority relate to health, money, and organization. One very common, very specific goal related to money is to stick to a budget. This is not easy in the best of situations, but freelancers have even a more challenging time with this. There are many reasons. For one, you never know for sure if there will be work. It is no secret that freelancing is feast or famine. On top of this, if there is work there is no guaranteeing when pay will come. Clients may pay every Friday, once a month, as soon as they get the work and approve it, or whenever they feel like it. In the meantime, you have bills due. Frustrating is a mild term for the feeling of knowing you have the money coming but having no clue when it will be in your account while you are trying to decide which bills to let be late.
There is no easy answer, but these tips may help:
Be Like the Ant
We all know the story of the ant and the grasshopper. The ant gathered food when there was plenty and put it away for when there was none. Freelancers must take work when there is work, and when there is extra money, put it away. Save it. Resist the urge to take a shopping spree. It may help to have a separate savings account that is easy to access so that those gaps in funds that occur when there is little work or clients are dragging their feet about paying can be covered with much less stress.
Manage Your Blessings
This can mean so many things, but budget wise it means to use those unexpected, or expected, windfalls wisely. A random gift from a relative, a tax refund, a bonus from a client or from a spouse's job can be very tempting. Many times these funds are used for a fun night out, to buy something for the family, or to take a vacation. All of these are fine ways to use such unexpected funds, and being able to do these things on occasion is important. However, if you are a freelancer, and especially if you do not have the type of backup account previously mentioned, you would be wise to save these funds for when a client doesn't pay, doesn't pay on time, or when there are simply no clients to pay at all.
Prioritize Expenses
If there is another income, say if your spouse works and has a regular income, cover as many expenses as possible with that money. Prioritize things like rent, utilities, car payments, etc., and know ahead of time that you will pay those bills from that income. It may not cover it all, but that is why you prioritize. Freelancing income can cover those "flexible" expenses. Yes, this includes groceries. While having food is not flexible, how much you spend on it is much more flexible that what you spend on your mortgage. Also, prioritize things such as cable, your gym membership, and other similar expense at the bottom of the list. You would rather lose your cable than your water or electricity, right?
Be Realistic
Whether business is booming or bombing, it can change in an instant. Plan accordingly. If you do not have the means to buy that new blouse or take that weekend trip without leaving enough to cover a drought, do not do it. Make the hard decision. By the same token, if you are struggling, do not give up. Keep looking for work, think outside the box when it comes to where you look, but don't stop looking.
Freelancing is wonderful, rewarding, and downright scary. In addition to budgeting tips that apply to everyone, take these into consideration as well when planning out your budget for the New Year.
Related Posts:
Earn Everything… nearly!
Join Ipsos iSay, one of the few Faithful and Honest survey panels and earn prizes, gift cards and donations. Stack your points and redeem them: Simple! No hidden fees and completely free!