Make Money with Your Body! Here's The Best Way to Sell Tattoo Ads!
Updated on: by Amy Kennedy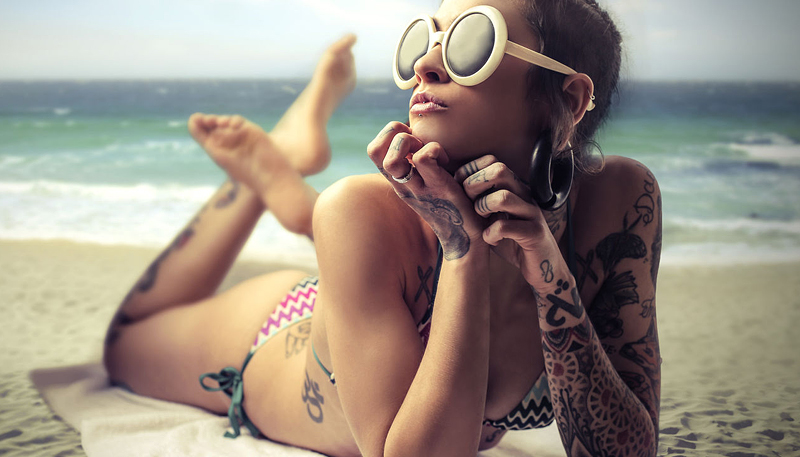 Today, I'm bringing you one of the most unique ways to make some cash that we've ever covered here.
Need Easy Extra $350+/Month For Free?
You're going to learn how to get tattoos and get paid for them.
If you love getting tattoos on your body, you could get some money for them.
It's all in the name of advertising!
We've covered ways to make money from your body and how to get paid to advertise on your car.
This is kind of a mix between the two!
This money-making opportunity obviously won't work well for people who aren't into tattoos, unless you can convince a company to let you go the temporary route.
But, for tattoo fanatics, this might be the perfect way to show off a new tat and get paid for it.
Get Free Tattoos AND Get Paid?
Yes, it's true!
It's known as skinvertising because you advertise on your skin!
Technically, you lease your body to an advertiser, much like an advertiser pays TV stations or billboards to show their ads.
Like car advertising, companies expect you to be somewhat of a social butterfly.
Obviously, an advertisement won't work too well if you rarely step outside your home.
There used to be a site called LeaseYourBody.com that acted like a marketplace for advertisers and people like you.
You could sign up as a person who wanted to make money by placing temporary tattoos on your body.
Advertisers could sign up and find people they thought were good matches for their companies.
Need Easy Extra Cash?
Pinecone Research, a leading name in online survey panel honesty, absolutely guarantees $3 cash for every survey you complete!
Take advantage of their time limited New Membership drive and register NOW. Join today: 100% free!


They'd send temporary tattoos, you'd place them in specific spots on your body determined by you and the advertiser (you could get paid more for your forehead than your arm, for example), and you get paid.
Unfortunately, that site seems to be inactive now.
Although you might not have the convenience of visiting one site that handles this process between you and advertisers, there are other options.
I'll outline some ways below that can still let you get paid for advertising on your body with tattoos!
How Much Can I Make?
On LeaseYourBody.com, you and an advertiser could come to an agreement about how much you should make.
The advertiser usually had a budget to stick with, but you could offer your prices and negotiate from there.
The site did also take a cut from your fees, though.
Since that site no longer exists to streamline the process, you'll have a little more work to do to find these opportunities.
On the upside, you don't have to worry about middleman fees cutting into your profits.
And, if you get skilled enough in making offers to advertisers, you could potentially command some very high prices.
In fact, some people have even turned their bodies into their businesses by consistently partnering with advertisers to place their ads on their bodies in the form of tattoos!
Really, the sky is the limit with this money-making opportunity.
Your earnings are really only limited by how much you choose to charge, the brands you connect with, and how often you decide to do it.
Things to Consider Before Going This Route
There are a few things to think about before you start going crazy connecting with brands who might want to pay you for your tattoos:
Does your employer have any stipulations when it comes to tattoos? Some won't allow them in visible areas of your body, so it's a good idea to double-check your work policies.
You might have to pay for tattoos up front, unless you have a different agreement worked out with an advertiser. Tattoos can be expensive, so having the cash available first could be an issue.
Some advertisers might be fine with temporary tattoos, but others may only be okay with permanent tattoos.
There are always risks involved with permanent tattoos, like risk of infection or mess-ups that could lead to unsightly artwork on your body. Know who you're going to and make sure it's someone you trust!
Although some people get lucky with turning this into a consistent form of income, you shouldn't expect that. This is a better solution for people who need a lot of cash fast.
Be prepared for people to ask questions. You might get some weird stares too. But, in the end, you need to know what you're advertising and should be able to answer questions about the company.
How Can I Get Tattooed for Cash?
Have you decided that this might be the perfect cash-making opportunity for you?
Great! Let's find out how you can make this happen:
Set Up an eBay Auction
Have you heard about Andrew Fisher, a man who decided to sell his forehead on eBay?
Well, for advertising space, that is.
Back in 2005, Fisher set up an auction on eBay that said he'd place a temporary tattoo on his forehead for 30 days as advertising.
Guess how much he made?
Over $37,000!
Another woman created a Buy It Now listing for $10,000 to do the same thing.
Her auction was bought by a casino, landing her the easiest 10 grand she's ever made.
In case you need any more convincing that this process can rake in some cash, check out this story of a wrestler who earned $5,000 for forehead advertising space.
This opportunity is no joke.
The best part is that these people were paid for temporary tattoos.
I'm not sure how everyone proves that they keep the tattoos on their faces for the full time they and the advertiser agreed on.
But, I'd assume that you should be prepared to take photos of yourself every day – maybe even out in public – to show that you're following through on your word.
Advertise on Craigslist
Advertising your services on Craigslist works similarly to selling your skin space on eBay.
Earn Everything… nearly!
Join Opinion Outpost, one of the few faithful and honest survey panels and earn cash and gift cards for your opinion. Stack your points and redeem them: Simple! No hidden fees and completely free!


Craigslist, though, could bring in some more local businesses that are interested in your advertising space.
This is a good way to go if you already have a lot of connections locally who might be willing to vouch for you.
You can set up an ad on Craigslist for free in most locations.
Negotiate with anyone who has interest in your idea so that you can get paid fairly for your services.
And, be sure to work out all details with the buyer before getting your tattoo.
A contract is always helpful in this area!
Participate in Promotional Events
Keep an eye out for promotional events or product launches where companies are seeking innovative advertising opportunities.
These events provide a platform for companies to showcase their products or services to a targeted audience. As an individual interested in getting tattooed for cash, you can approach these companies and offer to get tattooed with their logo or brand name during the event.
In exchange for your participation, negotiate compensation or payment terms with the company. This approach allows companies to create unique and eye-catching advertisements while providing you with a source of income.
Collaborate with Tattoo Artists
Consider partnering with tattoo artists who are open to exploring experimental or promotional work.
Some tattoo artists are willing to collaborate on unconventional projects that can help them showcase their skills or attract potential clients and sponsors.
Discuss your idea with a tattoo artist and explore the possibility of creating unique designs that incorporate branding or promotional elements.
In this collaboration, you can negotiate revenue-sharing arrangements or other compensation methods with the tattoo artist.
By leveraging the artistic talent and creativity of the tattoo artist, you can create visually compelling tattoos that serve as effective advertising mediums, benefiting both parties involved.
Ask Your Favorite Brands Directly
If you're not getting many bites on your eBay auction or Craigslist listings, then I suggest going straight to your favorite brands for help.
Now, this obviously takes some guts, and you'll probably get a lot of 'no' answers to your requests.
But, you'll never know if you don't try.
There are some companies who have reached out to their fans to get tattoos if their logo on their bodies.
Red Sun Cigarettes, for example, paid anyone who got their logo tattooed on them $1500 just for getting it done.
Or, if you ended up with a creative design for your tattoo, you could have received $3,000 instead.
Then, the tip of the iceberg was the contest, which awarded $5,000 to whoever came up with the most amazing, creative take on the logo and had it tattooed on their body.
In 2009, Air New Zealand paid people to shave their heads and sport a tattoo on it for two weeks.
The participants either got almost $800 in cash or a round-trip ticket to New Zealand worth about $1200.
As you can see, sometimes brands are willing to reach out to their loyal customers for paid body advertising.
So, why not reach out to your favorite companies and offer the same thing?
There's always a chance they could say no, but there's also a chance they could give you a big, fat "YES!".
Try to search for a company contact in charge of media and advertising opportunities.
You can usually find them on the company website or by completing a search on LinkedIn.
You'll typically have a better chance at a response from that person than you would sending an email to the general inbox of the company.
Is Tattooing Not Quite Right for You?
Some companies are pretty strict with their no-tattoo policies.
You might work for one of them, in which case, this won't be a good option for you.
If tattooing – permanent or temporary – doesn't seem quite right for you, then I have one more option to consider.
A few years ago, a man named Jason Sadler decided to start making money by advertising company names and logos on his t-shirts.
In his first year, he pulled in $70k!
Although he no longer operates his t-shirt advertising business, he's said that he's simply moved on from there to focus on other projects.
This creative form of making money could totally be the perfect opportunity for you.
You'll still be able to advertise on your body, but in a much more temporary way.
You can even advertise this service on eBay or Craigslist, or even by contacting brands directly, much in the way I described for getting paid for your tattoos.
I suggest starting an Instagram account connected with your idea where you can not only spread your messaging, but also place photos of you wearing your paid shirts as further advertisement for the companies.
Conclusion: Tattoo Advertising for Money
This super-creative way to make money is not only fun, but it can also be an excellent way to connect with brands and become a trusted influencer.
And, you can make a lot of money in the process!
What do you think of selling ad space on your body?
Let us know in a comment below!
Related Posts:
Earn Everything… nearly!
Join Ipsos iSay, one of the few Faithful and Honest survey panels and earn prizes, gift cards and donations. Stack your points and redeem them: Simple! No hidden fees and completely free!