How to Test Products for Free: 41+ Companies & Testing Panels
Updated on: by Amy Kennedy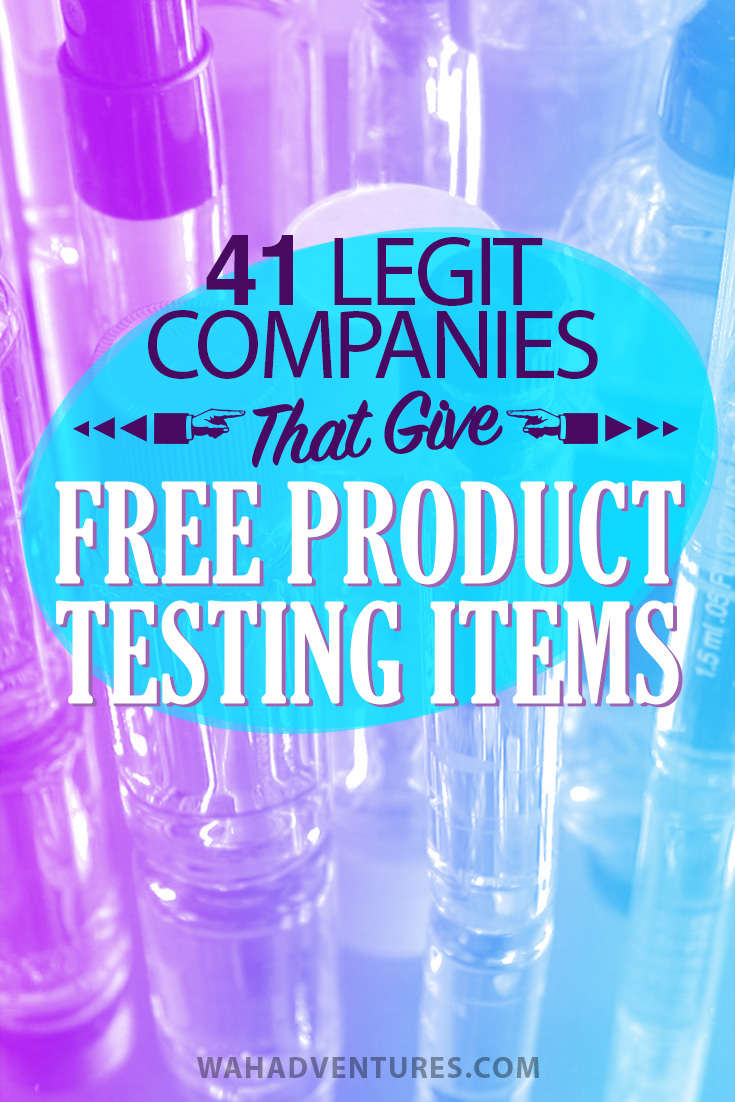 Before I became a full-time paid freelance writer, making money on the internet and testing products was a hobby of mine.
It's something I enjoyed and miss doing!
I used to get free products to test for my blogs.
I soon found several companies that offer free products for bloggers and non-bloggers to try out.
Why?
Because companies know that the best kind of advertising is from people who have actually used their products.
It not only costs the company very little (just the cost of the product!), but it also gives others real-life experiences with the products straight from the mouths of people who have tried them.
There's no need to have a blog to join most of these testing panels, although some do require one so you have a place to add a review.
Can You Get Paid to Test Products?
Some legit product testing sites will pay you to test products.
However, most of them only offer free products in exchange for your honest feedback.
If you hear about people earning money from product testing, you're likely hearing it from bloggers.
Bloggers can, and do, often charge for their reviews in addition to receiving free products.
After I had several product reviews under my belt published on my blogs, I began charging companies that wanted me to review their products.
But, each testing panel will have clear rules about this outlined in their policies.
Some make it very clear that they won't offer any compensation beyond the free product.
My compensated reviews typically came from companies that reached out to me directly through my blogs.
They were happy to pay a fee for my time to write a detailed, honest review, take photos, and advertise their product to my followers.
So, don't expect compensation when you join these companies' testing groups.
Most of them only offer free products.
But, considering you're getting stuff for free in exchange for your feedback, it's not a bad deal!
If you want to earn money in addition to free products, though, you'll have more luck seeking out companies directly and pitching them.
How to Test Products for Free: Legitimate Product Testing Companies
This program comes from the folks at ALL YOU magazine.
You will have the opportunity to test free products and provide your thoughts to the magazine.
Your comments may even appear in an upcoming issue!
Brillo occasionally allows its Brillo Connection panel to test out free samples of its sponges, scratch pads, and other products.
As a member, you'll also receive special promotions and coupons from Brillo so you can save on its products.
Brooks specializes in athletic shoes and sportswear.
As a member of its testing panel, you'll have the opportunity to test out its shoes and gear during your usual running or workout routine.
The company uses your feedback to continuously improve its products to make them perfect for people like you.
Additionally, you can sign up to become one of its lab testers.
You'll run on a treadmill in the lab so researchers can watch the way you move.
By doing so, you'll help Brooks create the perfect running shoes and products!
You need to be at least 18 years old to qualify for either program.
For the Lab Rat program, you must run a minimum of 15 miles each week.
BzzAgent (review) offers tons of fun product samples to its members.
Companies provide BzzAgent with free samples to hand out to members who have an interest in that type of product.
Members test it out and provide their feedback with a brief follow-up survey.
Make sure when you sign up that you completely fill out your profile.
A complete profile will help you get matched with products you're interested in, and will usually bring you more offers.
BzzAgent is currently open to those in the U.S., UK, Canada, France, Germany, and Brazil.
Costume Reviewers offers free costumes to bloggers only.
You can sign up as a blogger and choose a costume to review once every three months.
Reviews should be at least 250-300 words, include photos of the product, and contain some keywords that will help Google users find your post.
Costume Reviewers appreciates honest posts, so always include your honest feedback.
If you didn't love your costume, say so!
This is a great way to get some free costumes for birthday parties, Halloween, and other special occasions.
All you need to do is write up an honest blog about your costume.
Crowdtap partners with tons of top brands to give its members samples to try out.
Some brands even offer gift cards to their stores to buy their products.
Every day, new Crowdtap "missions" are posted, which will help you earn rewards from brands.
The more missions you complete, the more you can earn – and the brand will see you as an awesome influencer!
Brands use Crowdtap to interact with customers like you and learn what they could be doing better, what you love, and what you dislike.
It's a great way to interact with your favorites while earning some free stuff.
Franklin Foods is a cream cheese, yogurt, and dairy manufacturer for several top brands.
As a member of its Consumer Panel, you can test out some of its brands' products and provide your honest feedback.
Franklin Foods will send you e-mails if it has new surveys for you to take, and will sometimes invite members to participate in in-home product testing.
This program comes from Johnson & Johnson.
Members can participate in online discussions, surveys, focus groups, and more.
Plus, they're the first to receive free products and samples from Johnson & Johnson.
This panel offers tons of different opportunities, and you'll receive e-mails when the company has something that fits your interests.
You may even be selected for paid opportunities, like in-depth focus groups and sensory testing.
Glamour magazine offers this testing panel for avid fashion and beauty lovers.
Members can share their thoughts with the community and have a chance to have their comments published in the magazine.
Plus, they'll have occasional offers to test products from sponsors and additional opportunities to win prizes from Glamour and its sponsors.
Some lucky members will even get offers to attend special events in their areas!
Good Housekeeping readers can join its Advisory Panel to share with the magazine and its sponsors more about your lifestyle and interests.
Your comments help guide the direction of the magazine and articles it publishes.
As a member, you can be one of the first to learn about new products and test them out.
The more you participate, the more chances you have to also win contests and prizes exclusive to members only.
Gorton's, the seafood company, offers an excellent program for bloggers.
Unlike some other blogger networks, Gorton's doesn't have huge requirements.
Just about any United States blogger can sign up and be notified when there are new blogger opportunities.
Not all bloggers are selected if they apply for the campaign, but Gorton's does tend to select a wide variety of bloggers.
If you're selected, you'll receive coupons to purchase specific products and craft a blog post around them.
You might be asked to create a unique recipe with the product and take photos.
Gorton's usually sends its bloggers some extras, too, like aprons or cutting boards.
The program also provides bloggers with assets to include, like some official product photos and brand images.
Homeschool.com offers worksheets, curriculum, and other helpful resources for parents who homeschool their children.
When you join the Homeschool.com Panel, you'll have the opportunity to test out Homeschool.com's products and provide your feedback.
The blog creators pass everything they create through their testing panel first before making them public.
This is your chance to get free homeschooling resources, like books, courses, and curriculum kits.
HouseParty (review) is a unique way to get tons of free products for your next party.
Brands partner with the website to provide party packs to HouseParty members.
You can browse through the brands and offers and choose what interests you.
Once you're approved for a party, you'll invite your friends over to use the products.
The parties have to take place on a specific day.
This ensures that everyone who's hosting that type of party is in sync with their social media posts and other buzz. So, make sure you'll be available that day – and that your friends will be too!
Check the requirements for each party before you apply.
Some are specific to certain locations, ages, etc.
I've used Influenster (review) for a few years now and have gotten some great stuff, including beauty, kids, and food and drink products.
Influenster sends what's known as a VoxBox occasionally to members whose interests match the products it's sending out.
You could get a variety of full-size or sample products to test in one box.
Once you receive them, use the Influenster website to provide your reviews on each product.
The more active you are with the site and certain brands, the more you'll get noticed as an Influenster.
That means you'll get more opportunities for free products!
InStyle Trendsetters are the eyes of InStyle magazine.
They help guide the direction of the magazine by offering their input on style, fashion, home décor, and other topics.
As a member, you'll get occasional opportunities to test out new products from InStyle brand partners.
When you provide your honest feedback, you'll have a chance for your comments to appear in the magazine.
You'll also have access to exclusive contests, promotions, and more.
Through L'Oreal's Consumer Participation Program, you'll have the opportunity to get free beauty samples from one of the top beauty companies!
L'Oreal will send you some samples of its products from time to time for the purpose of testing them.
You'll provide the company with your thoughts, which it uses to help improve its products.
You must be at least 18 years old to be a member, but you can join from all over the United States.
However, those in the New York and New Jersey areas may be invited to test products in L'Oreal on-site labs. Others can complete online studies.
On-site participants can receive free bags of goodies that retail up to $100 as compensation!
All participants of the program may be eligible for exclusive discounts and samples, though.
Like other similar magazines, Marie Claire offers its avid readers a chance to become a part of the magazine by testing new products and offering their thoughts.
Members of the panel may have the opportunity for their comments to appear in the magazine, as well as test out new beauty and fashion products before they hit the market.
You'll also have exclusive access to special members-only sweepstakes and contests, and you'll get special offers for discounts on products and other goodies.
McCormick is a spice and flavor manufacturer that lets its consumers test out its products for free.
Once you sign up for the Consumer Testing panel, you'll be eligible to try products and provide feedback.
McCormick matches consumers based on their demographic information, so some panelists may have more opportunities than others.
Most tests are completed on-site and range from $30 to $100. Once you're chosen for, and participate in, a test, you won't be eligible for another for 3 months.
Sometimes, McCormick sends products to consumers' homes to test, and these usually pay between $10 and $15.
Those who take part in McCormick's online surveys can also be entered in sweepstakes to win Amazon gift cards.
Mead creates supplies for both teachers and students.
The Mead4Teachers program lets teachers test Mead products in their own classrooms!
You'll need to provide your feedback after you test the products they send. This program is available to U.S. residents only.
Kids and adults of any age can enroll in Microsoft Playtest to be the first to test new Microsoft games for free.
The company encourages anyone from beginner and advanced gamers to join so it can get a wide variety of opinions.
Microsoft will occasionally invite you to studies for games that match your interests.
After you finish the study and provide your feedback, you'll get a Microsoft software gratuity as compensation.
Mills Advisory Panel (MAP) is the product testing program of food company General Mills. As a member of the panel, you can participate in studies that help shape the future of the company and its products.
To join, you'll need to complete a preliminary questionnaire that asks about your food habits and preferences.
This helps General Mills place you in the right demographics so it can target its campaigns better.
U.S. residents 18 and older can join, but only if you aren't somehow involved with competitive food brands and advertising agencies.
The Panel will e-mail you when there's a new study to participate in, which usually happens between 6 and 12 times each year.
Some studies involve testing General Mills products, whereas others are simple online surveys that award you MAP Points.
You can redeem your points for various prizes.
The Riceipe Club from Minute Rice awards its panelists with special promotions, coupons, and contests.
Occasionally, you'll be eligible to test some Minute Rice products in your home and provide feedback.
When you sign up, make sure you check the box that says "Product taste tests/Consumer surveys" so they know you want to sign up to be a product tester in addition to receiving exclusive offers.
MomSelect allows moms and mom bloggers to partner with a variety of brands for product testing purposes.
Both groups can participate in brand marketing programs to help shape the brands they work with.
Moms can receive exclusive offers and products to test in their homes.
They may also participate in in-home parties, in-school programs, teacher programs, and more.
Mom bloggers may receive products to review on their blogs or to talk about on social media.
They can also be chosen to attend local events involving the product or brand.
You can sign up for MomsMeet as a Community Member, Mom Ambassador, or Blog Ambassador.
If you have a blog, becoming a Blog Ambassador gives you the most opportunities to get free products, since you may be chosen to review products on your blog.
Once you join, you can interact with the community to earn points and rewards.
MomsMeet will also sometimes send you free products to test at home and you'll provide your feedback through a survey.
New Balance seeks opinions from active people who use their sneakers.
Each testing period usually takes between 4 to 6 weeks, and New Balance encourages you to wear the sneakers they send as often as possible during that time.
You'll have to send the sneakers back after the testing period so New Balance can see how your use affected the sneakers.
This helps the company improve durability and design.
New Balance enlists its panelists that provide the best, most useful feedback to receive more offers for testing products.
So, if you're thorough in your feedback, you could get a new pair of shoes often!
Nike Product Testing works similarly to the New Balance program.
Nike wants to see how your normal wear and tear on its shoes affects their performance and durability so it can consistently improve its products.
Once you're selected for a test, you'll receive a packet with the product.
Wear the shoes as often as possible during the testing period.
Submit your feedback through the testing website and send back your shoes to be eligible for more testing offers.
Nike also offers its apparel for testing in addition to shoes!
Parent Tested Parent Approved (PTPA) lets parents become testers for tons of products that parents and their kids will love.
When there are new opportunities available, PTPA will e-mail you.
Usually, you'll take a brief qualifying survey to find out if you're a good match for the product.
Some brands, for example, need a specific age range or gender for its products.
You don't need to have a blog, but bloggers can also join to receive offers for products to review on their blogs.
Otherwise, you'll share your honest opinions on the PTPA website for other parents to read.
Parenting Magazine has a testing program for its mommy readers.
As a panelist, you'll be notified when there's a new product for you to test. You can elect if you're interested in it or not.
Some of the things panelists will have the opportunity to test are baby gear items, health and beauty products, toys, books, health products for mom and baby, and more.
Your honest opinions can help the brands shape their products, and they may be featured in future issues of the magazine.
PINCHMe partners with a variety of brands to get the opinions of consumers like you.
Once you sign up, you'll fill out your information to let PINCHMe know a little more about you, your interests, and your family.
That way, it can tailor your samples to you and match you with brands you're interested in.
You can choose the samples from the ones PINCHMe finds for you and have them sent directly to your home.
Once you have time to try your samples, head back to the website to provide feedback.
PINCHMe sends your thoughts to the companies to help them improve their products.
Like other magazines, Redbook allows its readers to join its product testing panel, called Club Red Panel.
You'll get opportunities to test products and share your opinions with the Redbook team for a chance for your comments to appear in the magazine.
Redbook will also send you exclusive offers, contests, and other goodies just for being a member.
Want to test Reebok shoes and apparel? Now is your chance!
The company allows consumer testers to try out their newest products at home to aid its product development.
The Product Testing Team chooses members of the panel based on the type of person the company is targeting with their products.
They will occasionally need people who play specific sports, for example, to test the shoes for that sport.
Most test programs last between 3 to 6 weeks.
At the end of the program, you mail back the product and complete an online survey that asks for your feedback.
As a token of appreciation, Reebok will send you a free product once everything is completed.
You must be a fitness enthusiast to join; playing a sport or engaging in regular activity is a requirement of the program.
You also have to be at least 18, a resident of the continental United States or Alaska, and not be involved with any competitors of Reebok.
Technically, you can't be a member of Nike's testing panel, for example, if you want to be a tester for Reebok.
Roku is a handy streaming device that helps you stream all your favorite TV shows and movies on your TV.
Roku beta testers must be passionate about Roku products so they can accurately provide feedback on products they test.
You don't need to be experienced with a Roku device, but you should have an interest in improving Roku products.
You may need to test pre-release Roku software and provide information on bugs, crashes, and anything else that might bother the user experience.
Although the website offers no mention of a free Roku device or rewards for participating, you will be one of the first to gain access to new software and channels.
RosieMADE is a company that sells products only made in the USA, and only by businesses led my women.
The empowering company has a blogger product review program where bloggers can get free products to share about on their blogs.
Blogs must be at least 3 months old with regular posts.
Bloggers must also have a reach of at least 1,000 through their blogs, newsletters, and social media channels.
SheSpeaks is a place for women to share their voices through blogs, comments, forums, and more. Since 2007, women bloggers have joined to network with each other, share their opinions, and connect with top brands.
Members of SheSpeaks are sometimes contacted to review products. They can review them on their blogs, on the SheSpeaks product review area, or both, depending on brand requirements.
Usually, SheSpeaks will send out coupons for free product that you can go to the store and purchase.
However, a brand may occasionally send products directly to a reviewer.
Make sure you fill out your profile for SheSpeaks completely so the platform will learn more about you.
This helps match your demographic to products and brands that may interest you.
Smiley360 is a testing and review site that really puts the focus on its reviews.
When you test a product and review it, you earn points that show how active you are on the platform.
You can earn more points for sharing about the product on social media, participating in discussions, and completing any other brand or product tasks.
Brands that see how active you are on Smiley360 are more likely to choose you to test their products, since it's a good sign you'll spread some buzz around their brand!
The more you participate, the more opportunities you'll have.
Make sure you fill out your surveys completely with detailed feedback to gain more momentum on the platform.
Do you love Snuggle's laundry products? If so, join the Snuggle Bear Den for a chance to score some free products from Snuggle!
You'll gain access to exclusive offers, news about new products, and the opportunity to test new products in exchange for your honest feedback.
Social Insiders looks for influencers who have several followers on their blogs or social media channels to help spread the word about their brand partners.
Through your dashboard, you'll have access to brand campaigns that you may qualify for.
You can choose the ones you want to participate in and apply for them.
Social Insiders partners with a wide variety of brands from different industries, so there's sure to be something that interests you.
Once you get a chance to test your products, you can share about them on your blog and social media channels to complete the campaigns.
Swaggable is a website that helps bring buzz to brands and their products.
You can browse the site and find cool new products to add to your "want" lists so you'll remember to buy them.
Members also get exclusive promo codes and discounts for their favorite products.
As a member, you may also be invited to receive free samples and test products in your home.
If your demographics match what a brand is looking for, Swaggable will contact you to see if you're interested in receiving free samples in exchange for your opinions.
Swaggable product samples are currently sent only to those in the United States.
The Pink Panel targets women who love skin and beauty products.
Its members can test out everything from lotions to hair straighteners.
After you test them, head back to the website to review the products.
You'll then be eligible for a gift card or more free stuff!
VocalPoint is an excellent place to get full-size samples of new products from some of the biggest brands around the world.
You'll need to share your opinions with the community once you receive your samples.
This helps others learn about the products and gives feedback to the brand.
Some brands will even send you enough products for in-home parties for you and your friends, depending on the campaign.
Vogue Magazine also has its own testing panel known as Vogue Insiders. These lucky members get to be the first to test out fashion and beauty products from brands who want to target the magazine's readers.
Members have been known to receive free products from Prada, Secret, and more! Plus, you'll have access to exclusive discounts, contests, and other goodies from Vogue.
SampleSource is a platform that offers free product samples to its members.
They periodically release sample packs that contain a variety of products, ranging from household items to personal care products.
Members can select the samples they are interested in and have them shipped directly to their homes.
By providing feedback on the received samples, members can influence future product offerings.
Toluna is a market research company that allows members to participate in surveys and product testing opportunities.
By joining Toluna, individuals can express their opinions, earn rewards, and have the chance to receive free products for testing.
Toluna also conducts product reviews and discussions on its platform.
TryIt Sampling Community, formerly known as Generation Good by Seventh Generation, is a community of individuals who are passionate about sustainable and environmentally friendly products.
Members of this community can receive free samples of products from Seventh Generation and other partner brands.
They are encouraged to test the products and provide honest feedback on their experiences.
Conclusion: Testing Products for Free
You can see that it's more than possible to get free stuff in exchange for your honest opinions.
The trick is to truly be honest with your opinions and provide detailed feedback.
Participate in the panels as much as possible and you'll have more opportunities to score great new stuff.
Also, if you share your opinions of the brand or products on your blog or social media channels, be transparent about your partnership.
It's the law!
Those in the United States, for example, are required by the Federal Trade Commission (FTC) to properly disclose when they've received compensation for a product review.
And, the free product counts as compensation!
If you clearly disclose that you got the product for free in exchange for your honest opinions, you should be in the clear.
What testing panels are you a part of?
Did we miss any that you love?
Let us know in a comment below!
Related Posts: