Selling Aflac from Home: Is It the Right Remote Job for You?
Updated on: by Amy Kennedy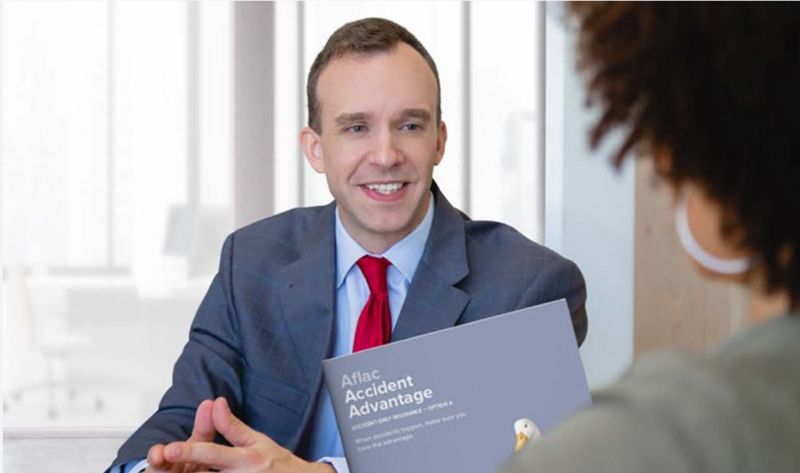 This guide has been updated for 2020!
I'm sure you have all heard of Aflac.
You're probably familiar with their duck and might have seen their ad recently on TV for Aflac Agents.
I recently contacted Aflac to find out exactly what the deal was and how this all works.
First, I wanted to see if it was something I could do and second, I thought maybe I could help fellow WAH parents with the insight that I gained.
What is Aflac?
Aflac is known for being one of the best supplemental health insurance companies in the industry.
In fact, it's currently the largest supplemental health provider in the United States.
Supplemental health insurance is a type of insurance that offers additional coverage for services or supplies that your regular health plan doesn't cover.
Think of it like an umbrella that gives you extra protection when you're out in the rain.
You'll have a primary insurance plan but always have the option of purchasing a supplemental insurance policy through Aflac to pay for things your regular plan might not cover or not cover enough of.
Some of the types of medical issues Aflac insurance policies cover include:
Emergency room visits
Cancer treatments
Dental treatments and exams
Hospital stays
Chronic illnesses
Short-term disability
It's important to note that Aflac long term disability policies do not exist.
Aflac isn't a long-term solution to healthcare needs, but instead addresses more short-term issues that might arise with extra coverage.
Customers can, however, take out a life insurance policy through Aflac to help their loved ones if anything were to happen to them.
In addition to working with individuals with private or state insurance coverage, Aflac works with businesses to make sure their employees are adequately protected from any medical stuff life throws at them.
If you're interested in purchasing an Aflac policy for yourself, you can find an Aflac rates sheet 2020 here.
What Is an Aflac Agent and What Do They Do?
Most insurance companies have agents who work with the company either directly or through their own agency to reach and serve the company's clients.
So, an Aflac agent sells Aflac supplemental insurance policies.
Officially, your title will be Benefits Advisor.
Some companies will allow their agents to work from home, at least sometimes, to sell their coverage.
Aflac is one of those companies!
The best thing is that you'll be an independent contractor so, although you'll sell Aflac insurance, you have much more control over how and when you work.
You choose your own hours and you can work around your family and life.
Since you are an independent contractor, you'll run your own business under the Aflac umbrella.
However, this IS NOT strictly a work AT home job, it's more of a work FROM home job.
Wait a minute – what's the difference between work AT home and work FROM home, you ask?
Good question.
Basically, a work AT home job is one you do completely at home.
When you are working, you are in your house.
A work FROM home job is one where you do some of your work from home (making calls, setting appointments etc) but you'll also spend some of your time driving to the meetings you have set up and selling the insurance.
However, if you have a home office with a separate entrance from your personal home entrance, you could spend even more time working at home by allowing business employees you're meeting with to come visit your office instead of traveling to meet them.
But, in most cases, it's likelier that you'll need to head to the place of business you're meeting with as a convenience for its employees.
As an agent, you should also expect to have a lot of time set aside for phone calls, which means you'll need a dedicated phone line and voicemail set up for your business.
Aflac agents typically spend a lot of time on the phone cold calling potential businesses to explain to them how Aflac insurance might help them.
A computer and printer can also be helpful so you can print documents and track your phone calls, emails, and other business stuff.
It goes without saying that this is, essentially, a sales job.
You'll be contacting potential customers to sell insurance to them, so it's essential that you're comfortable explaining Aflac's products, upselling insurance, and talking to strangers.
How Much Can I Make as an Aflac Agent?
Unlike most insurance agent jobs that pay with a salary, the Aflac agent position pays solely by commission.
If you're a good salesperson, this could be great news for you, especially if you have a large network of local businesses who might be interested in what Aflac offers.
However, those without large networks or selling experience could end up with a less-than-impressive income from this job.
Aflac states that in addition to commissions, you'll also take home renewals, stocks, and bonuses.
Still, none of this is guaranteed.
If you don't make any sales, you won't get any income, no matter how many meetings you've held and hours you've worked.
There is a perk when it comes to your commissions though:
You'll continue earning commission not only on the initial enrollment but also commission for as long as that policy is paid for.
You will continue to earn on any policy you enroll for as long as you work with this company.
After 1 full year they will also buy stock for you and you can sell it the same day you are given it or just leave it and let it grow.
Each year you earn more stocks and more commission.
According to Glassdoor, the typical salary of a Benefits Advisor for Aflac in 2020 ranges between $13,491 and $100,989.
That's a huge salary difference and the difference is likely caused by where the agent lives, how well he or she sells, and how many other agents are in the area.
The truth is that agents who live in large areas with plenty of businesses to target are likely going to make more in commissions than those who live in small towns who have to travel long distances to reach their target customers.
Before beginning the screening process, you might want to do a quick search for other agents in your town to see if you'll have a lot of competition, which could make it more challenging to get paid.
You can use Aflac's agent locator tool to find other agents in your zip code.
How Does One Become an Aflac Agent?
First, you have to go to the Aflac website and submit your interest.
This will just be a brief form that asks for your basic information and contact information.
You will be contacted by phone to let you know when the instructional conference will be held and where.
They will confirm your desire to attend and confirm your email address to send you all the information needed for the meeting.
Aflac hosts several of these throughout the year at different locations, so you should be able to find one somewhat near where you live.
At the instructional conference you will be asked to bring an updated resume and dress in business wear.
I would recommend you bring a notepad and pen with you for taking notes and for filling out the application that they will give you upon walking through the door.
The meetings last around an hour but can go longer if there are a lot of questions (mine lasted an hour and a half).
You will be given some background on the company and what Aflac really does, but the vast majority of this meeting seems to be more of a motivational talk to get you interested.
The gentleman spent most of the time talking about his family life and how he had previously been wallet rich but family poor and how Aflac changed that.
They will paint a very pretty picture of what your life can be if you become and Aflac agent.
At the end of the meeting they will collect your resume and the application and if they feel you are a good fit, they will call you back for a formal interview.
If you make it through the formal interview process you will have 8 weeks of training, part of it will be in a classroom setting and you MUST attend those classes to move onto becoming a certified Aflac agent.
So, it is a lot of work just to get your foot in the door.
Not only will you need to make an impression with your resume and application, but you'll also need to make an impression during your formal interview.
Aflac particularly looks for agents who:
Have excellent communication skills, particularly on the phone and in-person
Understand Aflac's brand messaging and its products
Are excellent salespersons
Have had previous sales experience
Have strong professional and personal networks
Are interested in growing their own business and personal brand
The Basics Of Being An Aflac Agent
Just to save people time, I want to give you some basic information here about the Aflac agent position.
Some of the details about the job might not be right for you, so it's important to know the basics before getting yourself far in the application proves only to realize it's not something you can do.
First of all, you will need to become licensed to sell insurance within your state.
This can be fairly cheap or fairly pricey depending on your state.
After the pre-licensing class (that is required), registration fees, and actual license fee, my total came to $400!
Aflac does not pay for any of this, so check with your state and your budget before deciding. You can not do any training without this license!
Second, Aflac will not allow you to enroll individuals unless they're a part of a company you've reached out to.
It could be more difficult to convince a business owner that this insurance could help its employees than reaching out to individuals separately to explain how Aflac works.
It can also be intimidating for some agents to host large-scale meetings for businesses rather than work with individuals one-on-one.
Another important thing to note is that this is essentially a business opportunity.
Yes, you'll be contracted with Aflac, but you won't be a direct employee of the company.
That means there are no benefits for you as far as sick time, paid time off, maternity leave, or health insurance.
As a business owner, you'll be responsible for footing the costs of those yourself.
On the plus side, you'll also have total control (within reason, of course) of your business and how you operate it while sticking to Aflac's brand messaging and policies.
Pros and Cons of Becoming an Aflac Agent
No job is without its pros and cons, so here are some of the biggest benefits and drawbacks of the Aflac Benefits Advisor position:
Pros
Flexible Work
For obvious reasons, flexible work is a common praise among Aflac agents.
They can work when they want and, to an extent, where they want.
If they want a day off, they can take it. If they need to be available to pick up their kids after school or drop them off in the mornings, they can schedule their days around that need.
You'll create your own schedule as the owner of your business!
Chance to Grow Your Own Business
Of course, owning a business is a great perk itself!
Unlike other agent positions where you'll be an employee of the company, you're an independent contractor for Aflac, which means you'll own your own business using the Aflac name and products.
Along the way, Aflac will support you in growing your business by providing training materials and support necessary to get your job done.
Incentives for Top Performing Agents
Although the position is commission-based, you do have a chance to earn bonuses and other incentives if you perform well.
Aflac offers unlimited earning potential, so there's no caps on how much you can bring in every day, week, month, quarter, or year.
The company also offers cash bonuses, expenses-paid trips, and other benefits to agents who continue to impress it with their awesome sales techniques.
Cons
Payment is Commission Only
Although there are some cash and trip incentives for top performers, the drawback is that this is a commission-based job.
You are 100% on commission, so there's no guaranteed pay through Aflac – not even a small hourly rate to ensure you get some pay for your time.
If you make no sales in a week, you get no pay for a week.
Your sales techniques need to be on point and you need to be diligent about getting new customers on board to be successful with this job.
No Lead Generation Help
There are no leads provided from Aflac for potential customers, so it's up to you to generate your own leads.
This process could be time consuming in itself and it's not something you'll get paid for.
You also could be calling the same company that a bunch of other agents have already called before, which could result in a lot of wasted time.
Can't Enroll Individuals
Another complaint from agents is that you can't enroll individuals one-on-one.
Instead, you have to target companies and then set up meetings with the company to talk to its employees.
You will have to arrange to meet with the CEO or owner of the company to explain to them what Aflac is and what you have to offer their employees.
You must then gain their permission to meet with their employees.
You will return a second day to meet with the employees of the company to explain the insurance plans and hand out brochures.
Finally, you will need to return a third time to enroll whoever is interested.
As you can imagine, this process can be lengthy. It's highly unlikely that you'll be able to enroll new people, from start to finish, with just one or two days' work.
Does Aflac Offer Other Work from Home Jobs?
I've focused this guide on the Benefits Advisor position because it's the most common work from home job from Aflac for people to show interest in.
There are, however, two other positions for independent contractors that might suit you better:
Sales Intern
The Sales Intern position is great for people who are interested in an insurance agent career but don't yet have licensure or the experience needed to work as an independent agent.
As an Intern, you'll get paid cash incentives for your time, so your earnings likely won't be as much as an agent.
However, you'll gain plenty of real-life experience as an agent that you can use to transition yourself into a Benefits Advisor or into another similar role at a different company.
Interns also have access to professional support from the Aflac team and other agents, which can be a great way to get your foot in the insurance industry door.
District Sales Coordinator
A District Sales Coordinator manages several independent Benefits Advisors for Aflac.
You'll be in charge of overseeing the sales of advisors in your district or region.
District Sales Coordinators will also need to seek out new advisors and train them to work in their areas.
These positions are also for independent contractors rather than employees, so they'll still offer flexibility in the way you work.
You'll also be eligible for the stock bonus plan that Benefits Advisors have access to plus exclusive access to advancement opportunities in addition to your commissions.
So, What's My Final Opinion About Being an Aflac Agent?
My take on the job is that it's certainly not right for everyone.
You'll need an outgoing personality that isn't held back when it comes to selling and talking to be successful in this career.
If you don't mind cold calling and you are a real go-getter this job might be for you.
Aflac and some of its agents say that if you do your job well, you can easily be in a 6 figure income in 10 years' time and retire on your commission alone and never have to sell another policy ever.
Also, that commission payment can be willed to your spouse upon your passing.
It's important to note, though, that this kind of success isn't something Aflac guarantees and it's not the norm.
You will also need to prepare to spend time away from home to drive and meet with potential clients, but you can arrange those meetings around your life and your family.
Personally, I found that my training would be held in a different state because my region manager is based out of that state. That was a major inconvenience for me.
I can't see spending that much time away from my family, so I passed on the opportunity.
However, if you are interested in becoming an Aflac agent, go to the Aflac Opportunities page and fill in the information requested.
Related Posts: