The Top 8 Reasons Why Working from Home is a Real Job
Updated on: by Amy Kennedy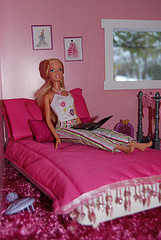 By Erica Martin:
Need Easy Extra $350+/Month For Free?
Since I started working from home , many people have told me to "Go find a real job."  What they don't realize is that working from home IS a real job, minus the bumper to bumper traffic,  office gossip and dress code.  I'm sure many of you have heard the same thing from people, so I thought I'd put together a list of reasons working home is a real job.  The next time someone tells you to go find a real job, feel free to share one or all of these reasons with them.
It requires more self-discipline to work from  home than it does to work outside of the home.
This is true especially if you're an independent contractor who doesn't have to work a set schedule.  Even though working from home gives you the freedom to set your own schedule in a lot of cases, you do still have to have the self-discipline to actually sit down and work.  Many people accomplish this by setting a schedule for themselves, or writing down the goals they want to accomplish for the next day.
In some cases, you have to work harder to earn money than you would if you were working outside the home.If you're working outside the home, you're more than likely working as an employee with guaranteed hourly pay. However independent contractors are not always compensated for the work they do;  it may depend whether the customer like the work or not.  Luckily, some companies do give you an opportunity to make changes, but others may not.   Of course, this isn't true of all independent contractor companies… companies that hire independent contractors to make outbound calls or receive  inbound calls usually pay per minute regardless of the outcome of the call – however they may offer additional incentives for good performance.
You still have to find a ways to deal with distractions.  The distractions you have deal with may be different though – common work from home distractions include children, pets, doorbells (or people knocking on the door),  and ringing cell phones.  Luckily some these can be dealt with – you can turn the ringer on your cell phone off, or send you calls to voicemail  while you're working.  You can also place a "do not disturb" sign on your door.
Just with jobs at "brick and mortar" companies, many work from home companies offer you the opportunity to get pay raises or bonuses depending on your performance, and some may even give you the opportunity to advance into other positions.  When I worked for Sterling Testing Systems (which I talked about in my blog post "My Top Five Favorite Work from Home Phone Jobs,"  I was given the opportunity to work on the rapid response team, and I was also given the opportunity to train some new hires – this meant I was able to make extra money for the time I worked on those tasks.  In addition, when I worked for Westat, the last three months I was with them I worked as a Team Leader, which has a completely different set of responsibilities as well as better pay.
Depending on the company, you may have to participate in additional trainings and/or team meetings. Just like people who work outside of the home occasionally have to attend meetings and/or additional trainings, people who work for certain work from home companies may have to attend meetings or trainings as well. When I worked with Westat  I had to participate in trainings for the different surveys I worked on, as well as refusal avoidance training for the surveys.  In addition I would have to attend team meetings and also one on one sessions with my mentor.  These sessions do take up additional time, however they're necessary to stay informed on what's going on at the company, as well as to help sharpen your skills.
Skills Development: Just like in a traditional job setting, working from home can offer you the opportunity to enhance and develop a wide range of skills. Depending on your role, these might include digital literacy, project management, self-motivation, and communication skills. You may also learn to use various digital tools and platforms that are now widely used in many industries. This continuous learning and skills development is a crucial aspect of any job, whether it's remote or not.
Professional Networking: While working from home, you often connect with various professionals from diverse locations. This could be through virtual meetings, online conferences, or professional social media platforms like LinkedIn. Networking is an integral part of any job as it allows you to exchange ideas, gain insights, and even find new opportunities. Just because you're not physically present in a traditional office doesn't mean you're cut off from this critical aspect of professional growth.
Accountability and Responsibilities: When working from home, you are accountable for your deliverables and responsibilities, much like a traditional job. You may have targets, deadlines, and goals to meet. You might need to report to a manager or a team, provide updates, and show results. If you fail to deliver as expected, there could be repercussions, including potential loss of the job. Therefore, the level of responsibility and accountability in a work-from-home job is on par with traditional jobs, making it a 'real' job in every sense.
What kind of reasons have you given for why your work from home job is a real job?
Related Posts:
Earn Everything… nearly!
Join Ipsos iSay, one of the few Faithful and Honest survey panels and earn prizes, gift cards and donations. Stack your points and redeem them: Simple! No hidden fees and completely free!


Need Easy Extra Cash?
Pinecone Research, a leading name in online survey panel honesty, absolutely guarantees $3 cash for every survey you complete!
Take advantage of their time limited New Membership drive and register NOW. Join today: 100% free!