Top 17 Legitimate Work From Home Accounting and Bookkeeping Jobs
Updated on: by Amy Kennedy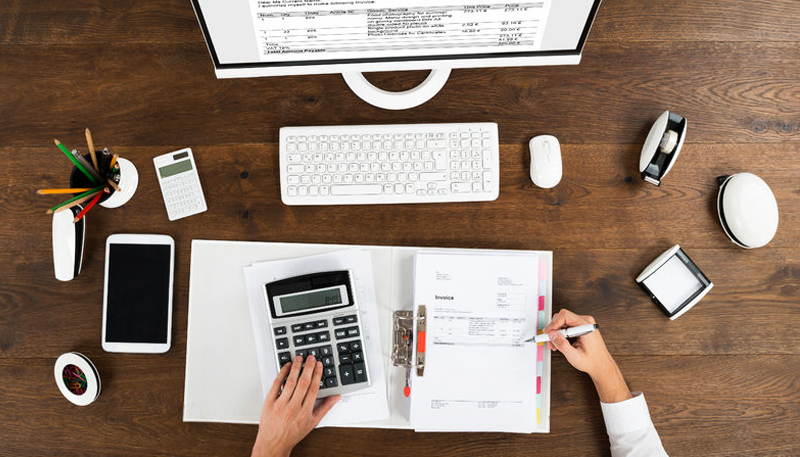 If you have accounting or bookkeeping experience, it's totally possible to become a freelance accountant and work from home!
Need Easy Extra $350+/Month For Free?
Accounting is one of those professions that doesn't necessarily need an office, so many accountants and bookkeepers are switching to virtual work.
And, many free online accounting jobs from home offer excellent pay and benefits for skilled workers.
The companies on this list are legitimate companies that offer virtual work for accountants.
Although some may not be hiring at this time, you can keep this article bookmarked for future reference to check back occasionally for open positions.
What are the Requirements for Online Accounting Jobs?
Each company will have its own requirements, of course, but there are some general requirements you'll need to work as an online accountant.
First, it may be in your best interest to have your CPA, or certified public accountant, certification.
Not all jobs will require this, but it definitely may help.
To get your certification, you'll need to pass the CPA exam and get your licensure in one of the 50 states in the U.S.
Certain companies may require you to be licensed in a certain state depending on if the position is location-based.
Some are because they require you to occasionally meet face-to-face with clients or come in to the office for training.
You may also need to start the job in the office until you complete training before you can work from home.
Since these are legitimate jobs for accountants, you'll likely need plenty of experience in a similar job and relevant education.
What Software Will I Need?
As a freelance accountant or bookkeeper, it may be a good idea to have a few programs that can assist you not only with accounting tasks, but also with streamlining your communications with clients.
Skype: I recommend Skype to almost anyone working from home, period. Not only is it a good way to communicate with your clients through messages, but you can also have a video conversation with them. It's also available in almost any country, so even clients overseas can contact you.
Dropbox: Dropbox is another program that should be in just about any remote worker's hands! You can use it to store files remotely, which is helpful in case of an equipment failure. Plus, sharing files with your clients is super easy just by grabbing a link to your file.
QuickBooks: Since you already know accounting, you probably know that QuickBooks is like the gold standard in accounting software. It may be able to speed up a lot of your work for various clients by inputting information and allowing it to do the hard work.
Trello: If you're required to work with and collaborate with other remote workers on accounting projects, Trello can keep you all organized. Many remote teams utilize this program to assign tasks and keep team communication simple.
Read Also: 3 Project Management Software Packages to Get Work Done!
Bookkeeping Jobs from Home
AccountingDepartment.com is a fully virtual company that provides accounting and bookkeeping services to individual and business clients.
Need Easy Extra Cash?
Pinecone Research, a leading name in online survey panel honesty, absolutely guarantees $3 cash for every survey you complete!
Take advantage of their time limited New Membership drive and register NOW. Join today: 100% free!


The company offers various positions for experienced accountants and bookkeepers.
You must reside in the United States to apply and most positions require at least 3 years of relevant experience for the position.
You'll be eligible for benefits, such as a retirement plan, paid vacation and holidays, and health, dental, and vision coverage.
Assurance Financial Management is a U.S. accounting company that hires staff throughout the U.S. to work from home.
When you become an accountant with the Assurance Financial Management team, you'll have access to the company's individual and business clients to provide services to them.
Some of the services the company offers include balancing books, bill pay, investment tracking, financial security options, and payroll processing.
So, it's a good idea to have experience in as many of these areas as possible before you apply.
You can contact the email address listed on the website for more information about applying.
Bateman & Co. is a group of CPAs that seeks telecommuting accountants to provide services.
The website states that it's not required that you live in Houston or the state of Texas, but it's preferred, as that's the company's home base.
It also appears that the telecommuting positions are relatively new and it may be something that you can help polish with the company.
You must have CPA certification and at least 3 years of public accounting experience.
BIDaWIZ offers a different type of job for accountants and bookkeepers.
Here, you'll be an expert offering answers to questions posed by others.
You must have your CPA or Enrolled Agent licensure and be a graduate from an accredited college or university in the United States.
You'll also need at least 2 years of experience as a professional accountant or tax consultant.
Others will ask a question regarding their taxes or accounting reports.
The question gets sent to a pool of experts.
You can provide a bid to answer the question, and the asker will choose an expert to work with.
Experts get rated according to how helpful a user believes their answer was, which can help you get more work in the future.
You'll be able to work when you're available, making this one of the most flexible virtual accounting positions you can have.
Bookminders is a bookkeeping service company geared toward small businesses and nonprofit organizations.
Currently, the company only seeks home-based accountants who can work from home in Pittsburgh or Philadelphia.
You'll need a 4-year degree and at least 5 years of professional accounting experience.
The job description also mentions that some local travel for clients may be required.
Your schedule will be fairly flexible, but you'll need to be available for trainings and meetings during normal business hours.
Your workload may start off low in the beginning, but can increase as you become more familiar with the job.
You'll need to meet a minimum of 20 hours per week after a probationary period.
ClickAccounts is a business process outsourcing company that specializes in bookkeeping services.
Earn Everything… nearly!
Join Opinion Outpost, one of the few faithful and honest survey panels and earn cash and gift cards for your opinion. Stack your points and redeem them: Simple! No hidden fees and completely free!


Some of the services the company can help with include bill payments, payroll, QuickBooks organization, and bank reconciliation.
The company occasionally seeks work from home tax professionals and bookkeepers to provide virtual services for clients.
There's no application on the website, but you can inquire about the position and/or send your resume to the email listed on the Careers page.
Click N Work offers a variety of services for businesses.
The company looks for skilled accountants and bookkeepers to be financial consultants or analysts for clients.
Depending on the project, you can make between $40 to $150 per hour.
Crawford provides multiple services to clients, including financial and record-keeping services.
The company allows its Credit and Collections Specialists to work from home to handle and process accounts that have gone to collections.
You'll handle a variety of tasks, like reviewing invoices, generating reports, and providing customer service.
A high school diploma is the only education required for this position, but you'll need previous professional experience with an accounting or billing department.
You'll get a full benefits package with this job, including a retirement plan, life and health insurance, tuition reimbursement, and more.
First Data offers financial services for small and large businesses.
The company looks for people who can handle small business accounts and large merchant accounts in several countries.
Full-time employees can earn benefits, like tuition reimbursements, annual bonuses based on performance, health insurance, and more.
For most positions, you'll need relevant education and at least one to three years of relevant professional experience.
Intuit is the innovative company behind the amazing program, QuickBooks, which most accountants are familiar with.
The company has some work from home positions perfect for bookkeepers and accountants, especially if you've had experiences as a tax professional.
Credentialed Tax Experts, for example, need an active credential, like a CPA, and are able to work from home on a flexible schedule.
You'll also get benefits like child care, product discounts, and a 401(k) plan.
Bilingual applicants are encouraged to apply, and it's also a bonus if you've had IRS or state tax auditing experience.
Saralux is a technology company that provides cloud services, web and mobile development, and more.
This company does hire remote workers, but usually posts the positions on job search websites, like Smart Recruiters or Indeed.
If you have accounting credentials and experience, you may be eligible for the Netsuite Consultant position.
The job requires a Bachelor's degree in accounting, at a minimum, and at least two to three years of accounting experience.
You'll be completing a variety of duties, like managing projects and training others to use financial systems.
TAD Accounting provides accounting services to various clients.
The company occasionally hires remote accountants, and you can check back on the site periodically to see if any positions have opened up.
You may also send a resume to the email listed on the website and you'll be notified if an opportunity opens that may be a good fit for you.
You'll need at least two years of professional experience to be considered.
United Healthcare occasionally has openings for remote accounting clerks in the United States.
You'll need at least two years of relevant experience and high-level knowledge of Excel, PowerPoint, Word, and CobraEAS.
It's also a bonus if you've worked in the accounting department of a business in the healthcare industry.
Two Roads is a well-established bookkeeping company that primarily serves small businesses.
With its focus on modern, cloud-based bookkeeping, Two Roads provides an ideal opportunity for remote work.
The company often seeks home-based bookkeepers who have a minimum of two years of experience in the field.
An added advantage is familiarity with QuickBooks, as this software forms a core part of their service offerings.
They highly value professionals who can navigate cloud-based platforms and can provide efficient bookkeeping services to their clients.
1-800 Accountant is a respected virtual accounting firm that operates nationwide.
The company is well-regarded for blending technological convenience with a proactive and personalized approach to client service.
They regularly hire remote accountants or CPAs who have tangible experience in public accounting.
Along with the flexibility of remote work, the company provides an array of benefits including health insurance, paid time off, and the ability to contribute to a 401(k) plan.
This company prides itself on providing a fully supportive environment that allows accountants to serve clients effectively from the comfort of their homes.
Click Accountant Bookkeeping Services operates as an outsourcing firm, delivering a range of bookkeeping and accounting services to businesses of varying sizes.
They occasionally offer remote positions, providing ample opportunity for accountants and bookkeepers to offer their expertise from a home setting.
The eligibility criteria typically require candidates to hold a professional certification and boast a minimum of two years of experience in accounting or bookkeeping.
The company highly appreciates those who can provide efficient and detail-oriented service to support their business clients.
Robert Half, a reputable staffing agency, has a robust presence in the Finance & Accounting industry.
The firm frequently offers temporary, contract, and full-time positions that can be executed remotely.
The qualifications for these roles can vary widely, but they often include holding a bachelor's degree in a related field and possessing a professional certification, such as a CPA.
Robert Half offers a vast platform for professionals seeking to extend their careers in finance and accounting, allowing for a range of opportunities in the remote work sphere.
Find More on Indeed
If none of these jobs look like the perfect opportunity for you, I encourage you to check out Indeed.
A lot of companies use sites like Indeed to post their job listings because a lot of job seekers can find them quickly.
If you use the search function to look for "accounting" or "bookkeeping" as a keyword, you'll come up with hundreds of results.
Narrow the search to only work from home jobs by placing "remote", "work from home", or "home-based" in the Location bar.
Conclusion: Work from Home Accounting and Bookkeeping Jobs
This list of work from home accounting and bookkeeping jobs is a great one to start with, as many have found positions with these companies.
But, don't forget to check Indeed, every once in a while, for more opportunities that aren't listed on company websites.
Are you looking for a work from home accounting or bookkeeping job? What has been your biggest obstacle so far? Let us know in a comment below!
Related Posts:
Earn Everything… nearly!
Join Ipsos iSay, one of the few Faithful and Honest survey panels and earn prizes, gift cards and donations. Stack your points and redeem them: Simple! No hidden fees and completely free!