5 Dishonest Work at Home Job Descriptions on Craigslist
Updated on: by Amy Kennedy
Craigslist can be an amazing resource for people who are looking for work from home jobs. Many legitimate companies use the free resource. Unfortunately, it is also a hub filled with many scams and schemes. The following are the top five, most dishonest job titles on Craigslist.
Need Easy Extra $350+/Month For Free?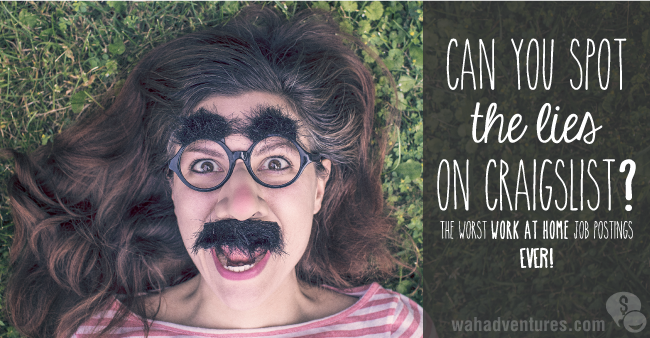 Easy Work at Home – Get Paid Cash Daily
This job description is always followed up with some promise that you will make hundreds of dollars a week. Every one of these "Get paid daily" jobs are not really jobs. They are either scams, or some survey-like company where you can earn pennies on the hour and hope to some day be able to cash out.
The second part of this awful job description is the word "easy". Which means their number one target is someone looking to make easy money, they are the ones to most likely fall for scams.
The next time you see a job ad with Easy and Paid Cash Daily in the description, keep on scrolling!
Perfect for Moms
This one really gets most of us moms. We are desperately looking for a way to make money online while raising our kids. So when someone piques our interest by claiming the job is great to do as a stay at home mom, we think we found the perfect thing!
But guess what.
They are scams- playing with your emotions. These are often the type of jobs that will get you into trouble, filling out trial offers that result in years of calls, emails and possibly charges to your credit cards.
Unfortunately, these people simply don't pay their victims what was promised either. They change their name and post another craiglist ad.
Other times you will see these "perfect for moms" ads and their pitch is all about flexibility and freedom. Those are usually direct sales. If you want to invest into a natural cleaning agent company or sell makeup to your friends, then go ahead and respond. If you want a real way to make money, keep scrolling!
Work at Home: Envelope Stuffing Jobs!
Just keep scrolling. These are never legit. End of story.
Work from Home and earn money by reading a script
I can promise you one thing right off the bat based on this job description title. You will hate whatever job this is. Working in a call center, answering a phone and reading a script can be made to sound very simple. But believe me, it is not.
Any company who markets the role as simply reading a script, is incredibly demeaning the position. That means, you will not be respected.
There are plenty of virtual call centers hiring, all the time. Find one that takes the role serious.
Free, Legitimate Work-At-Home-Jobs – Paid-Surveys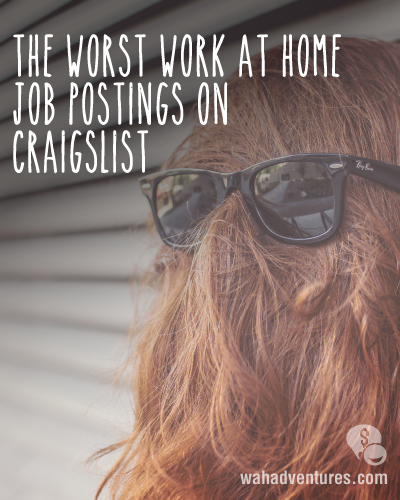 Paid surveys are never jobs! I repeat. Taking surveys is not a job.
People posting these craigslist ads will say anything to get you to sign up and register for as many survey companies as they link.
Need Easy Extra Cash?
Pinecone Research, a leading name in online survey panel honesty, absolutely guarantees $3 cash for every survey you complete!
Take advantage of their time limited New Membership drive and register NOW. Join today: 100% free!


Wonder what they get out of it? A referral fee.
These people are being paid $2-5 and sometimes more, for each person who signs up with their referral link.
They will literally tell you whatever you want to hear so you will register. No, you cannot make hundreds of dollars a week or month taking surveys! It is NOT a job.
In fact, unless you simply enjoy them, paid surveys are rarely EVER worth your time!
High-Paying Work-from-Home Jobs
This job title often appears enticing, promising high earnings while allowing you to work from the comfort of your home.
However, be cautious when encountering such ads as they can be misleading.
While legitimate work-from-home opportunities do exist, it's crucial to thoroughly research the job, the company, and the payment structure to ensure you're not falling victim to a scam.
No Experience Needed – Earn Thousands a Month
Advertisements like these prey on individuals who are desperately seeking employment without requiring any prior experience.
While it's true that some entry-level positions may not require experience, it's important to be skeptical of claims that promise high earnings with minimal qualifications.
Legitimate job opportunities usually require a certain level of skills or expertise, and it's essential to do thorough research and exercise caution before pursuing such offers.
Data Entry Jobs: Make Money Fast and Easy
Data entry jobs are often advertised as an effortless way to make quick money.
However, be wary of such claims, as the reality may be quite different.
While data entry work exists, it typically requires attention to detail, accuracy, and sometimes specialized knowledge.
Beware of scams that ask for upfront payments or promise unrealistically high pay for simple data entry tasks.
Online Surveys: Earn a Full-Time Income
This job title preys on individuals looking to make a substantial income through online surveys alone.
While participating in paid surveys can be a legitimate way to earn some extra cash, it is highly unlikely to provide a full-time income.
It's important to approach online surveys with realistic expectations and be aware that the compensation for each survey is generally modest.
Get Rich Quick – Start Making Money Today!
Ads promising quick riches and immediate cash flow should raise red flags.
Legitimate employment opportunities typically require time, effort, and skill development to earn a substantial income.
Be cautious of any job title that claims you can become wealthy overnight or guarantees unrealistic financial outcomes.
Always research the company and thoroughly understand the job requirements and payment structure before pursuing such opportunities.
Signs of a Legit Work at Home Job posting on Craigslist?
Craigslist may be full of people trying to make a buck off of other people's ignorance. But there are also some very real work at home jobs posted all the time. How can you find these jobs?
For one, use your brain and look for a JOB not quick and easy money.
Job descriptions are often to the point. "CSR Position Needed: Can Work From Home", "Appointment Setters Needed – Work From Home", "Inbound Call Center Rep – No Cold Calling – Work from Home", or "Freelance Writers and Editors Needed".
As you can see, from examples I gave, they post the actual job in the description, not selling you with hot words like "legit, free, easy".
Another tip, often-times (not always), legit work at home jobs on craigslist will post a link to their site to learn more about the company or their business name. Most of the time, they don't have a need to hide behind an anonymous craigslist posting. While it is not true in every case, it is a good rule to live by if you are worried you may get scammed online.
Before you go, find out how to search ALL of Craigslist to make your work at home job hunt easier.
Related Posts:
Earn Everything… nearly!
Join Opinion Outpost, one of the few faithful and honest survey panels and earn cash and gift cards for your opinion. Stack your points and redeem them: Simple! No hidden fees and completely free!


Earn Everything… nearly!
Join Ipsos iSay, one of the few Faithful and Honest survey panels and earn prizes, gift cards and donations. Stack your points and redeem them: Simple! No hidden fees and completely free!