Get Paid by 66+ Greeting Card Companies for Your Writing or Designs
Updated on: by Amy Kennedy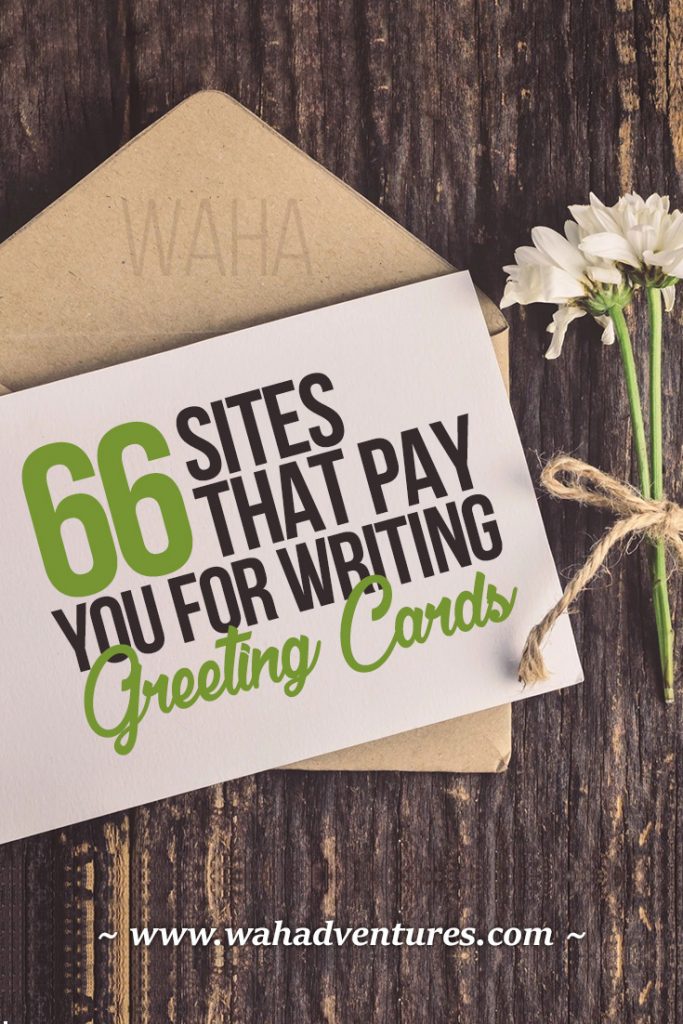 Designing greeting cards for a living may not be something you'd first think of when considering online jobs.
Need Easy Extra $350+/Month For Free?
But, it's real.
You can become a freelance card designer or writer and earn money doing what you love.
Several greeting card companies accept submissions from writers, photographers, or artists to help create one-of-a-kind greeting cards.
You can make $50 or more per accepted submission from most companies!
Types of Greeting Cards to Write or Design
If you're going to get into the business of writing or designing greeting cards, you should know that you don't have to consider yourself an expert in every type of card.
Browse the card aisles in stores and you'll see a wide range of card types, from elaborate and sentimental to simple and funny.
It's possible to specialize in one type of card if that's where your talent lies.
For example, someone who's really funny might not find it easy to come up with a kindhearted, serious sentiment for a "Get Well Soon" or sympathy card.
Likewise, someone who's good at writing flowy poetry might not be so quick to come up with catchy one-liners for funny cards.
The idea is to find companies that align with your values and create cards similar to your writing style.
Most card companies have a wide range of card types, like:
Special occasion
Holidays/Seasons
Age-focused
Blank
This is good for you because you won't have to spend as much time searching for companies that only make cards in your genre.
However, if you're really witty, you might find it easier to get your submissions accepted by a company that focuses on humor cards because they'll appreciate your humor the most!
The point is that it's okay to be a greeting card generalist, but it's also 100% okay if you want to specialize in one form of writing.
There are so many types of greeting cards and companies out there that you shouldn't feel like you need to be pigeon-holed into a genre that's just not your cup of tea.
Need Easy Extra Cash?
Pinecone Research, a leading name in online survey panel honesty, absolutely guarantees $3 cash for every survey you complete!
Take advantage of their time limited New Membership drive and register NOW. Join today: 100% free!


Can I Write for Hallmark?
The very first greeting card company you probably think of is Hallmark.
This company is so big that it's branched out into so many other things in addition to greeting cards, like holiday ornaments, gifts, and even its own TV channel.
Writing for Hallmark can certainly give you the confidence to write for just about any other company, too.
But does it hire?
Yes!
In fact, one writer for the company has written for Hallmark for more than 30 years and writes as many as 20 cards per week as a senior writer.
The writer, Diana Manning, has talked about her experience as a Hallmark writer from the application process to actually working with the company and sifting through her assignments.
Diana has said that writers who apply for positions like hers will need to submit some test pieces to make sure they can adhere to the famous voice of the company and write in a variety of genres.
She does mention that Hallmark has a set of writers for humorous cards, but that most writers for the company are skilled writers in various areas.
You can search through Hallmark's Careers Page to see if anything's available, but it seems like these positions are difficult to come by.
Most writer positions will require a bachelor's degree, minimum.
You might also be interested in the writing internship program through Hallmark, which lets you get your feet wet in the industry by working alongside the company's writers and editors!
Oh – and it's a paid internship!
As far as freelance submissions go, it seems like Hallmark only accepts novel submissions, which you can learn more about here.
List of Greeting Card Companies Looking for Writers
If you're looking for greeting card writer jobs, try these greeting card companies accepting freelance writers.
If they aren't currently accepting submissions, check back occasionally, or contact the company to find out when submissions may open.
Amber Lotus Publishing – Looks for "short and clever" writing submissions for greeting cards. You can submit 3 to 5 samples at a time and will be contacted if any are accepted.
American Greetings –  You must go through a formal submission process to be accepted as a writer for American Greetings. Their submissions are reviewed monthly. You can also search the company's Job Opportunities website for more freelance opportunities.
Avanti Press – Familiarize yourself with the cards this company sells before submitting some verses for consideration.
Blue Mountain Arts  (review)– Blue Mountain Arts is a long-running greeting card company. You can request a copy of its writer's guidelines by e-mail and then submit your writing.
Calypso Cards  – Calypso Cards reviews writer submissions several times per year, and will contact you if your original ideas are a good fit.
Comstock – This company asks that you submit your greeting card copy on 3×5 index cards. It may take about 8 to 10 weeks to get a response. If your work is accepted, you'll receive $50 per accepted submission.
DaySpring – Pays $75 for each accepted submission and is made within 30 to 45 days of acceptance.
Designer Greetings – This company occasionally seeks writers and editors to help out with its writing and design process for greeting cards.
You won't usually find the jobs on its website, but job search sites like Indeed and Monster will sometimes host them.
Ephemera – Ephemera creates all kinds of products with catchy and funny slogans on them, like magnets, stickers, and cards.
You can submit a slogan for possible placement on its products.
The company will get exclusive rights and will pay $50 for each accepted slogan.
Gallant Greetings – Gallant Greetings is currently not accepting submissions, but will open submissions on its website as needed.
Earn Everything… nearly!
Join Opinion Outpost, one of the few faithful and honest survey panels and earn cash and gift cards for your opinion. Stack your points and redeem them: Simple! No hidden fees and completely free!


Kalan Idea Factory – Submit your ideas for slogans, one-liners, and other written content for Kalan's products, which include magnets, fashion and accessories, and other novelty gifts.
NobleWorksCards – Contact NobleWorksCards via its online contact form for its submission guidelines for greeting card writers.
Oatmeal Studios – Oatmeal Studies accepts realistic, funny copy for greeting cards. You can submit ideas via e-mail or snail mail.
P.S. Greetings – You can submit your writings to P.S. Greetings via snail mail with a self-addressed, stamped envelope, and the company will let you know if any are accepted.
Shoebox – Shoebox accepts writer's submissions, but doesn't have a clear spot for it on its website. You can inquire more about writing for Shoebox using the "Ask" feature on the website.
Smart Alex – Submit your witty writings via e-mail or snail mail, and Smart Alex will contact you if they're accepted.
Snafu Designs – Snafu Designs looks for humorous writings for its cards. You can submit up to 12 ideas at a time, and should wait at least 8 weeks to find out if they're accepted. Pays $100 per accepted submission.
The Great British Card Company – Submit your greeting card copy, and the company will respond to all submissions within 8 weeks.
UK Greetings – UK Greetings looks for "meaningful and authentic" writing submissions for its cards. Send your ideas to the editorial team via its online form.
Viabella – Viabella has submission periods, based on holidays and special occasions. Once you submit your ideas, the company asks that you wait about 3 to 6 weeks after the end of the submission period to find out if your ideas have been accepted.
Warner Press –  Warner Press accepts writings with Christian, inspiring, and uplifting themes for its boxed greeting cards. Pays $35 per acceptance.
Expressive Emotions Greetings – Expressive Emotions Greetings is a leading greeting card company that specializes in capturing and conveying deep emotions through their cards. They value heartfelt messages that touch the recipient's soul. 
Whimsical Wonders Cards – Whimsical Wonders Cards is known for its whimsical and imaginative greeting card designs. They are constantly seeking talented writers and illustrators who can bring their unique vision to life. 
Blissful Blessings Greetings – Blissful Blessings Greetings is a greeting card company that focuses on uplifting and inspirational messages. They are looking for writers who can create thoughtful and motivational content that spreads positivity and encouragement. 
Playful Paws Cards – Playful Paws Cards specializes in adorable and heartwarming greeting cards featuring cute animals. They are currently seeking writers and illustrators who can create endearing and playful content that appeals to animal lovers. 
Majestic Moments Greetings – Majestic Moments Greetings is a greeting card company that aims to capture life's precious moments and celebrations through their elegant designs. They are always searching for writers who can skillfully convey emotions and sentimentality in their card messages. 
Top Greeting Card Companies That Need Photos & Illustrations
These greeting card publishers looking for artists and photographers will pay you for accepted submissions.
It may help to have a freelance card designer portfolio that showcases your work to send to the company with your submissions.
Check back occasionally if they aren't currently open for submissions.
Abacus – Abacus accepts illustrations and photographs for its cards, by snail mail and e-mail.
Abbey Press – Abbey Press is not currently accepting unsolicited designs, but you can contact the company to find out when submissions may open up.
Allport Editions – Accepts artful, humorous designs and art related to specific cities or states. Allow 12 to 16 weeks for a response.
Amber Lotus Publishing – Accepts original art and photography, mostly between April and July. Submissions outside of this window will take longer to be accepted.
American Greetings – You must go through a formal process for your original artwork or photographs to be considered for American Greetings. You may also check its Job Opportunities for freelance position openings.
Artists to Watch – Artists to Watch accepts only digital submissions of up to 10 at a time. You must follow the submission calendar listed on its website.
Avanti Press – You can submit your photography to Avanti Press for review by a photo editor. If it matches the company's needs, you'll be contacted to ensure your photo is still available.
Bayview Press – Bayview Press is currently closed for submissions, but you can check back on its website to see when artists' work is being accepted.
Brush Dance – Send Brush Dance a link to your online gallery of artwork or photographs, or e-mail the company some samples, for consideration for use in its cards and calendars.
Bug Art – This UK company accepts freelance designer submissions of photos or artwork.
You'll get royalties for all cards sold with your design.
Calypso Cards  – You can submit your artwork to Calypso Cards for review via e-mail or snail mail.
Card Gnome – Design your own cards to sell on Card Gnome and receive 5% of the price of a card, or 10 cents minimum. Your designs don't even have to be exclusive to Card Gnome to sell.
Caspari – Caspari accepts artwork only, no photographs, via e-mail. You'll be contacted by the company for more samples, if needed.
Comstock – Get paid $50 per accepted artwork for Comstock greeting cards. Allow at least 8 to 10 weeks for a response.
Crown Point Graphics – Submit a JPG or PDF of your artwork ideas to Crown Point Graphics.
Design House Greetings – You can send low-resolution samples of your work to Design House Greetings for possible acceptance to use on future greeting cards.
Fotofolio – You can submit up to 40 photograph samples to Fotofolio, and the company will contact you if it's interested in a partnership for its cards.
Galison Mudpuppy – Submit your artwork to Galison Mudpuppy for consideration via e-mail or snail mail. The company will contact you if it has a project that you'll be a good fit for.
Gina B Designs – Gine B Designs accepts artwork submissions with "excellent composition and use of color". The company reviews submissions throughout the year, and will keep your artwork on file for future use.
Great Arrow Graphics – Great Arrow Graphics collaborates with over 100 artists for its card designs. If you're interested in becoming one of them, check out the company's deadlines for submissions on the website. The company tries to reply to all submissions within 3 weeks.
Green Pebble – British designers, photographers, and artists can submit their work to this greeting card company if they focus on British landscapes, people, events, and more.
It Takes Two – If you're interested in submitting your artwork to It Takes Two, use the contact form on its website for more information about submissions.
Leanin Tree – Leanin Tree lists several themed categories on its website in which it needs original artwork. You can submit artwork via e-mail and you'll hear back within 4 to 8 weeks if your work is a good fit.
Madison Park Group – This company looks for unique artwork for its designs. E-mail up to 3 submissions, or mail up to 6 samples. The company will contact you if interested.
NobleWorksCards – Contact NobleWorksCards via its online contact form for its submission guidelines for artists and cartoonists.
Oatmeal Studios – Oatmeal Studios wants "fresh and fun-looking" artistry for its cards. You can submit via e-mail or snail mail, and payments will be negotiated with each artists, depending on the complexity of the designs.
Oh So Beautiful Paper – This company focuses on a wide range of stationery products, including greeting cards.
Artists can submit their designs following the instructions listed on the site
Palm Press Inc – Accepts year-round submissions for photographs in a variety of categories, like holidays, wedding, congratulations, and more. Send submissions via e-mail or snail mail, and you should hear back within 2 to 3 weeks, if accepted.
Paper Magic – Accepts portfolio submissions from designers and illustrators for consideration in future greeting cards. Submit via snail mail only.
Papyrus – Papyrus accepts portfolio submissions from artists who would like to collaborate with the company for greeting card designs. Accepts submissions via snail mail only.
Peaceable Kingdom – This company is a family-owned business focused on cooperative play in children. It creates greeting cards for children and accepts submissions from artists. Submit via the contact form or snail mail, and expect to wait about 4 to 6 weeks for a response.
Planet Zoo – Planet Zoo looks for photograph submissions of wildlife in its natural habitat. You can submit up to 10 images via e-mail, and Planet Zoo will contact you if interested in your work.
Pomegranate – Submit artwork or photography through e-mail or snail mail, and the company will contact you within 8 weeks if your work is accepted.
P.S. Greetings – P.S. Greetings looks for designers, illustrators, and photographers to submit copies of their original works for consideration in future greeting card designs. Must submit via snail mail with a self-addressed, stamped envelope.
Recycled Paper Greetings – E-mail Recycled Paper Greetings, or use its online contact form, to inquire about its guidelines for submitting artistry.
R.S.V.P. – Accepts color printouts, photographic prints, and digital images from artists and photographers, up to 20 images per person. The company states that the fastest response will be for submissions in February and March, but you can submit year-round via e-mail or snail mail.
Shade Tree Greetings – This company accepts black and white or color family photographs taken from 1945 to 1985. You'll get a $100 gift card per accepted submission, plus 12 free cards with your photo. Acceptance can take between 6 months to 2 years.
Smart Alex – Accepts humorous photographs, designs, or illustrations by e-mail or snail mail. Smart Alex will contact you if your designs or photos are accepted.
The Great British Card Company – Send your photos or illustrations via snail mail or e-mail, and the company will respond to all submissions within 8 weeks.
The Greeting Card Shop – The Greeting Card Shop lets you upload your artistry to cards and sell them yourself! Register as an artist, manage your designs, and receive 12% of the sale of each card, which is typically 24 cents.
Tiny Prints – As a designer for Tiny Prints, you can design holiday cards, birth announcements, and more. If interested, you can submit your portfolio via e-mail.
UK Greetings – UK Greetings looks for artwork, illustrations, and photos for its greeting cards. You can submit via the online form, using PDF, JPEG, or PNG formats.
Up With Paper – Up With Paper says that it's "always on the lookout for new talent" and "trend-setting designs" for its greeting cards. Submit your portfolio by e-mail to the creative director for consideration.
Woodmansterne – Woodmansterne's Design Team holds a bi-weekly Artists' Submissions meeting to review all submissions from designers, illustrators, and photographers. Submit your work via snail mail or e-mail, and allow up to one month to be contacted if your work is of interest.
Read More: 50 Best Options to Make Money with Your Art Online
Tips for Getting Paid & Finding Paying Greeting Card Companies
It's a good idea for those looking to make money with greeting cards submissions to keep the Greeting Card Association bookmarked.
The website lists all the members within the association, which are greeting card companies who may just be in need of your submissions someday!
You can also bookmark the Writer's Write greeting card section if you're looking for places that may be open to writer's submissions.
To make the most of your submissions, and have the highest chance of them getting accepted, consider some of these tips:
Don't send artwork or copy unless it's specifically stated that submissions are welcome, or you've received permission from the company.
Search for greeting card companies that align to your values and style. If you're skilled in humorous verse, a more serious, motivational card company may not be for you.
Become familiar with each company you're submitting your work to. You need to have a good idea of what each company markets so you can tailor your work to meet their needs.
Follow the company's guidelines precisely. They exist for a reason, and you'll have a much better chance getting your work accepted if you show that you take heed of the company's specifications.
Take note of specific deadlines. Some companies set deadlines for submissions for certain holidays or occasions.
Put your name, address, phone number, and e-mail address on each submission so the company can easily contact you.
How to Write Greeting Cards That Sell
Not every greeting card sentiment you write or design you submit is going to be accepted.
That's just the name of the game (and that would make it way too easy!).
One company might love your ideas while another says, "No way!"
Although you can't predict what ideas go through and what ones get tossed away, there are a few things you can do that might make your greeting cards likelier to sell:
Be yourself. Any legitimate company is going to be able to tell right away if you're trying too hard to write in a way you usually don't. Yes, they want you to follow their guidelines, but they also want your personality to shine through.
Proofread, edit, and then do it again. It's never possible to edit or proofread too much. You want your work to be perfect – grammatically and technically – before sending it in.
Think of yourself as the customer. Would you purchase what you just wrote or designed, or would that card sit on the shelf?
Check for wordiness. In some greeting cards, a couple of paragraphs is a good thing, but for most of them, companies look for writing to be short, sweet, and to the point. Cut out any unnecessary words.
Practice! The only way you'll get better at writing greeting cards is by practicing. Spend some free time each week reading through cards at the store and trying to replicate the style of the ones you found most engaging (in your own words, of course!).
More Ideas to Get Paid as a Greeting Card Writer or Designer
There's no guarantee that you'll ever get your submissions accepted by greeting card companies you send your ideas to.
If you're looking for a way to get a steadier income without relying on editors and submissions guidelines, you might want to try these other ideas for greeting card writers:
Start Your Own Greeting Card Company and Shop
You can always start your own greeting card company, make a website, and set up shop online.
With companies like Shopify that handle all the technical stuff about having an online shop, it's easier than ever to start an online business and sell stuff you love.
The best part of having your own greeting card business is that you're not at all limited as to what you can design or write.
Your greeting card line is all yours, so you can get as creative as you want or create a line that's pinpointed to a specific audience, occasion, etc.
It might be a good idea if you're going this route to work with a partner if you're not skilled in both writing and designing.
If you're a writer, get a designer on board, and vice versa.
This can help you make well-rounded greeting cards that look professional and sell for what they're worth.
Once you have a few designs, you can open your shop and start selling. Keep adding more as new seasons and occasions come up.
Search on Freelance Marketplaces or Writing Job Boards
If owning your own shop seems like a lot of work (it can be if you're still working a regular job), then go for a more flexible freelancing route to start.
Freelance marketplaces like Upwork are perfect for people who want to start getting some freelance gigs while working a schedule that works for their family.
You can sign onto Upwork at any time to browse available gigs and apply for jobs that interest you.
There are a lot of writing jobs on here, so you'll need to narrow your search by using keywords, like "greeting card writer" to find the jobs you're looking for.
There are also plenty of job boards just for writers online, like Problogger and Freelance Writing Jobs.
Although these job boards tend to list more jobs like article and blog writing, I do sometimes see other forms of writing pop up, so it's possible for greeting card listings to show up.
You can also use regular job search sites, like Indeed, to find companies that might be searching for greeting card writing and design submissions.
Start a Fiverr Gig
Fiverr may not be the best place to go for a long-term business plan, but it could be a good place to get your greeting card writing or design business started.
Fiverr is a place where freelancers can create any type of gigs they want and set their prices.
For $5, you might come up with a quick slogan for someone's card they want to create, for example.
You can continue to add more services for more money, like a longer poem for $25 or a card design for $50.
Those who are most successful on Fiverr get a lot of good ratings, so it's important to encourage your buyers to rate you whenever they purchase a gig and always be sure to make each customer happy by following their instructions and turning around projects in a timely manner.
Sell Handmade Cards on Etsy
Another option for you creative types is to sell cards on Etsy.
Do a quick search on the platform and you'll find all kinds of handmade cards, stationery, and similar products made by people just like you.
Etsy is awesome because it gives you a way to start your own creative business without having to worry about the technical parts of running a website that you might not be interested in.
Instead, you'll open a shop through the platform, add your items to it, and start selling.
You'll have the additional benefit of getting traffic to your shop and products by leveraging Etsy's traffic because people can search directly on the site to find what they need.
They can also find your products through a Google search!
Keep customers happy to build up your five-star ratings and it won't be long until you start reaping the profits of your beautiful greeting cards.
Here are a few awesome Etsy shops that can give you some inspiration:
Keep Searching!
Have you found a greeting card company that's new to you while searching through the card section at a store?
Don't be afraid to look up the contact information for the company to ask if it might need writers.
They have to source writers from somewhere, so it's always possible that they use freelancers rather than in-house staff for the job.
Every new season or holiday, take a look at the card sections of your favorite stores to see if there are any new companies you can potentially work with.
You can always do the same online with quick Google searches.
Final Thoughts
Writing greeting cards can be a fun alternative to regular freelance writing, especially if you're more of the creative type that would rather write funny, catchy sentiments instead of long blogs or articles.
You can even make it a long-term career if you're good enough.
The huge list above should set you on the right track toward finding greeting card companies that are ready to take your writing or artistic submissions.
Good luck with your greetings!
Have you written for greeting card companies or sent them your artwork or photography? How did it go?
We'd love to hear all about it in the comments below.
Related Posts:
Earn Everything… nearly!
Join Ipsos iSay, one of the few Faithful and Honest survey panels and earn prizes, gift cards and donations. Stack your points and redeem them: Simple! No hidden fees and completely free!