10 Types Of Cleaning Services That Can Make You Money
Updated on: by Amy Kennedy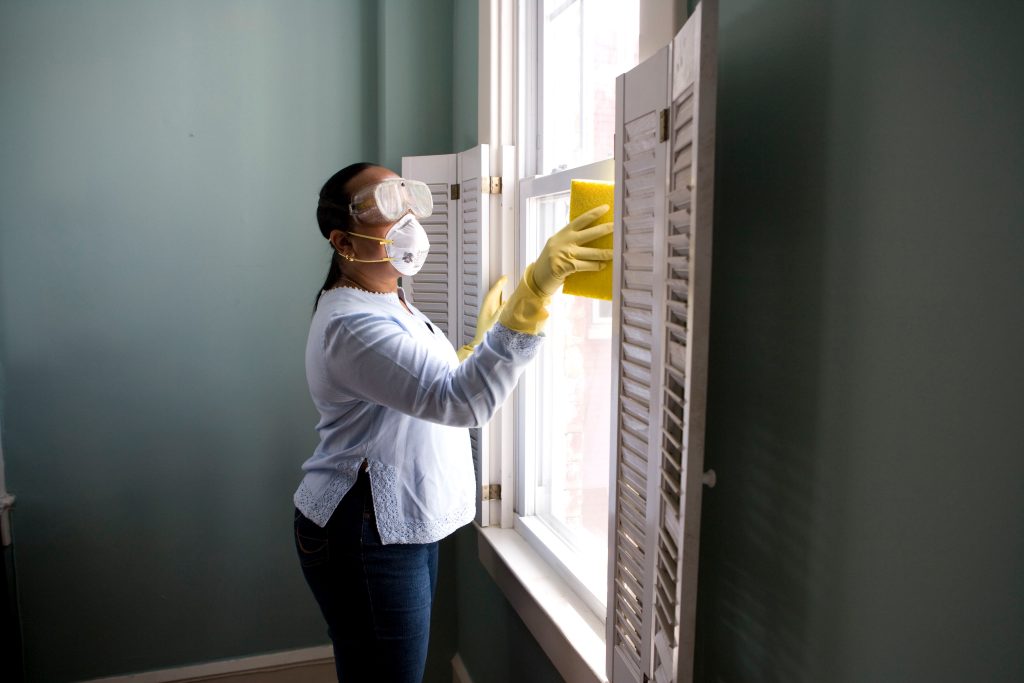 The cleaning industry has become a lucrative venture for entrepreneurs, fueled by growing demand from our increasingly busy society.
Whether it's a bustling office space, a cozy residence, or a construction site, the need for professional cleaning services is widespread.
Let's explore ten different types of cleaning services that hold great potential for profitability and business growth.
How to Start a Cleaning Business: Five Key Steps
Starting a cleaning business can be a rewarding endeavor, offering opportunities for growth and success. Here are five key steps to get you started:
Identify Your Market
Before you start, decide if you'll focus on residential or commercial cleaning. Residential cleaning services cater to households, while commercial services focus on businesses and offices.
Create a Business Plan
A business plan outlines your business's objectives and strategies for achieving them.
It includes information on your market analysis, marketing strategy, organizational structure, and financial projections.
Register Your Business
Register your business to make it official. This includes choosing a business name, registering it with your local government, and obtaining any necessary licenses or permits.
Purchase Equipment and Supplies
Invest in high-quality cleaning equipment and supplies. The specific items you need will depend on the types of cleaning services you plan to offer.
Market Your Services
Promote your cleaning services to your target market.
This could involve traditional marketing methods like distributing flyers, as well as digital marketing strategies like creating a business website or using social media.
10 Top Types of Cleaning Services
Residential Cleaning Services
Residential cleaning services, also known as maid services or house cleaning services, encompass common household chores such as dusting, vacuuming, and sanitizing bathrooms.
They are often required by busy homeowners who have neither the time nor energy to manage household cleanliness themselves.
With the boom in the housing sector and the increasing demand for time-saving services, residential cleaning can be a promising avenue for profits.
Commercial Cleaning Services
Commercial cleaning services involve cleaning business spaces, such as offices, restaurants, and shops.
These services may range from regular janitorial work to more specialized cleaning tasks specific to the type of business.
The sheer number of businesses that require regular cleaning makes this a profitable venture. Offering bespoke service packages tailored to unique business needs could be your path to success in the commercial cleaning market.
Carpet Cleaning Services
Carpets and rugs often demand specialized cleaning to maintain their appearance and longevity.
A carpet cleaning service is not just for residential clients, but also valuable for businesses wanting to maintain a professional aesthetic in their offices.
Investing in quality training and equipment can ensure your services stand out from the competition, leading to profitable outcomes.
Window Cleaning Services
Windows, particularly of commercial buildings, require regular cleaning and maintenance.
By offering window cleaning services, especially for larger commercial buildings with extensive glasswork, you can tap into a niche market with significant profit potential.
Gradually scale your business by starting with smaller clients and working your way up as your reputation grows.
Specialized Cleaning Services
Specialized cleaning services cover specific cleaning needs that demand particular skills or equipment. These could range from disaster cleanup, crime scene cleanup, to medical facility sanitization.
Specialized cleaning services often command higher prices due to their unique nature, making this a potentially profitable niche if you have the right skills and resources.
Green Cleaning Services
With growing awareness and concern for the environment, green cleaning services have seen a surge in demand.
These services use eco-friendly cleaning methods and products, offering a healthier and more sustainable option for cleaning.
Highlighting the environmental and health benefits of your services could be a strong selling point, leading to a successful and profitable green cleaning business.
Janitorial Services
Janitorial services typically involve routine, contract-based cleaning for businesses. Regular tasks could include trash collection, restroom cleaning, and other general maintenance duties.
Because these services are often secured on long-term contracts, they can provide a steady income stream and contribute significantly to your business's profitability.
Construction Cleaning Services
Post-construction sites often require thorough cleanup before they can be occupied.
Construction cleaning services include clearing construction debris and deep cleaning to prepare the new or renovated spaces for use.
Collaborating with local construction companies and contractors can provide regular work and help your construction cleaning business thrive.
Foreclosure Cleaning Services
Foreclosure cleaning services focus on cleaning and restoring foreclosed properties for resale.
Besides general cleaning, these services could also include debris removal, minor repairs, and lawn maintenance.
Given the fluctuations in the real estate market, offering foreclosure cleaning services can be a highly profitable venture.
Move-in/Move-out Cleaning Services
Move-in/Move-out cleaning services are required when tenants change in rental properties or when homeowners move to new residences.
These services typically involve deep cleaning to prepare a property for new occupants or ensure former residents receive their security deposit back.
Building relationships with property management companies and real estate agents can be a successful strategy for growing this type of business.
Top 10 Places to Secure Cleaning Jobs
In the dynamic cleaning industry, the expansion of your business revolves around securing profitable jobs.
To aid in this endeavor, we've compiled a list of the top platforms and places where you can find a variety of cleaning jobs:
Online Job Boards
Online job boards are a rich source of opportunities for job seekers in various fields, including the cleaning industry.
Well-known platforms such as Indeed, Monster, and SimplyHired offer an extensive database of job listings.
These platforms are easy to navigate, making it simple for businesses to find and apply for relevant cleaning jobs.
Cleaning Services Directories
Specific directories designed for cleaning services, such as Angi's List, provide an excellent platform for job postings.
They create an interface where clients can directly seek out cleaning services, leading to beneficial opportunities for service providers and potential clients.
LinkedIn
LinkedIn, the professional networking platform, isn't only for office jobs.
Numerous businesses post their cleaning service requirements on LinkedIn, presenting it as a potential source for securing cleaning jobs.
By cultivating a robust professional profile and networking within the right groups, you can tap into these opportunities.
Local Businesses
Direct connections with local businesses in your area can also be an effective way to find cleaning jobs.
Restaurants, shops, offices, and even schools often require regular cleaning services.
Approaching these businesses directly can help build long-term relationships and secure steady work.
Real Estate Agencies
Real estate agencies frequently require cleaning services for properties before they are put on the market or before new tenants move in.
Establishing connections with local real estate agencies can lead to regular job opportunities.
Property Management Companies
Property management companies oversee multiple properties, often including routine cleaning in their management services. Forming relationships with these companies can provide a consistent source of work.
Construction Companies
Post-construction cleanup is a specialized cleaning service that is often outsourced by construction companies.
Networking with local construction companies could result in steady cleaning contracts after each construction project they complete.
Hospitals and Healthcare Facilities
Cleaning in hospitals and healthcare facilities requires specialized skills due to health regulations. If your cleaning service has the necessary expertise, there can be a considerable demand in this sector.
Hotel Chains
Hotels require regular, extensive cleaning. Establishing contracts with local hotel chains can provide a consistent and profitable source of cleaning jobs.
Government Contracts
Local, state, and federal government offices require cleaning services and often offer contracts for these services. Keep an eye on government contract listings for potential opportunities.
Marketing Your Cleaning Service
In today's highly competitive marketplace, reaching the right audience is crucial for your cleaning service to flourish.
Whether your services are specialized or comprehensive, visibility and customer awareness are key.
To enhance your business reach, it's vital to implement both traditional and digital marketing strategies, stay updated with the latest trends, and be proactive in adopting strategies that align with your business model and customer expectations.
Traditional Marketing Strategies
Even in our digital age, traditional marketing strategies remain effective, especially when targeting local clientele.
Networking Events
Networking events offer opportunities for business owners to connect with potential clients and other businesses that might require cleaning services.
Regularly attending local business events, trade shows, and community gatherings can help raise awareness of your cleaning business.
Direct Mail
Direct mail marketing involves sending promotional materials to potential customers. A well-crafted flyer or brochure with information about your services, prices, and contact information can capture attention and bring in new clients.
Print Advertising
Placing ads in local newspapers, magazines, or trade publications can reach a wider audience.
Ensure your ads are attractive, informative, and placed in publications that your potential clients are likely to read.
Digital Marketing Strategies
With the exponential rise of the internet and social media, digital marketing has become indispensable for any business.
Social Media Marketing
Platforms such as Facebook, Instagram, Twitter, and LinkedIn offer opportunities for businesses to connect with their audience.
Regularly posting updates about your services, sharing customer testimonials, and engaging with your audience can enhance your business's visibility.
Email Marketing
Email marketing can be an effective way to reach out to potential customers and keep existing ones informed about new services, promotions, or company news. Make sure your emails are personalized, engaging, and offer value to the reader.
SEO and Content Marketing
Ensuring your website is optimized for search engines (SEO) can increase your online visibility.
Creating and sharing valuable content, such as blog posts or articles related to cleaning tips, can draw in potential customers and position your business as an authority in the cleaning industry.
Staying Updated and Adapting Strategies
The marketing landscape is continually evolving. To stay competitive, it's essential to keep abreast of the latest trends and adapt your strategies accordingly.
This could mean exploring emerging social media platforms, experimenting with new types of content, or adopting new SEO practices.
Managing Your Cleaning Service Business
Operating a cleaning business involves more than just executing the cleaning services. It includes a multitude of tasks such as team management, customer satisfaction assurance, quality control, and profitability maintenance.
Implementing sound management practices, leveraging technological tools, and investing in staff development are all critical aspects of successfully managing your cleaning service business.
Team Management
A successful cleaning business is built on the backbone of an efficient and motivated team.
Your staff represents your business and is the face of your brand. Effective team management is, therefore, crucial for your success.
Hiring the Right People
Hiring competent and reliable staff members is the first step towards building an effective team.
It's essential to screen potential employees thoroughly and hire those who exhibit the necessary skills and positive work ethics.
Training and Development
Continuous training and development help your staff stay updated with the latest cleaning techniques, safety protocols, and customer service standards.
Providing regular training opportunities also boosts staff morale and productivity.
Customer Satisfaction
The satisfaction of your customers should be at the forefront of your business goals. Ensuring high-quality services and maintaining excellent customer relationships are key components of this.
Quality of Service
Your cleaning services need to meet and exceed client expectations consistently.
This requires maintaining high standards in your cleaning procedures, using high-quality cleaning supplies, and training your staff to pay attention to detail.
Building Relationships
Building strong relationships with your customers involves effective communication, understanding their unique needs, and providing personalized services.
It's also important to solicit and act upon customer feedback for continuous improvement.
Operational Efficiency
Maintaining operational efficiency is essential for the profitability and growth of your cleaning business.
Leveraging Technology
Using software tools for scheduling, billing, and customer management can greatly improve your operational efficiency.
These tools can help you manage your bookings, track employee hours, handle billing and invoicing, and keep track of customer information and communication.
Financial Management
Keeping track of your income and expenses, managing your cash flow, and setting competitive yet profitable pricing are crucial aspects of financial management.
It's also important to plan for future expenses and potential business expansion.
Wrap Up
The cleaning industry offers various profitable niches, from residential and commercial cleaning to more specialized services.
By understanding the market, aligning your services with customer needs, and implementing effective business management strategies, you can establish a profitable cleaning business.
It's time to roll up your sleeves and let your cleaning business shine!
Related Posts: