Top 22 Work at Home Jobs That Pay 20 Dollars an Hour or More!
Updated on: by Amy Kennedy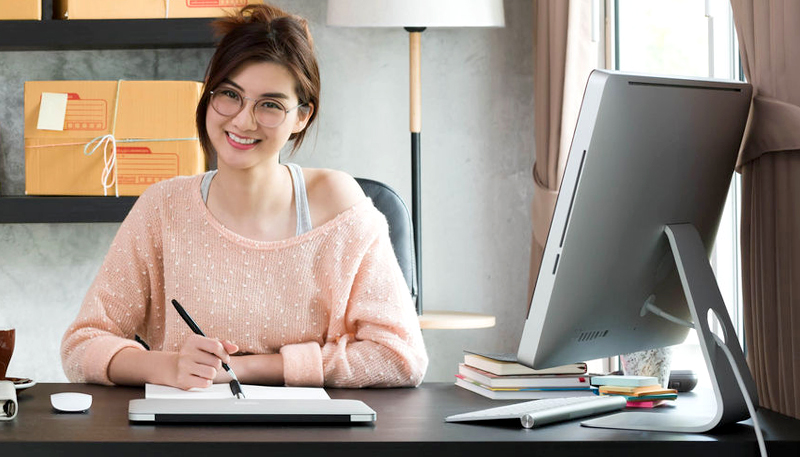 Do you want to work online?
Need Easy Extra $350+/Month For Free?
If so, you'd be joining the growing number of employees who are leaving their office jobs to work from home.
But, is it possible to find jobs that will pay decently when you're a remote employee!
Absolutely, as this article will show you.
There are plenty of companies that require skilled workers to work from home and earn an awesome wage.
If you have a college degree that you haven't yet had the opportunity to use in your job, now may be the chance.
Most of these jobs require specific skills and expertise that you may have – and they'll all pay $20 or more per hour.
Work from Home Jobs That Pay Well (Over $20 an Hour)
Don't get discouraged if you don't have the experience or education required for these jobs.
Some of them do require specific skills and experience, but if you're dedicated to landing an excellent work from home job, you can likely find one that matches your skill set.
And, if you come across something you really want to do but aren't quite qualified for, you can always go back to school to pursue a degree.
Just remember that these jobs pay better than some because they do require professionals and experts in the industry.
But, this isn't a complete list of all work from home jobs that pay well.
You can find more $20 hr jobs on Indeed, which I'll explain more about at the end of this article.
10UP has a fully remote team of experts to carry out its duties.
The company offers engineering and designing services for the web.
So, it's a good place for web designers to find a professional position.
Need Easy Extra Cash?
Pinecone Research, a leading name in online survey panel honesty, absolutely guarantees $3 cash for every survey you complete!
Take advantage of their time limited New Membership drive and register NOW. Join today: 100% free!


As a member of the 10UP team, you'll collaborate with other experts to provide full services to clients.
And, you'll receive an excellent package of benefits, including flexible scheduling, 401(k) plan, paid time off and holidays, and even a paid parental leave.
The company has several positions open at any given time, from Project Manager to Web Engineer.
Pay varies depending on your position, but even the lowest salary is about $53,000 per year, giving you much more than a $20 per hour wage.
American Journal Experts is a sub-company of Research Square.
AJE provides editing, formatting, and translation services to clients.
The company has several positions open for Independent Contract Editors for different subjects, like Business and Life Sciences.
You'll need a graduate degree or to be currently enrolled in a graduate program, so only highly-qualified people should apply here.
As an independent contractor, you can earn $20 or more per hour, although it depends on the project.
You may also have the chance to work your way up to a Managing Editor, making about $50,000 per year.
A Pass Educational Group hires for various education-related positions, like curriculum writers and layout illustrators and artists.
The positions are technical and require special experience and knowledge, but they pay you well for your expertise.
Most positions are reported to pay an average of $18 or more per hour.
Art & Logic is a software and web development company that seeks employees to work remotely.
You may be eligible for a position if you have the required expertise and experience and live in the United States or Canada.
You must be able to work a minimum of 30 hours per week regularly during regular business hours.
Most positions will require you to work with a team of other experts, so you also must be an excellent team player.
Pay depends on your position, but most pay between $20 and $30 per hour.
Book in a Box gives people the chance to turn their stories into a book through in-depth interviews.
The Book in a Box team will write the person's story into an engaging, entertaining book, edit it, and publish it.
As an employee, you'll have benefits like a retirement plan and health insurance.
The positions aren't always available, but you can sign up for email alerts when one opens up.
Depending on the job, you may earn between $20 and $50 per hour.
Buffer provides social media management solutions to individuals and businesses.
The Buffer team is remote and occasionally, positions open up that allow you time off when you need it, family leave, a flexible schedule, and other awesome benefits.
It's super transparent salary process even lets you calculate your salary based on your position, experience, and living expenses.
The lowest salary listed on the website (yes, it shows every team member's salary!) is $59,000, which works out to a lot more than $20 per hour!
Those with Registered Nurse certification can become a triage nurse for Carenet.
You can work remotely but you must reside in specific states for the position.
Earn Everything… nearly!
Join Opinion Outpost, one of the few faithful and honest survey panels and earn cash and gift cards for your opinion. Stack your points and redeem them: Simple! No hidden fees and completely free!


Carenet pays more for bilingual nurses and those who work evenings and weekends, but regular pay is reported to be between $20 and $25 per hour.
Chegg is an online tutoring company that starts all tutors off at $20 an hour!
You decide when you want to tutor and can log into the system whenever you're available.
Then, Chegg will send students to you that match your areas of expertise, and you'll get paid for the length of your tutoring sessions.
But, most tutors work only part-time, as the website states that top tutors can earn about $1,000 every month.
Chegg pays weekly.
CircleLink Health looks for remote workers with nursing licenses to provide over-the-phone help to customers.
The pay for the position as Clinical Care Coach reportedly starts around $20.
Check back on the website to see when new positions open up.
Envision Pharma has some remote positions for those residing in certain locations in the United States, UK, or Asia/Pacific.
The Associate Medical Writer position is one of the remote jobs the company offers.
The position reportedly pays upwards of $60k a year, which equals around $28 per hour.
GitHub is a software development company that provides services to clients.
As a member of the team, you can work remotely collaborating with other team members on projects.
The company has several positions available at any given time, and many of them have excellent pay.
The Customer Success Manager position, for example, has a reported salary of around $71k a year, and requires you to provide customer support to clients and develop long-lasting relationships with them.
iMedEx offers medical coding services to healthcare clients.
If you have medical coding experience, you may be able to sign on with the company as a Medical Transcriptionist.
The company usually looks for 2nd and 3rd shift employees with a minimum of 5 years of recent medical coding experience.
The pay is reportedly at least $20 an hour.
InDemand Interpreting provides translation services to healthcare providers.
For this company, you can become a remote translator with a flexible schedule.
Most of the jobs are location-based, so you'll need to live within a certain distance from the specific location.
You'll also need at least 2 years of experience as a translator for the language you apply for.
The job reportedly pays $1 per minute of translation, but depending on how fast you work, you may be able to earn $20 or more per hour.
Language Services Associates provides various language services to business clients, like deaf/hard of hearing translation and telephone interpreting.
The company has several remote positions available, but you'll need full fluency in English and your target language.
For translating and interpreting positions, most report an hourly wage of $20 or more.
Magoosh is a company that helps students with standardized test preparation.
You can become a remote worker for the company in a few different positions, like Blog Editor and Test Prep Expert.
You'll need an excellent understanding of standardized tests (like the ACT and SAT), how they work, and how they're graded.
You'll get hired as an independent contractor and can earn a base wage of about $20 an hour, with your pay increasing if you work on weekends.
Manhattan Prep is one of the best companies to work for if you have teaching experience and want to become an online instructor.
However, it's important to note that the company has many requirements for its instructors and you may need to live near a specific city for some of the positions.
But, your schedule can be flexible and you can earn $100 or more per hour as an instructor for Manhattan Prep!
Medical coders for nThrive can earn between $20 and $30 per hour using their expertise.
You must have at least 2 years of relevant experience in a hospital and have AHIMA credentials.
You'll also need to pass an assessment before you get hired on to ensure that your skills meet the requirements of the company.
nThrive offers a benefits package and supplies the computer equipment you'll need for your work.
Revolution Prep is an online tutoring company.
You can become one of its instructors and work from the company of your own home.
You're required to work 35-40 hours per week during normal business hours and some evening and weekend hours.
You must have previous teaching experience and experience with creating lesson plans.
The pay isn't listed on the site, but Glassdoor reports an hourly wage of about $23 or more for instructors.
ShowMojo is a property management company providing services for landlords.
If you have property management experience, you can apply for the Customer Success Specialist position helping current and prospective customers.
The job listing states that you can make between $18 and $25 per hour working from home, and you'll be an independent contractor rather than an employee.
SitePrep is a web and mobile development company that offers several benefits to its workers, many of whom work remotely.
Just some of the things you can expect to receive here are 6 weeks of paid vacation, 401(k) with company matching, a flexible schedule, and health and dental insurance.
The company will have different positions open on an as-needed basis, and they pay well.
Right now, for example, it has a need for a JavaScript Engineer, which reportedly pays $80k a year or more.
If you're skilled at transcription work, you may want to apply at TranscribeMe.
Here, you'll be an independent contractor and can work as often or as little as you'd like, when you'd like.
The pay here starts at $20 per audio hour, which will likely give you less than $20 per hour in earnings.
But, you may have the chance to increase your pay depending on the type of transcription you can do.
If you have legal or medical transcription background, for example, TranscribeMe will pay you a higher rate.
Working Solutions provides call center services to its various clients.
As a member of the team, you can earn $20 or more, depending on the projects you work on.
Once you create a profile, you'll need to take assessments that test your skills.
Conclusion: Work at Home Jobs That Pay 20 Dollars an Hour (or More!)
There's the list of several jobs that will pay you $20 or more to work from home.
But, you can always find more by searching Indeed.
All you need to do is put your desired hourly wage or annual salary into the keyword box and then "work from home" or "home-based" into the location job to search for them.
Good luck!
Do you know of any other companies that pay $20 or more per hour for employees to work from home? If so, let us know in the comments!
Related Posts:
Earn Everything… nearly!
Join Ipsos iSay, one of the few Faithful and Honest survey panels and earn prizes, gift cards and donations. Stack your points and redeem them: Simple! No hidden fees and completely free!