TranscribeMe Review: Find Work at Home Transcription Jobs
Updated on: by Amy Kennedy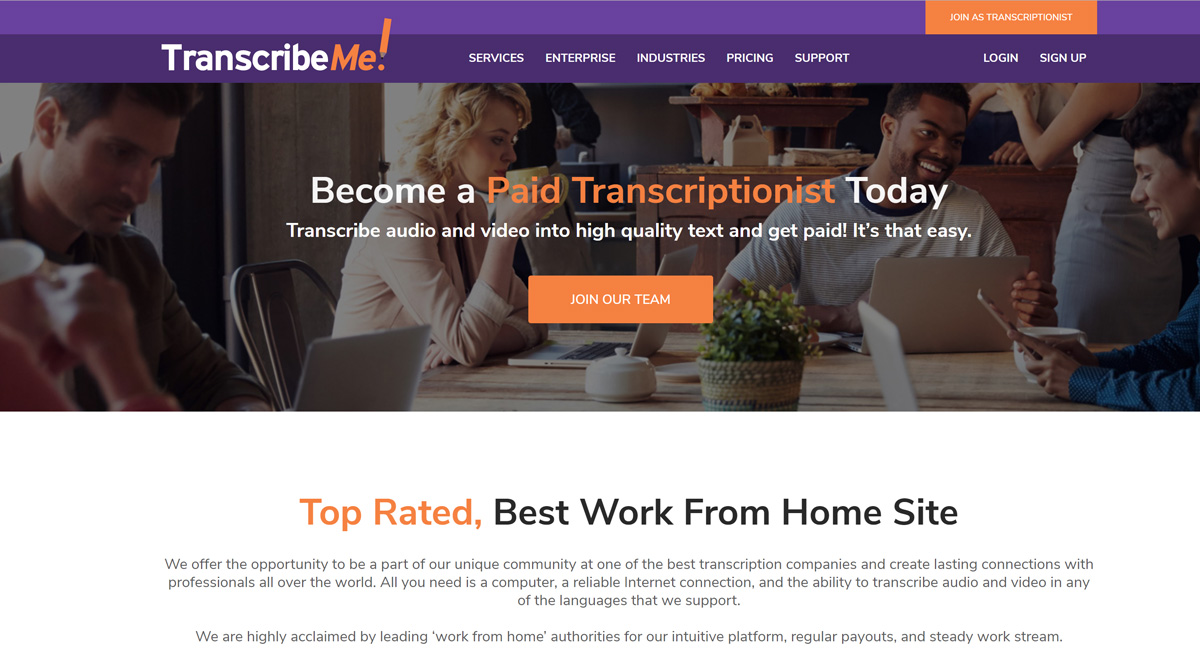 Is transcription work your cup of tea?
Need Easy Extra $350+/Month For Free?
Are you looking to make money from home on a flexible schedule?
TranscribeMe might be the right place for you, but there are several other transcription companies out there, too.
It can be tough to decide which ones to sign up for as far as how they work, how much money you can make, and how much work is available without sending in your details and trying it out.
That's why we want to give you the most up-to-date information possible on these companies, so that you have the info you need to decide if it's the right place for you before going through a complicated application process!
This review is all about TranscribeMe, one of the most talked-about companies on work at home sites and forums.
We're basing our information on reviews from real people who have worked with the company, our own research, and the information provided on the official website.
What is TranscribeMe?
TranscribeMe is a company that offers transcription, translation, and automated transcription services to clients.
TranscribeMe works with both individuals and companies with its services.
The industries it tends to work with most are marketing, consulting, medical, and technology.
The company has been around since 2011, so it's pretty established at this point.
In fact, it's one of the companies I hear about most when I browse work at home forums and websites, especially when it comes to transcription and translation work.
The company's founders are Greg Feerer and Alexei Dunayev and it's based in the San Francisco Bay Area.
Transcribers can sign up with TranscribeMe to work remotely as independent contractors.
So, you might be wondering – TranscribeMe vs Rev: what's the difference?
Rev is another company that's really popular in the transcription world with remote workers who want to work their own schedules to earn money from home.
Need Easy Extra Cash?
Pinecone Research, a leading name in online survey panel honesty, absolutely guarantees $3 cash for every survey you complete!
Take advantage of their time limited New Membership drive and register NOW. Join today: 100% free!


They definitely do have some similarities, so keep reading to learn more about TranscribeMe, its jobs, and how it stands out against other transcription companies.
Working for TranscribeMe
Some people who aren't familiar with transcription work think that transcribers basically get paid to type.
However, if you've done transcription work before, you know that there's a lot more that goes into it than that!
Transcription can be tough work.
It relies heavily on fast typing, but it's just as important to have active listening skills and know how to decipher language from the audio that might include specific dialect and accents.
With TranscribeMe, you're expected to have enough experience to pass an entrance exam, which can be difficult to pass if you've never transcribed before.
Here's how you can earn cash with the company:
How to Earn Money
TranscribeMe offers two jobs for remote workers: Transcription and translation.
However, it doesn't list much information on the site for translators.
Its FAQ section is focused only on transcription work, so I assume TranscribeMe lists its openings for translators elsewhere – maybe on a job search site like Indeed or ZipRecruiter?
TranscribeMe files are sent in by clients who need the files transcribed into text.
The audio files can be lengthy, but TranscribeMe breaks them down into shorter files up to one minute in length to help distribute the work between each transcriptionist in its work system.
Unlike other companies that'll give you an hour-long file to transcribe, TranscribeMe's smaller files can be useful for people who don't have huge chunks of time to spend on files and prefer to have shorter audio clips to transcribe for more flexibility.
Another benefit of shorter clips is that there's more work for everyone to go around!
You'll work within TranscribeMe's work hub, which is where you'll see available audio clips, select the ones you want to work on, and then turn them in.
Once you're done, your work goes through the Quality Assurance (QA) process where an editor will check its quality and accuracy.
When your work gets accepted, you get paid!
How Much Does TranscribeMe.com Pay?
TranscribeMe.com pays on a weekly schedule with PayPal.
Your exact pay depends on the length of the file and complexity of the work, so it can vary with each file you do.
However, the website states that you can earn anywhere, on average, from about $15 to $22 per audio hour.
Remember, though, that an audio hour is different than a regular hour.
An audio hour refers to the length of a file.
If you transcribe a file that's an hour long, that's one audio hour.
That file could take you two hours to transcribe.
If it pays $15 for the audio hour, you'll only make $7.50 per hour (and, to be honest, it'll take most people longer than that to transcribe one hour of audio!).
TranscribeMe notes that the average earner on the site makes about $250 per month, with top earners making over $2,000 per month.
TranscribeMe is relatively transparent when it comes to earnings, at least!
It's also important to note that you can make more if you do technical transcription work, like those in the medical or legal industries.
The Application Process
To apply to TranscribeMe, you'll first need to register an account to sign up for the Work Hub.
Earn Everything… nearly!
Join Opinion Outpost, one of the few faithful and honest survey panels and earn cash and gift cards for your opinion. Stack your points and redeem them: Simple! No hidden fees and completely free!


Once you're signed up, TranscribeMe will send you an exam that tests your knowledge of transcription and makes sure you have the skills to do it.
The company will give you access to its style guide to read before completing the exam, so you know how to format your transcription work correctly.
The first part of the exam is multiple choice to test your knowledge about common terminology and other things related to transcribing and the company's style guide.
The next part of the exam requires you to transcribe two audio files as samples to prove your skills.
TranscribeMe is one of the few companies that doesn't require you to have prior transcription experience but be aware that it'll be challenging to complete the exam if you've never transcribed anything before.
What Do I Need to Get Started?
TranscribeMe has very few requirements for its transcriptionists, which is awesome news for anyone looking to enter this field without prior experience.
You need to be 18 years old and have excellent English skills, including grammar, punctuation, slang terms, vocabulary, etc.
You also need a working PayPal account to get paid.
TranscribeMe doesn't require any special equipment, but it could be helpful for you to have headphones, a foot pedal, and transcription software.
You do, of course, need a reliable internet connection and a working computer or laptop.
TranscribeMe Training
Since this job is catered mostly to the entry-level transcription crowd, the company offers free training to its transcribers!
The training is all online and you can complete it at your own leisure.
You'll learn more about the company's style guide and how to transcribe audio files efficiently and accurately to maximize your income with TranscribeMe.
The company also says on its website that its transcriptionists are eligible for career advancement opportunities as they grow and learn, which can help move you into higher-paying positions in the future.
Flexibility
You're an independent contractor with TranscribeMe, so you won't have to work a set schedule and you're free to work with other transcription companies!
What Do Others Say About TranscribeMe?
There's a lot of information floating around about TranscribeMe in forums and reviews, which are good places to find out some details about working there that you wouldn't otherwise know.
Here are a few of the most common praises and complaints I've found:
Pro: Quick and Easy PayPal Payments
PayPal is one of the most convenient ways to get paid for remote workers, so it's understandable that this is a common pro I see with reviewers.
Throw in the fact that TranscribeMe pays weekly for everything you've completed the previous week, and it's safe to say that you can rely on steady, convenient payments with the company.
Pro: Transparency
Take a look around TranscribeMe's website and you'll find a lot of transparency, which I really appreciate it (and a lot of workers appreciate, too!).
The company says in several variations that its intentions are helping entry-level workers find work and learn the ropes of transcription so that they can eventually move up the ladder into higher-paying positions.
Never does it promise tons of money (it's even open about the fact, as I mentioned earlier, that the average earnings are about $250 per month) or a full-time income.
Instead, it's honest about what it does and what it has available for you – take it or leave it.
Pro: Supportive Community
TranscribeMe doesn't just leave you hanging once you get signed up.
You'll have access to training materials to help you learn more about transcription and the company's process.
You'll also be able to jump into the community forums to interact with other transcribers, quality assurance editors, and other team members who are there to help you out.
Con: Low Pay
There's no denying that the pay at TranscribeMe isn't grand.
However, this company is pretty open about the fact that it focuses on working with entry-level transcriptionists who want to get their foot in the door.
Without experience, you aren't going to make much more than you would at TranscribeMe, unless you just really have a natural talent for transcription.
Con: Quality Assurance Can Be Tough
I've read some complaints about the QA team being "too tough" when grading your work.
This one gets tricky because we don't really hear it from both sides of the coin.
The workers who mention this say things like silly punctuation or spelling mistakes caused their work to be denied.
But we don't really know if that's all there was to it or if an editor actually found several mistakes.
So, I'll say this: It's best to always check over you're your work – three or four times if needed – before sending it in.
There are plenty of free spelling and grammar checkers you can use to help, like Grammarly.
Con: Work Can Go Fast
I like TranscribeMe's Work Hub where you can log in when you have time to work and choose the tasks you want to work on.
It seems like a convenient way to work flexibly, especially when most audio files are no more than a minute long.
However, TranscribeMe's philosophy of broken-down files meaning more work for all doesn't always work out as expected.
Sometimes, there's barely any work to grab.
Other times, all the work goes so quickly after getting added that you might not have a chance to pick one for yourself.
There can be hundreds of tasks one day and barely any the next.
It's just the way of the transcription world and it all depends on how many clients TranscribeMe has and how much work each client has for you.
Unfortunately, this isn't just unique to TranscribeMe; you'll find this issue with most similar sites, too.
Transcription vs. Translation: Choosing Your Path at TranscribeMe
When considering a career in transcription or translation, it's important to understand the fundamental differences between these two paths.
While both involve working with language, they require distinct skills and serve different purposes.
At TranscribeMe, you have the opportunity to explore both options, but it's essential to choose the path that aligns with your strengths and interests.
Choosing Your Path: Factors to Consider
Here are factors to consider before deciding the one that best suits you:
1. Language Proficiency
Consider your proficiency in different languages.
If you have strong command over multiple languages, translation may be a better fit for you.
However, if you excel in understanding and transcribing spoken content in a single language, transcription might be your preferred path.
2. Cultural Knowledge
Think about your cultural knowledge and awareness.
Translation often requires a deep understanding of cultural nuances and context, as you need to accurately convey meaning across languages.
Transcription, while still important, may require less cultural expertise and focus more on capturing spoken content accurately.
3. Written vs. Spoken Preference
Consider whether you enjoy working with written or spoken content.
Transcription involves converting spoken words into written text, while translation involves working with existing written content.
If you have a preference for one over the other, it can help guide your decision.
4. Listening Skills
Assess your listening skills.
Transcription requires active listening and the ability to decipher accents, dialects, and sometimes poor audio quality.
If you have a strong ability to comprehend spoken language, transcription may be a suitable choice.
Translation, on the other hand, relies more on reading and understanding written text.
5. Typing Speed and Accuracy
Evaluate your typing speed and accuracy.
Transcription requires fast and accurate typing to keep up with the spoken content.
If you are a proficient typist, transcription could be a good match.
Translation, while also requiring a good typing speed, places more emphasis on the ability to convey meaning and maintain the original tone and style.
6. Interpersonal Interaction
Consider your preference for interpersonal interaction.
Transcription often involves working independently, listening to recordings, and transcribing them without direct contact with others.
Translation may involve more communication with clients, editors, or other translators, as you collaborate to ensure accurate and culturally appropriate translations.
7. Career Goals and Opportunities
Think about your long-term career goals and the opportunities each path may offer.
Transcription and translation can lead to different career trajectories.
Consider which path aligns more closely with your aspirations and provides avenues for growth and advancement.
TranscribeMe Review: Is It a Legit or a Scam?
TranscribeMe is definitely a legitimate place.
I base this determination on its reviews, BBB rating, website information, and proofs of payment.
Do I think it's the best place for everyone who wants to transcribe from home?
No – I think it's an excellent place for entry-level transcriptionists to earn some money, learn more about transcription, and interact with other transcriptionists.
You can always check out the company's FAQ section to learn more about the work it offers and decide if it's somewhere you want to apply to.
TranscribeMe workers: Please share your experiences with the company in the comments below to help other readers! What do you like about it? What could be better?
Related Posts:
Earn Everything… nearly!
Join Ipsos iSay, one of the few Faithful and Honest survey panels and earn prizes, gift cards and donations. Stack your points and redeem them: Simple! No hidden fees and completely free!