Is Ultius a Legitimate Place to Find Freelance Writing Work?
Updated on: by Amy Kennedy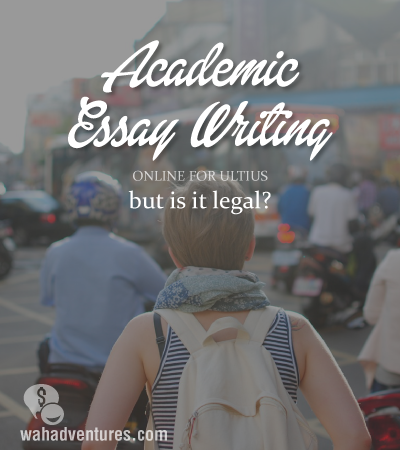 One of the many forms of freelance writing that exists today is known as academic writing.
Need Easy Extra $350+/Month For Free?
Academic writing can take on a number of forms, but it mostly pertains to essay writing and other assignments having to do with helping students.
Some academic writing might be more research-based to help students form their own essays using the research while other assignments might require the writing of the essay itself.
Either way, it's paying work for freelance writers who have academic writing skills, which is a whole different skillset than a lot of other content writing needs.
Today I'm delving into the Ultius writing service, which is one of several academic writing services that exist on the web today.
This Ultius review will cover everything you need to know about writing for the company as an academic writer so that you can decide whether it's a gig you want to try.
What is Ultius?
Ultius is a site that lets freelance writers choose academic writing assignments from a job board, much similar to other similar writing services out there.
However, Ultius essay writing is basically all academic essays rather than blogs, articles, product descriptions, and other content you'd typically find on writing job boards.
Ultius offers writing services for dissertations, thesis, capstone projects, research papers, entrance essays, and more.
There's also a writing service for resumes and cover letters to help clients get their dream jobs and an editing service to edit academic and business papers.
The job is flexible and can be done from anywhere with internet access.
The only time constraint is that once a writing assignment is accepted, it must be completed by the deadline.
For those looking for fill-in freelance writing work between work from job boards and other clients, Ultius might provide just the flexibility needed.
Special Requirements
Anyone looking to work as a writer for Ultius will need to have the standard requirements of Microsoft Word, a computer, and a reliable internet connection.
Writers are required to have a mobile phone, and a 4-year degree is highly preferred.
This is due to the fact that the assignments are academic in nature, so you'll need to know how to write academic papers successfully.
Need Easy Extra Cash?
Pinecone Research, a leading name in online survey panel honesty, absolutely guarantees $3 cash for every survey you complete!
Take advantage of their time limited New Membership drive and register NOW. Join today: 100% free!


Having experience in a college degree program makes it much likelier than applicants will already know how to write an academic essay or paper.
Another requirement is that all writers must be American because this is a service offered to American students, so it's crucial that writers are native English speakers.
Ultius Application
The application process appears easy enough with standard information required along with 2 academic writing samples.
Ultius mentions that some applicants have had issues with having to write samples that are unpaid.
Look around at web reviews of Ultius and you might also find some forum discussions and reviews that mention this "unfair" requirement.
Some people believe that Ultius might use the samples you write to give to clients without paying you for your work.
This could very well be true, but there's no proof of this.
Still, it's important to write these samples as part of the application process because they focus strictly on the type of academic writing you'll be doing at Ultius.
The Ultius team needs to make sure that its writers know how to write this type of content because it's not the same as other types of content you might write as a freelance writer.
If you're strictly against writing any unpaid samples as part of an application process, then it's good to know now before you continue too far in the process.
To apply, you can click here and hit the Apply Now button, which will walk you through the application.
Ultius isn't always hiring writers, so you might not hear back right away.
However, the company does store your application if you meet its basic requirements, so it can always pull your app when it's in need of more writers for its team.
Show Me the Money: How Does Ultius Pay?
The pay is decent for this type of work, although it won't likely make you rich if it's the only income you depend on.
Instead, most Ultius writers use the service as a side gig to make extra money when they need it.
Most assignments pay $10 to $19 per page, with Ultius saying that the typical range for writers to earn per page is between $8 and $25, and payment is made every two weeks via PayPal.
PayPal does take a fee for payments, so be sure to figure that in when you're estimating your income.
However, Ultius doesn't take extra fees from your pay.
Your pay rate will depend on a grade level for the writing: High School, Undergraduate, Master, or Doctoral.
The higher the grade level, the more a client needs to pay and the more you'll get paid, according to reports.
Some writers might also experience what Ultius calls a deduction, which is somewhat like part of their pay being refunded back to Ultius.
This could happen when a writer doesn't meet the requirements of an assignment, so the client requests a refund.
To recover some of its costs, Ultius has the right to take back a portion – or all – of what you made on that assignment.
This is why it's incredibly important to follow instructions for each assignment you take so that you can avoid getting a deduction taken from your pay.
On another note, it's quite easy for a customer to ask for a refund, so this could be a problem you might want to consider as a writer.
If anyone asks for a refund on your work just because they don't want to pay, then you don't get your full pay for the work you put in.
The biggest problem I have perhaps is that the pay seems really low when you consider how much Ultius gets for each assignment from its clients.
Look at the pricing list on the site and you'll see that the very lowest price is $17.50 per page.
However, writers will likely make only between $8 and $10 per page for an essay or paper at this level.
Earn Everything… nearly!
Join Opinion Outpost, one of the few faithful and honest survey panels and earn cash and gift cards for your opinion. Stack your points and redeem them: Simple! No hidden fees and completely free!


That's giving Ultius quite a profit margin just for matching you to an assignment, even though you're doing most of the work.
Although most content writing services to grab a portion of the profits, this is a really high-profit margin that I wouldn't be thrilled with if I was an Ultius writer.
Management
The big claim of Ultius is that it has an excellent working environment with a supportive team that's ready to help writers when they need it.
However, some chatter on the net from people who've worked with Ultius seems to allude to a young management group, and maybe editors that are actually undergrads.
This isn't necessarily an issue for some, but it appears to have left a bad taste in the mouths of some of their older writers.
Most of them seem willing to deal with it for the money however, with some even stating that it "pays the bills."
Ultius holds firm that its management team develops "strong, enduring relationships with loyal writers," though, so it seems like the longer you work with Ultius, the more helpful you might find the management team.
Ultius also says that there are some opportunities for growth within the company for its best writers by becoming an editor or other staff member.
This sounds great, but I haven't found much on the web from writers to confirm this point.
Chatter: What Do Other People Think of Ultius?
The website includes a link to the company's reviews on Glassdoor.com, and indeed there are some great reviews there.
The poor reviews are not related to the idea that this is a scam company, that it is hard to work for, or that they do not pay.
They appear to be relatively easy to work for and pay well.
Instead, most of the poor reviews point toward the editors that writers need to work with as part of the assignment completion process.
Several reviews on here and around the web talk about editors just seeming not in tune with the details of the project, as if they don't thoroughly read the notes regarding the assignment before they start editing.
As a result, the writer tends to look bad even though they might have followed the instructions correctly.
Other complaints stem from the requestors of assignments themselves: the college kids that need papers written.
Some writers agree that they often get off-the-wall requests from students who ask way more of writers than they should, which can make completing an assignment extremely difficult.
Often, this results in the writers getting docked pay even though they did what they thought the client was asking.
Basically, it seems like things can get confused with assignments easily, whether it's on the end of the client, the writer, or the editor.
No matter what, it seems to be the writer who ends up at fault and may not get paid the full amount they should for the work they completed.
Is Ultius Legal?
One of the most common questions I've seen on the web about Ultius is, "Is Ultius legal?"
People asking this question are referring to the writing of academic papers for college students and whether that's a legal thing to do.
The problem actually lies not so much in the legality of it, but the morality of writing academic papers.
Some freelance writers stay far away from any academic writing because they don't feel comfortable helping college students skate through their degrees by writing their papers for them.
Other writers don't really care about the type of work, but more about getting paid.
Neither one is necessarily wrong or right; it just depends on what you believe in.
It seems that Ultius is a pay for homework site in at least some cases.
Many of the assignments are actually students paying others to do their academic work for them.
Since Ultius provides services for everything from writing a thesis to completing a dissertation, it's very possible that Ultius writers help people get through some of the most important parts of their degrees.
While this is sketchy in any case, some of these works are in the fields of medicine and law, which is even more disturbing.
You would think that a medical student – someone studying to be a nurse or doctor – would take their degree seriously, but if they're asking others to complete their work, how serious could they really be?
Additionally, similar types of services are illegal in several states, which throws a whole other kink in the works.
The link above talks mostly about selling term papers, which is illegal in some states.
While people don't sell term papers to other students on Ultius, the service it provides isn't necessarily very different.
Instead of pre-written papers getting sold on the site, writers are writing papers that clients assign.
It's a little different but has the same basic idea.
However, Ultius isn't technically an illegal service.
But you'll still need to decide on your own whether you think it's something you feel comfortable doing.
If you have any difficulty imagining yourself helping put college students through school by writing their papers for them, then Ultius is probably not the place for you.
If you simply want to write and get paid and you can separate yourself from the work you do, then it could be a good option.
Other Careers at Ultius
Is the academic writing thing not really for you?
Ultius has some other career opportunities, so you might be able to find something else that fits more up your alley without making you feel like you're sacrificing your morals.
You can find them on the Careers page.
For example, Ultius hires Hiring Associates who help find freelance writers to apply for positions and assist them through the application and onboarding process.
You can also apply for on-site editing positions that will require you to edit the works handed in by freelance writers and check them for quality.
Weekend and evening hour availability is recommended for most Ultius positions.
Alternatives to Ultius
Upwork is a widely-known platform for freelancers to connect with clients in need of various types of services, including writing.
It allows freelancers to set their own rates and choose projects that align with their interests and skills.
While competition can be high on Upwork, the vast array of opportunities makes it a strong alternative to Ultius.
Freelancer is another significant platform for freelance work, encompassing various categories, including writing.
Freelancer provides a variety of project types, including fixed projects and hourly work.
They also host contests that give writers a chance to showcase their skills and earn recognition and payment.
Fiverr is a unique platform where freelancers, also known as "sellers," can offer specific services, or "Gigs," in a variety of categories.
For freelance writers, this platform allows the creation of tailored writing service offerings.
It's a great platform for establishing a niche and attracting clients looking for that specific service.
Guru is another platform for freelancers to connect with potential clients.
It offers the "WorkRoom" feature, which facilitates seamless collaboration between clients and freelancers.
The platform also gives freelancers the flexibility to manage their work in a way that best suits their working style.
iWriter is specifically designed for freelance writers, making it a direct alternative to Ultius.
iWriter clients submit their requests, and writers can take on projects based on their level, ranging from Standard to Elite Plus.
This ranking system can motivate freelancers to produce high-quality work consistently to increase their rank and earning potential.
Read More: These 37 Freelance Online Writing Jobs are Perfect for Beginners
Conclusion: Is Ultius a Good Place For You to Find Writing Work?
Ultius seems to be a legitimate, paying writing site if you meet their qualifications.
However, due to potential legal and moral issues, proceed with caution.
This type of writing simply isn't going to be for everyone, and that's okay.
If you do decide to write for Ultius, you might want to prepare yourself for some backlash from others in the writing community who don't agree with your decision to write academic papers.
I've seen it myself when people mention that they do this type of writing.
Ultius as a company is legit, pays its writers, and has a lot of good reviews from its clients for its services.
Those are all good signs.
But for the writing community, things are a bit different.
There are a lot of mixed reviews depending on the writers and their experiences.
A lot of the negative reviews stem from the work of editors being too harsh on writers or not following clear instructions about an assignment.
Ultius definitely has its pros and cons, as do most similar services that pay writers a small fraction of what the company makes from its clients.
You'll need to weigh whether this type of writing fits your morals and if the pay is high enough to meet your needs.
Good luck!
We'd love to hear from those of you who have worked with Ultius previously or those who currently do. What has been your experience? Leave a comment down below to help others who are trying to decide if they should apply!
Related Posts:
Earn Everything… nearly!
Join Ipsos iSay, one of the few Faithful and Honest survey panels and earn prizes, gift cards and donations. Stack your points and redeem them: Simple! No hidden fees and completely free!