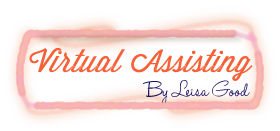 I am excited to share that we have a new contributing writer, Leisa Good. Leisa specializes in all things Virtual Assisting and is planning a series of VA based posts to help guide and direct those interested in this growing line of online work. After years of working as a professional Virtual Assistant, running her own VA blog and website and helping others get their start as a VA, Leisa decided to begin her own consulting business helping others with their own virtual office. Leisa has been kind enough to share her insight here, beginning with her first post of many to come-
Need Easy Extra $350+/Month For Free?
InboxDollars: Has so far paid its members over $40 Million. Watch videos, take surveys, shop and more. Join InboxDollars Now and Get Free $5
Opinion Outpost: One of the few faithful and honest survey panels pays cash and gift cards for your opinion. No hidden fees and completely free! Join Opinion Outpost Now
SwagBucks: Watch videos, take surveys, shop and more to earn real money. Earn up to $35 per survey! No hidden fees and completely free. Join Swagbucks Now to Get $5 Free
Lifepoints: Famed MySurvey just rebranded to LifePoints. Take paid surveys anytime and anywhere via PC or Mobile App. Paid its members over $32 Million so far! Join LifePoints Now
SurveyJunkie: Make $5-$25 in your spare time from home to take online surveys, participating in a Focus Groups and trying new products. Join SurveyJunkie Now
Understanding Virtual Assisting- Is it for you?
Written by: Leisa Good 
As 2011 is winding down, it isn't too early to consider starting your own VA business in 2012. Not that you couldn't start your VA business in December 2011. So, is there a VA business in your future?
Frequently I am asked this question which basically translates to: "Am I VA material?" or "Do I have what it takes to be a VA?" Then usually before I can reply, someone will blurt out, "And if I don't have what it takes, is this something I can learn or train for?"
Before we go any further, let me answer, "What is a VA?" A virtual assistant (VA) is a highly skilled entrepreneur who offers administrative skills and selective expertise to businesses on an "as-needed" basis. The service is offered virtually or remotely using the Internet, email, fax or phone.
Okay, back to the original question. Do you have what it takes to be a VA? My answer would be more in the form of another question, "Do you have a burning desire to make it work?" If the answer is "yes" then there is a good chance that you can make it work and become a highly successful, in-demand VA. Even more importantly than knowing what skills to offer or whether your skills are good enough, desire will get you there.
Now before you become dreamy-eyed about giving up a long commute, becoming your own boss, choosing your own clients, and being home for your kids—let's have a reality check. While all of these benefits can be the result of a successful VA practice, you do need to ask six tough questions before investing your hard-earned money and time.
Most importantly, are you able to work virtually? Working virtually is more than knowing how to use email or owning an iPhone with multiple apps. Working virtually is also a mindset that accesses the workload of several clients then uses the best of technology and the best of time management skills to deliver quality work on a deadline.
While this may not sound difficult, clients can be in different time zones and not always accessible by email. Some clients won't even answer email, so will you know how to handle this?
Need Easy Extra Cash?

Pinecone Research, a leading name in online survey panel honesty, absolutely guarantees $3 cash for every survey you complete!
Take advantage of their time limited New Membership drive and register NOW. Join today: 100% free!


Secondly, are you able to be work autonomously and be your own boss? While it may seem wonderful to be your own boss, sometimes we can be our harshest critic and/or our meanest boss. This is especially true for those of us who are Type A or perfectionists.
Being your own boss will also require excellent time management skills. No boss can operate a profitable business when the workers play Bejeweled all day!
Then thirdly, are you okay with working anonymously or do you enjoy seeing your name in the byline? Will you be able to work "behind the scenes" or do you crave the recognition of being out in front? After all, your clients—just like your former employer—will be getting most of the credit for your hard work.
Since you will be working anonymously, is this the freelance or work-at-home career that you want? There are other choices out there with more recognition, such as freelance writer or freelance web designer—so make sure that you do your homework.
Fourthly, are you self-confident enough to market yourself? Depending upon experience and expertise, most self-employed virtual assistants earn $35 to $80 an hour. Are you confident enough to ask for this amount? Do you have the administrative skills, technical skills or other skills that could ask for this amount?
If the thought of marketing your services almost triggers a panic attack, consider working for one of the WAH (work-at-home) companies listed in the categories of this blog. Several of them do hire VAs as either ICs (Independent Contractors) or employees but the job descriptions and pay will vary. With these companies, the pay will probably be more in the $6 to $20 an hour pay range.
The fifth question is the one that is probably most overlooked. Are you willing to invest in yourself and your business on an ongoing basis? Occasionally, you will need to refresh your technical or administrative skills and add new ones. You will also need to keep your computer and office equipment updated. Are you willing to do this even when your business is still operating in the red?
Lastly, the sixth question to ask yourself is do you have the ability to think like both an entrepreneur and a business owner? Not only will you need the administrative skills to become a successful virtual assistant, but you will also need the personality traits and characteristics of a successful entrepreneur and business owner. You're not just a "cyber-secretary!" You must be a self-starter and a creative problem solver.
And because you will most likely be a self-employed business owner, you will need to consider what all self-employed individuals have to do. They have to put aside money for taxes, pay their own health insurance, and solicit family support.
So, is there a VA business in your near future? After reading this article, are you feeling both overwhelmed and doubtful? Or are you hungrier than ever to get started? If you answered "yes" to the later question, then there is a VA business in your future.
Now go forth and name your company, design your logo, list the services you'll offer, put up your web site, and buy your home office equipment! Are you overwhelmed yet?
No?
Then I'll give you a resounding "yes" there is definitely a VA business in your future!
Whether it's in 2011 or 2012, it's there.
Related Posts:
Earn Everything… nearly!

Join Ipsos iSay, one of the few Faithful and Honest survey panels and earn prizes, gift cards and donations. Stack your points and redeem them: Simple! No hidden fees and completely free!