Understanding Virtual Assisting – Part 15 – Self-Care for the VA and Why It is Important?
Updated on: by Amy Kennedy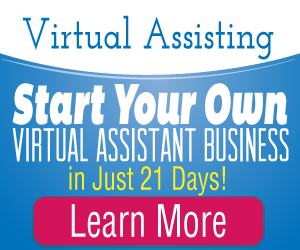 If you have been following this series, then you'll recall that to date we've discussed what a virtual assistant (VA) is and does. We have also discussed some of the steps to planning and launching your virtual assistant practice.
Need Easy Extra $350+/Month For Free?
If you haven't been following this series or seem to have forgotten parts of it, you may go to the navigation bar, click on "Virtual Assisting" and follow the drop-down menu to the "Series".
Now we will discuss the MOST important part of your business. Because without YOU, there would be no VA practice. It will be YOU that your clients depend upon to help run their businesses.
If you can't manage your self-care, how are you going to manage your VA practice without getting stressed, overwhelmed or sick? Self-care will become your way of taking good care of yourself both physically, mentally, and spiritually. It will become your way of reviving and reinventing how you will go forward for that week.
I like what Cheryl Richardson, bestselling author and coach, says about self-care and why she has devoted her entire coaching career to teaching it.
She says, "In the past, I've sacrificed my health and relationships for work, given to others at the expense of my own needs, and watch my dreams slip through the cracks of a busy life. As a result, I've learned a lot about what it takes to put an end to the madness."
Cheryl Richardson also offers a FREE newsletter about self-care on her web site for those who are struggling with self-care issues.
What are some of the ways to implement good self-care?
• Learn your limitations and don't take on more than work than you can handle.
• Learn to listen to your body and what it is telling you about fatigue and pain.
• Learn to plan your day and tasks for the next day.
• Learn to say "no" and stand by your decision.
• Learn to have fun and enjoy time with family and friends.
• Learn to eat healthy and exercise.
• Learn to relax and rejuvenate.
Again, referring back to Cheryl Richardson what does self-care allow us to do? Quoting from Cheryl Richardson's web site, "We tell the truth. We make choices from love instead of guilt and obligation."
I would also go a step further and suggest "spoiling" yourself at least once a week with something really nice, like a bubble bath or hot fudge sundae.
So, what is your plan for self-care and how are you honoring it?
How Does Self-Care Impact Productivity and Client Satisfaction as a Virtual Assistant?
As a virtual assistant (VA), your productivity and the satisfaction of your clients are crucial for the success of your business.
However, one often overlooked aspect that can significantly influence both productivity and client satisfaction is self-care.
Here is how self-care directly influences your productivity and client satisfaction.
Boosts Energy and Focus
When you prioritize self-care, you are investing in your overall well-being, including your physical health.
Engaging in regular exercise, eating a balanced diet, and getting enough restorative sleep can significantly boost your energy levels and enhance your ability to concentrate and stay focused.
Need Easy Extra Cash?
Pinecone Research, a leading name in online survey panel honesty, absolutely guarantees $3 cash for every survey you complete!
Take advantage of their time limited New Membership drive and register NOW. Join today: 100% free!


By taking care of your body's basic needs, you set yourself up for success in managing your workload effectively and efficiently.
Increased energy and focus allow you to tackle tasks with clarity and precision, resulting in higher productivity and better outcomes for your clients.
Enhances Mental and Emotional Resilience
Virtual assisting can be demanding and stressful at times, which makes maintaining your mental and emotional well-being all the more crucial.
Engaging in self-care practices such as mindfulness, meditation, or journaling can help you manage stress, reduce anxiety, and cultivate emotional resilience.
When you prioritize your mental and emotional health, you become better equipped to handle challenges, setbacks, and high-pressure situations that may arise in your work as a VA.
This resilience translates into improved productivity, as you are better able to stay calm, think clearly, and make sound decisions, even during demanding times.
Promotes Work-Life Balance
Maintaining a healthy work-life balance is essential for long-term success and satisfaction as a virtual assistant.
Without adequate self-care practices, it becomes increasingly difficult to establish boundaries between your work and personal life.
Overworking and neglecting your personal needs can lead to burnout and diminished productivity.
By prioritizing self-care, you create space for activities, hobbies, and quality time with loved ones, which promotes a healthy work-life balance.
This balance not only helps you recharge and avoid burnout but also enhances your ability to engage with your clients, as you bring a refreshed and positive mindset to your work.
Fosters Positive Client Relationships
Client satisfaction is the cornerstone of a successful virtual assistant business.
When you prioritize self-care, you demonstrate a level of professionalism and commitment to your own well-being that resonates with your clients.
Taking care of yourself sets a positive example and reinforces the idea that you are capable and reliable.
Additionally, self-care practices improve your communication skills, emotional intelligence, and empathy, enabling you to build stronger connections with your clients.
This post concludes the Virtual Assisting Series by Leisa Goode. If you would like to learn more of her tips and secrets to be a successful Virtual Assistant Agent then check out her E-Book which contains a lot more information that she did not reveal here.  Visit http://21daystovabiz.com/ to download your copy!

Related Posts:
Earn Everything… nearly!
Join Ipsos iSay, one of the few Faithful and Honest survey panels and earn prizes, gift cards and donations. Stack your points and redeem them: Simple! No hidden fees and completely free!