Is USAContactPoint a Legit Virtual Call Center?
Updated on: by Amy Kennedy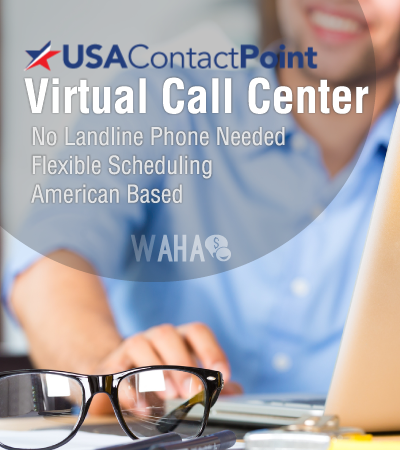 USAContactPoint is an American Based virtual call center. At first it appears this is a new company, but looking further we find this is simply a company with a bad history who has decided to do business under a new name. Fortunately, it was a good move on their part as they handle customer service and sales calls for many clients. Current phone agents handling these calls are reportedly satisfied with their work and have had more positive to report in the last year than negative.
Need Easy Extra $350+/Month For Free?
Employee or Contract?
USAContactPoint's call center agents are Independent Contractors.
Where does USAContactPoint Hire?
Agents are needed nationwide but within the United States only.
Pay at USAContactPoint
Agents are paid for talk time at a rate of 18 cents per minute plus incentives. Pay is weekly via direct deposit.
When companies pay for talk time versus an hourly rate, it is important to consider that most companies are not consistently handling calls back to back. There will often be slow periods, slower times of day, slower days in the week and if a company hires too many agents or allows too many agents logged in at a time- your hourly rate can severely suffer.
Call Volume
USA ContactPoint reportedly has a ranking system. The better the agent's rank- the more of a priority they will receive of incoming calls. This makes sense in assuring the best agents that are available are handling the calls and satisfying the client hired by USAContactPoint. Unfortunately, it can frustrate many agents who start off with a lower ranking or something out of their control affects their ranking and ultimately their pay because of less talk time.
Scheduling at USAContactPoint
Scheduling is super flexible. You choose from available times 24/7 and are not limited to the number of hours you work. You set your own hours and days you work- it doesn't get any more flexible than that. However, I have read that there is a minimum expectation for agents to work at least 25 hours a week.
Equipment and Requirements
Agents will need to have high speed internet and a headset that connects to your computer within your own home office.
This job does not require a landline phone like so many other virtual call centers. Agents log into the system through the computer and using a USB headset- are able to handle calls through the dialer system online.
So is USAContactPoint a Legitimate Virtual Call Center?
I have not found any reason to suggest this is not a solid company. After 14 reviews from current and previous workers of USAContactPoint- the company ranks 3.7 out of 5 possible stars.
Some of the biggest complaints I found reoccurring while researching this company is the lack of training and support. The self-directed training is done via online manuals you must read through and then you are thrown to the wolves, so to speak. Many of the agents felt they were not ready and needed more support from management.
The positive points were often made about the flexible scheduling system. USA Contact Point has a history of being on time with payment.
On the negative side- USA Contact Point used to be Profinity. Unfortunately their old business name/platform has a lot of negative ratings. It is unclear if they simply changed their name as a way to clear their bad record and start fresh or if they have changed practices.
Profinity Complaints
Apparently a lot of agents working under Profinity felt the company and the client were shady in their business practices. The customers Profinity agents were handling were often very upset. Many people were signing up for a trial period for a credit monitoring service and needed to cancel the service. Some customers claimed they were still being charged even after canceling and many didn't realize they ever signed up for a recurring monthly service.
I have personal experience with something very similar- the client was very deceptive in their business practices- using a very similar trial period and then a monthly fee they didn't realize they would receive because they didn't read the fine print. However, the company I worked for (LiveOps) is a highly respected and legitimate company- just not their client at that time. While this should still reflect on USAContactPoint- it shouldn't determine their public appearance. This falls onto the client they are representing – It's just too bad they weren't more choosy about their clients and how they handle being involved with poor business practices.
We hope USAContactPoint continues to move in the right direction and grows with trust and respect from their agents.
Need Easy Extra Cash?
Pinecone Research, a leading name in online survey panel honesty, absolutely guarantees $3 cash for every survey you complete!
Take advantage of their time limited New Membership drive and register NOW. Join today: 100% free!


Is USAContactPoint Hiring?
Check their website for current virtual call center positions or go ahead and submit your resume.
Some Credible Alternatives to USAContactPoint
Arise
Arise is a well-known company in the virtual call center industry. They offer a platform where independent contractors and small businesses can provide customer service, sales, and tech support services to a variety of clients.
It's important to note that with Arise, you would be working as an independent contractor rather than an employee, which has different legal and financial implications.
Liveops
Liveops is another company that provides virtual call center opportunities. Similar to Arise, they offer the chance for individuals to work as independent contractors, providing services such as customer service, roadside assistance, or insurance claims support.
Their model offers flexibility, allowing you to choose when and how much you work.
Alorica at Home
Alorica at Home is an offshoot of the larger customer service BPO Alorica. They offer virtual customer service roles across a variety of industries.
Unlike Arise or Liveops, Alorica at Home typically employs individuals as employees, not independent contractors, and may offer a more stable work schedule and benefits.
Amazon Connect
Amazon Connect is Amazon's cloud-based contact center service that makes it easy for any business to deliver better customer service at a lower cost. While not a virtual call center in the traditional sense, Amazon Connect is a popular platform used by businesses for their virtual call center needs.
Amazon also occasionally has remote customer service roles available.
Concentrix
Concentrix is a global company that offers a wide variety of business services, including customer engagement and improving business performance.
They regularly hire for remote, or "work-at-home," positions in their customer service and tech support departments, offering full and part-time roles.
Related Posts:
Earn Everything… nearly!
Join Ipsos iSay, one of the few Faithful and Honest survey panels and earn prizes, gift cards and donations. Stack your points and redeem them: Simple! No hidden fees and completely free!