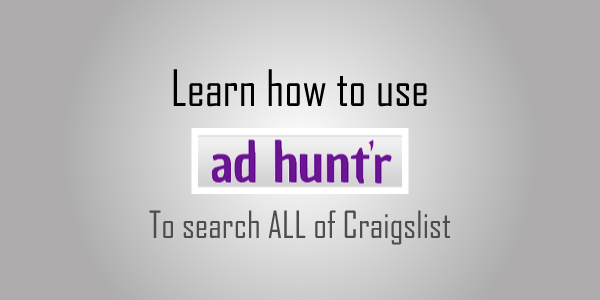 Need Easy Extra $350+/Month For Free?
I spend a great amount of time finding work at home job leads. I have several resources I turn to on a daily basis to find the best of the best. Over the years I have been a bit biased against Craigslist ads. There are so many spammy/scammy listings and let's face it- downright deadly at times! However, after using AdHuntr (previously known as 'AllofCraigs') to search Craigslist I have torn my wall down a little. Visiting AdHuntr is now a part of my daily routine.
Why have my feelings about Craigslist Ads changed?
I am seeing many legitimate companies choosing Craigslist to post their job ads. I am also seeing many spammers using expensive sites like Monster Jobs to post their ugly ads. Scammers are everywhere! With a little common sense Craigslist is actually a great place to find work you can do from home.
Also, with sites like AdHuntr you can easily search All of Craigslist. Without AdHuntr you basically have to visit Craigslist of difference cities and search- over and over. You could be missing the perfect home based job for you. But AdHuntr makes it easy- just search through them and it checks every city of Craigslist!
How to Use AdHuntr to find a Work at Home Job
The following is my method: Feel free to use it  lol
Visit AdHuntr and type 'Telecommute' into the search box.

Now you are seeing any job listing that has the word Telecommute in them. Fortunately a standard questions asked when listing on Craigslist is if Telecommuting is okay so almost all of the work at home based jobs will say "telecommute" in them! Just keep in mind that not all remote based jobs are offered to everyone. It may still be location specific.
Narrow your search down a bit by using the Advanced feature. You can add keywords, tell it what words to exclude and filter it so you only see job listings.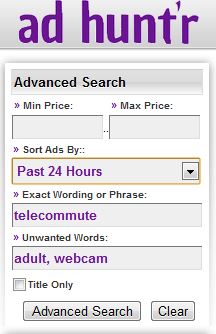 How to be Smart about Finding Jobs on Craigslist- My RULES!
No matter how desperate you are- do not ever stray away from these rules!
Safety First– Never-Ever Visit someone's residence
Research every company and client to the best of your ability
Security- Do not share your personal information if you are not comfortable or have a nagging feeling that something is not right (Trust your Guts)
Share your bad experiences online. If more people do- then together we can prevent flaky clients!
New Feature of AdHuntr!
Now AdHuntr not only searches Craigslist but will also search the entire web!! How GREAT is this! I have not have time to play around with this new feature but I am so excited to! You can find it when you visit www.adhuntr.com and look below the search box for 'Job Search'.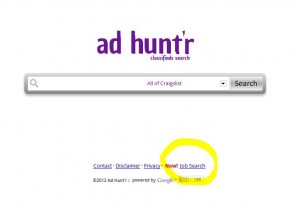 Earn Everything… nearly!

Join e-Poll, one of the oldest survey panels and earn cash - paid via PayPal - gift cards for Amazon, Best Buy, iTunes, Starbucks, and Walmart, plus Retail e-vouchers.
The surveys are aimed at entertainment-related research, covering such things as personal TV watching habits, give feedback on new TV commercials or to review DVDs that are sent to your home.
For USA residents aged 13+. No hidden fees and completely free!


Related Posts:
Want more money?

Easy Extra Cash! Join the famed Vindale Research site and earn rewards by doing nothing more than sharing your experience of using the internet. Guaranteed 100% free membership.