UserZoom Review: Can You Really Make Money Testing Websites?
Updated on: by Amy Kennedy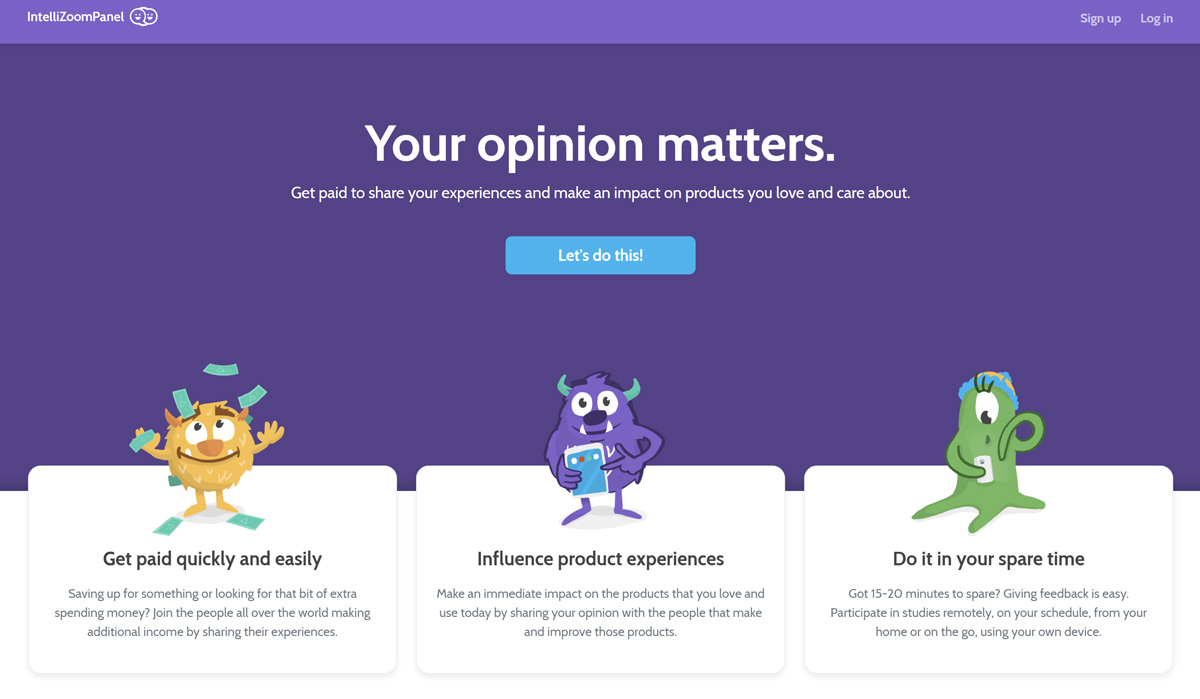 Do you want or need a non-phone, work-at-home (WAH) job?
Need Easy Extra $350+/Month For Free?
Do you enjoy surfing the Internet and using search engines?
Do you have a basic knowledge of how websites should load and function?
And, do you like to give your honest feedback about websites to help them become more user-friendly?
Then UserZoom would like to hear from you.
Its online usability tester jobs just might be the right WAH gigs for you!
What Exactly is UserZoom (YouEye)?
UserZoom, formerly known as YouEye, is a company which specializes in creating better digital experiences for people who use websites, applications, and other digital media.
Our original review focused on YouEye as I gathered information from other YouEye reviews and the site itself to let you know what it had to offer.
YouEye has since been bought out by UserZoom and has transformed into that and the IntelliZoom panel through which testers work.
As YouEye, the company was focused much on consumer research with some usability research mixed in.
This research often came in the form of learning more about consumer buying habits and trends.
Businesses rely on this information to create better products and overall better customer experiences.
As UserZoom, the company has become more focused on the digital experience rather than shopping and buying experiences.
UserZoom helps website owners, app designers, software designers, and others in the digital media world learn more about the user-friendliness of their systems.
UserZoom's mobile and desktop usability systems deliver to all types of businesses.
Among their stellar list of clients are eBay, Google, Walmart, Etsy, Facebook, GoDaddy, Fidelity Investments, SalesForce, and many other recognizable companies.
Need Easy Extra Cash?
Pinecone Research, a leading name in online survey panel honesty, absolutely guarantees $3 cash for every survey you complete!
Take advantage of their time limited New Membership drive and register NOW. Join today: 100% free!


While all of this sounds very well and good, how does this apply to you a work-at-homer (WAHer)?
Well, keep reading.
What Does an Online Usability Tester Do?
Your role as an at-home, online usability tester or "participant" for UserZoom will be to help web developers and web designers obtain feedback from different client websites.
You'll actually be working through the IntelliZoom Panel, UserZoom's website that handles all panelists and their surveys.
Your job is to test a website for about 10 to 20 minutes and give your feedback about its usability.
Some of the things you'll specifically look for include how easy it is to navigate the site, how easy it is to search for and find the information you need, whether links work, how the site looks formatted on your screen, how easy it is to check out products on the website, and a host of other scenarios.
Your web testing or "study" will be recorded via webcam as you speak out loud into the webcam about your experience.
Who Can Join the IntelliZoom Panel?
IntelliZoom Panel looks for panelists who are in the United States or the United Kingdom and are native English speakers, as most clients speak only in English.
You need to also be at least 18 years old, or 21 years old if they live in the United States.
IntelliZoom Panel members should have no problem using basic computer equipment, like web browsers, a webcam, and a microphone, since you'll need to use these with every test.
You should also not have anything against having your face and voice recorded for tests.
Are You an Independent Contractor or Employee?
You are an independent contractor when you work with UserZoom and its IntelliZoom Panel.
You will be responsible for your own taxes and should you make over $600 a year, IntelliZoom Panel will send you a 1099 Tax Form (if you're in the United States).
This job isn't really a "job", but more like a gig that's super flexible, which means you're free to work with other similar sites (we list some of our favorites below) to get some extra cash in your free time.
What Skills/Special Training Do You Need to Work for IntelliZoom Panel?
There aren't really any special skills or training necessary to work with IntelliZoom Panel.
The website only requires that you're at least 18 years old, or 21 if you live in the United States, speak English natively, and have working equipment for each test.
It also goes without saying that you should be an excellent communicator.
While you're taking a test, you need to be able to voice your thoughts and opinions very clearly without a lot of filler words, like "um" and "ah".
Clients rely on you to give them clear feedback that's helpful and thoughtful, so it's necessary to have excellent verbal communication skills.
What Computer Equipment Do You Need?
The great news is that you can use a PC, laptop, Mac or a mobile device to take UserZoom's usability tests.
Here are the other computer requirements:
Mac with OS X 10.8 or higher or PC with Windows 7 or higher
webcam and microphone
Internet connection or DSL
Now, if you are planning on using a mobile device for test-taking, you need:
iOS 7or higher (iPad or iPhone)
Android 4.0 or higher
Wifi connectivity (preferred) or cellular connectivity
A front-facing camera
You also need to be able to download UserZoom's software that makes it possible for you to take tests for clients.
The file is small and quick to download, but if you're leery about putting any extra stuff onto your computer or device, then this gig might not be for you.
What Are the Hours and Schedule Like at UserZoom?
The best part about this type of work is that you're an independent contractor, so the hours are flexible, and you can log in whenever you want.
That doesn't mean that work will always be available to you, but you can always log in and see if there is any work to do.
UserZoom also sends out invites to people who qualify for upcoming usability tests, so you don't always need to log in to see if tests are available.
Instead, keep an eye on your email and respond to the tests you're interested in taking.
What is the Pay Like?
The pay is different with each completed study depending on their length and complexity, but the site states that most average about $10 for 10-20 minutes of work.
Earn Everything… nearly!
Join Opinion Outpost, one of the few faithful and honest survey panels and earn cash and gift cards for your opinion. Stack your points and redeem them: Simple! No hidden fees and completely free!


Some studies will be longer than others but they'll pay accordingly.  Longer studies can take between 30 minutes to 1 hour.
Payment is made via PayPal within 21 days of completed tests, but you could get your money sooner than that.
The 21-day stipulation gives the team a chance to review your work before it gets sent off to clients.
Remember that IntelliZoom Panel also offers regular, non-video surveys too, which pay an average of $2 each.
Again, this rate can go up or down depending on how long and in-depth a survey is.
What Do Others Think of UserZoom?
UserZoom does seem to get some good reviews around the web from people who've used it or currently take tests with IntelliZoom Panel.
Although I can't find any Better Business Bureau (BBB) information about UserZoom or IntelliZoom Panel, YouEye did have an A+ rating with the BBB.
To find out what people really think about the newest company, I read through various web reviews.
Most people agree that the usability tester gig is a fun and easy way to make extra money.
Here are some other common praises and complaints I've seen about UserZoom throughout my research:
Pro: Decent Pay for Work
You get $10, on average, for video tests and an average of $2 per regular survey.
That's really not bad considering that these prices will generally take only 10 to 20 minutes of your time.
These rates are actually a little bit above industry standard, which is always good news for panelists.
Pro: Pays on Time
Another bonus is that I can't really find many reports about IntelliZoom Panel members having problems getting paid.
Although some payments will take up to 21 days, they do eventually make their way to member PayPal accounts without issue.
The only thing that might affect the promptness of a payment is if your survey or test was rejected because you didn't do something correctly or follow instructions.
Each test will come with specific instructions of things you should focus on talking about in the test, so it's important to follow those instructions so your test doesn't get rejected.
Then, you shouldn't have an issue getting your test approved and paid on time.
Con: Not Much Work Available
This complaint is a common one with almost any survey or usability test site like UserZoom and IntelliZoom Panel.
Members say that survey invites are few and far between, which makes it difficult to predict how much you can make in a week or month using UserZoom.
Some people might get a few survey invites a month, whereas other panelists wait months before even receiving their first invite.
It all depends on how many clients the company has available with testing needs.
And, your demographics make a difference.
A company might look for people in a specific city, so if you don't live in or near that city, you won't be eligible to take the survey.
There are a lot of factors that go into UserZoom deciding who to invite to surveys, and it's unfortunately not really anything you have control over.
Con: Surveys Fill Quickly
Another issue is that surveys you might get invited to fill up quickly…really quickly!
I've seen some people say that they click on the survey link a few seconds after getting the invite only to be told that the survey is already filled.
That's because each usability test and survey has a quote of how many respondents can be involved.
With usability tests, there might only be 5 responses needed.
Surveys might have 100.
Either way, when 100 people try to take a usability test or 500 try to take a survey, a huge portion of them will be denied because the quota is already filled.
You have to be pretty quick in your responses to invites, so it's a good idea to set up notifications through your email inbox to have them pop up on your mobile device or computer as soon as you get a new email.
What is My Overall Impression of UserZoom and the IntelliZoom Panel?
UserZoom seems like a cutting-edge technology company that is growing and evolving with the needs of the internet.
I think the online usability tester position could be a great "side egg" for someone who enjoys this kind of work.
You definitely can't count on it for full-time work, but you can use it in conjunction with other side gigs to bring in a little extra money.
As far as usability testing sites go, I do think that UserZoom is one of the most trustworthy on the web.
It seems to pay decently for your time, is fair in its approvals, and pays members on time for their work – all of which are excellent signs of a legitimate company that cares about its members.
How Can an Interested Applicant Apply?
To get started as a UserZoom panelist, you need to head to the IntelliZoom Panel website to sign up.
Be sure to read through its helpful FAQ section first, since there's a lot of good information about what you'll do and what to expect.
The sign-up form will ask you basic information about yourself and your demographics.
Once you submit that form, you'll need to download UserZoom's software that makes it possible for you to take usability tests using your webcam and microphone.
Get that set up and you should be ready to start a practice test that determines whether you can read and follow instructions, have working equipment, and complete usability tests correctly.
You should then be ready to start receiving available invites for usability tests and regular surveys that match your demographics.
UserZoom Alternatives
I mentioned earlier that, although UserZoom is an excellent usability testing platform, it might not provide you with the extra money you were hoping for because test invites are few and far between for many panelists.
That's why it's a good idea to sign up with some other similar companies so you'll have more opportunities to earn cash through usability testing.
Here are a few of our favorites that can help you get extra money:
Like its name suggests, User Testing is another usability platform that offers people like you money for checking out websites, reporting issues and bugs, and providing helpful feedback.
You can earn up to $60 per test here!
Most tests, however, will pay $10 for about 20 minutes, and you can test out websites, mobile sites, and apps.
You need to be at least 18 years old, able to speak your thoughts clearly in English only, and willing to download the company's testing software to get started.
One bonus with User Testing is that you can receive your money in as little as one week after completing a test and getting it approved.
This is another highly rated user testing company that pays you for each test you complete.
Most tests here are about 20 minutes long and pay $10.
You get paid weekly with PayPal!
TryMyUI is clear on its website that tests can also be kind of scattered inconsistency, so don't rely on this for regular work, but more for a fun side gig to do in your spare time.
This site does have a qualification test for test-takers to complete before they're allowed to start taking paid tests.
It consists of doing what you'd do during a regular test, so be sure to speak clearly and follow all directions carefully.
Validately actually offers testers different types of tests that pay differently, so you can choose to do what you have time for.
Some quick tests take only a few minutes and pay about $5, while other more in-depth usability tests can take about an hour but pay as much as $100!
You get paid via PayPal within 7 business days after completing your tests.
You need to be at least 18 years old, have a high-speed internet connection, use the Google Chrome browser, and have a working microphone on your computer or a smartphone that has video capabilities to get started.
The site currently works only with native English speakers as well.
UsabilityHub is a user testing service that allows businesses to get feedback on design decisions quickly. These design surveys are designed to answer questions about the visual design, branding, and usability of a product.
As a tester, your role involves reviewing design concepts and answering questions about them. The tasks are relatively short, often taking no more than a few minutes.
The tests may involve looking at a website design and answering questions about how intuitive it is or what your first impressions are.
You earn credits for each test you take, which you can then cash out via PayPal. The exact amount you earn per test can vary, but typically, it's a few cents per test.
Enroll is a usability testing site that provides quick and simple tests. As a tester, you can take part in these tests on any device – desktop, tablet, or mobile. This flexibility makes it convenient to work from anywhere.
The tasks in Enroll may involve comparing two webpages and giving feedback, testing the functionality of a webpage, or checking the clarity of instructions on a website.
Each test you take earns you rewards. Although the pay per test is not high, the fact that the tests are quick means you can complete many in a short amount of time.
Your earnings from Enroll can be cashed out via PayPal, making it a straightforward way to earn a little extra money.
TestBirds is a company that specializes in the testing of software including apps, websites, and Internet of Things applications. As a tester, your job will involve hunting for bugs or reviewing usability.
In some cases, you'll be given a specific set of tasks to carry out on the software to test its functionality. In other cases, you may be asked to review the software more generally for any issues.
TestBirds offers more substantial payment than many other user testing sites, with payments per test depending on their complexity. It could range from a few dollars for a simple test to more than $20 for more complex tests.
Payments from TestBirds are made via PayPal or bank transfer. In addition to the pay, TestBirds also offers the chance to learn about new technologies and gain valuable experience in software testing.
What do you think of UserZoom?
Did you have any luck getting tests here or know someone who has?
Feel free to leave us a comment below and let us know your thoughts.
Related Posts:
Earn Everything… nearly!
Join Ipsos iSay, one of the few Faithful and Honest survey panels and earn prizes, gift cards and donations. Stack your points and redeem them: Simple! No hidden fees and completely free!