Virtual Assisting at Time etc
Updated on: by Amy Kennedy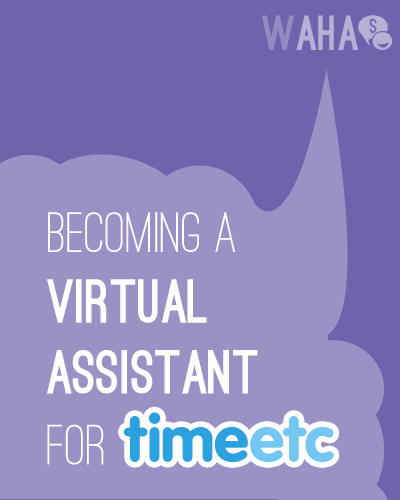 Virtual Assisting is a broad job title. Essentially it is someone who works remotely to assist a client. How they assist the client can vary from basic data entry, website assistant, answering emails, making phone calls and really- as you can imagine- the list can go on and on. Being a virtual assistant is a great way to take your skill set and make a living online- from home. However, with competition from around the globe and finding many clients are short-term, being a virtual assistant can be a challenge. Welcome Time etc.
Need Easy Extra $350+/Month For Free?
What is Time Etc?
Time etc is an American Virtual Assistant business with 100s of assistants working part time. Working for a company like Time Etc allows you to spend less time searching for clients and proposing bids and more time being paid to work for steady clients.
Time Etc has an interesting background with one of their leading virtual assistants having been a personal assistant to Sir Richard Branson for 32 years! That certainly has had to have brought high expectations from clients- which is why Time etc only hires experienced assistants. Additionally, VAs are monitored by project managers to ensure deadlines are met and the quality of work meets expectations.
What are the Requirements?
Time etc requires you to be available to work during the work week and would like to get at least 5 hours of work time from you a week. You must be organized and have at least 2 years of commercial experience. Additionally, you will need your home office set up in a quiet environment and have Microsoft Office software and Skype installed on your PC or Mac computer.
What is the Pay?
Pay will vary depending on your skill set and experience. However, once your hourly rate is configured- it will be a guaranteed hourly wage. This job allows you to be paid for your time working rather than per project. On average the pay varies between $11 and $16 per hour. While this is lower than the average VA who works for their own business- working for Time etc eliminates a lot of unpaid working hours by cutting out the job hunting, bidding and so on. Others say they found the pay ends up averaging out to a standard rate once they figure the savings.
What Type of Work is Done at Time Etc?
Here is a list of the typical tasks you may be asked to complete when working for Time Etc:
General administration
Document work including formatting and typing
Travel arrangements
Schedule management
Arranging meetings and appointments
Making telephone calls
Sorting expenses
Social media
Blogging
Content writing
Pros and Cons of Working for Time Etc
Working as a virtual assistant for Time Etc is rewarding but it also comes with some downsides. Here are the pros and cons:
Pros
Flexible Work Arrangement: Working as a virtual assistant for Time etc offers the flexibility to work remotely from any location. You can choose your own working hours, which allows for a better work-life balance and the ability to cater to personal commitments.
Varied Clientele: Time etc serves a diverse range of clients, providing virtual assistants with exposure to different industries, tasks, and projects. This variety can offer opportunities to expand your skill set and knowledge across various domains.
Professional Development: As a virtual assistant with Time etc, you have access to ongoing training and support. They provide resources and guidance to enhance your skills, stay updated with industry trends, and improve your efficiency as a virtual assistant.
Steady Work Opportunities: Time etc aims to provide their virtual assistants with a consistent flow of work. They match clients with virtual assistants based on skill sets and experience, which can result in a steady stream of assignments.
Cons
Dependence on Client Availability: The workload as a virtual assistant may vary depending on client demand and availability. There might be times when the workload is light, and other times when it is more demanding, which can impact income stability.
Limited Control over Clients: As a virtual assistant with Time etc, you don't have direct control over the selection of clients or specific assignments. Assignments are typically assigned based on client needs and matching your skill set, which means you may not always have control over the type of work you receive.
Client Communication Challenges: Working remotely as a virtual assistant can present challenges in terms of communication and collaboration with clients. Clear and effective communication is crucial, and occasional miscommunication or delayed responses may occur due to remote work arrangements.
Isolation and Lack of Face-to-Face Interaction: Virtual assistants often work independently, which can lead to feelings of isolation or a lack of social interaction. Without the traditional office environment, it is important to actively seek out ways to connect with colleagues and maintain a sense of community.
How to Apply for Time Etc as a Virtual Assistant
If you feel you would be a good fit to the Time Etc workforce then you can apply on their site.
You will answer some basic questions and attach a copy of your resume. Time Etc says they verify your educational and work background before completing an interview. Be prepared to have examples of your work to show during your interview. Additionally, to evaluate your skill level, you may be asked to complete skills tests.
Good luck if you choose to apply!
Related Posts:
Earn Everything… nearly!
Join Ipsos iSay, one of the few Faithful and Honest survey panels and earn prizes, gift cards and donations. Stack your points and redeem them: Simple! No hidden fees and completely free!