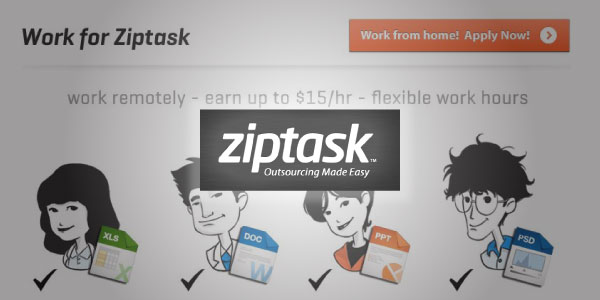 Need Easy Extra $350+/Month For Free?
I was recently introduced to a company called Ziptask. The more I learned about the company, the more I was reminded of FancyHands, another virtual assisting company.
Ziptask relieves the burden of busy people by allowing them to post tasks that can be done remotely and then returned.  They have a great explanation of who they are in this video:
Work from Home for Ziptask?
Ziptask offer remote based work that allows you to use your computer skills to become a virtual assistant. Whether you are skilled in Microsoft Office or Photoshop, they may have a need for you.
Pay at Ziptask?
Ziptask says they offer up to $15.00 an hour.  Like other similar companies, the pay is most like taken on a case by case basis. Depending on the level of skill required, the pay will likely vary.
Ziptask offers flexible hours
The greatest thing about working for task based companies is the ability to work when and where you want. Ziptask is available 24/7,  meaning you can work whenever you want (as long as their is work to be done).
Is this a full-time gig with plenty of work available?
I have not a clue. I have sent in my resume and I hope to find out soon! But with any task based company, I would be careful about relying on them for a steady income. Being a freelancer has it's ups and downs. Depending on client based work often means you have busy times and dry spells. I wouldn't suggest relying on anything that doesn't have set hours. My own graphic/web design business is just the same. So hard to depend on the money as it seems work comes in waves. But somehow it always comes together.
A few requirements to work for Ziptask:
You must be a US resident and you must speak English.
Ziptask also shows an interest in people who have knowledge in Excel, Microsoft Word, Power Point (so old school) and Photoshop.
Where do you go to apply?
Visit Ziptask's career page to apply to become a digital task assistant. Be ready to send your resume.
Related Posts:
Need Easy Extra Cash?

Join e-Poll, one of the few faithful and honest survey panels and earn cash - paid via PayPal - gift cards for Amazon, Best Buy, iTunes, Starbucks, and Walmart, plus Retail e-vouchers.
The surveys are aimed at entertainment-related research, covering such things as personal TV watching habits, give feedback on new TV commercials or to review DVDs that are sent to your home.
For USA residents aged 13+. No hidden fees and completely free!


Want more money?

Join Surveyo 24 #1 paid survey site. It's easy - complete a survey and receive payment. No hidden fees and completely free!