10 Leading Websites to Find Voice Over Jobs for Beginners from Home
Updated on: by Amy Kennedy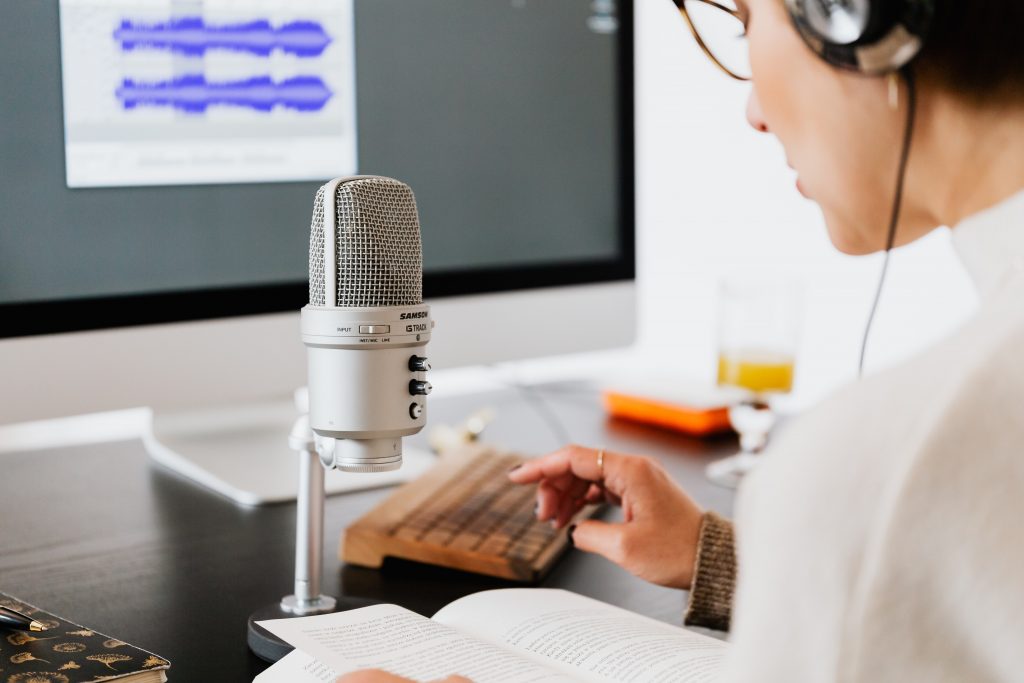 It's the internet era, where freelance jobs are in plenty and any talent or skill can fetch you good money. If you're a good bilingual speaker, you can do translation or transcription jobs and get paid. If you have a smooth voice and can communicate fluently, you can do voice over jobs from home and get paid.
Need Easy Extra $350+/Month For Free?
Voice-over artists are highly in demand in the online business world. Companies hire voice-over artists when recording YouTube videos, TV commercials, video games, and more.
To get into the voice-over business space, the basic requirements are recording equipment, modulation skills, animation or intonation skills, and a smooth voice.
What exactly is a Voice over Job?
Voice over is a recorded voice that sells a product, service, or offers information. Voice-over is the message communication companies leave behind to inform their clients of the status of their call. It's that voice that connects you to TV commercials, YouTube videos, and more.
Voice-over artists are delegated roles in producing voice-over messages. The voice-over jobs are the paid tasks where artists generate customized voice-over messages.
Voice-over artists have the flexibility to work in multiple niches, including traditional and social media, videogame industry, podcasts, and audiobook industry.
As a pro-voice-over artist, you must master the art of changing your speaking style, voice, and intonation to suit the unique needs of the audience.
It's not mandatory to work from a professional studio to complete your paid voice-over projects. You'll find many voice-over artists who work from home. You can record most of these voice-over audios or animations without needing to leave the comfort of your couch.
Skills and Equipment to Get Started as a Voice over Artist
Do your friends find your voice charming? Has everyone in your circle fallen in love with your voice and fluency?
The reason is simple.
You have a charming voice.
Blending your appealing voice with your fluency in English can earn you money.  But it's not simple as 1, 2, 3…
You must hone your voice-over recording skills and acquire the right tools for the job.  You don't need the costliest and most advanced equipment. Get a premium audio mixing software, microphone, and recorder. Join a voicer-over online training session to learn a few things about professional voice-over recorded videos or audios.
Working with a professional voice coach will get you to understand your weaknesses and strengths so that you can tone your voice to connect effortlessly with the target audience. Watch free YouTube voice-over training videos or join a paid course.
As a beginner voice-over artist, only do professional-level recordings once you've mastered the following skills:
Exceptionally good voice-over talent. Your exceptionalism will win you more and better-paying gigs.
Unique voice-centered persona. Develop a voice that makes your persona stand out in every recording.
Business skills. Build a strong business acumen in your favorite niche.
How Much Will you earn in Your Online Voice Over Work
Plenty of companies hire voice-over artists every day, but the competition is high.
Need Easy Extra Cash?
Pinecone Research, a leading name in online survey panel honesty, absolutely guarantees $3 cash for every survey you complete!
Take advantage of their time limited New Membership drive and register NOW. Join today: 100% free!


To win a good-paying voice-over task today, your resume and profile must stand out. You must not overcharge for the services, either.
Dealing directly with a client presents a better opportunity for you to earn more. On average, a newbie voice-over artist will make slightly higher than $20 per hour. Experienced voice-over artists earn an average of $50 per hour.
The earnings aren't the same in every online voice over work. Some companies pay more.
Your success and overall earnings depend strictly on your choice of company and your niche.
Where to Find Voice Over Jobs for Beginners from Home
You have the skills and tools. Your only job is to find the right voice-over jobs for beginners, which you can handle from home. Whichever niche you pick or your skill level, here are sites known for offering jobs to qualified voice-over artists.
Upwork is a safe avenue for freelancers to connect with clients. It's the home for talented writers, transcribers, as well as voice-over artists. It's the destination for companies and businesses searching for the world's top talents in different industries and niches.
On Upwork, you're free to connect and secure jobs from any employer of choice at whatever time you feel okay. Creating a freelancer account on Upwork is free of charge. To win a voice-over job, you need to browse through the dozens of projects from different employers and submit a proposal.
Your proposal must be extra-unique and match the client's unique search criteria. In other words, Upwork is a highly competitive website that favors the most talented and exceptionally skilled freelancers.
Registering an account on Upwork won't take you long. Once you've filled in the necessary details, your account will be active and ready in minutes. The company is very strict, and breaking their terms and conditions can have you knocked out without warning.
LinkedIn is one of the largest professional-friendly social networking sites. Getting started on LinkedIn is no big deal as it's a matter of filling in your personal information and customizing your profile to match the needs of your targeted clients. You can create and have a running LinkedIn account in less than five minutes.
LinkedIn is as well very competitive, and for you to win a voice-over gig, your profile must be a top seller. Add the correct information to your LinkedIn profile and ensure you adhere to their terms and conditions to avoid being kicked out.
Voices.com is the largest market for voice-over companies to source top-seller voice-over artists and voice-over artists to find the best paying and genuine gigs. The site has existed since 2003 and has managed to woo and benefit thousands of voice actors and voice-over customers.
Getting started on voices.com is a matter of minutes as all required of you is your personal and professional information. You'll need to upload a professionally recorded demo to sell your skills to your clients.
Whatever your skill level, you can settle for the paid account or the free one. The paid account goes for $499 a year, and it enables you to access more and better-paying gigs.
Always give your clients the best voice-over services to win better reviews and rates. That way, you can attract more clients with minimal effort.
Voice Bunny is the destination for every voice-over artist that wants to connect with multiple clients. The site has over 30,000 verified voice-over artists and over a thousand voice-over clients.
Getting started on Voice bunny is a bit complicated. You don't just have to create an account but also do and submit the test voice-over task. You can win and keep multiple clients if you're approved as a freelance voice-over artist on the Voice Bunny website.
One thing with Voice Bunny you won't like is its strictness in selecting its voice-over actors. Unless your skills are top-notch and have a talented voice, you may never hack their test voice-over task.
Fiverr allows you to showcase your skills to get hired by the thousands of clients that visit the site every day. Fiverr is known globally as the perfect destination for voice-over actors to showcase their skills and get paid to do small and bigger tasks.
The lowest price for doing a gig on Fiverr is $5, while the highest can be as high as $100. Your earning potential isn't capped to a certain amount. You can always negotiate for a better pay.
Your earning potential largely depends on your overall Fiverr account rating. If you produce and submit award-winning tasks on all your gigs, you will increase your chances of getting hired and getting paid more.
Amazon ACX is the marketplace for audiobook narrators to find top-dollar paying jobs and comfortably complete the jobs from the comfort of their homes.
The platform involves narrating books in the format of audio. The resultant audiobooks are sold on Amazon, iTunes, and Audible.
Getting started as an Amazon ACX narrator is easy. Before you get started, create an Amazon account and enter any necessary profile information. You will need to showcase several of your voice-over samples.
Ensure the voice-over samples are written in multiple genres and styles. That would boost your probability of winning more and better-paying gigs.
Working with Amazon ACX, you're assured of winning more voice-over jobs for beginners from home if you audition for multiple jobs every day and keep your completed work top-notch.
Mandy voices is a great online marketplace where you can find multiple voice-over jobs for beginners from home. You can browse and win jobs and still connect and build a network of friends who share similar professional goals.
The platform is a part of the Mandy Network, which hosts over 600,000 creatives on its network. The site has an extensive employer directory and guarantees you access to thousands of new voice-over jobs every month.
Bodalgo is another platform that offers a marketplace for voice actors, matching them with clients across the globe. As a beginner, you can create a profile, upload voice demos and list your skills and qualifications.
Earn Everything… nearly!
Join Opinion Outpost, one of the few faithful and honest survey panels and earn cash and gift cards for your opinion. Stack your points and redeem them: Simple! No hidden fees and completely free!


The platform covers a wide range of voice-over needs including commercials, dubbing, and audiobooks among others. With real-time job postings, artists can apply directly to the listed projects.
While there is a free account option, paid memberships are prioritized in the audition process.
Voice Crafters is a multilingual boutique marketplace that connects professional voice-over artists with clients looking for a more personalized service. This platform is particularly helpful if you're fluent in more than one language.
Once you create a profile and upload your demos, you're able to bid on projects. With its stringent selection process, Voice Crafters ensures a high standard of job offerings, making it an excellent platform for new voice-over artists to gain professional experience.
Backstage is an online platform that lists casting calls for various roles, including voice-over jobs. It's widely used in the film and theater industry and offers opportunities for both on-screen and off-screen roles.
As a beginner, you can create a profile showcasing your talent and apply for relevant jobs. Although it is not exclusive to voice-over jobs, the wide range of opportunities posted daily makes it a valuable resource for anyone starting a career in the industry.
As a beginner voice-over actor, you're at liberty to select from thousands of job opportunities. Ensure you settle for voice-over jobs for beginners from home that meet your skill level to avoid multiple revisions and rejections.
Related Posts:
Earn Everything… nearly!
Join Ipsos iSay, one of the few Faithful and Honest survey panels and earn prizes, gift cards and donations. Stack your points and redeem them: Simple! No hidden fees and completely free!