15 Cheap Legitimate Ways to Watch ESPN Without Cable
Updated on: by Amy Kennedy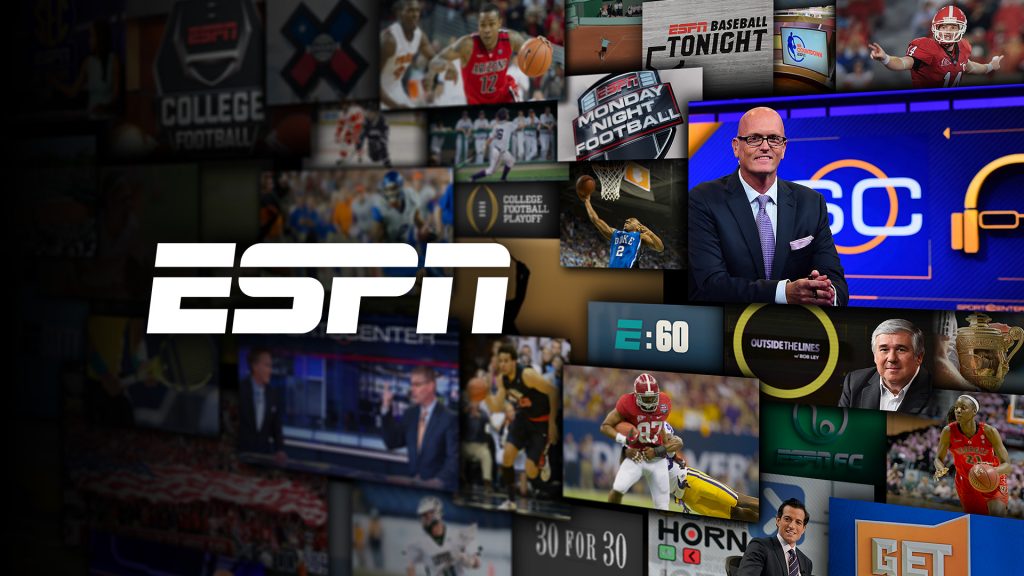 One of the biggest bills you might have each month is your cable bill.
Need Easy Extra $350+/Month For Free?
Especially if you want any premium channels, like HBO or ESPN, which are often an extra cost in addition to the regular prices you pay.
That's why people across the nation are cutting the cord and switching to streaming services that give you tons of channels and content to watch without the hefty bills attached to them.
Often, you can find streaming services for much lower costs that include many or all of the same channels you had with cable plus some premium channels.
ESPN is one premium channel that people often want but can't get with cable unless they spend extra money each month.
Until now.
We're going to show you how you can ditch cable for good, get hundreds of channels to watch, and have ESPN included in your bundle – probably for much less than you were paying for cable!
What are the Benefits of ESPN?
ESPN is a sports channel that's just about any sport enthusiast's dream.
On ESPN, you'll have access to live sporting events, news and talk shows about sports, sports highlights, and more.
You can catch the latest basketball game, football game, baseball game, or any other game you want to watch.
The company started in 1979 and has since grown to become the number one network for sporting events and news in America.
When you have access to ESPN, you can watch it live as you would any other TV channel with cable or your live streaming service.
And if you can't watch an event live, depending on your cable or streaming service, you may be able to record it with your DVR.
ESPN is great for catching highlights of games, too, with its commentary and highlight shows, so you can always stay up to date with the latest sporting news.
Basically, if you're into sports, ESPN has something for you.
Can I Watch ESPN Online Free?
Technically, no, there is no way to watch ESPN online for free.
Need Easy Extra Cash?
Pinecone Research, a leading name in online survey panel honesty, absolutely guarantees $3 cash for every survey you complete!
Take advantage of their time limited New Membership drive and register NOW. Join today: 100% free!


However, that doesn't mean that there aren't ways around it.
You can watch almost any TV channel for free if you're lucky enough to get a free trial.
And the great news about most streaming TV services is that they'll let you get a trial of their service for at least a week or two – sometimes, even one full month – so that you can make sure you're getting what you want.
That means that you'll have access to the service and all the channels for the service that you signed up for free during that trial – including ESPN if you put it in your package!
So, while free streaming service trials won't give you long-term access to ESPN for free, you can still get a little bit of time to use the service and watch ESPN for free while you try it out.
You might find sites that claim to let you watch ESPN for free, but these are usually scams that try to get you to download something, sign up for something, or even pay for something to watch.
These aren't legitimate.
ESPN doesn't give away its service for free because it's a for-profit company like many other television channels.
It exists because of the money it brings in.
So the only way to watch ESPN long-term and have it available whenever you want to watch it is to pay for it through another service.
What's the Cheapest Way to Get ESPN?
There are several streaming TV services available nowadays, but not all of them are as low-priced as Sling TV.
Sling TV is kind of like a pick-and-choose streaming service that lets you choose the package that makes the most sense for you.
You start with a basic package and can add on bundles of other channels that you want, too.
The Sling TV Orange package is the one that includes ESPN and other channels like TBS, Newsy, Comedy Central, and Lifetime.
And it's only $30 a month, which is much cheaper than you'll pay for cable to get the same number of channels.
Sling TV Benefits
Sling TV has a lot of benefits for anyone wanting to switch over to a streaming service from cable.
First, there are no contracts, so you can switch your plan or cancel at any time without having to worry about cancellation charges and other silly fees.
There are also a lot of ways that you can customize your service through Sling TV.
Start by choosing a basic package that contains the kind of channels you like to watch.
Then, start adding on, if desired, with extra packages of channels that are only $5 to $10 each.
For example, sports enthusiasts might add on the Sports Extra package for $10 a month that includes MLB Network, ESPNews, and NBA TV.
You can also get 50 hours of DVR cloud storage for $5 a month (it comes with 10 for free) or add a pack of kids channels for $5 a month.
In other words, pay for what you want and don't pay for what you don't need.
You can also try Sling TV for free for three days with a trial.
Sling TV Pricing
Sling TV has really simple pricing, so it's easy to figure out how much you'll owe each month.
Both basic packages start at $30 a month.
From there, you can add on as much or as little as you want for $5 to $10 extra. Or, get all the extra packages Sling TV offers for an extra $20 a month.
If you just want Sling Orange with ESPN, you'll pay only $30 a month.
How to Watch ESPN without Cable
Sling TV is an awesome option for watching ESPN without a hefty cable bill every month, but it's certainly not the only option.
Earn Everything… nearly!
Join Opinion Outpost, one of the few faithful and honest survey panels and earn cash and gift cards for your opinion. Stack your points and redeem them: Simple! No hidden fees and completely free!


If you don't mind spending a little more – but also getting some more channels to watch – then you can try some of these other options.
Watch ESPN Content on YouTube
First, let's talk about ESPN's YouTube channel.
No, it won't give you access to the same live content that you'd watch on the actual ESPN channel.
But you can still get plenty of free content by subscribing to its channel, just like you would any other YouTube channel.
On ESPN's channel, you can find live sports news shows, game coverage, highlights, and other content that keeps you in the know about your favorite teams and sporting events.
So, if you really can't afford to buy ESPN through another streaming network, YouTube's free content is always another option.
Opt for ESPN+ Instead of ESPN
ESPN+ is another way to enjoy ESPN without having to pay a lot for the channel.
In fact, this service is only $5.99 a month, which is super cheap compared to full streaming services.
ESPN + isn't the same as ESPN, but it's a good option if you're into UFC, Major League Baseball, NHL, and other sports that the service has live coverage for.
Unfortunately, you won't find much here for NFL coverage, but there is still some content that includes highlights, news, and other informative content about your favorite sport.
For less than $6 a month, this service might be worth it to you to get your fix of ESPN.
Disney+ is a streaming service made by Disney that offers exclusive shows and movies, plus a full library of other Disney movies and shows.
Since the service started in late 2019, it's had a bundle that allows subscribers to get not just the Disney+ service, but also Hulu and ESPN+ for one low price.
It's just $12.99 a month for all three, so if you're looking for a cheap way to watch ESPN content while getting some other channels and on-demand stuff, too, this might be the bundle for you.
If you already subscribe to Hulu or ESPN+, you can still sign up for the Disney+ bundle, and the service will adjust your payment to equal the monthly $12.99 price.
AT&T TV NOW is a streaming TV service that comes from AT&T, the same company that might service your mobile phone.
The service comes with no annual contract, meaning that you can cancel it at any time without having to pay fees.
Its base package – TV Essentials – includes ESPN, along with more than 60 other channels that you can watch live or on-demand.
You'll also get 20 hours of DVR storage in the cloud and can access more than 40,000 on-demand shows and movies when you feel like watching them.
The package is only $69.99 per month, which is still much less than what you'd pay for most cable services.
Hulu started as just an on-demand TV and movie service, but its Hulu + Live TV allows you to watch live TV channels too.
And ESPN is one of them.
It starts at $64.99 a month, and you can get a full week for free to try it out and make sure you like it before committing.
Still, there are no contracts, so if you decide you don't want to pay for it next month, you can always cancel it.
The base package allows you to watch your shows on two screens simultaneously, making it a good fit for families with multiple TVs.
Fubo TV is another streaming service that offers both live television and sports coverage, and ESPN is included in its list of channels.
The lowest-priced package is the Family package, which is $64.99, and it includes ESPN and more than 100 other channels, plus 130+ events in 4K.
You also get 250 hours of cloud DVR storage and watching on up to three screens at once for one price of $64.99 per month.
The service also offers a full, one-week trial to test it out before signing up.
Aside from offering free content on its regular platform, YouTube also has YouTube TV, its paid streaming service.
For $64.99 per month, you can get more than 85 channels without a contract, plus sports networks like ESPN and MLB Network.
You'll even get unlimited cloud storage for your recorded shows, so you can always record a sporting event if you aren't going to be around to watch it live.
You'll get six accounts and three simultaneous streams with your account.
If you have a service that includes ESPN, then you can use ESPN Watch to stream the channel whenever you want for free.
Of course, you don't always need to do that because you can watch it through your service provider's app or website.
But suppose you have a cap on how many simultaneous streams you have, like two.
That means you can only stream content on that app or website through your account on two devices at a time.
But if three people want to watch on their devices, you're out of luck.
That's where ESPN Watch comes in.
It allows you to keep watching your ESPN without cutting into your streaming service's limitations.
Philo TV
Philo TV is a streaming service that offers a selection of over 60 live TV channels at a very affordable price.
However, as of my knowledge cutoff in September 2021, ESPN is not part of Philo's lineup as the service focuses primarily on lifestyle and entertainment channels, not sports.
But it's always good to check their current offerings as services frequently update their channel lineups.
Amazon Prime Video
Amazon Prime Video is a streaming service that comes with an Amazon Prime subscription. Prime Video has a feature known as Amazon Channels, which allows you to subscribe to other networks, like ESPN, through Amazon.
To add ESPN to your Amazon Channels, navigate to the Prime Video Channels section, then search for ESPN.
While it's not exactly like watching a live broadcast of ESPN, you can access ESPN films, docuseries, and some live sports events depending on your location.
Just remember, ESPN on Amazon Channels comes with an additional cost on top of your regular Prime subscription.
The Roku Channel
If you have a Roku device, The Roku Channel offers a host of content. Similar to Amazon Prime Video, you can also subscribe to premium channels, including ESPN, through The Roku Channel.
This allows you to manage and watch all your streaming content from one place. Remember that you will have to pay an extra fee for ESPN on top of any other costs associated with The Roku Channel.
Apple TV
Apple TV offers its own streaming service where users can subscribe to different channels, including ESPN, and watch them directly from the app.
The process of adding ESPN is straightforward. Open the Apple TV app, navigate to the Channels section, and select ESPN. After agreeing to the terms and adding it to your lineup, you can start watching ESPN directly on your Apple TV or any other device that supports the Apple TV app.
Keep in mind that this option also includes an additional cost on top of your regular Apple TV subscription.
ESPN on OTT Platforms
Over-The-Top (OTT) platforms enable direct streaming of ESPN content on your devices.
Essentially, you download the ESPN app on devices like Roku, Amazon Fire TV Stick, Apple TV, etc., and subscribe to ESPN directly through the app.
While the ESPN app itself is free to download, you will need to pay for the ESPN subscription, which offers a variety of live and on-demand sports content.
PlayStation Vue
PlayStation Vue was Sony's internet TV service that let you stream live TV, movies, and sports over the internet. The service was discontinued in January 2020.
However, if it ever makes a return, PlayStation Vue offered several packages with different channel lineups, some of which included ESPN.
It allowed PlayStation users to watch live sports on their consoles without a cable subscription. You would have had to pay for the PlayStation Vue service, which was separate from PlayStation Plus, but you wouldn't have needed a traditional cable subscription.
Watch ESPN without Cable Starting Today
Now you know how to watch ESPN without needing to pay a cable bill!
If you're a sports fan and need your fix of live sporting events, news coverage, highlight reels, and more, ESPN is the place to get it.
But there's no need to spend outrageous amounts of money on a cable subscription that locks you into contracts, hidden fees, and raising prices.
Instead, spend some time using the free trials of the services above to decide which one you like most.
Then, enjoy your ESPN!
Related Posts:
Earn Everything… nearly!
Join Ipsos iSay, one of the few Faithful and Honest survey panels and earn prizes, gift cards and donations. Stack your points and redeem them: Simple! No hidden fees and completely free!