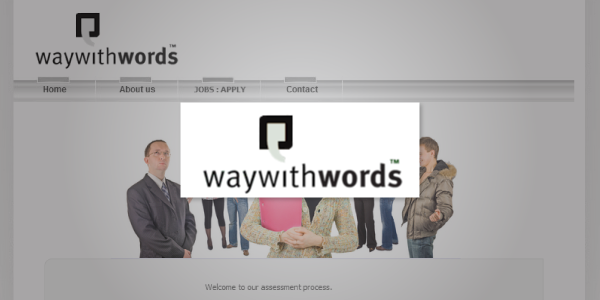 Need Easy Extra $350+/Month For Free?
Way With Words has been serving thousands globally since 2001. They are registered in both the United Kingdom and South Africa, and they offer services including transcribing, proofreading, and captioning. They hire work at home freelancers in the US and other countries to professionally handle their clients.
How Do I Apply to Way With Words?
There are application instructions for each of the positions listed on their website which include Transcription, Proofreading and Captioning.
They are currently only looking for transcriptionists, but you can apply to be considered for the other positions in the future as well. To be a transcriber, you must take a series of tests that require transcribing sound files.
For proofreading, you must submit a CV, and to proof audio files you must download a sound file and request the transcript to go along with it and proof it as a test.
For captioning, in addition to submitting a CV, you must also have experience, a computer, internet access, and appropriate captioning software.
How Much Can I Make?
While Way With Words offer no pay information on their website, comments in at least one forum allude to $30 per audio hour for transcribing.
Are they legitimate?
It appears from those that have done work for them that they pay, they pay on time, and work is steady.
What's the catch?
While they appear to be legitimate, there are some potential drawbacks. First, they state themselves on their website that only 2% to 5% pass their transcribing test. Those who have taken it note that sound quality is poor and the accents make it difficult to decipher. Others say the thought they did a great job and got denied. It seems that they require most of their work is to be done in UK English, so if you have trouble with accents and/ or UK English, this may not be for you.
Those that do work for them say that the sound quality on the transcription files range from great to terrible, and you just have to work with what you get. Some of them take longer than others, and the ones with tighter deadlines pay more than those with more flexible deadlines.
Way With Words Conclusion
Way With Words is a legitimate work at home opportunity. Although some say work is steady, just like any other opportunity, do not put your eggs all in one basket. Workflow can always change, so be prepared. Also, realize that if you have trouble with accents or British English, you may have a harder time at first. That being said, if you feel you can do it, there is no harm in applying and seeing where it takes you.
Visit Way With Words to learn more about their current openings.
Related Posts:
Want more money?

Easy Extra Cash! Join the famed Vindale Research site and earn rewards by doing nothing more than sharing your experience of using the internet. Guaranteed 100% free membership.


Earn Everything… nearly!

Join e-Poll, one of the oldest survey panels and earn cash - paid via PayPal - gift cards for Amazon, Best Buy, iTunes, Starbucks, and Walmart, plus Retail e-vouchers.
The surveys are aimed at entertainment-related research, covering such things as personal TV watching habits, give feedback on new TV commercials or to review DVDs that are sent to your home.
For USA residents aged 13+. No hidden fees and completely free!