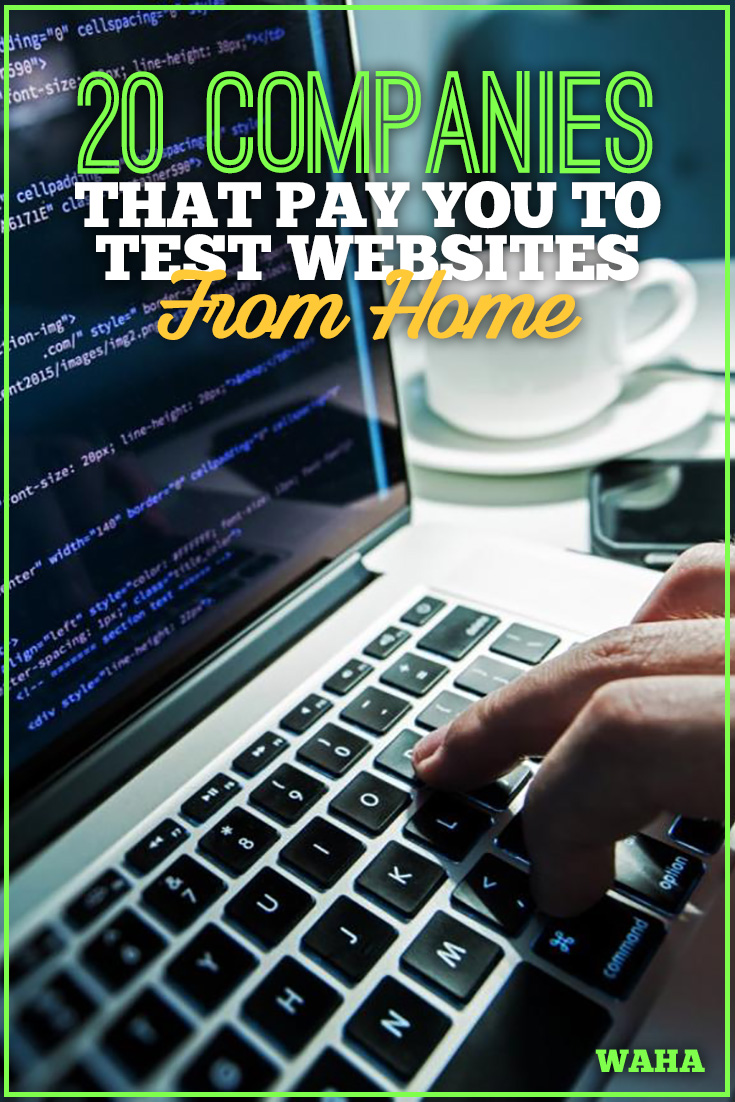 Have you ever wanted to have a say in the look and functionality of your favorite websites?
Need Easy Extra $350+/Month For Free?
Well, you can – and you can get paid for your opinions!
You can test out websites and provide your honest feedback about their designs and ease-of-use as a website tester.
The best part is you can make money as a website tester by working from home.
What is a Website Tester Job from Home?
As a website tester, you will usually provide verbal feedback on a website as you use it.
You'll be assigned a website to go to and some instructions, such as clicking on certain areas of the website or adding a product to the shopping cart.
The purpose of website testing is to identify possible functionality issues, like dead links, distorted webpages, or malfunctioning online stores.
Websites can work differently for different users, and webmasters and companies want to ensure a positive experience for everyone.
That's where you come in.
Some website testing companies will require you to install a program or plugin that will allow your voice and screen to be recorded as you complete a testing task. You'll walk through the website, completing the specific instructions for the task.
Using your computer's microphone, you'll describe your experience and thoughts as you move through the website.
Most website tests take between 5 to 30 minutes and pay an average of about $10 per test.
Some companies provide frequent tests, while others are sparse.
Website testing is, therefore, usually best for those seeking a part-time income or some extra cash.
Fortunately, the tasks can usually be completed on your own time, as long as they are completed before a specific due date.
What are the Typical Requirements?
There are not usually many requirements to become a website tester, and you typically don't need previous experience.
You can check with each company for its specific requirements, but the general requirements for website testers are:
At least 18 years of age
An updated, reliable computer with internet access
A computer microphone and, sometimes, a webcam
Sample tests are usually required
PayPal account for payments
Consistent, in-depth performance will make you eligible for more tests
Basically, if you have a reliable computer and internet, provide excellent feedback while adhering to instructions, and can pass the sample tests, you can become a website tester at home.
Remember to sign up for PayPal, as most companies use this as their payment method!
Get Paid to Test Websites with These Companies
The following companies hire for website tester jobs. Although they may not be hiring at the moment, keep them bookmarked to check back for openings.
UserTesting has testers provide feedback on apps and websites by speaking thoughts out loud as they complete tasks. Each test takes about 20 minutes and pays a flat $10. You must be at least 18 years old and speak English fluently. You can also take mobile tests on your mobile device. Pays via PayPal 7 days after completing an accepted test.
Amazon Mechanical Turk (review)
Amazon MTurk is owned by Amazon.com and pays you to complete a variety of small tasks. Sometimes, website testing tasks are available, although they're usually much shorter and pay less than other website testing jobs. You will get paid via Amazon Payments and can transfer your balance to a bank account or Amazon gift card.
Want more money?

Join Opinion Outpost, one of the few faithful and honest survey panels and earn cash and gift cards for your opinion. Stack your points and redeem them: Simple! No hidden fees and completely free!


Analysia hires website testers in several locations. You must have a microphone for your computer. Each test takes about 15 minutes and pays $10 via PayPal. The company will e-mail you with new test opportunities, and the website states you may qualify for one test per day, but this depends on the type of users a website is looking for.
Enroll lets you provide feedback on website logos, usability, content, and more. You can take tests on your computer or smartphone. Earnings depends on the size of each task, with some smaller tasks offering about 10 cents, although these usually only require a quick answer to a question. Enroll is open worldwide to ages 13 and older and pays once per month via PayPal.
MyCrowd pays you to locate bugs on websites. Website owners will set a compensation rate for each bug you find on their websites. You essentially compete against other bug finders and can win prizes and money. This opportunity is open to worldwide users.
As a tester for StartUpLift, you'll be providing feedback on websites of startup companies. This is a good opportunity for you if you want to be involved in beginning companies to improve them for the future. You get paid $5 per accepted feedback via PayPal weekly, and you can perform an unlimited number of tests each day.
If you'd rather take tests using your smartphone or tablet than your computer, Testadrome is for you. You'll test apps rather than websites, but the process is very similar. The pay isn't listed on the website, but you can e-mail Testadrome for further information. It does state that you'll receive compensation in the form of virtual points that you can later exchange for cash rewards.
Testbirds requires you to be 18 years old to sign up, but accepts people from several countries. You'll be testing bugs in software, either downloaded or website-based. You'll earn a base pay of about 20 Euros (about $21 USD) for each test, and can earn more if you find several bugs. Most tests average about 20 minutes.
TestingTime requires you to have Skype installed on your computer to perform tests on products, websites, and apps. You'll meet up with a customer on Skype, who will walk you through the required tasks and record the session. Tests can take between 30 and 90 minutes, and usually pay about 50 Euros (around $53 USD).
As a tester for TryMyUI, you'll provide feedback on websites and apps via a video recording and a short, written-response survey. Tests usually take about 20 minutes and pay $10 every Friday with PayPal.. The website states that you can expect to qualify for at least a few tests each week.
UsabilityHub pays you with credits when you perform website tests for its clients. Each credit pays 10 cents, and you can cash out with PayPal once you reach 200 credits. Responses typically take about a minute each. UsabilityHub accepts new testers from several countries.
Userbrain lets you test websites using the Google Chrome browser or your iOS device. You'll complete the required tasks while voicing your thoughts, with most tests taking between 5 and 15 minutes. You'll earn $3 per test and will get paid after every test with PayPal. You must submit an example test before getting accepted.
UserFeel provides testers with opportunities to give feedback on the usability of websites. Clients will outline specific tasks for you to test on their websites, and you'll voice your opinions as you complete the tasks. Must have a microphone and be able to clearly verbalize your thoughts. You'll need to provide a sample test, and after that, you can earn $10 per test, which take about 15 minutes. Pays weekly with PayPal.
Userinput currently provides its website testing opportunities through Amazon Mechanical Turk. However, you can also apply to test apps through the application on its website. You'll get paid $5 per app test, with more information provided after you are accepted.
Userlytics accepts worldwide testers to review websites on your computer or mobile device. You'll need to download the Userlytics software for screen and voice recording. Userlytics pays $10 per test, and you'll see your money in PayPal once your test has been reviewed and accepted. Available tests will show on your user dashboard.
Website testers for UserTest will receive £8 per 20-minute test, which equals almost $10 USD. You must have a working microphone and the ability to download the screen-recording software. UserTest accepts testers from several countries, and only requires you to complete a sample test when applying. However, the company only accepts about 5% of submissions, so it's a bit more selective than others with its hiring process.
Test websites and apps with UserZoom, providing audio and video feedback. You can use your computer or mobile device to complete tasks, and you must be able to download the UserZoom software. Most tests take between 10 and 20 minutes, with most paying between $5 and $10. You'll receive your earnings with PayPal 21 business days after your test is accepted.
UTest has several ways for you to make money, including games and contests, but it also provides paid testing projects from some of the biggest brands, like Google and Amazon. Once you are accepted, you can access testing projects for apps, websites, eBooks, and more. Pay and test times vary per project. UTest accepts sign-ups from several countries.
As part of Validately's testing panel, you can take screen-recorded tests or talk live with a customer as you perform a website test. Most tests take between 2 and 5 minutes and are on a first come, first serve basis. You'll receive an e-mail link if you qualify for a new test, and new tests are added daily. Earnings depends on the length and complexity of the test, but you'll get paid via PayPal within 7 days.
Whatusersdo pays you to test about 3 to 5 websites per month via an e-mail link for tests you qualify for. Each test will earn you £8 (almost $10 USD). You'll be offered more tests for high-quality feedback. Pays via PayPal on the 25th of each month. Whatusersdo accepts applicants from a number of countries. You must have high speed internet and a microphone.
Website Testing: Is it the Right Job for You?
Not everyone will enjoy website testing.
The work can be tedious and you have to be meticulous about following instructions so you can complete tests accurately.
But, if you're interested in improving how websites look and work, it can be fun to have a hand in it!
And, with tests averaging about 15 minutes, the work is extremely flexible to fit in with a variety of schedules.
If you want to make some extra money, website testing is an interesting way to do it.
You can even earn hundreds each month by signing up with a few testing companies and providing detailed feedback.
Related Posts:
Get Money: Cash In!

With American Consumer Opinion (ACOP) the numbers truly do speak for themselves: $30 million+ in payments so far, 7 million+ international members, 20 million+ surveys completed!