Get Paid Monthly to Answer Questions Online with Weegy
Updated on: by Amy Kennedy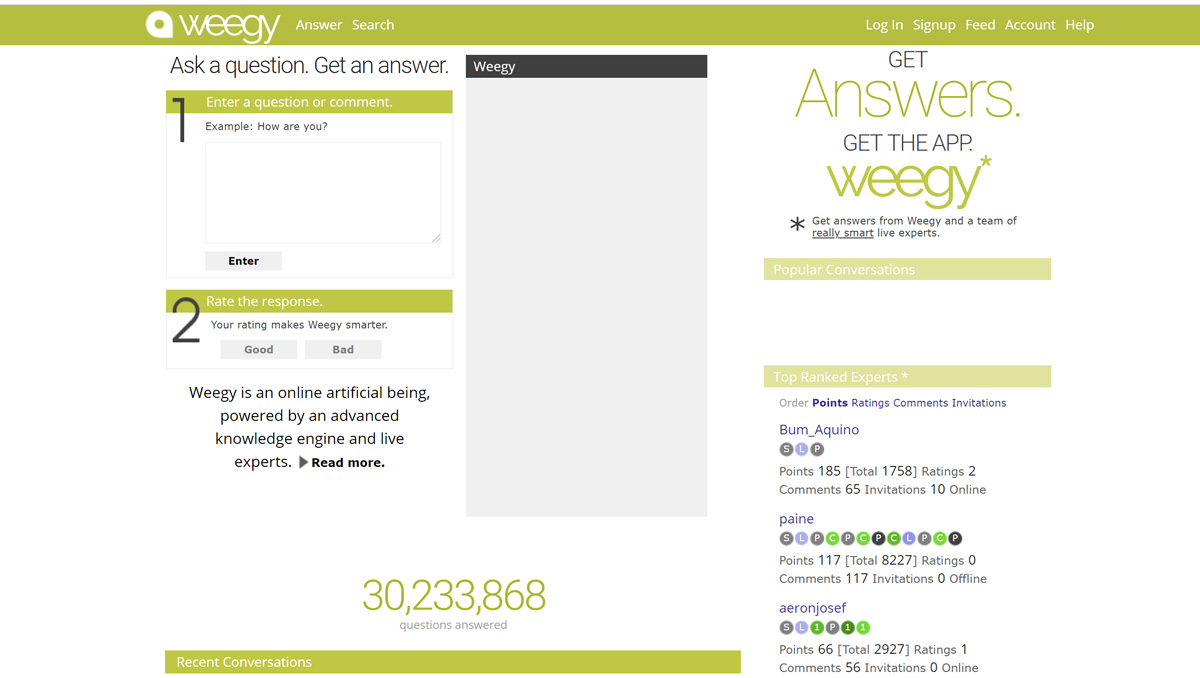 Do you have expertise in a subject area or two?
Need Easy Extra $350+/Month For Free?
Do you love helping others learn by sharing your expertise?
And, are you looking for a way to make money at home outside of your regular job?
Getting paid to answer questions is just one of the many ways you can earn money online in your spare time.
Weegy is one of the many question and answer sites you can use to do this, and this review is all about the company and its experts.
Our Weegy review will help you know more about the company and how Weegy questions and answers work to make you money at home.
What is Weegy?
Weegy.com is another question and answer service company.
We've reviewed several of these on Work at Home Adventures, but each of them tend to have something a little different to offer customers and their experts.
Weegy.com allows its users to text, call, or ask any question online for free.
Weegy's automatic system will try to provide an immediate response using its previous question history.
If it cannot find an answer, or the answer is not acceptable, the Weegy system will allow an Expert to take the question.
Since the closing of ChaCha several years ago, Weegy has somewhat taken over in this industry as the leading quick question and answer site.
It's been around since 2008.
Weegy's service is by far nothing new but can be an excellent way for work at home agents to make a side income.
Working as a Weegy Expert
The good news: Anyone can do it!
It is simple to sign up and become a Weegy expert according to many who have done so.
Need Easy Extra Cash?
Pinecone Research, a leading name in online survey panel honesty, absolutely guarantees $3 cash for every survey you complete!
Take advantage of their time limited New Membership drive and register NOW. Join today: 100% free!


Unlike Chacha (now defunct) or other similar sites, there is not in-depth test to pass to become an answer.
It is as simple as answering questions at Yahoo! Answers, only Weegy actually PAYS you for it!
Once you're signed up as an expert (we'll get into how to do that below), you can access your dashboard, which is where you'll see all the open questions that need to be answered.
You'll also see all your personal stats, like the questions you've answered and how much you've earned.
While the traffic is not as busy as similar sites, Weegy is a great and fun way to make some extra money when you are already online browsing the web or doing other work.
You can leave Weegy open, and when a question arrives, your computer will send out a 'ding'.
You'll then have about 15 seconds to accept or deny answering a question.
You may also get further questions from someone you've already responded to based on your answer.
Weegy lets you respond to those questions, too, to get paid.
Before answering any questions, you should take time to read over the rules.
Weegy stresses the importance of them because they go over all the basic guidelines of the site for experts, plus give you important tips on formatting your answers properly.
Since every single answer you give is reviewed by Weegy, it's crucial that you know how to format your answers.
Any that aren't formatted properly can get denied, which means that you would have wasted time answering them.
You can read the full rules here, but here are a few really important ones to note:
Plagiarism is never okay. Use your own words when formulating your answers.
Make sure your work is free of grammar and punctuation errors.
Answers should be clear and concise, never just a word or two.
As long as you've read all the helpful information on Weegy's website and adhere to the rules, you should find success as a Weegy expert.
The more you interact with the site and answer questions with thought and care, the higher you can move up in the Weegy world.
Moving Up at Weegy
Every answer you give gets rated by Weegy moderators.
This process isn't to make you feel bad about yourself or like you've done something wrong.
Instead, it's more of a quality control process that ensures that experts are really spending time answering questions to the best of their abilities so that Weegy users get appropriate responses.
If you continuously get bad ratings, you may end up unable to answer any more questions.
That's a clear sign that you're not following the rules, which honestly are pretty easy to follow.
Experts are given three warnings before they're removed from the system.
Your warnings will show in your dashboard along with your other stats.
You might also get flags, which are given out when you don't provide a correct answer.
Experts can also receive a warning when they get a few flags.
However, getting continuously high ratings can help you move up as a Weegy expert.
Once an Expert becomes established at Weegy, there is an opportunity to move into Weegy Pro or Weegy Research positions.
These agents are groups of people who are paid at a higher rate to give a more in-depth answer that often requires more research than basic questions.
The pay rate is an agreed price and is dependent on the type of question.
Earn Everything… nearly!
Join Opinion Outpost, one of the few faithful and honest survey panels and earn cash and gift cards for your opinion. Stack your points and redeem them: Simple! No hidden fees and completely free!


Weegy Pro and Research questions give the Expert up to 24 hours to research and provide an answer.
Weegy also has a point system in place.
Experts earn points for receiving positive ratings, referring users, and leaving comments.
The higher the points an expert has, the higher paying potential they will have when given priority to the Weegy Pro and Weegy Research questions.
You can also become a Weegy Moderator for the site, which are the people who assign ratings to experts, flag inappropriate questions, flag wrong answers, etc.
Moderators can also make more than a regular expert for their work.
You'll need to receive at least 3 nominations to be granted the status of Moderator, which are given out by other Moderators who think you're fit for the job.
Pay Information for Weegy Experts
For a period of time, Weegy had to shut down payments for Experts because of an issue with Google Adsense.
However, as of 2020, payments are back on, and there are some additions and changes the site has made to incentivize its Experts, especially its most active ones.
According to others, Weegy Experts used to receive 20 cents for every question answered.
Since the issue with Google Adsense, the pay is now 5 cents.
Compared to similar sites, this rate is fair, even though it sounds really low.
You can also earn 1 cent for directing people to questions already answered in the archives.
The problem with Weegy is that questions come in at a much slower rate than other sites like, say, Yahoo! Answers (but, to be fair, that site has also been around for a lot longer!).
Current Weegy Experts claim to only receive a few questions a day at times.
Many say the questions often come in spurts, randomly throughout the day, so it's difficult to count on a set amount of money during the times you work at Weegy.
Weegy has a live chat function, too, which reportedly pays a little more than regular questions and answers on the site.
There's also a point system that can help you earn more money and achieve new levels on Weegy, which can give you more benefits on the site.
You can receive points based on your ratings and your answers.
You'll get 10 points for each high rating and 1 point for every question you answer.
You can also get 10 points for each person you refer to the platform (this is in an effort to get more action on the site, so it helps out Weegy's traffic too).
Every time you get 1,000 points, you earn a new level.
Higher levels will let you do things like flag comments that are incorrect or delete a wrong answer in the Weegy search section.
These points are also important for Weegy's contest every month.
Those with the most points in categories like referrals and answers can win real money ($30 for first place, $20 for second place, and $10 for first place).
Another way you can get money from Weegy is by making the company aware of any bugs you find on the site during your time working.
If you find a new bug that hasn't been reported, you get $20.
Experts must have an account balance of $10 to get paid. Weegy pays through PayPal.
It appears as though you can now get paid automatically by Weegy at the beginning of each month as long as you have $10 in your account, unlike before where you had to manually request payout at $20.
What Do Others Say About Weegy?
Like many of these kinds of sites, there's some wavering information about Weegy.
Here are a few of the most common praises and complaints Experts have about the site:
Pro: Fun and Varied Topics
If you're the kind of person who doesn't want to keep talking about the same stuff over and over, day after day, then you'll probably love Weegy.
As an Expert, you can basically answer any question that comes in that you feel like you can give an appropriate response to with a little knowledge and research.
You'll learn new things along the way, and the job will keep things interesting for you!
Pro: It Does Pay
Although many Experts agree they don't make much from Weegy, I have yet to see a report saying it doesn't pay when you have a payment due.
That's always one of the first things I look at when evaluating a site, so it's refreshing to see that Weegy is known for making on-time payments to its Experts.
Con: The Pay Structure is Really Confusing
I got confused learning about how Weegy pays, especially since it changed a lot of its pay structure around after the Google Adsense issue.
Yes, it does pay Experts per question answered and has some monthly contests for them to make more, but overall, the whole model is weird.
It might be difficult for you to guesstimate how much you might make each month with this system, so I suggest just keeping a close eye on the stats on your dashboard and checking to make sure you're getting paid for everything you do on the site.
Con: It Seems to Be Getting Slower
Weegy is still one of the top sites of its kind, but with so many quick and easy ways for people to get answers on the web (hello, Google!), it's becoming kind of an unnecessary thing.
It's not surprising that traffic has slowed down a lot over the years, and I also wouldn't be surprised if we see the shut down of these types of quick question-answer sites in the near future.
How to Become a Weegy Expert
Most Experts say that becoming a Weegy Expert isn't difficult.
To sign up, you can go here to create an account.
Once you do that, you'll need to complete a test for Experts, but most agree that it's relatively easy.
You don't need to look for Weegy.com test answers online to get through it!
The test is mostly based on Weegy's rules and formatting guidelines, just to make sure you understand what's being asked of you.
This is good for you because it can help you have a successful time on the site as an Expert.
If you pass the test, you should hear back from Weegy soon about your acceptance and the next steps.
Once you're all in, you can sign into your dashboard to start accepting questions.
Weegy requires that all Experts be at least 18 years old, but I couldn't seem to locate any information about its location requirements.
You'll, of course, need to have a working computer and internet access to be able to log into the site and start working.
No other equipment is required.
Is Weegy a Legit Place to Earn Cash Online?
Yes, Weegy is legitimate.
You may find accounts from others online complaining about Weegy because the pay is low, but that's to be expected when the site just isn't that busy, so there are limited questions to go around.
However, you won't find complaints of people not getting paid by Weegy or it being a scam because it's not.
There's plenty of proof that the site pays and it pays on time.
Weegy isn't meant to be a full-time income sort of job.
It's just a fun side gig that you can use here and there for extra cash.
Other Question and Answer Sites to Try
Since Weegy isn't the most active site, I thought it would be a good idea to list a few other similar sites that you might get more earning action from:
You can answer questions and write articles in a variety of subject areas for Experts 123.
Some of the categories it offers include parenting, pets, cooking, and crafts.
When you write articles, you'll get paid depending on the traffic you get to each article.
Those who do the best work with their articles can also get promoted to earn a base pay for each article, too.
You'll get paid via PayPal.
Just Answer is, by far, one of the most recommended sites by people who enjoy answering questions.
Unlike Weegy, you'll need to be a proven expert in a subject area, like law, medicine, or car mechanics.
In other words, you'll need to show proof of a degree, license, certification, etc., in order to be accepted to provide answers in your chosen category.
Your pay depends on the subject area you're working in, and Just Answer takes a cut of the price before paying you.
However, you can stand to make quite a bit more here than with Weegy and still have the flexibility to sign in and work when you want.
Wonder is very different than the above sites because you're not simply answering questions posted to a site.
Instead, you'll be expected to conduct in-depth research on a question and answer it, in detail, for the asker.
Wonder says that you can make about $20 an hour, depending on how efficient you are with researching and writing.
This can be an awesome opportunity for people who love learning new things.
Chegg Tutors is an online tutoring platform that connects students with tutors in a wide variety of subjects.
As a tutor on Chegg, you have the opportunity to offer assistance in your area of expertise – this can be anything from math, science, engineering to humanities or business courses.
Students post questions or homework problems they need help with, and tutors provide answers and explanations.
To become a tutor at Chegg, you need to submit an application and prove that you're currently enrolled or have graduated from a university.
Once you're accepted, you can start answering questions, tutoring students, and getting paid for your knowledge.
StudyPool is an online education platform that allows tutors to help students with their homework, assignments, and study materials.
As a tutor on StudyPool, you can answer students' questions, help them with their assignments, and even provide step-by-step solutions for complex problems. The platform covers a broad range of subjects, similar to Chegg Tutors.
To get started as a tutor, you need to fill out an application and meet certain criteria, such as being a university graduate or a current student.
Once you're approved, you can start bidding on student questions and tasks, helping them understand complex subjects, and getting paid for your assistance.
Ether is a unique platform where you can share your knowledge and expertise over the phone or through email.
It's a more flexible platform in that it's not strictly focused on academic topics – you can offer advice or consultation in various fields such as law, health, business, etc.
To start making money on Ether, you need to sign up and set up a phone number through the site. Then you set your rate, which can be per hour or per minute for phone calls, or per email.
When someone wants your advice or consultation, they will call or email you through Ether, and you'll get paid according to your set rate.
This platform is suitable for those who prefer to offer their expertise in a more conversational or consultative manner.
Have you tried Weegy before or are you currently using it?
What has your experience been like?
Feel free to spill the details to help others out in the comments below!
Related Posts:
Earn Everything… nearly!
Join Ipsos iSay, one of the few Faithful and Honest survey panels and earn prizes, gift cards and donations. Stack your points and redeem them: Simple! No hidden fees and completely free!