Work Around Your Schedule with Alorica (West) at Home Flexible Phone Job
Updated on: by Amy Kennedy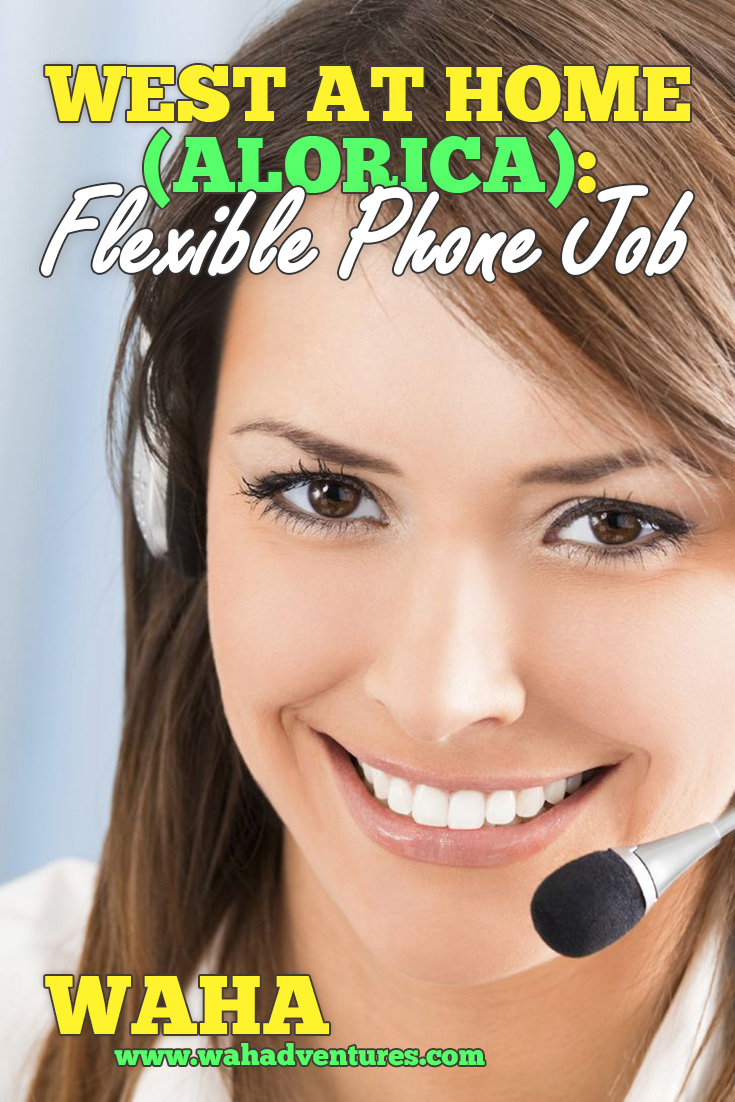 Formerly known as West at Home (westathome.com), Alorica at Home (aloricaathome.net) provides work at home call center opportunities to agents across the United States. The company currently employs thousands of call center representatives who work from the comfort of their own homes.
Need Easy Extra $350+/Month For Free?
Alorica at Home operates from Irvine, California and specializes in outsourced customer service.
In 2015, Alorica acquired West at Home to expand its business into a virtual call center. Alorica currently serves over 200 clients, with most them being Fortune 500 companies.
Working for Alorica (West at Home)
As an at home agent for Alorica at Home, you'll be responsible for a few different types of tasks.
Agents answer phone calls, respond to live chat requests, and answer e-mails.
You'll provide a variety of interactions to customers based on where Alorica at Home feels you fit in best: customer service, sales, or technical support.
With Alorica at Home, you won't adhere to just one of its clients. You could potentially handle several incoming calls or chat requests from customers of different clients in one work day.
Alorica West at Home hires its agents as employees rather than independent contractors, so you'll be included on payroll and guaranteed minimum wage for your state. You'll also be eligible to opt-in for medical and dental benefits if you'd like, but you're required to pay for the benefits.
Below is a summary of the employee perks you can expect when working with Alorica as a home agent: – 
Paid Flexible Training and Overtime Opportunities – 

 

Hourly Pay and Growth Opportunities 

 

Paid Time Off, Jury Duty, and Holidays

 

Medical and Dental Benefits

 

401(k) Retirement Plan – Employees become eligible for the retirement plan after 90 days from recruitment

 

Health Insurance Coverage and Saving Options – Insurance coverage for life, medical, disability, critical illness, dental, pet, and vision insurances. The savings options include a flexible savings account and a health savings account. 

 

Tuition Reimbursement – Up to $1,500 annual tuition reimbursement for full-time employees enrolled in college-level courses

 

Personal Leave – Between two to four weeks of paid personal leave

 

Military Leave – For home agents who serve as members of the armed forces

 

Funeral/Bereavement Leave – Up to 2 paid leave days when an employee loses an immediate family member

 

Worker's Compensation Insurance Benefits – For employees injured on the job

 

California Pregnancy Disability Leave – For California employees who become disabled due to pregnancy, childbirth, or any other related medical condition

 

Employee Discounts through Client Programs

 
What is the Application Process Like?
You can fill out an application online by answering questions about yourself and any related experience you might have. The questions are grouped into general information, disqualification questions, and employment history and education. Also, you will need to provide your eSignature before reviewing and submitting your online application. The online application takes about 45 minutes. 
You'll then complete an assessment so Alorica at Home can place you in the proper division: sales, technical support, or customer service. During this time, you'll also have a say in the type of job you'd like to have with Alorica (West at Home) by ranking your preferences.
Next, you'll complete an online behavioral assessment to determine how you'd handle specific situations that you may encounter each day. Alorica at Home will use this information to ensure that you'd be an excellent candidate for a position.
Alorica notifies applicants the results of the assessment tests via email, direct phone calls, or a letter from the company.Applicants who fail their assessment test may retake them after 6 months.   
If Alorica at Home believes you're a good fit, you'll be invited back for additional screeners related to sales, technical support, or customer service position. If Alorica at Home wants to hire you, you'll receive an employment offer online, which you will need to review and sign.
Depending on the project you're assigned to, you'll either must complete Instructor Led Training (ILT) or Computer Based Training (CBT). Both can be completed online, with ILT led by a virtual instructor, and CBT being comprised of self-guided modules. Both trainings are paid for using an hourly wage.
What are the Requirements?
You must complete the appropriate training before you can begin working on any project. Before you start training, you're required to obtain a background check, which you must pay for. The background check costs $31.95, and you can pay via debit or credit card.
Need Easy Extra Cash?
Pinecone Research, a leading name in online survey panel honesty, absolutely guarantees $3 cash for every survey you complete!
Take advantage of their time limited New Membership drive and register NOW. Join today: 100% free!


Alorica's background check covers the following components: – 
SSN Validation

 

Criminal history

 

Employment verification

 

Education verification

 

Professional references

 

Personal references

 

Motor vehicle records

 

Credit history 

 

Debarment 

 

Fingerprinting

 
Note that your employment offer remains conditional pending the successful completion of the pre-employment background check. Further, confirmed employees may be subject to further background checks due to the following reasons: – 
A transfer or change in job duties

 

Safety or security concerns about the employee

 

Audit recommendation to conduct another background check

 

Post-hire follow up

 
You must be at least 18 years old and have a valid high school diploma or GED to work with Alorica (West) at Home. Other job requirements include: – 
Stellar customer service skills

 

Familiarity with Microsoft Windows, Word, and Excel applications

 

Ability to use phone and computer systems

 

Excellent oral and written communication skills

 

Strong typing skills

 

Strong listening and comprehension skills

 

Ability to stay composed and objective

 

Positive attitude

 
Having prior customer service experience, bilingual language skills, and phone-related customer service skills is a plus.  
You must be at least 18 years old and have a valid high school diploma or GED to work with Alorica (West) at Home.
Geographic Restrictions
Alorica West at Home currently hires in certain counties within the following states:
Alabama, Arizona, Arkansas, Colorado, Florida, Georgia, Indiana, Iowa, Kansas, Kentucky, Louisiana, Maryland, Michigan, Mississippi, Missouri, Nebraska, New Jersey, North Carolina, Ohio, Oklahoma, South Carolina, Tennessee, Texas, Utah, and Virginia. 
Apart from the United States, Alorica at Home accepts applications for work-at-home positions by applicants in Canada, Bulgaria, Guatemala, the Philippines, and Panama. Hence, each work-at-home job offer will specify the preferred state, region, or metro area. For example, a Work at Home Administrative Assistant position may require remote workers based in Irvine, CA, the United States only. In turn, when you begin the application process, the system will tell you if you live in a location where Alorica West at Home hires agents from. 
Workspace Requirements
Since you'll be answering phone calls at home, you must have a dedicated work space free from background noise and distractions. It should also be comfortable enough for you to complete work in for several hours per day.
Typical devices necessary to perform your duties include a computer, a headset, a cell phone, and reliable internet service. In most instances, Alorica provides the necessary devices to the work-at-home employees unless the advertised position is designated BYOD (Bring Your Own Device). Here, WAH employees may use their personal devices to perform their duties. The company reimburses its employees fully for reasonable or necessary expenses incurred when performing their duties.  
Then, consider investing in a comfortable chair and desk with plenty of space for your computer, phone, writing materials, and anything else that will help you through your workday. 
All employees must record their home address with the company. Plus, they should notify the company of any changes in the home address. Besides, Alorica may require an employee to work at the nearest company facility when tackling a specific job for a specific period on an ongoing basis.  
Note that the company reserves the right to inspect the home workspace via scheduled or unscheduled web or online video conference calls, video monitoring, or scheduled onsite inspections. During the virtual audit, the employee is to have their webcam on and may be asked to use a personal smart phone to facilitate the inspections.  
Consider investing in a comfortable chair and desk with plenty of space for your computer, phone, writing materials, and anything else that will help you through your workday.
Technical Requirements
You are required to have a feature-free landline phone. Therefore, your phone should not be attached to a fax machine, or have voicemail, an answering machine, call waiting, etc. It also must be a corded phone to avoid the risk of a dead battery. Alorica West at Home does not allow you to use a cell phone.
Although it's not required, some agents prefer to have two phone lines, with one dedicated solely for their work with Alorica at Home.
In addition to these phone requirements, you're required to have the following computer and internet specifications:
DSL, cable, or fiber optic internet connection
Internet Explorer 10.0 or higher
PC Computer with Windows Vista, Windows 7, Windows 8, Windows 8.1, or Windows 10
Monitor size of 17 inches or more with at least 1024 x 768 resolution
Speakers or a headset connected to computer
Minimum computer specifications: 1 GB RAM and 1 GHz speed for multi-core processors or 1.4 GHz speed for single-core processors
For incoming calls, you must have a headset attached to your phone
Additionally, you might consider creating an e-mail address for correspondence from Alorica (West) at Home, since this will be its main form of communication with you.
Use of Company Property, Data Security and Confidentiality
All property provided by the company or clients to the work-at-home employee for performing their duties remains the property of the company or client, as applicable. Hence, the employee should use this property for Alorica-related business purposes only.  
Second, employees have no right to privacy relating to the company or client property. Hence, Alorica may inspect, monitor, or access such devices as needed for business purposes.  
Next, WAH employees must protect all information they access or receive relating to Alorica, its clients, or customers. Likewise, the employees are to report any unauthorized access, disclosure, or use of confidential information.  
What is the Schedule Like?
Alorica at Home tries to work with its employees as much as possible by offering a flexible schedule. You can log in and begin working when you want, for as long as you want, throughout the day. However, some projects will require you to work at least one weekend day.
Typical work at home tasks include: – 
Talking to customers over the phone, online chat, email, and social media handles

 

Maintaining and updating customer information as needed

 

Resolving customer questions and concerns

 

Calmly de-escalating any issues raised

 

Responding to calls for assistance and processing of credit card authorizations

 

Upselling to customers when appropriate

 

Providing feedback reports on call and training issues

 

Tracking call-related information for reporting and auditing purposes

 
Hence, employees may sit for long periods, wear a headset, and talk most of the day.  
Typical Work from Home Positions Available on Alorica-at-Home
Customer service positions appear under the Customer Experience category on the official Alorica website. The job openings include: – 
Work at Home Customer Experience Agent

 

Work at Home Customer Service Representative

 

Work at Home Financial Care Representative

 

Work at Home Healthcare Customer Service Representative

 

Virtual Customer Support Representative

 
Further, the company may advertise work-from-home jobs that require additional skills as follows: – 
Client Solutions

 

Project Manager

 

Pharmacy Tech Associate

 

Medical Billing Specialist

 

Team Manager

 
How and When Will I Get Paid?
Note that, Alorica work at home staff are employees and not independent contractors. And since you'll be an employee with Alorica West at Home, you will always receive at least minimum wage during the times you work.
You'll typically get paid per minute, per call. But, if you receive a low amount of calls in an hour, you are still guaranteed your state's minimum wage.
If you receive several calls, you could make more than minimum wage. Most Alorica West at Home agents report making, on average, between $9 and $11 per hour.
Earn Everything… nearly!
Join Opinion Outpost, one of the few faithful and honest survey panels and earn cash and gift cards for your opinion. Stack your points and redeem them: Simple! No hidden fees and completely free!


The pay rates for each position are often included in the job postings.  
Alorica at Home pays bi-weekly via direct deposit or Pay Card. 
Then, here are pay and timekeeping guidelines that all Alorica work-at-home employees must observe: – 
Employees must keep correct and complete records of all hours worked 

 

They must review their timekeeping records and paystubs

 

They must identify and notify their supervisor of any incorrect or missing time entries or wages

 

They should refrain from falsifying their time records or working off the clock.

 
What Do Other Alorica West at Home Agents Say?
To find out what other Alorica at Home agents think about the job, check out reviews on Glassdoor, Indeed, and CareerBliss.
These West At Home reviews tend to be the most honest and unbiased, from both current and former employees.
Pros:
If there's one benefit most current and former Alorica West at Home agents can agree on, it's the flexible schedule.
Most agents consider this to be the best perk of the job. Agents can create their own schedules to coincide with their lives, whether they need to work around another job, school, or family.
Agents also say that, for the most part, the pay rate is fair.
Unlike other call center companies that hire agents as independent contractors and only pay agents per talk minute, Alorica at Home hires them as employees. Therefore, they're entitled to minimum wage, regardless of how many calls they receive.
Cons:
Some agents state that the training materials are far from useful and, instead, they learned more about the job by completing a few shifts. They also say that upper management isn't as helpful as they'd like it to be if agents encounter any issues.
Other agents say that there's not much room to move up within the company, even if you excel at your job.
More complaints focus on the scope of the job itself. Agents dislike the fact that they often must deal with rude customers to get paid, although this tends to be more of a problem with the Alorica at Home customer service positions than sales or technical support.
How Can I Apply?
You can apply for a position with Alorica West at Home by visiting its website and filling out its online application.
I suggest browsing the website before you apply, since it provides a lot of information for you to familiarize yourself with regarding its positions. That is, enter a keyword in the search query to narrow your search of the available work-at-home opportunities. Click "Search Openings" to view a list of the current job openings.  
How to Opt Out of Alorica at Home
Step 1: Check Your Contract
Before taking any action, review the terms and conditions of your contract with Alorica at Home. There may be specific requirements you need to follow to properly terminate your agreement.
Step 2: Write a Formal Resignation Letter
Once you've checked the terms of your contract and decided to proceed, write a formal resignation letter. In this letter, include your full name, address, and the date. Clearly state your intention to resign and include your final working day (as per your contract's notice period).
Step 3: Send the Resignation Letter
Send the resignation letter to your supervisor or the relevant person in human resources. Depending on the company's procedures, this could be via email or a physical letter. Make sure you keep a copy of this letter for your records.
Step 4: Confirm Receipt
Follow up to ensure your resignation letter was received and acknowledged. The person to whom you sent the letter should provide confirmation.
Step 5: Fulfill Any Remaining Obligations
Depending on your contract, you may need to continue working for a certain period, return company property, or fulfill other obligations. Ensure you complete all of these to avoid any potential legal issues.
Step 6: Keep a Record
Keep a record of all correspondence and actions related to your resignation. This includes your resignation letter, any responses you receive, and notes about any related discussions.
Related Posts:
Earn Everything… nearly!
Join Ipsos iSay, one of the few Faithful and Honest survey panels and earn prizes, gift cards and donations. Stack your points and redeem them: Simple! No hidden fees and completely free!