Work at Home Moms Deserve a Gold Medal
Updated on: by Miranda Grimm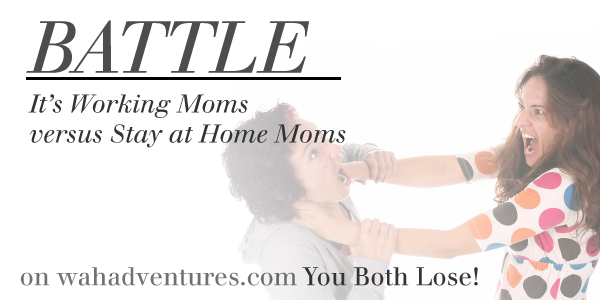 Need Easy Extra $350+/Month For Free?
This rant of mine began over on Facebook. And like usual, when I feel the need to type someone's head off I realize the energy is better spent in a blog post. Plus my ranting will get to live on forever this way. Of course, sometimes that can be embarrassing. But I digress.
While reading a blog post on another site I found myself yelling at my monitor as a heated debate ensued.
SAHM versus Working Mom
Debate Topic: Who has a harder life?
The Working Mother
One argues that a a Working Mom trying to balance a 40 hour work week while still making dinner, cleaning house, running kids to gymnastics and getting groceries is so much harder than being a stay at home mom who gets to enjoy a lunch out with her girlfriends after a play date at the playground. According to this person, there is no excuse for a stay at home mom to have a dirty house. Ever.
The Stay at Home Mother
Of course, several well spoken stay at home moms defended themselves with the obvious. Of course a working mom's house can stay clean– no one is home all day! Hey, life is hard to keep up with when you are running around caring for children and a house 24/7. There is no break and no end! Many stay at home moms would love to get a break and go to work once in a while!
The Working Mother tries to make a come back by asking just why then do moms 'allow their children to destroy their homes'…. do I really need to say anything? Is this 'working mother' really a mother or is "she" just a man using a woman's disguise online??? hmmmm…..
Read more:
I can easily end this debate.
Want to know who has it harder? Neither the Working Mother or the Stay at Home Mother. The real group of moms who have it the hardest are the WORK AT HOME MOMS!!! End of story!
Well, not really the end of story. I can't pass up this opportunity to explain how friggin' hard this is!!!
Try being a stay at home mom while also managing a full time job from home. How is this possible? I don't know! Please! someone tell me!
I think I am running on auto pilot most days. As a Work at Home Mother, responsibilities never ever ever ever end. There is no break after the kids go to sleep. That is the best time to be working! There is no dropping off your three year old to someone who is engaging, educating and entertaining her while you go to a quiet office to work. As a Work at Home Mom you have the responsibility of somehow NOT neglecting your kids while you try to get a few hours of work in at every possible moment. Which really just means you can never fully focus on work because you're sitting in your filthy house with a child begging you to look at her while she attempts a back flip off the couch, a husband who is upset that he has no clean jeans, a cat scratching up the walls, a phone vibrating that someone is messaging you on Facebook (could be your client), the clock running down because its almost time to pick up your 6 year old from school and you just realized you never made lunch!
That is the reality of being  a work at home mom. Well, that is MY reality at least. But I will finish this with a very clear and resounding statement:
I Would NEVER Give it Up!
I fought hard to be able to work from home. I built my career from absolutely nothing. I have amazing children and my husband respects and adores me. Yes I am exhausted and I actually just realized last week that I turn 30 this month. Don't ask me what that has to do with any of this, it adds to my stress level. But regardless. I love my life.
Related Posts:
Need Easy Extra Cash?
Pinecone Research, a leading name in online survey panel honesty, absolutely guarantees $3 cash for every survey you complete!
Take advantage of their time limited New Membership drive and register NOW. Join today: 100% free!


Earn Everything… nearly!
Join Ipsos iSay, one of the few Faithful and Honest survey panels and earn prizes, gift cards and donations. Stack your points and redeem them: Simple! No hidden fees and completely free!