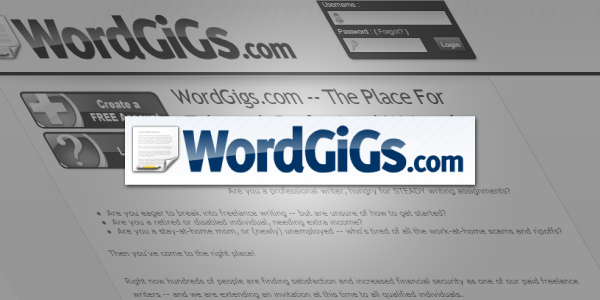 Need Easy Extra $350+/Month For Free?
WordGigs is a content mill that seems to have as many enemies as it does fans.  Those that love it really love it and do great there, and those that hate it hate it with a passion and let everyone know.
All About WordGigs' Pay
Pay from WordGigs is monthly via PayPal.  There are three different types of writing assignments offered at three different rates of pay.
These include:
Blurbs:  Blurbs are 100 words and require no research.  They pay $.75 each.
Mini Posts:  Mini Posts are 200 words each and require a maximum of 5 minutes of research.  The client is required to provide one URL for research purposes, and these pay $2.00 each.
Articles:  Articles are between 350 and 400 words.  They require a maximum of 10 to 15 minutes of research, and clients are asked to provide at least one URL for research purposes.  These are based around keywords or keyword phrases that must be included 3 to 6 times, and typically articles are 3 or 4 paragraphs long. The pay for Articles is $4.00.
While these pay rates seem low, there are some writers that report making $300 dollars a week, give or take.  It comes down to how fast you can write and how much is available to write.  At the time I am writing this, there are no projects posted, but I may not be able to see them because I have not completed training.
A 1099 and a PayPal address are required before first payment can be received.  I found no mention of minimum earnings for payout.
Training
There is at least one video that is required as training to write for WordGigs.  Older posts in forums stated there were 3- 20 minute videos, but the one that popped up for me to was around 43 minutes, so this must have changed.  The key is, the time to watch any video is of course unpaid, and 40 minutes is a good bit of unpaid time.  If I get around to watching I'll report back, but until then feel free to let us know anything you can in comments below if you have watched.
Applying to Write for WordGigs
You must provide a PayPal address, as well as an email address to create your free account.  There is a quiz that must be taken and passed in order to finalize your account.  They are clear that if you do not pass you will not be allowed to retake it or create a new account.  I did take the test, and it is not hard.  It appears to be designed to enforce their policy of only hiring native English speakers that live in the United States.  If you completed Jr. High English, you should be able to pass.  Of course, be sure to eliminate distractions and pay attention.  Mistakes happen no matter how easy the quiz is, and there are no second chances.
Conclusion
The biggest complaints people have expressed about WordGigs is the low pay per assignment and the lack of pay for training.  Really however, the pay seems to be pretty equivalent to most other content mills, and many do not pay for training if any is even offered.  I have read numerous style guides on other content sites that take quite a bit to look through, and that time is never paid.  The conclusion of this reviewer is that this could be a good egg for your work-at-home basket.  It is a legitimate company that appears to pay on time.  There is question as to how much work is available, so do not plan to make a fortune, but if you have the time to watch the video there is no harm is checking it out.
Editor's Note:
Hi there, Miranda here. I would like to take a second to share my brief experience with WordGigs and why I chose to quit. In addition to the low pay- what stirred up my frustration about WordGigs was the way they treated their writers. Emails were sent out that were highly demeaning. I was in shock by the words chosen in the training material at that time (highly sexist) and the complete lack of respect in the emails that were sent to all writers. Of course, different personality types may not be as effected by the management team at WordGigs and their choice of words. I however, felt there were better options.
Need Easy Extra Cash?

Pinecone Research, a leading name in online survey panel honesty, absolutely guarantees $3 cash for every survey you complete!
Take advantage of their time limited New Membership drive and register NOW. Join today: 100% free!


Related Posts:
Want more money?

Easy Extra Cash! Join the famed Nielsen Computer and Mobile Panel site, install the app and earn rewards just for using the Internet as you do today! Nielsen gives away $10,000 each month.
Guaranteed 100% free membership.