Work at Home with Amazon! 14 Jobs You Can Start from Your Home Office
Updated on: by Amy Kennedy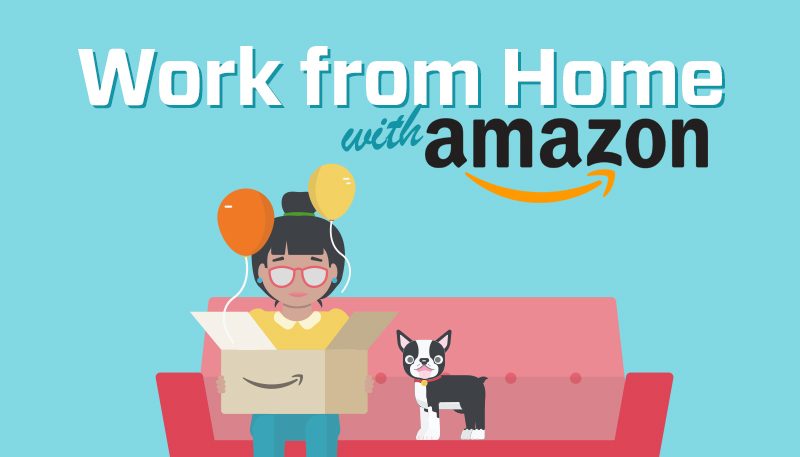 Can you think of any better part-time or full-time holiday work than working for e-commerce giant, Amazon, from your home office?
Need Easy Extra $350+/Month For Free?
I can't!
Although Amazon does have some customer service jobs available through the year that allow people to work from home, the company seeks to fill several more positions close to the holidays every year.
Interestingly, a lot of people have no clue that Amazon even has any work from home positions available!
On the Amazon Jobs page, you can search through open listings to see if the company has any remote positions available right now.
But, your best bet is to wait until the summer when Amazon starts looking for seasonal employees to hop on board, helping to fulfill customer service requests when the company is at its busiest, from September through the first of the new year.
If you do an excellent job, you might even find your seasonal position turning into a full-time position all year!
Amazon is known for allowing its best seasonal employees to become all-year employees.
If you've always dreamed of working with a company like Amazon, especially from home, then stick with me as I explain how all this works, what you'll need and do, and how to find the jobs.
Score Amazon Seasonal Work from Home Jobs!
Amazon has steadily been one of the fastest-growing companies in the world, so it seems like it has new jobs to fulfill all the time.
Take one look on its jobs search page and you'll see what I'm talking about.
Although most of Amazon's jobs are in its warehouses or office buildings, the company does offer some remote positions for customer service workers.
Since Amazon is an e-commerce business, it makes sense to have much of its customer service taking place online too.
What are the Jobs Like?
The specific jobs may vary a bit, as some are catered toward bilingual representatives or have other specific requirements, but most of the work from home jobs for Amazon are customer service-based.
You'll do things like help customers with their ordering needs, solve payment issues, answer questions about shipping, handle returns, and mediate customer complaints with sellers.
Amazon has full-time and part-time seasonal positions available.
Need Easy Extra Cash?
Pinecone Research, a leading name in online survey panel honesty, absolutely guarantees $3 cash for every survey you complete!
Take advantage of their time limited New Membership drive and register NOW. Join today: 100% free!


For some positions, you may work up to 60 hours a week, if desired, to help the company handle the boosted business it sees around the holidays.
Your pay can vary depending on where you're located, your experience, and your exact role with the company.
However, in most cases, remote workers for Amazon make at least $10 per hour and you'll get paid for training.
Some positions will even provide you with a company laptop to use for work!
What are the Requirements to Work for Amazon from Home?
Again, the exact requirements for your job will depend on the specific role.
However, most jobs working remotely with Amazon will require you to:
Be at least 18 years old
Have at least a high school diploma, GED, or equivalent
Live in a specific state
Have an updated and functioning computer and high-speed internet connection
Have basic knowledge of computers, email systems, and other technical requirements
Know how to use a live chat or messaging programs
Have an upbeat, friendly attitude with a helping mindset
Be open to working a flexible schedule that includes some holidays, weekends, and evening hours
Remember that these jobs can be demanding since you'll be working through Amazon's busiest days of the year.
You'll need an open mind and a lot of drive to have success at one of these work from home jobs.
It goes without saying that you must be a motivated worker who doesn't need someone else staying on top of you to get things done.
On the plus side, Amazon will typically provide you with any extra equipment that you might need, like a headset, to begin your work.
Amazon's Seasonal Jobs
Ready to delve into the actual jobs?
There are several types of customer service jobs that Amazon hires around the holidays, but I'm going to talk about some of the more popular ones that might pique your interest.
You'll find most of these listings toward the beginning or middle of summer when Amazon ramps up its efforts to get plenty of customer service reps in place before the holidays arrive.
Keep the Amazon Jobs page bookmarked for easy reference to check occasionally for these positions.
Full-Time Seasonal Customer Service Associate
The full-time seasonal Customer Service Associate is one of the most common types of seasonal jobs you'll find with Amazon.
This one requires you to live in one of several states (Amazon will let you know the details in its listing).
You'll need to go through a few weeks of training but the training is paid and you can do it all online.
You'll receive a couple of dollars less per hour for training, but after training, you'll go to your regular hourly rate, which may vary depending on your location.
These positions are best for people who want as many hours as possible because you may work up to 60 hours per week.
The positions will last about six months through Amazon's busy holiday season.
After completing your temporary job, you may be eligible to be hired for the rest of the year by Amazon.
According to some reports online, thousands of seasonal employees can potentially end up becoming permanent work from home employees with Amazon after completing their seasonal jobs!
The full-time Customer Service Associate jobs may sometimes also be labeled as "Military Preferred", meaning that military service members and their immediate families will have preference for the jobs.
Part-Time Seasonal Customer Service Associate
As a part-time seasonal Customer Service Associate with Amazon, you'll have most of the same duties as those in the full-time position.
This position, however, may not swoop you into a year-round position with Amazon as easily.
It seems that Amazon tends to hire more full-time seasonal employees for these full-year positions because of their availability.
That doesn't mean you can't though.
Amazon does have all-year part-time customer service positions too.
As a part-time representative during the seasonal peak period, you can expect to work somewhere between 20 and 29 hours each week.
Earn Everything… nearly!
Join Opinion Outpost, one of the few faithful and honest survey panels and earn cash and gift cards for your opinion. Stack your points and redeem them: Simple! No hidden fees and completely free!


However, during the busiest holiday period (around November and December), you may be required to work up to 40 hours a week.
These positions are somewhat flexible, though, so it's possible that you can work with Amazon to come up with a schedule that best fits your needs.
Amazon also has some Military Preferred versions of this job.
Bilingual Seasonal Customer Service Associate
Amazon needs representatives that can communicate with all of its customers all over the world, which is why it also has several bilingual positions for Customer Service Associates.
These positions will require representatives to be fluent in at least one other language in addition to English.
Bilingual representatives tend to make a higher hourly rate than regular representatives for their skills and since they'll basically be playing double-duty as a rep!
Bilingual reps are typically hired in specific states only.
Fluent Seasonal Customer Service Associate
A little different than the bilingual seasonal Customer Service Associate is the fluent representative.
The fluent representative must be fluent in a specific language needed by Amazon, like Dutch, French, or Spanish.
This position has basically the same requirements as regular representatives and can be full-time or part-time work.
However, Amazon offers these positions to people all over the world to work from home.
They're typically hired from the countries that speak that language natively, but you can always check the job description to see if Amazon will hire you in your country.
Virtual Customer Service Associate
As a Virtual Customer Service Associate at Amazon, you will handle customer inquiries and provide support via phone, chat, and email.
This role involves assisting customers with order-related issues, product inquiries, troubleshooting, and general assistance.
Virtual Customer Service Associates must have strong communication skills and be comfortable using various online tools and systems.
This position offers flexibility in scheduling and is typically available as a seasonal opportunity.
Seasonal Work-From-Home Delivery Station Liaison
The Seasonal Work-From-Home Delivery Station Liaison plays a crucial role in coordinating the delivery process.
You will be responsible for addressing customer concerns, resolving delivery issues, and ensuring smooth operations at the delivery station.
This position requires excellent problem-solving and communication skills, as you will be interacting with drivers, customers, and internal teams.
It offers a mix of customer service and logistics-related responsibilities, making it a dynamic seasonal job.
Other Non-Seasonal Work from Home Jobs with Amazon
Amazon does have some other work from home jobs that aren't seasonal, meaning you may be able to land one with the company any time of year!
These positions tend to have more requirements than the customer service associate positions because they're more technical in nature.
Still, I thought I'd list them here to give you some more options if you're reading this outside of Amazon's seasonal peak periods and still want to find a work from home opportunity.
You can search for these jobs on Amazon's Virtual Locations jobs page.
To make sure the position allows working from home, you can select the Work from Home filter to narrow the results.
Senior Technical Account Manager
The Senior Technical Account Manager handles a lot of tasks related to Amazon Web Services and the customers who use them.
Basically, you'll assist startups and Fortune 500 companies with utilizing Amazon Web Services to its full potential for their businesses.
You'll need a bachelor's degree in math, computer science, or a related field.
You'll also need at least 7 years of experience with related tasks in a professional setting.
This position isn't 100% work from home, but the majority is.
You'll be expected to travel about 10% of the time, but up to 25% may be required.
Amazon Web Services Sales Representative
Similar to the Senior Technical Account Manager role is the Amazon Web Services Sales Representative.
Rather than acting as an advisor to AWS clients, though, you'll be in charge of selling Amazon's services to potential clients, or upselling services to current clients.
You'll need at least 10 years of sales experience with technology-related products or services and a bachelor's degree in sales, business, or a related field.
Since you'll have to search for new prospects, some travel will be required for meeting and finding new clients.
Customer Success Manager
The Customer Success Manager sounds like a typical customer service position for Amazon, but this job instead focuses on providing customer service for Amazon Web Services clients.
There are both English and bilingual positions available.
This position will require some sales experience as well as excellent customer service skills.
You'll need at least six years of experience in sales and/or customer service, and a bachelor's degree.
Some travel will be required, but only about 10%.
Content Developer
As a Content Developer for Amazon, you will contribute to the creation of engaging and informative content for various platforms.
This role involves researching, writing, and editing content that aligns with Amazon's brand and objectives.
Content Developers may work on projects such as blog posts, product descriptions, marketing materials, and more.
Strong writing skills, creativity, and attention to detail are essential for this role.
This position offers the opportunity to work remotely and collaborate with a diverse team of content professionals.
Remote Recruiter
The Remote Recruiter position at Amazon involves sourcing, screening, and hiring candidates for various roles within the company.
You will leverage online platforms, conduct interviews, and collaborate with hiring managers to identify top talent.
This role requires strong interpersonal skills, the ability to evaluate candidates' qualifications, and familiarity with recruitment strategies.
Remote Recruiters play a vital role in building Amazon's workforce by finding suitable candidates who align with the company's values and requirements
Finance Data & Reporting Analyst
The Finance Data & Reporting Analyst is another work from home position that Amazon provides for full-time employees.
This position will require you to analyze financial reports, organize data, and basically find ways for Amazon to be as efficient as possible with its costs.
The requirements for this job include:
Bachelor's degree in computer science, logistics, finance, or business administration (or closely related field)
Strong self-auditing ability
High school diploma or equivalent
Microsoft Excel skills
Ability to work a flexible schedule.
Read More: 
Top 3 Legitimate Ways to Work from Home with Google
30 Top Online Jobs for Pregnant Stay at Home Moms
80 Legitimate Ways to Make Money Online from Home in 2018
Conclusion: Amazon Hiring Work from Home Associates!
Amazon has plenty of jobs available for beginning professionals to experts, but not all of them are work from home.
You can expect that when Amazon does have work from home positions available, they go quickly!
Amazon is one of the highest-rated places to work for and working from home for the company is like a dream come true for many.
If you do decide to apply for a position, be sure to update your resume and make your cover letter stand out as much as possible.
You don't want to get lost in a sea of applicants!
Do your best work during your seasonal job and you might just find yourself as a permanent Amazon work from home employee.
Good luck!
Have you ever worked for Amazon in one of its seasonal positions?
What did you think of it?
Do you have any tips to share with others who might be interested in applying?
Let us know in a comment below!
Related Posts:
Earn Everything… nearly!
Join Ipsos iSay, one of the few Faithful and Honest survey panels and earn prizes, gift cards and donations. Stack your points and redeem them: Simple! No hidden fees and completely free!