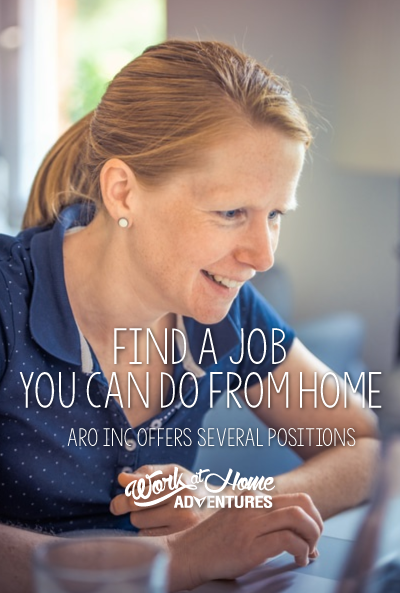 ARO Inc. hires employees to work from their home providing services for various industries that may include insurance, healthcare, and pharmaceutical companies.  Positions are offered in several different avenues:
Need Easy Extra $350+/Month For Free?
Customer Service: Customer service employees answer inbound and outbound calls.  No cold calling or telemarketing is involved in this position.
Premium Auditors: Phone auditors perform premium audits for Property and Casualty insurance. These audits are strictly conducted over the phone. All documents and materials are entered via ARO websites.
Sales: Sales Representatives are responsible for maximizing sales and growth of the insurance and finance service division.
Marketing/Telesales:  This position involves selling current products to the customers of ARO's clients. (Sales experience is required for this position)
Application Process
To apply to be a remote employee, visit the career section of the ARO website. After your information is received, you will get a confirmation email. ARO hires across the 50 states, but may not always have positions available in all locations.  You must meet certain home requirements and qualifications to be considered for any position. If positions are available in your area, you will receive another email inviting you to complete and application and phone interview. If your interview is a success you will be asked to join the ARO team.
Training
Training is completed at either a corporate location or via the internet. This training lasts for 3 to 8 hours per day for approximately 6 to 10 weeks. (Depending on the client you are working for) Training is paid at the same hourly rate that your position pays.
Scheduling
Scheduling at ARO is not as flexible as some work from home positions.
All shifts are on a set schedule. Although this means there is less flexibility, it often means there is a higher level of stability. This is important when your income is relied on, especially to ensure bills are paid on time.
These shifts will vary depending on the client you are working for. Both part time and full time work from home employment opportunities are available.
Compensation
Pay rates are not listed for ARO, and will vary depending on the client you are working for.
Technical Requirements
You must have high speed internet to work from home for ARO. As with nearly all home based call center jobs, you will be required to have a quiet work area, as clients are required to have noise-free backgrounds while working.  ARO does not provide any equipment or computers.
ARO Online Reviews
There are a few reviews from past/current employees of ARO at Glassdoor. These reviews are pretty neutral, rating their experience a 3 out of 5 stars. The overall vibe I feel from the reviews I have looked over, is that it is a company trying but still has flaws.
The reviews at Indeed are similar. However, there are more of them and they give ARO a 3.8 out of 5 stars.
Related Posts:
Need Easy Extra Cash?

Join e-Poll, one of the few faithful and honest survey panels and earn cash - paid via PayPal - gift cards for Amazon, Best Buy, iTunes, Starbucks, and Walmart, plus Retail e-vouchers.
The surveys are aimed at entertainment-related research, covering such things as personal TV watching habits, give feedback on new TV commercials or to review DVDs that are sent to your home.
For USA residents aged 13+. No hidden fees and completely free!


Want more money?

Join Surveyo 24 #1 paid survey site. It's easy - complete a survey and receive payment. No hidden fees and completely free!