70+ Best Work at Home Jobs That Do Not Require Background Checks in 2023
Updated on: by Amy Kennedy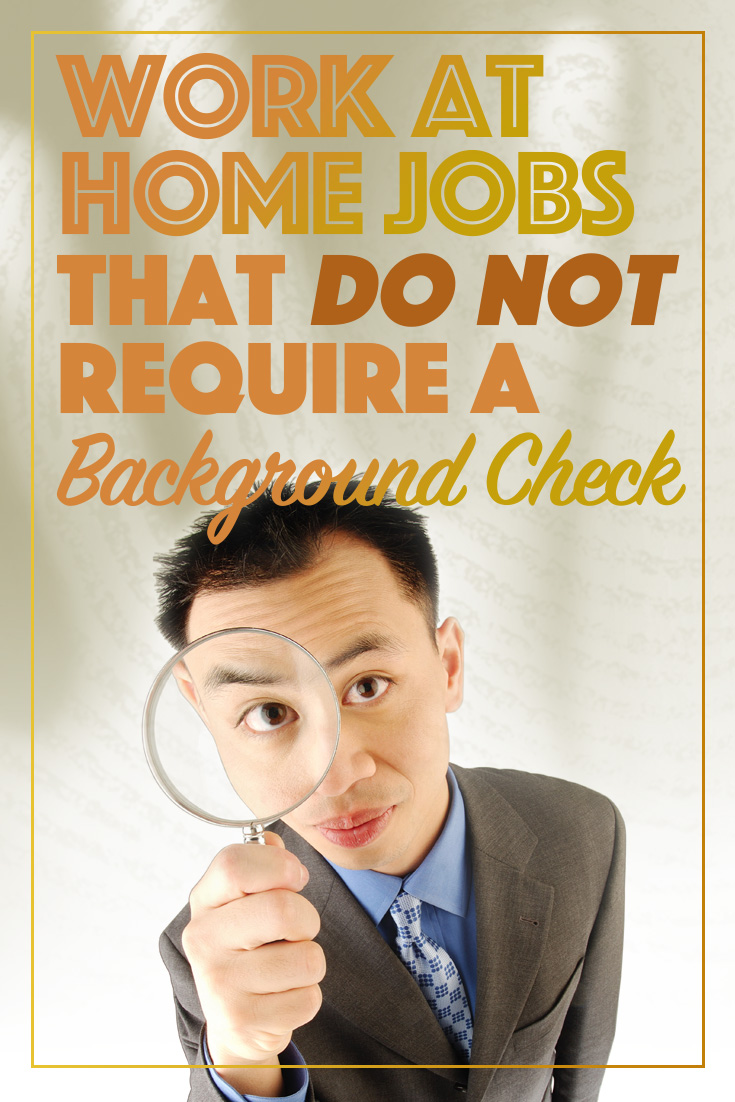 Looking to work from home without the expense and hassle of acquiring a background check?
Need Easy Extra $350+/Month For Free?
Background checks can tack on a few days to the application process, and if you want to start work immediately, that can mean a few days of missed work.
Arrest Versus Conviction History
Arrest records are not usually looked at with as much concern as conviction records.
However, a potential employer may still want an explanation about previous arrests even if the applicant was not convicted.
Some States Have Outlawed Criminal Background Checks
Thirteen states are following a "Ban the Box Fair Hiring Law". The details of each state's laws against criminal history discrimination varies.
The states currently involved with the Ban the Box campaign include: CA, CO, CT, DE, HI, IL, MA, MD, MN, NE, NJ, NM, RI.
In addition to the statewide bans, many local counties and or cities have adopted similar laws.
You can easily check each state's and region's laws regarding criminal background checks through the National Employment Law Project's pdf file.
Employers are expected to follow the hiring laws of their own local region versus those of the applicant.
Therefore, knowing your own state's requirements may not be helpful. You will need to know those of the company you are applying.
Credit Checks
Companies may want to look at your credit history to determine if you are responsible, reliable or safe.
This practice is becoming less and less common as the economy has taken a nose dive in recent years.
Most virtual call center companies are understanding that credit history is not a reliable way to characterize their applicants.
However, if you are faced with a company requiring to look at your credit history; you can get your credit report and fix any mistakes before an employer sees it.
To get your free credit report, visit www.annualcreditreport.com or call 1-877-322-8228.
You don't have to buy anything, or pay to fix mistakes.
Need Easy Extra Cash?
Pinecone Research, a leading name in online survey panel honesty, absolutely guarantees $3 cash for every survey you complete!
Take advantage of their time limited New Membership drive and register NOW. Join today: 100% free!


Or, if this is a concern for you, apply only to companies who do not require a credit history check.
What You Should Know
There are some points every employee should be aware of before applying to a company that requires background checks. If a company is requiring a background check early in the hiring process, it could be a sign of potential discrimination. Legitimate background checks should only be conducted toward the end of the hiring process, after an applicants ability has been judged by experience and education first.
Employers that obtain an applicant's or employee's criminal history information from consumer reporting agencies (CRAs) also must follow the Fair Credit Reporting Act (FCRA). For example, FCRA requires employers to:
Get your permission before asking a CRA for a criminal history report;

Give you a copy of the report and a summary of your rights under FCRA before taking a negative employment action based on information in the report.

Send you certain notices if it decides not to hire or promote you based on the information in the CRA report.
http://www.eeoc.gov/laws/practices/inquiries_arrest_conviction.cfm
Should You Pay for Your Own Background Check?
Every company and their clients can have different requirements for background checks and payment.
It is up to you if you are willing to pay for the background check.
Many companies will absorb the cost but some do not.
If you are asked to pay a background fee, be sure it is done at the end of the hiring process, after a position is secured (pending you pass the inspection).
On average, you can expect to pay anywhere from $15-50.
If you are asked to pay more, be sure to clarify the reason.
How to Find No Background Check Jobs
It's usually easier to find jobs without background checks for independent contractor positions, rather than employee positions.
As an online employee, you're treated the same as an on-location employee, and most business nowadays require background checks.
As an independent contractor with his or her own business, a company usually will not require a background check.
Most of the jobs on this list will, therefore, be independent contractor or freelancer positions.
List of Jobs with No Background Check 2023
Product Testing & Surveys
Swagbucks (Review) – Earn Swagbucks from cash back on purchases, watching videos, playing games, taking surveys, completing cash offers, and more. You can redeem Swagbucks for a variety of prizes, including PayPal cash.
Pinecone Research (review) – Pinecone Research pays you for surveys and to test out new products before they hit the market. You can redeem your earned points for prizes, cash, or gift cards.
InboxDollars – Take surveys, play games, complete cash offers, and more. InboxDollars pays you when you have at least $30 in your account.
Ispos I-Say – This survey panel lets you provide opinions on products, advertising, brands, and more. Turn in your points for a variety of gift cards and other prizes.
National Consumer Panel (Review) – You'll scan purchased items with a barcode scanner sent to you by National Consumer Panel. The product info gets sent directly to NCP, you accumulate points, and you can redeem your points for prizes.
Survey Spot – Survey Spot is one of the most popular survey websites. Earn cash from taking surveys. Even if you don't qualify, you'll get entered into a cash sweepstakes.
Toluna (Review) – Toluna offers paid surveys and the chance to test new products before they hit the shelves. You can participate on the website or mobile app for iOS or Android.
Surveys are great ways to make money without having a job. Click here to find out more ways!
Gigs & Tasks
Slice the Pie (Review) – If you love reviewing music and fashion, sign up for Slice the Pie and get paid for it. You can get paid more if you have in-depth, thoughtful reviews.
AccuTran Global (Review)– Provides transcription services to its clients. You can sign up as an independent contractor for transcription, captioning, and more.
Amazon mTurk (Review) – Complete small microtasks, mostly in the data entry realm, for a few cents to a few dollars per task. Transfer your earnings to your Amazon Payments account or your bank account in just a few days.
Cass Info – Seeks work at home Invoice Payment Specialists who can complete data entry tasks efficiently. Must live close to Bridgeton, MO office for 10 to 14 weeks of training before working from home, and will occasionally need to attend trainings and meetings.
Earn Everything… nearly!
Join Opinion Outpost, one of the few faithful and honest survey panels and earn cash and gift cards for your opinion. Stack your points and redeem them: Simple! No hidden fees and completely free!


Clickworker (Review) – Tag images, edit text, and complete other small tasks with Clickworker as an independent contractor.
Humanatic – You'll listen to calls between customers and customer service representatives and provide your feedback. Work as much or as little as you want and receive earnings with PayPal.
Microworkers – Provides micro jobs, like social media posts, surveys, and transcription work. You'll be a freelancer using the system, so no background check is required.
OneSpace – OneSpace has a variety of jobs posted by clients, from writing to surveys and quality assurance. All approved work gets paid by the next business day with PayPal.
Rev (Review) – Rev hires freelancers for transcription, captioning, and translation work. You choose your projects and schedule and get paid weekly with PayPal.
Scribie – Scribie enlists the help of freelancers to complete its transcription tasks for clients. You'll need a good understanding of different accents, as many speakers in its audio files have accented English.
Short Task – Short Task is a good place to find short, flexible micro jobs without a background check. Get paid as soon as a client approves your work.
The Smart Crowd – The Smart Crowd has big-name clients, like Adobe, Pearson, and Nokia. You'll work as an independent contractor on small jobs posted by the clients, but it's mostly data entry-type work.
TranscribeMe (Review) – Transcribe short pieces of audio as an independent contractor for TranscribeMe. You're paid via PayPal once work is approved.
Here are a few of my favorite online gigs.
Customer Service Jobs
Active Network (Review) – Hires reservation agents for sporting events. Seasonal position with potential to turn into full-time, year-round employment. No background check is listed in the requirements.
Cruise.com – Hires online support agents and cruise sales agents. Must attend an online training and have at least 1 year of cruise sales experience, but no background check is mentioned in the job description.
Fancy Hands (Review) – Complete short tasks for clients as a virtual assistant, including scheduling meetings, taking phone calls, and more. Pay ranges from $3 to $7 per task.
Needle (Review) – Help online shoppers find what they're looking for as a Needler. Simple application process and you can work when you're able. You'll earn points, which you can then redeem for prizes, including gift cards.
NexusOp (Review) – Hires independent contractors to provide customer service for clients, no background check necessary.
Pleio GoodStart (Review) – You'll make outbound calls to patients to help them with any healthcare questions they have. Does not currently hire in Ohio, Washington, Wyoming, or North Dakota.
U-Haul (Review) – U-Haul is one of the top employers of home-based reservation agents. This is a seasonal position for 8 to 14 weeks of the year. Earn $10 per hour plus bonuses after you complete 4 weeks of online paid training.
Ver-A-Fast (Review) –Contact customers of newspaper clients on a flexible schedule.
VoiceLog –Hires Live Operators for $8.50 per hour on shifts between two to six hours long. Must work at least 20 hours per week. You'll be an independent contractor with no background check needed.
Working Solutions (Review) – Provide call center services to Working Solutions clients. You can choose the projects you want to work on, and projects determine your pay.
Find more online customer service and reservation agent jobs!
Freelance Jobs
99Designs – This freelance marketplace is specifically for freelance designers and clients in need of their work. Sign up and submit ideas to clients based on their needs and vision for a design. If the client picks your design, you get paid.
Fiverr (Review) – Fiverr is a great place to post your own gigs using your skills, like website design, writing, or video editing, and get paid consistently by people who want you to work for them. Choose your prices, deadlines, and more.
Guru – This freelance marketplace lets you browse job postings by clients in a variety of skill areas, like programming, article writing, or customer service.
MediaBistro – MediaBistro is a great place for freelance writers and journalists to find work.
PeoplePerHour – This freelance marketplace helps clients and freelancers match up with each other to complete open projects.
Upwork – Probably one of the best and most active freelance marketplaces, Upwork always has new job postings available in a variety of freelance categories. The more you work and get high ratings by clients, the better your chances of getting hired by more clients for future work.
Click here to learn how to manage your freelance clients
Tutoring Jobs
Cambly –  Cambly is an English language tutoring service that doesn't require a background check. You just have to prove your exceptional English skills and get paid to chat with English language learners. Pays 17 cents per minute of tutoring.
Just Answer (Review) – Sign up to be an Expert on Just Answer providing answers in different areas of expertise. You'll need information about your diploma and any certifications when you apply.
NiceTalk – Speak with English language learners around the world with NiceTalk. Tutor when you're able to. You'll just need to provide a short interview video and answer some English questions to get started.
Studypool – Provide homework and study help to students by bidding on their questions. Set your own deadlines and rates, no degree or background check required.
These websites pay you to answer questions in your areas of expertise!
Website & Search Evaluation
Leapforce (Review) –  Get paid to evaluate search engine results to help improve user experiences. You'll be an independent contractor, so no background check is required. You'll need to pass a lengthy exam to get hired.
TryMyUI – Get paid $10 per 20-minute website evaluation. Pays every week with PayPal.
UserFeel (Review) – Website tests take about 15 minutes and you'll need to adhere to all the guidelines outlined for the test. Pays $10 per test, and you'll receive it weekly through PayPal.
Userlytics (Review) – Worldwide testers can sign up to evaluate website performance with Userlytics. Get paid $10 per test, which you can get immediately once it's been accepted.
UserTesting (Review) – UserTesting website tests pay $10 per 20-minute test. Some tasks focus on apps as well. You'll need to voice your thoughts clearly and complete each step thoroughly.
WhatUsersDo (Review) – You can test about 3 to 5 websites per month with WhatUsersDo. Testers get paid on the 25th of every month with PayPal and make about $10 per test.
Here are some more website testing jobs and search evaluation jobs!
Writing Jobs
About.com  – If you have a specific area of expertise you can write about, consider applying to be an expert for About.com. The website uses independent contractors for its content.
BlogMutt  – Freelancers can sign up to write for clients on BlogMutt. You'll earn more as you move up the levels, which you can do by writing articles and getting your articles accepted.
Blue Mountain Arts – You can apply to write poetry or prose for Blue Mountain Arts greeting cards or books. Pays $300 for greeting card poems and $50 for book poems.
ClearVoice (Review)– ClearVoice matches freelance writers to writing opportunities from a variety of clients. You set your rates and subjects of expertise.
Constant Content (Review) – Clients can buy your articles on Constant Content, or create specific writing orders for you.
Content Gather – Content Gather is a marketplace for freelance writers to connect with clients in need of articles. You can request payment whenever you want and Content Gather will pay within 24 hours.
Kirkus – Kirkus hires book reviewers on a freelance basis to review some of its books. You must send a resume and qualifying writing samples to be considered.
ListVerse – ListVerse is a blog dedicated to Top-10 lists. It pays $100 per accepted article, which need to be at least 1800 words long.
LoveToKnow – You can apply to be a freelance contributor for LoveToKnow, a blog that hosts informational articles in a wide range of topics, from antiques to home schooling. Must have extensive experience with your topic and at least one year of professional writing experience.
Developer Tutorials – This website provides technical tutorials in categories like Photoshop, PHP, and Javascript. If you have extensive experience in any of the categories, you can get paid per tutorial of at least 1000 words.
Scripted (Review) – Scripted hires independent contractors to provide needed articles for clients.
Shmoop (Review) – If you have teaching or curriculum writing experience, you can apply for a position with Shmoop. The company seeks professional writers with educational backgrounds to write digital curriculum and lessons.
Skyword (Review) – Freelance writers can connect with a number of brands needing content through Skyword. Pay is determined by your project.
Textbroker (Review) – Textbroker is one of the most popular 'content mill' websites for freelance writers. When you sign up, you'll have an assigned rating based on a piece of sample writing. The type of articles you can write, and how much you get paid, is based on your rating.
WritersAccess (Review) – Writers can get paid between 0.014 and 0.07 per word, depending on their rating, which works in a similar way to Textbroker's rating system.
Affiliate Marketing Jobs
CJ Affiliate – A popular affiliate marketing platform that allows you to partner with big brands and earn commissions on sales you refer. Once you've signed up and been approved by a merchant, you can start promoting their products through your blog, website, or social media channels.
Rakuten Advertising– Previously known as Rakuten Linkshare, it's one of the oldest affiliate networks. You can choose from a wide variety of products and services to promote, earning commissions on referred sales.
Amazon Associates – The affiliate program offered by Amazon is one of the most widely recognized. You can earn up to 10% in advertising fees for sales referred through your personalized affiliate link.
ShareASale – This affiliate marketing network offers a wide range of products and services to promote. You can earn a commission for every sale or lead you generate for their merchants.
ClickBank–  ClickBank is an online marketplace for digital products where you can earn high commission rates (up to 75%) for sales you refer.
Blogging Jobs
ProBlogger Job Board– A popular job board for freelance writers and bloggers where you can find a variety of blogging jobs.
BloggingPro Job Board – Similar to ProBlogger, this job board features a variety of freelance writing and blogging jobs.
Contena – This platform offers a variety of writing and blogging jobs. However, it's a paid service.
Freelance Writing Jobs (FWJ) – This site curates writing and blogging jobs from various sources into one place.
Paid Guest Blogging: Some blogs pay for guest posts. Websites like Listverse, A List Apart, and The Penny Hoarder pay for quality guest posts.
Here is a huge list of online writing jobs perfect for beginners!
If you know of other online companies that hire without a background check, feel free to let us know in a comment!
Good luck!
Related Posts:
Earn Everything… nearly!
Join Ipsos iSay, one of the few Faithful and Honest survey panels and earn prizes, gift cards and donations. Stack your points and redeem them: Simple! No hidden fees and completely free!