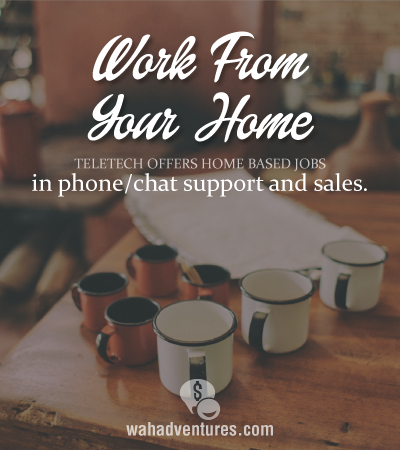 If you enjoy taking inbound customer service calls or doing outbound sales work, or even doing chat work, you might want to think about applying with TeleTech. They hire for a variety of positions, including inbound customer service and outbound sales work, and they're also currently hiring for a seasonal chat position. This article will provide a little more information about Teletech and the positions they hire for.
Need Easy Extra $350+/Month For Free?
What is TeleTech?
TeleTech is a company that provides business outsourcing solutions to different companies .
What kind of work at home positions does TeleTech hire for?
They hire people for inbound customer support and outbound sales positions. In addition, they may also have other seasonal positions that come available.
Will I be an employee or an independent contractor? How much will I make per hour?
You're hired as an employee – pay varies depending on what kind of work you're doing, but it's between $8 and $9 an hour.
Are Benefits Offered?
You may be eligible to have benefits such as health insurance, dental coverage and 401(k). Reviews on Glassdoor are split, with some saying that health insurance packages are costly and others considering them affordable.
What is scheduling like? Is there a minimum number of hours I have to work per week?
Scheduling is flexible, you have to work at least 20 hours per week, and you may have to work weekends and holidays.
What is it like working at home for TeleTech?
What are the technical requirements?
Technical requirements include a VOIP system that doesn't connect to the Internet – you don't need to have a landline phone, but you can use one if you have it.
You also need to have a PC, high-speed Internet and a quiet workspace that's in an area of your home where you can work 4-6 hours uninterrupted.
Your PC has to have either an Intel or AMD processor, a Pentium 4 CPU, at least 2 GB of RAM, at least 2 USB 2.0 ports that aren't being used, a 17 inch or larger monitor that's capable of handling 1024 x 768 desktop resolution, an internal sound card.
Your computer should be running Windows Vista with Service Pack 2, Windows 7 with Service Pack 1, Windows 8 or Windows 8.1.
If you're not sure if your computer meets all these requirements, don't worry – you'll go through readiness testing that will ensure that your computer meets the requirements.
You'll also need a headset – Teletech has identified four compatible models that you can choose to purchase: the Jabra GN1900, Plantronics Audio 655 USP DSP, Microsoft Lifechat LX6000, and Logitech H34.
Will I go through training? What if I have questions while I'm working?
Yes, you will go through paid training before you start working with Teletech. You're assigned a team leader that you can access through IM if you have questions.
Need Easy Extra Cash?

Join Opinion World #1 paid survey site. Take paid surveys anytime and anywhere via PC or Mobile App and earn PayPal credit, gift cards and more! No hidden fees and completely free!


How and when do I get paid?
You are paid every two weeks by direct deposit or payroll debit card.
How do I apply?
You can go to this link to apply.
Related Posts:
Want more money?

Join EarningStation, he highest paying site out there, where users get paid to Take Surveys, Watch Videos, Play Games, and Shop Online. No hidden fees and completely free!