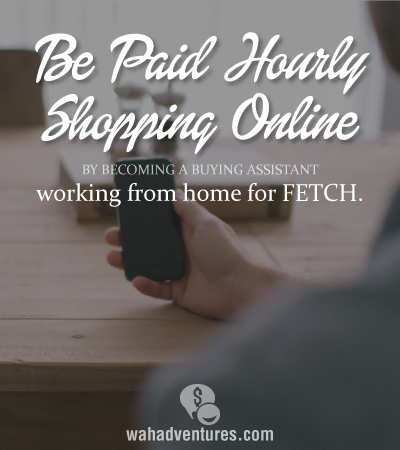 FETCH is a revolutionary way to shop. Android and iPhone mobile users in the United States can download the FETCH app for free. Then, you can send a text or image to your personal buying assistant for help shopping. Leave it up to FETCH to find the best deals online for you. FETCH utilizes real humans to assist with shopping!
Need Easy Extra $350+/Month For Free?
Since the app is free to use, I decided to try it out myself. It is like having a personal assistant, for free!
FETCH is a brand new company, that only recently hit the mobile app stores this year, 2014.
What does a Shopping Assistant do for FETCH?
Being a shopping assistant for FETCH means you help their mobile users find the items they are shopping for. In addition to researching online for what they want, you help them get the best deals by looking for the lowest prices and any coupon codes that may apply.
Shopping assistants work online using FETCH's web portal after extensive paid training.
Employee or Contractor?
FETCH shopping assistants work as independent contractors. Since the assistants are not employees, there are no benefits offered outside of the flexible work schedule.
How are shopping assistants paid?
Shopping Assistants working for FETCH are paid hourly at a rate of $12. Payment is made once a month via a paper check that is mailed.
Is Training Paid?
Training to work online for FETCH is paid. In addition to a training period, every shopping assistant will have a paid probationary period before being offered a full time position.
What is the scheduling like?
While scheduling is said to be flexible, you are given specified hours that could change frequently. There are positions ranging from 20-40 hours.
Currently, special consideration will be given to people who are able to work nights and weekend hours.
Is there a background check requirement?
Yes, because you will be handling personal information from customers who may request you to place the order on their behalf, using their credit card information, a background check is performed for security purposes.
How does FETCH make money?
Since the app is free to download and free to use, I immediately questioned how FETCH is able to pay their shopping assistant contractors $12 an hour. Although they are currently financially backed by investors, FETCH makes money by using and sharing their own affiliate links to purchase the items for their users.
Need Easy Extra Cash?

Join e-Poll, one of the few faithful and honest survey panels and earn cash - paid via PayPal - gift cards for Amazon, Best Buy, iTunes, Starbucks, and Walmart, plus Retail e-vouchers.
The surveys are aimed at entertainment-related research, covering such things as personal TV watching habits, give feedback on new TV commercials or to review DVDs that are sent to your home.
For USA residents aged 13+. No hidden fees and completely free!


What are Affiliate Links?
If you are not familiar with affiliate links, let me explain. Companies such as Walmart, or Amazon, offer affiliate partnerships with people like FETCH. When FETCH refers shoppers to their affiliate partner's stores to make purchases, they share a small percentage of the sale as payment for the referral. A finders fee, in a way.
What is the history of FETCH with past workers?
Agents who work for FETCH are required to sign a Non Disclosure Agreement (NDA). Therefore chatter in forums is pretty limited.
FETCH did a round of hiring back in April and a lot of people said they loved their job and made great money. There were not reports of late or missing payments. However, as bugs were being worked out of this starter company, work slowed and several agents were let go.
FETCH relaunched fall 2014 and began hiring again in October!
Current agents say FETCH and the management team are professional and have a great group of people.
How can I apply to be a shopping assistant?
At the moment, FETCH has a job posting available through Craigslist. This may change in the future as positions are filled or become available again.  Additionally, the FETCH app has a FAQ section that says if you are interested in becoming a buying guide you can email hi@buywithfetch.com.
Related Posts:
Want more money?

Join Surveyo 24 #1 paid survey site. It's easy - complete a survey and receive payment. No hidden fees and completely free!