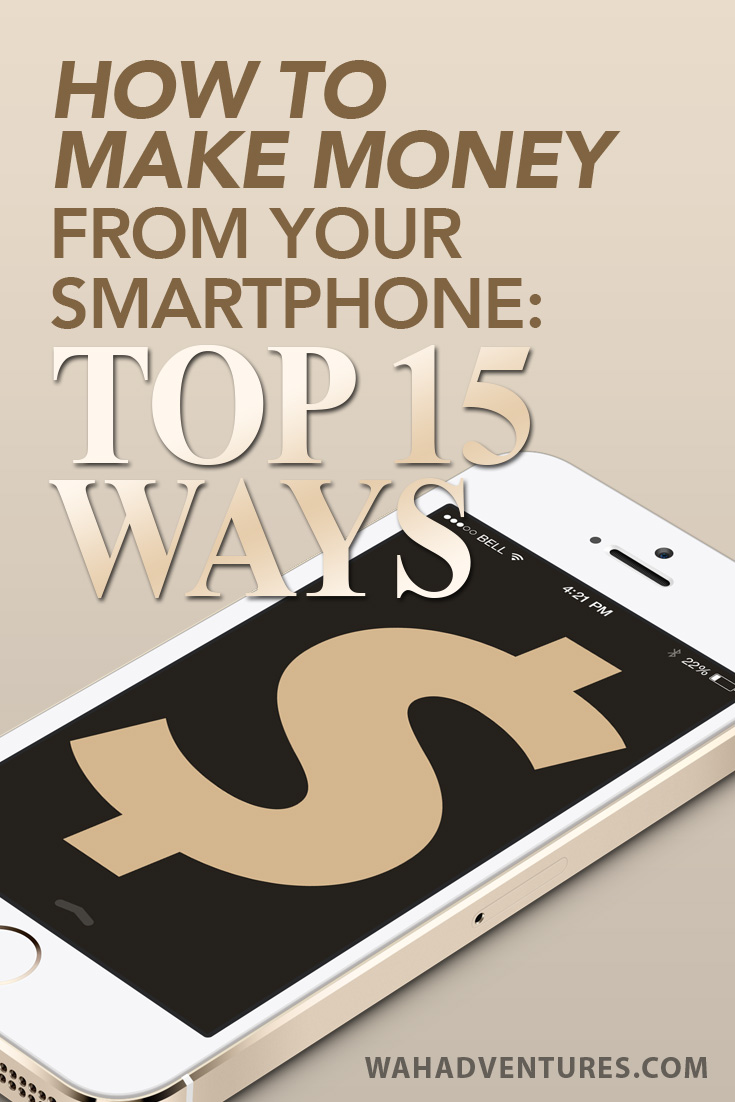 Working from home doesn't just mean sitting behind a computer screen or calling people from your phone anymore.
Need Easy Extra $350+/Month For Free?
Now, you can even get paid to use your phone.
Earn side money or get a legit job that allows you to use your smartphone!
These types of jobs are perfect for those who aren't into sitting at a desk to work every day.
Or, perhaps you don't own a computer at all because you use your phone in place of one.
No problem!
Sure, there are plenty of iPhone and Android apps that pay you money.
But, not all of them will earn you as much as the ones I'm going to show you.
Some are even real jobs that let you use your phone! Let's get to it.
How to Work Online from Your Smartphone
Some of these are apps that help you earn money with your phone, and others are jobs that allow you to work using your phone.
Either way, you can't beat getting paid with mobile phone apps!
Earn Money with InboxDollars
We all know by now that you can make extra money with InboxDollars, an incredible Get Paid To (GPT) site that pays you for just about any task you do online.
The website is full of fun money-making things to do, like playing games, listening to the radio, entering sweepstakes, and taking surveys.
You can even get paid by InboxDollars to search the web or shop online!
Or, participate in 100% free offers to make money. You can earn your first $30 quickly, which is the minimum amount required to cash out.
But, did you know that InboxDollars also has an app for iOS and Android users?
Currently, the iOS app is solely for taking InboxDollars surveys.
But, it's a convenient way to take InboxDollars surveys with you wherever you go and make a little extra money!
The Android app offers almost everything the website does: cash and free offers, paid games and TV, surveys, paid web searches, and more.
If your phone runs Android 4.0 or later, you can use the app.
InboxDollars is open to residents of the United States 18 years or older.
Users getting their first payout from InboxDollars will only be able to get a check in the mail.
For subsequent payments, you can choose from a check, prepaid VISA, or a gift card to one of several retailers and restaurants.
Join InboxDollars here or read the review.
Want more money?

Join Opinion Outpost, one of the few faithful and honest survey panels and earn cash and gift cards for your opinion. Stack your points and redeem them: Simple! No hidden fees and completely free!


Cash in with Swagbucks
Swagbucks as just as great a rewards site as InboxDollars, offering ways for you to earn excellent prizes, gift cards, and even PayPal cash.
The reward site also has mobile apps for those who want to bring Swagbucks with them wherever they go.
Currently, some apps are only available for Android users, while others are available for both Android and iOS.
Swagbucks Mobile is just like bringing the Swagbucks website with you.
With this app, you can earn cash back from shopping, taking surveys, searching the web, watching videos, and more.
Then there's Swagbucks Watch, which earns you Swagbucks for watching TV, movies, videos, trailers, and other media clips.
Swagbucks Answer focuses only on Swagbucks surveys, so it's perfect if you focus on taking surveys on Swagbucks.
Finally, use Swagbucks Local to earn money when you shop locally or eat at local restaurants.
This innovative app lets you check into your local retailers and earn Swagbucks when you do.
Currently, Swagbucks Local is available in over 2,000 cities across the United States.
You must be at least 13 years old and a resident of the US, UK, Ireland, Germany, Australia, India, and Canada to sign up for Swagbucks, but the apps may not be available in all areas.
Join SwagBucks here or read the review.
Take Surveys for Toluna
Toluna is a popular website for taking surveys online for cash.
It also has a fun app for both Android and iPhone that lets you take surveys on the go.
On the app, you can vote in polls, filter the content by category that you want to participate in, enter contests and sweepstakes, and of course, take fun Toluna surveys.
You earn points when you take surveys or interact with the app.
Once you reach 30,000, you can redeem your points for a variety of prizes, gift cards, or cash.
Toluna is open worldwide to members at least 16 years old, or as required by their country.
Join Toluna here or read the review.
Become a Call Agent for VOIQ
VOIQ hires work at home agents as call center representatives for its various clients.
You can choose the brands you want to work with and campaigns to complete.
Best of all, your hours are flexible – work when you can and want to!
Although most companies require that you make calls from a landline phone, VOIQ allows its representatives to use their mobile phones.
In fact, VOIQ even has an app for Android and iOS in which you can keep track of your campaigns, required information, and more.
You'll get paid $0.30 per minute of talk time, so your hourly rate will vary depending on how many calls you make.
But, it's a good deal for being able to work using your mobile phone!
You must be at least 21 years old to get started with VOIQ.
Evaluate Search Engine Results with Leapforce
You can become a work at home search engine evaluator for Leapforce.
This position requires you to evaluate blocks of search results based on specific search queries.
Leapforce looks for people who can evaluate search results both on a computer and on their mobile devices.
Specifically, prospective evaluators must either have an Android device running version 4.1 or higher, a Windows phone version 8.1 or higher, or an iPhone 4s or more recent model.
The process will be similar when evaluating search results using your mobile device as it is the website.
You must sign up using a computer, and you'll need to pass a series of tests before you can become a part of the team.
Only those 18 or older can apply, and you'll be an independent contractor rather than an employee.
Join Leapforce here or read the review.
Do Some Gigs with Gigwalk
Gigwalk is almost like Fiverr in an app version. T
his app is available for iOS and Android.
You can find gigs in your neighborhood by browsing the app.
Others can post anything from quick deliveries to house or car repairs, to local business mystery shops.
Gigs tend to range between $3 and $100, and you can choose which ones you want to do.
Those in bigger cities tend to have more available than smaller areas, but you can still check what's available.
Once the poster of the gig approves it, you'll automatically receive your funds through PayPal.
Tutor Students Through Mentored
Mentored is a tutoring website and app that focuses on tutoring students through innovative methods, like web chats, video conferences, and whiteboards.
You'll need to either have a college degree or be a current college student to become a tutor.
Mentored also requires a screening and training process for its tutors.
You can set your status to "active" whenever you're able to work, and the system will match you with students.
Through the app, you can personalize your profile and choose your subject areas for students to find you more easily.
They can also rate their experience with you, which can help you grow your business. The Mentored app is available for iOS.
Become a Research Interviewer for Maritz Research
Maritz Research provides an interesting way to make money using your smartphone.
The company looks for Market Research Interviewers, a part-time position that requires you to make phone calls with consumers to help Maritz Research clients create better products and services.
Although it says that landlines are the preferred type of phone for calls, it's not a requirement.
You can use your cell phone if needed. But, make sure your connection is stable at your home or office and that you can hear clearly.
Pay starts at the minimum hourly wage for your state, with pay increases available for attendance and excellent performance.
Currently, Maritz Research only hires agents in the United States.
Call Center QA hires independent contractors for its telephone mystery shopping positions.
You must be a United States resident to apply and at least 18 years old.
Telephone mystery shoppers can make calls using a landline or their cell phone.
You'll pose as a customer to call businesses and ask questions to help Call Center QA's clients conduct research.
You can work as often as you'd like, and all calls will pay $5.
They only take between 5 to 10 minutes and the follow-up survey is brief.
You'll get paid within seven business days.
Post Gigs on Fiverr
Everything you love about Fiverr is also on its mobile app for iOS and Android.
On Fiverr, you can post gigs for just about anything: gathering e-mail addresses, building websites, designing logos, etc.
Through the handy app, you can create gigs, check on them, respond to messages from other users, and more.
Depending on the type of gigs you have, you may even be able to complete your gigs using your phone!
Fiverr can pay you conveniently to your PayPal account once your gigs are complete.
Once a gig is marked as complete, you can withdraw your funds in 14 days. You can also do this through the handy app.
Use MathElf to Tutor Students in Math
MathElf doesn't technically require a smartphone, but it does require a mobile device: an iPad running iOS 10 or later, to be exact.
So, you can still work while mobile!
This site focuses on tutoring students in math, and you can create your own flexible schedule.
As a tutor, you must either have a bachelor's degree or have completed several math courses for your current bachelor's degree.
Tutors can be from any country and there are no age restrictions.
You'll use the iPad to connect with students through video.
MathElf pays tutors via PayPal weekly.
Help English Language Learners with Palfish
Another great way to earn money using your mobile device for tutoring is with Palfish.
Palfish is an app available for both iOS and Android that helps English language learners speak to those who are experts in the language.
You can sign up as a tutor on the website, download the Palfish app, and get started speaking to English language learners.
Work as often or as little as you'd like.
You can even set your rates to talk to students, up to about $45 per hour, so you can make decent money with this app!
However, it might be wise to set a low rate when you first start so you can gain some experience and get some good reviews under your belt.
Once you get more familiar with using Palfish, you can work your way up to a rate you're comfortable with.
Become a Contractor for iSoftStone
iSoftStone is mostly known for its Ad Evaluator position rating ads across the web and on social media.
It also has a popular Search Engine Evaluator position. But, it also sometimes has openings for crowd workers.
This position is for independent contractors interested in completing data entry and collection tasks.
The tasks will vary greatly, depending on the company's clients.
The position does require you to have an Android 4.0 or higher to work, since you'll need to provide short voice recordings and texts via a mobile app.
You must be a U.S. resident and at least 18 years old to apply.
You can check for open positions on the iSoftStone site, or keep an eye on Indeed, where the company sometimes posts its job leads.
If you want a highly flexible job to do on your mobile phone, try out Clickworker.
You can sign up on the website and use the mobile app to work.
Clickworker is perfect for freelancers who want to make money doing small tasks when they're available.
You'll do anything from categorizing images to taking surveys to editing blog posts and articles.
If variety is your thing, this is a good place to find it.
Although Clickworker doesn't have an actual app, its mobile site is very responsive.
So, many of your tasks can be completed on the go just by visiting the website on your smartphone.
Clickworker pays weekly and monthly via PayPal.
Get Paid for Your Feedback with Mobee
Mobee is an excellent app for making some money doing things you'd do anyway.
The app is available on Android and iOS devices.
All you need to do is open the app, find locations near you that are participating in Mobee, and view the details. It could be a store, a restaurant, or another business.
Mobee will let you know what you need to do at that location to get paid.
You may need to purchase a specific product, take a photo of a display, or try out a new meal on the menu at a local restaurant.
Most "missions" will require you to visit a specific place and take a survey once you get there.
Most surveys are about 5 to 10 questions long.
Your mission will get manually approved within 24 hours if you completed the steps.
You earn points for each mission, which you can redeem for prizes or cash.
Conclusion: Using Mobile Phone Apps to Make Money
It's amazing – there really is an app for everything!
These are just a few of the ways your phone can make you money.
As our world shifts from landline phones and snail mail to mobile devices and e-mail, expect to see more and more companies shift to allowing workers to use their phones.
After all, we know it's more than possible to be productive using smartphones!
Do you ever work using your smartphone?
What other jobs do you know of that allow the use of smartphones to make money?
Let us know in a comment!
Related Posts:
Get Money: Cash In!

With American Consumer Opinion (ACOP) the numbers truly do speak for themselves: $30 million+ in payments so far, 7 million+ international members, 20 million+ surveys completed!