How To Write Faster Than Ever Before in 6 Easy Steps
Updated on: by Amy Kennedy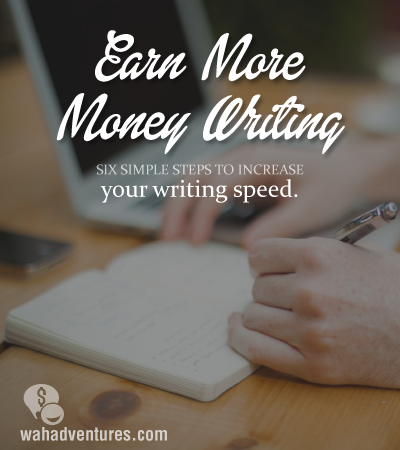 If you're a freelance writer or content creator, speed is your friend. When you're starting out and you don't have very lucrative contracts, you often have to write multiple articles a day to achieve your target income. For example, if you want to earn $60 every day, and each article you write is worth $15, you will need to write 4 articles. When you consider that the average article is at least 300 words long, you will have to write 1200 words a day, at the very minimum. If you're new to writing, 1200 words might seem like a lot. But it really isn't.
Need Easy Extra $350+/Month For Free?
When you are working for clients that need 10 or more articles daily, you can't worry about producing works of literary genius. You need to work fast, get paid, and move to your next assignment. One of the advantages of being a freelance writer is that you can choose your assignments. The flip side to this coin is, the slower you are at delivering these assignments, the less you earn on a daily basis. When you don't have the safety net of a company salary under you, your efficiency is often the difference between meeting your income goals comfortably and having to worry about bills.
Writing is a process, like any other discipline. Once you have the system in place, your productivity increases dramatically. Let us look at the things you can do to make sure you can write much faster than you did before.
1. Planning
Planning is absolutely crucial to getting a writing project done quickly. When you sit at your desk, keep all of the things you might possibly need in close proximity. This includes your notepad, your cup of coffee and anything else you might need.
Before you begin writing, make sure you have a small outline or a list of bullet points that you are going to cover in the article or essay. Include the central idea of the piece, a few facts that demonstrate your argument, and a closing line. That's all you need to begin. Once you start writing, you can fill in the details as you go along.
2. Research
This is a hotly debated topic amongst content creators. How long must you research a subject before you have enough information to begin writing? Well, it depends on the type and length of the article. If an article is going to be 300 words long, you don't need to spend 15 minutes researching it.
For example, let's consider you want to write an article about homemade flu remedies. If your article or blog post is going to be 300-400 words long, you only need to include the 3 best homemade remedies for flu. You can head over to Google or Bing and do some quick searches for 'homemade flu remedies'. After you've visited a couple of sites, you should be able to pick the 3 remedies that seem to be the most popular. Make note of them in a separate window. The entire process should take you no longer than 5 minutes.
After you've got the central message of your piece, you need to add an introductory paragraph and a couple of closing lines that summarize your point. Obviously, if your project is more complex, you need to delve deeper into the research. But as a freelance writer, most of the jobs you will get when you are starting out will be simple articles or blog posts. The quicker you manage to finish them, the more you can earn.
3. Keep it simple
Your articles should always be conversational and easy to read. You don't need to impress anyone with your flowery language and knowledge of literature. Stop wasting your time searching for the perfect twist of phrase or a clever opening line, and just get to the point. Your client, and the people that subsequently read the article, will be grateful.
4. Use timers and reward mechanisms
If you often find yourself fighting the urge to visit YouTube halfway through an article, you need to streamline your process. Set timers on your phone for 10-15 minutes, and then dedicate yourself to writing non-stop while the timer is running. Once you've written continuously for 10 minutes, you can take a few moments to check your email or visit YouTube. Writing in short bursts is the best way to get a lot of articles written quickly. The short durations ensure that you don't burn yourself out.
If you want to really supercharge this process, download a software called The Action Machine.
5. Maintain a checklist
When you're working from home, you are much more susceptible to being distracted. Now that you have the option to, you might feel the urge to go and watch TV for a while, or meet some friends for lunch, and leave your work for later. Don't succumb to this kind of thinking.
Maintaining a to-do list makes things much easier. Freelancers usually aren't very good at structuring their days, and having a list to refer to helps a lot.
If you get to the point where you can finish the entirety of your daily workload in a couple of hours, it's better to finish it in one sitting. That way, you have the rest of the day to focus on other projects and commitments.
6. Don't edit yourself while you are writing
Most freelance writers are slowed down significantly by the fact that they attempt to edit their articles as they're writing them. This disrupts the flow of the writing and breaks your rhythm. When you start an article or a blog post, just keep writing until you finish the end. Once you've made a first draft, you can quickly read through and make changes wherever necessary. If you have OCD and are distracted by those highlights and underlines under wrongly spelled words or grammatical errors, turn off that feature in your word processor. Once you're done writing, turn the spell check back on and see if you made any mistakes.
Bonus Ways:
Avoid Multitasking
In the era of digital distractions, it's easy to find yourself juggling multiple tasks at once. However, numerous studies suggest that multitasking can significantly decrease productivity and cognitive performance. When you're writing, commit to the task fully.
Need Easy Extra Cash?
Pinecone Research, a leading name in online survey panel honesty, absolutely guarantees $3 cash for every survey you complete!
Take advantage of their time limited New Membership drive and register NOW. Join today: 100% free!


Close irrelevant browser tabs, put your phone on 'Do Not Disturb', and give your writing your undivided attention. This undistracted focus can increase both the speed and quality of your writing.
Prioritize Your Health
While this might seem somewhat unrelated to writing, maintaining good physical and mental health can greatly improve your overall productivity. Regular exercise can enhance cognitive function and increase energy levels, making it easier to maintain focus when writing.
A balanced diet fuels your body and brain, and sufficient sleep allows for better memory recall and creative thinking. Lastly, practicing mindfulness exercises, like meditation, can reduce stress and promote mental clarity, helping you to maintain focus while writing.
Set Achievable Goals
Setting goals can provide a clear direction and strong motivation. However, it's important to set goals that are challenging yet achievable. Unrealistically high goals can lead to stress, frustration, and burnout. Instead, set tangible daily or weekly goals – this could be a target word count, number of articles, or simply a task completion goal.
Once you've established your goals, break them down into smaller, manageable tasks. Regularly review and adjust your goals as needed to keep them challenging but realistic. This approach encourages a steady and sustainable work pace, which can increase your long-term productivity and success as a writer.
In summation, a freelance writer's job isn't easy. You aren't always writing about topics that you like or know about, and your income often depends on the volume of your work. When you have to write a lot of articles every single day, stick to the above guidelines to make sure that you turn out clear, concise articles quickly.
Related Posts:
Earn Everything… nearly!
Join Ipsos iSay, one of the few Faithful and Honest survey panels and earn prizes, gift cards and donations. Stack your points and redeem them: Simple! No hidden fees and completely free!