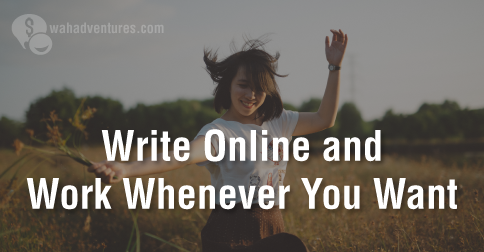 Freelance writers, especially those just starting out, have a love-hate relationship with content mills. On the one hand, it's a hard business to break into and content mills give you an opportunity to practice your chops while offering some compensation. On the other side, the pay rates are generally extremely low and to many any real income requires a time commitment, which may distract from your 'real,' career writing.
Need Easy Extra $350+/Month For Free?
Domainite.com has received somewhat of a bad rap in recent years. While some workers claim it's another scam writing site, my research has shown that, while it is not going to lead to a 5- or 6-figure income, the opportunity is legitimate. Keep reading to find out if writing for Domainite is a good step for your career.
What is domainite.com?
Domainite.com is a provider of business solutions to companies and entrepreneurs. These come in the form of copywriting, graphic design, marketing strategy, mobile app creation, and more.
What are your responsibilities as a writer for Domainite? 
Writers for Domainite compose articles and blog posts. They have the flexibility to pick up the assignments they so choose and are not randomly designated to any pieces.
What qualifications must you possess?
Writers for Domainite must have a PayPal account and the ability to respond quickly to e-mails.
Is this a full- or part-time role?
Neither. You can do as much or as little work as you wish and as your schedule commits, offering a high degree of flexibility.
What is the rate of pay? 
Domainite writers are compensated $1 for every 100 words written and the payment is sent weekly. Some writers reveal if you are a quick writer, the job could potentially earn you more than minimum wage.
Is this an international opportunity?
It seems like Domainite accepts applicants from English-speaking countries, though they do not specify on their website.
Are there are any special equipment or software necessary?
One Domainite worker explained writers are expected to pay $10 for 200 uses on CopyScape, a plagiarism checker, upon starting the position. This is to ensure writers are submitting original content, and the worker said the use of CopyScape actually earned them a couple thousand dollars.
What do Domainite workers say about the position?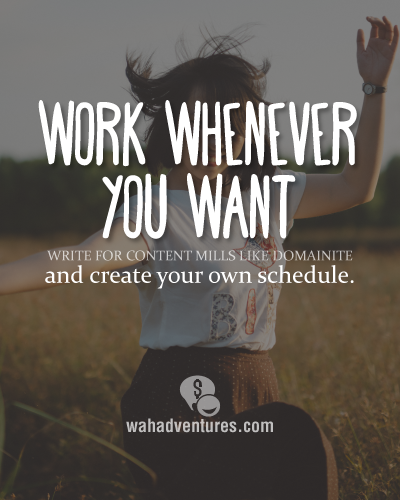 An anonymous commenter submitted their cautionary tale with domainite.com on this blog post. After submitting their writing sample, they were quickly contacted by Domainite to write copy for a promotional piece. The commenter indicated that all research was expected to be performed essentially free of charge and that the timeline was unreasonable for the project. Upon completion, the Domainite contact refused to pay as there were errors (due to the turn-around time expected) and stopped returning further e-mails inquiring about pay. For the whole project, the commenter revealed it added up to a mere $1.25 per hour.
Need Easy Extra Cash?

Join Opinion World #1 paid survey site. Take paid surveys anytime and anywhere via PC or Mobile App and earn PayPal credit, gift cards and more! No hidden fees and completely free!


Further down in the post, however, other commenters confirmed they had been working for Domainite for a few months and, though it wasn't the most lucrative gig, they insisted it was a legitimate online opportunity that pays regularly.
What is the application process?
Go to this page and submit a writing sample. It can be a previously written piece though they do advise that it is recent. You will most likely only receive a response if your sample is approved.
Related Posts:
Want more money?

Join EarningStation, he highest paying site out there, where users get paid to Take Surveys, Watch Videos, Play Games, and Shop Online. No hidden fees and completely free!