Writer's Domain Review
Updated on: by FStewart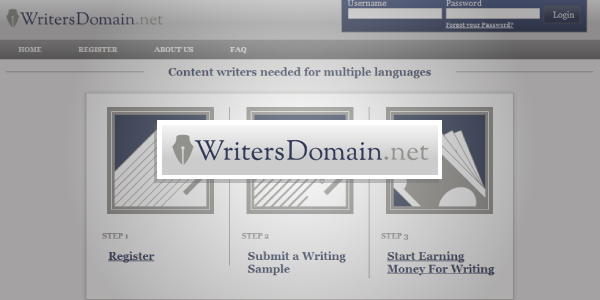 Need Easy Extra $350+/Month For Free?
Writer's Domain is a content mill that allows you to log on and choose keywords to write about. During my research I became so intrigued that I applied myself. I went through the whole process and have been writing for them for about a week. There have been some bumps in the road, but I have decided that was good because it has given me insight that I hope will help out anyone else who wants to apply with them.
What Will I Be Writing?
With Writer's Domain you are given a keyword list to choose from on a writer dashboard. You click on the one you wish to write about, and you are taken to their workspace. Every one so far has been for a minimum of 200 words using the keyword twice. You also have to come up with a unique title that uses the exact keyword. The keywords are things like "Vancouver dentists" or "Edmonton heating systems." These are very short, easy to write, and require little research. This means you can write a whole bunch in a short amount of time if want. It is not exactly creative writing, but it is writing.
What About the Money?
The pay scale starts at $3.00 for 250-300 words, with a bonus of $.30 for higher ratings. Here is the deal with the ratings. There are two for each article, one for grammar and one for content, but from what I can tell unless you do poorly you will only see the overall rating. The ratings are from one to five stars, and four and five stars get the bonus. The two are averaged for the overall rating, so that if you have a grammar rating of 5 and a content rating of 3 then the overall rating is 4 stars. While this does not seem like a really high pay rate, consider that most of these you can do really fast and you could make a decent amount of money here, even more so with the bonus.
They pay monthly on the 5th, but those that work for them say that if you hit $100 you can choose to be paid out immediately and the money is in PayPal almost instantly. I have not had a chance to test this yet, but several have reported using the option and having no problems.
Support and Other Good to Know Stuff
Many that work for them have noted in different forums about how pleased they are with their writer support, and my own experience is the same. Any questions I have asked have been answered the same day.
Something to beware of is that, as far as I can tell, the workspace does not allow you to copy from it and paste to word for spell checking. I cannot tell that there is very much available in the way of editing there either, so write in word and copy from there to paste to the Writer's Domain workspace. As a result of not realizing this to begin with, as well being a touch over excited, I got a couple of poor ratings. This is how I know that if you do poorly, you will get an email telling you what you did wrong and what each rating was. Otherwise, you just see the overall review and what you were paid for it.
The review process takes two or three days, so it could be a touch slow. However, if you resist the urge to browse topics and pick which ones you want to write about, and simply click the link to take you to the next topic, you will get the top priority article available. This is good in two ways. These are reviewed much more quickly, like within the hour from my experience, and you move from article to article more quickly so you work faster and make more money.
You have to submit a W-9, and this was another bump in the road for me. They want you to either do an electronic signature, or print, scan, and upload as a PDF. The tutorial they offer for creating an electronic signature made my head hurt, so I chose to print it. I have never had so much technical trouble in my life as trying to get that form to save as a PDF. Let me save you some trouble. Go to the link they offer for the form, fill it out, and click on the "sign" button on the top right. It is extremely easy and fairly self-explanatory. It is also way easier than their tutorial made it look in my opinion.
How Do I Apply?
Visit writersdomain.net and sign up to apply as a writer. They will send you a package over email with more information, a link to a short video to watch, and a few keywords to pick from for a writing sample. You will also get a link to a grammar test. This was one of those bumps in the road I referred to. The test is 30 questions relating to basic grammar, but it is timed. I neglected to realize this to begin with and took my sweet time. This resulted in a big fat FAIL. Do not make the same mistake I did. You will not have time to look up answers, but in reality you probably will not need to as the questions are things like when to use "their" versus "there" or "they're." You get two chances at the grammar test, which I learned after emailing and asking for a second chance. They responded the same day, which was a Saturday I might add, that all I had to do was click the link again.
Conclusion
Personally, I am impressed. As for me, this is quickly becoming one of my best fall back eggs when work from private clients is slow. It is not for everyone though. Some would consider it mindless and even boring, but it is definitely a legitimate way to make money online from home.
Need Easy Extra Cash?
Pinecone Research, a leading name in online survey panel honesty, absolutely guarantees $3 cash for every survey you complete!
Take advantage of their time limited New Membership drive and register NOW. Join today: 100% free!


Related Posts:
Earn Everything… nearly!
Join Ipsos iSay, one of the few Faithful and Honest survey panels and earn prizes, gift cards and donations. Stack your points and redeem them: Simple! No hidden fees and completely free!