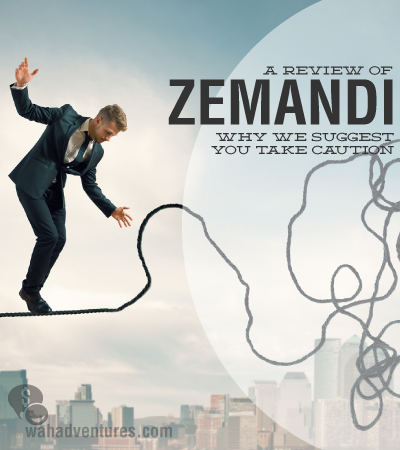 If you ever browse Craigslist looking for freelance writing jobs, especially if you have done so lately, it is very possible you have come across the writing site Zemandi.com.
Need Easy Extra $350+/Month For Free?
On first glance they look like an outstanding opportunity, especially for those new to the writing world.  The pay is low but there is opportunity to move up to decent pay.
Also, they have a very generous referral program that allows you to earn a percent of what those that sign up under you earn indefinitely.  I signed up and promptly began to research online to see what I could find out about Zemandi.
 Money
Starting pay is $.40 per 100 words, but you can work up to $3.50 per 100 words.  This starter rate is for those writers that earn a 3 star ranking on the first 5 articles.
If you rank lower than 3 you are not allowed to write anymore, and as you rank higher you get higher paying work.
You can also earn a 5% bonus for writing 25 articles that are accepted by the client in one week, and a 10% bonus for writing 50 articles accepted by the client in one week.
Then of course there is the referral program.
Once you earn $20 you are sent a referral link. You earn 6% of everything earned by those who sign up under your code.
Pay is every Monday that there is at least a $20 balance via PayPal.
The Chatter Online about Zemandi
This is where working for Zemandi gets murky.  I couldn't actually find anyone that had articles accepted.
It appears they have been extremely picky about acceptance and articles are sent back numerous times for rewrites.
Most of the writers I found posting about Zemandi considered the rewrites to not only be picky, which is okay because most clients want perfect work, but also grammatically incorrect.  That is a problem.
The main red flag however, the one that alerted me to the fact that this was an actual issue and not just sour grapes on the part of some writers that had had their pride bruised, was 2 fold.  First, the company posted on the forum where some of these negative comments were made.
Their post was not only hugely unprofessional, but it was also full of grammatical errors.  In addition to that, the welcome email I was sent from them had errors in it.
The Better Business Bureau
There were also posts noting that Zemandi has lost its rating with the BBB.  I looked it up and sure enough, there is no rating.
Of course I cannot prove that there ever was one for them to lose.  They may have never had one, but that is not necessarily comforting.
My Experience
By this point I had already requested and received my first assignment.
It was not one that would take a ton of time, but it would have taken some research.  Definitely it was worth more than $.40 per 100 words, and knowing what I knew about how often they reportedly send back articles for corrections, I decided not to do it.  That said, I do not have personal experience on how this company works.
Conclusion
Proceed with caution.  I could not find anything good about this company from anyone who has written for them.
If you have the time to write for that little pay with the knowledge that it may or may not work out, you can try.  I don't see much hope here however.
Need Easy Extra Cash?

Join e-Poll, one of the few faithful and honest survey panels and earn cash - paid via PayPal - gift cards for Amazon, Best Buy, iTunes, Starbucks, and Walmart, plus Retail e-vouchers.
The surveys are aimed at entertainment-related research, covering such things as personal TV watching habits, give feedback on new TV commercials or to review DVDs that are sent to your home.
For USA residents aged 13+. No hidden fees and completely free!


Do you have experience with Zemandi? Share with us below in the comments.
Related Posts:
Want more money?

Join Surveyo 24 #1 paid survey site. It's easy - complete a survey and receive payment. No hidden fees and completely free!