ZNZ Experience with Libby Robles
Updated on: by Miranda Grimm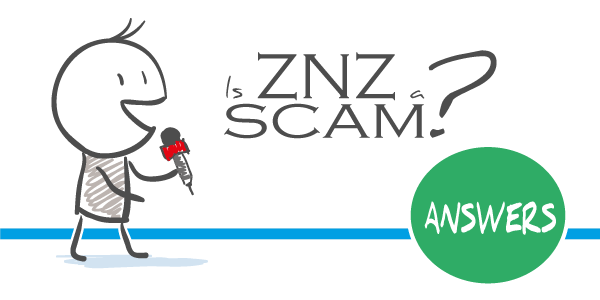 Today's post is sort of a difficult one for me. ZNZ or Zip Nada Zilch is a company I have been asked about multiple times. While I never really considered it a scam- I was definitely quick to file it away under the 'not worth your time' category. ZNZ is an affiliate marketing company. They pay you for bringing new customers to try out their client's products. Many ZNZ affiliates can be slimy about how they advertise the ZNZ products and gain new referrals. Which is why I was quick to brush off ZNZ. But, it seemed every time I turned a corner there was another person I knew becoming a ZNZ marketer.
When I learned Libby Robles, a long-time Facebook friend of mine was making a LOT of money- I realized I couldn't continue to ignore ZNZ. Libby helped me understand all about Zip Nada Zilch and although I have chosen not to pursue this myself- I decided to face this opportunity head on.
Check out the conversation Libby and I had on Facebook Chat:
Libby Meet ZNZ
Miranda: How were you introduced to ZNZ and what were your initial thoughts?
Libby Robles: I was introduced through a friend of mine. At first I thought, Hmmmm I'm not to sure about this. I need to make some money- I'm a single mom and don't have time to waste on a what if …
Miranda: At what point did you become more excited about the ZNZ program?
Libby Robles: I prayed about it and watched my friend post the money she was making. I knew she was an honest good person. I knew if she was making money so could I. At that point I decided to set a goal. I started Nov 26 and I gave myself until Dec 15th to do this with a positive attitude and give it everything I had. I prayed and said, "with your help God" ….
Then, I set a "money goal": If I could just make 500.00 by Dec 15th I would be thrilled. I asked my friend, "do you think I can make 500.00?" she laughed and said, "YES I think you are selling yourself short. I think you will make a lot more than that if you work at it."
On Dec 15th I had made OVER $2,000! That was doing ZNZ part time while still keeping my other Work at Home Job, running my kids to ball practice and doing everyday life as a single mother
Miranda: So was all of the $2,000 from ZNZ?
Libby Robles: YES, Every penny of that was from ZNZ . That 2000 does not included my other Work at Home Income.
To date: in one month I am well over $3000 and knocking on the 4,000 door. Today alone I made $303.
How it Works
Miranda: So, ZNZ- is a marketing company who has a unique way of gaining customers for their big-name clients. ZNZ affiliates, such as yourself, are rewarded for getting referrals or their friends to sign up as customers for their clients- correct?
Libby Robles: YES. That's exactly how it works. They have great clients.
Miranda: I have looked through ZNZ's clients and they include companies we all know like Blockbuster, Gamefly, Vista Print and so on. Can you tell me briefly how you make money by referring customers to ZNZ's client's?
Libby Robles: Each link has trial offers to companies like you mention . You must do the offers yourself first. The offers must add up to 1.0 credit value. (There is a credit value above the offer.) The offers must be done in Google chrome or Firefox, you must keep the offers active 80 percent of the time. And then if you feel the offer is not right for you , you may cancel and will not be charged as long as you cancel before the trial period is over. I Decided to keep Gamefly for my kids. They LOVE it. And we also decided to keep Blockbuster. There are credit monitoring and reporting companies on there as well where you can get your credit report and SCORE FREE. I did those as well. I am sure glad I did because they had someone else with a Social Security number one off of mine on my report!! I would have never known unless I did the offer. I was able to get that all cleared up and removed from my credit.
Miranda: Do all of the offers require you to register for trials and do they cost anything initially?
Libby Robles: All the offers do require you to try them and there are PLENTY at no cost however there are some that do cost . It depends on what offer you would like to try. I did Cooking Club and it cost $3.00 HOWEVER, I get three months of magazines and they send you kitchen gadgets to try and keep.
Miranda: So do you earn anything for your first credit?
Libby Robles: Your first credit(s) earned will pay whoever referred you to ZNZ. Then, EVERY person who signs up under you, completing the offers, earns you 20.00 per person from ZNZ and on ZNZ Big Cash you are paid 80.00 per person.
Miranda: So, there are two portals? ZNZ and ZNZ Big Cash? Can you choose to just focus on one?
Libby Robles: you can but I am not sure why you would … They both have great offers. And why stop at 20.00 when you can make 100.00?
Miranda: Okay, to be sure I am clear- your first credit doesn't earn YOU money, it earns your referral person money. (kind of obvious now that I type it out lol)
Libby Robles: Right, you don't make money until someone does the offers under your link. The person you signed up under makes money from the offers you do. It's not a Multi-Level- so you don't earn anything additional from the earnings of people who sign up under you.
Money, Hurdles and Commitments
Miranda: So you can earn as much as $100 per person who signs up and fills out offers using your referral? They simply must use Chrome or Firefox browsers and must wait out their trial period by at least 80 percent before canceling? Seems simple enough.
But I am sure you have faced some difficulties with this. What would you say is the most common hurdle that someone wanting to begin making money with ZNZ will face? And do you have any suggestions from your experience on how to overcome it?
Libby Robles: Yes, you can make $100 per person. The main hurdle I have come against is people thinking they will forget to cancel their trial offer. I explain to them how I did it: I printed out a calendar page and wrote the date I need to cancel, the company and their phone number. Then I put it above my desk .
Miranda: Beyond needing to cancel any subscriptions or offers you sign up for- are there any commitments? In other words, if you decide you don't feel like following through or lets even say ZNZ decides to shut their doors- Will you be out anything?
Libby Robles: NOT a thing !!! You don't pay ZNZ a thing. They pay you!!! It's zero start up cost.
Miranda: What if I am not a very social person online and don't have many online contacts. Would I be able to succeed? Did YOUR success come from being popular online?
Libby Robles: lol lol NO. Most of the people I have under me are complete strangers. I post my ad on the internet. People need work and they are willing to work if there are no start up cost.
Miranda: Does it cost you anything to post ads or are you using sites like Craigslist to post for free?
Libby Robles: I post only on free sites. HOWEVER there are companies where you can pay $5.00 and they will post like 100 ads for you. But I post my own.
Miranda: How much time a day do you spend working on ZNZ?
Libby Robles: Hard to say. I do it here and there. When someone sends me an email etc. I would say no more then 2-3 hours a day- but that's broken up.
Sometimes more if someone needs some help understanding how it works. I do talk to them on the phone and walk them thru step by step.
My team offers FREE training and Support. There are over 250 members in my group all willing to help.
Miranda: So you have a team? Can you tell me more about that?
Libby Robles: Sure, my team is on Facebook. There are groups made on Facebook where my team has all their training and hands on help. My team consist of my sponsor, the people under her, the people she is under and myself as well as the people under me. There is plenty of help 24/7.
Miranda: The main final question I have is, reasonably speaking, if someone was willing to spend at least 5 hours a day working with ZNZ, do you think they could make $100 a day (that would be a rate of $20 an hour).
Libby Robles: $100.00 a day is a cake walk I would say more like 200.00 to 300.00.
I have yet to go a day without making $100.00 even Christmas Eve AND EVEN Christmas Day- I still made 100.00 each day and I wasn't even working.
Miranda: I would instinctively next ask "if it were so simple, then wouldn't every one be doing it?" But from my research and the number of questions I have received about ZNZ, it is clear to me that there are a LOT of people signing up for ZNZ. This is sort of becoming old news!
So, I think most of the readers will expect to find out- how and when does ZNZ pay out?
Libby Robles: As soon as your sign up completes an offer you will get a email from ZNZ telling you who signed up and that they completed their offer. You log in and there is a green banner telling you to put in your order. You click on the banner, your order is placed and you are paid out that day !!! In rare cases the next day.
Miranda: Through PayPal I am guessing since that was an option on the site? How long does it generally take for someone's offers to complete?
Libby Robles: Yes, PayPal and 30 minutes.
Miranda: Oh wow, so you don't have to wait it out and make sure they live out their 80 percent time period for their trials?
Libby Robles: No it pays out right then when they sign up.
No waiting!! That's ONE of the best parts.
Get Started or Learn More
If you would like to learn more about ZNZ and possibly become a marketing partner then look Libby Robles up on Facebook or email her at [email protected]. Libby is willing to work with her team members via phone in case you need any help or have any questions.
Visit Libby's ZNZ Big Cash link and her ZNZ link to begin earning your credits and become a ZNZ Marketing affiliate today.
Related Posts: