Making Money by Renting Out Your Space as a Film Location
Updated on: by Amy Kennedy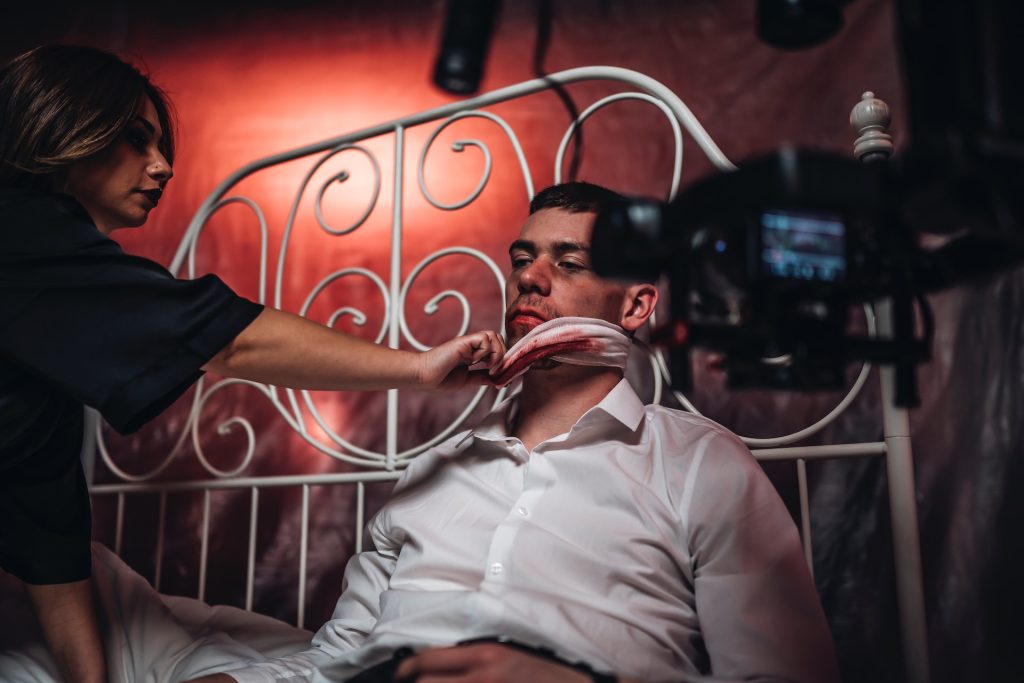 Welcome to the exciting world of film location rentals—a unique, often overlooked opportunity for property owners to turn their space into a profitable venture.
Need Easy Extra $350+/Month For Free?
From Hollywood blockbusters to indie flicks, filmmakers are always on the lookout for unique settings that can add depth and authenticity to their stories.
This guide will provide comprehensive insights into transforming your property into a sought-after film location and exploring this innovative income stream.
Understanding Filmmaker's Hunt for Unique Locations
Filmmaking is a captivating blend of storytelling and visual artistry. At its core, the ability to portray a story convincingly and authentically often depends on the setting.
This quest for the perfect backdrop is a fundamental aspect of the production process. Let's delve deeper into why your property, regardless of its size, type, or location, could be the next big thing in the film industry.
The Need for Authenticity
In the era of high-definition screens and discerning audiences, filmmakers are always striving to add authenticity to their narratives. This demand for realism extends beyond convincing performances and into the world of set locations.
Real-world locations often provide a unique character, an immersive atmosphere, and a tangible depth that can't be replicated in a studio set.
Think of your space in this context. It could be an apartment with a panoramic city view, a quaint suburban home, or even a rustic barn in the countryside.
Regardless of how ordinary or extraordinary it may seem, your property has the potential to bring a filmmaker's vision to life.
Iconic Private Locations in Film History
Film history is studded with scenes that are etched in collective memory thanks, in part, to their unique settings. Many of these memorable scenes were shot in private properties, proving that sometimes the best locations are found not in a Hollywood studio, but in everyday places.
For instance, consider the chilling horse head scene from 'The Godfather,' which was filmed in a private mansion. Or think of the colorful Victorian home that set the scene for 'Mrs. Doubtfire'.
These locations have become iconic not merely because they were featured in popular films, but because they added a level of authenticity that deeply enhanced the storytelling.
The Demand for Diversity
The beauty of cinema lies in its diversity. Films transport us to different places, times, and cultures – from the sprawling landscapes of epic fantasies to the intimate settings of indie dramas.
This breadth and depth of storytelling require a wide range of locations.
The need for diverse settings means that there is a demand for all types of spaces. An urban loft might be perfect for a contemporary romance, while a countryside barn could be just what a horror film needs.
A modern office could serve as the setting for a corporate drama, while an old house might be ideal for a period piece. So, no matter what type of property you own, there is likely a filmmaker out there looking for a location just like yours.
Need Easy Extra Cash?
Pinecone Research, a leading name in online survey panel honesty, absolutely guarantees $3 cash for every survey you complete!
Take advantage of their time limited New Membership drive and register NOW. Join today: 100% free!


This broad demand also means that location scouting isn't limited to major cities or well-known landmarks. Film locations are needed everywhere – from small towns to big cities, and everything in between.
So no matter where your property is located, there's a chance it could catch the eye of a location scout.
Navigating Legalities and Paperwork
The prospect of seeing your property on the big screen can be thrilling, but it's vital to remember that this is a business venture. As such, before diving into the film location rental business, it's crucial to understand the legal and administrative aspects involved.
Adequate preparation in these areas can help protect your interests, prevent misunderstandings, and ensure a smooth rental process.
Legal Agreements and Contracts
One of the first steps in establishing a solid foundation for your new venture is to have a comprehensive contract in place. This legal document should be drafted in consultation with an attorney specializing in property and entertainment law to ensure all bases are covered.
The contract should stipulate the payment terms, including the rental fee, due dates, and any penalties for late payment. It should also define the boundaries of the rented space, the dates and times of access, and any rules regarding the use of utilities, parking, and other facilities.
One crucial aspect to cover is liability. Who will be responsible if there's an accident on your property during filming? What if a crew member is injured, or a piece of expensive equipment is damaged?
The contract should clearly state that the production company assumes liability for any incidents that occur during their use of your property.
Additionally, the contract should specify what will happen in the case of damages to your property. Will the production company pay for repairs?
Will there be a security deposit held in case of such events? These are important details that need to be agreed upon before the filming commences.
Getting Proper Insurance
Another essential aspect of renting out your space for filming is insurance. While the production company will have its own insurance coverage, it's vital for you, as the property owner, to have appropriate insurance in place as well.
You'll want to ensure that your policy covers potential damages that could occur during the shoot, including property damage and liability for injuries. Talk to your insurance provider about your plans and discuss what changes might be necessary to your existing coverage.
It may also be worthwhile to require the production company to provide a certificate of insurance, naming you as an additional insured on their policy. This adds an extra layer of protection should any issues arise during the filming.
Permits and Local Regulations
Depending on where your property is located, specific permits may be required for commercial filming. These regulations vary widely, so it's important to research and understand the local laws applicable to your property.
In some cases, the production company may handle the permit application process. Still, as the property owner, it's in your best interest to be informed about any local regulations or restrictions.
Consulting with your local film commission can be a great starting point. These organizations are typically well-versed in the local laws and can provide valuable guidance.
Alternatively, you could consider hiring a professional who specializes in film permits and regulations to ensure you are following the rules and protecting your interests.
Preparing Your Space for Filming
Attracting film producers to your location requires more than just listing your space. It needs to be prepared and presented in a way that appeals to filmmakers.
Making Your Space Film-Friendly
Clean, well-maintained spaces are typically more appealing to filmmakers. Removing clutter and ensuring the space is versatile can greatly increase its attractiveness.
The Importance of Maintenance
Keeping your property in excellent condition can help draw more interest from location scouts. Regular cleaning and repair work can keep your space ready for shoots at all times.
Enhancing Your Space's Appeal
Consider potential improvements that could increase your property's versatility. Additional features or renovated spaces can make your property more appealing for a variety of film genres.
For example, a loft conversion could add an extra dimension to your property.
Marketing Your Space to Filmmakers
Now that your space is ready and your legal bases are covered, it's time to get your property noticed by the right people. Effective marketing can significantly boost your property's visibility among film location scouts, directors, and producers.
Here's how you can make your space shine in the competitive film location market.
Taking Attractive Photos
A picture speaks a thousand words, and in the case of film location marketing, high-quality photos can be instrumental in attracting attention. Photographs should highlight your space's unique features, capture its overall ambiance, and showcase its potential for various film settings.
If you're unsure about your photography skills, consider hiring a professional real estate photographer. These professionals are skilled at capturing properties in the best light and angles, which can significantly enhance your listings and promotional materials.
Writing a Compelling Description
Accompanying your stunning photos should be a compelling and detailed description of your space. This is your chance to sell the unique attributes and possibilities your property offers to potential renters.
When writing the description, focus on your space's unique features, its flexibility, and its suitability for different types of productions. Highlight its aesthetics, dimensions, available facilities, and any notable or historic features.
Also, mention the various types of scenes or movies that your space could accommodate. This comprehensive detailing can help attract a wider range of filmmakers, increasing your chances of rental.
Earn Everything… nearly!
Join Opinion Outpost, one of the few faithful and honest survey panels and earn cash and gift cards for your opinion. Stack your points and redeem them: Simple! No hidden fees and completely free!


Listing Your Space
The internet has made it easier than ever to connect property owners with film industry professionals. List your property on platforms like Peerspace, Giggster, and Set Scouter.
These platforms specialize in listing spaces for film shoots and other events, making them a prime spot to catch the attention of location scouts and filmmakers.
Networking within the Film Industry
In addition to online listings, don't underestimate the power of networking. Attend film festivals, industry events, or local film commission meetings to meet industry professionals and spread the word about your property.
This can not only help increase your property's visibility but also allows you to stay informed about the industry's latest trends and demands. You might pick up valuable insights into what filmmakers are currently seeking in locations, which can further help refine your marketing strategies.
Navigating the Filming Process
Once you've attracted the attention of a film crew and they are interested in your property, understanding how to navigate the filming process is vital. This stage requires tactful negotiations, flexibility, and a healthy dose of patience.
Here's a breakdown of what you can expect and how you can handle the process.
Setting and Negotiating Rates
One of the first things you'll need to address is the rental fee. Rates can vary widely based on factors such as your property's size, location, uniqueness, and the specific demands of the production.
Larger, more urban or unique properties can command higher fees, while smaller or more rural locations might fetch lower rates.
Furthermore, the production's budget can also play a role in determining the fee. Bigger productions usually have more substantial budgets compared to independent or smaller-scale projects.
Remember that the rates are often negotiable. Don't be afraid to have a dialogue about the fee and reach an agreement that is fair to both parties.
Consultation with a film location agent can be helpful in guiding you on standard rates and negotiation techniques.
Being Flexible
The world of film production often involves long hours and unexpected changes. Scenes may need to be reshot, schedules could shift, and alterations might be required on your property (within the boundaries set in your contract, of course).
Your ability to be flexible can make your property a more appealing option for film crews. Of course, this doesn't mean letting go of your boundaries.
It's about striking a balance between accommodating the needs of the production and protecting your interests.
Cooperating with the Film Crew
Finally, remember that professionalism goes a long way. A positive, cooperative attitude towards the film crew can greatly impact the filming process. It can lead to repeat business, referrals, or even a reputation within the industry as a reliable and sought-after film location owner.
Ensure that while the film crew respects your property and the agreed-upon terms, you're flexible where you can be and helpful throughout the process.
After all, you're all working towards a common goal: to make a successful film.
Success Stories in Film Location Rentals
There are numerous examples of property owners generating substantial income from film location rentals.
The Iconic Home from 'The Holiday'
The charming English cottage featured in 'The Holiday' is actually a private property. The owner's rental earnings from the film significantly boosted their income.
The 'Breaking Bad' Phenomenon
The iconic home from 'Breaking Bad' became a must-visit tourist spot. The owners capitalized on the show's fame and started charging for photo opportunities.
Overcoming Challenges
Although challenges such as property damage or filming disruptions might occur, they can be managed with proper agreements, insurance, and communication. These hurdles typically do not overshadow the financial gains and exciting experiences of renting out your property for filming.
Conclusion
Transforming your space into a film location offers a unique income-generating opportunity.
With thorough preparation, strategic marketing, and a dash of flexibility, you might just see your property star in the next big film.
So, why wait?
The film industry is constantly on the lookout for new locations.
Related Posts:
Earn Everything… nearly!
Join Ipsos iSay, one of the few Faithful and Honest survey panels and earn prizes, gift cards and donations. Stack your points and redeem them: Simple! No hidden fees and completely free!